#blackAF Costume Designer Michelle Cole on Re-Teaming With Kenya Barris
The creator of the hugely successful sitcom Black-ish, and its spin-offs Grown-ish and Mixed-ish, chose to step in front of the camera for #blackAF. The mockumentary series is Kenya Barris' first project for Netflix. Based on his own life, Barris plays himself, alongside Rashida Jones as his wife Joya, in the show, which is now streaming. He's an extremely wealthy TV showrunner with six kids, struggling with issues around race, class, and identity. The image he projects is integral to the themes explored in the show, so it's fortunate that he had his long-time collaborator, Emmy-nominated costume designer Michelle Cole on hand to add her signature magic touch. We chat with her about what the clothes in the show represent, mining Barris' own wardrobe and getting a kick out of going OTT with the designer labels.    
You and Kenya Barris have collaborated for years now since Black-ish first aired. What were the initial conversations you had about the concept for #blackAF and how clothing and style would play into the series considering it's such a huge part of the show?
It's probably been close to seven years now, working with Kenya. He's very visual and I think that's what makes him so unique and so great. As far as set, props, everything, down to the music, his hands are everywhere, all over it. So, I think when you work with someone like this, it steps up your game because he stays on top of fashion. You know, he has six kids and his first three kids are daughters.
Is it rewarding to work with someone who places such importance on costumes?
Kenya has a closet. I say this to everybody, I don't think I've ever seen him in anything twice. I really don't. Maybe a t-shirt twice, but he has such a unique flair about his own personal look and he wears clothes extremely well, so that's great when you have an actor that has fun with clothes. Kenya has a lot of fun with clothes. I love that about him.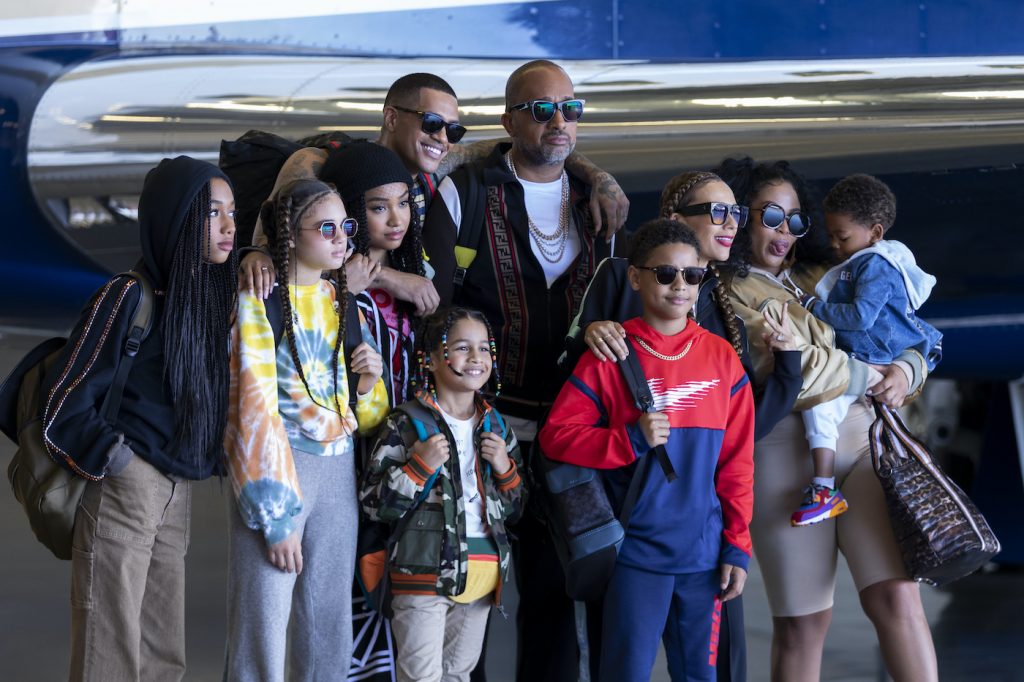 Barris wears a lot of very high-end designer fashion on the show. How did you pull that together without breaking your budget?
When you have a first season show, the price point's a little lower. We all want it to look great and we were able to spend some money, of course, but some of those sweatsuits are very expensive, so they were out of his closet, which was great. He played the part. He wanted to look good. At times we had scenes where he went a little bit over the top, and that was fun. That was fun to do because he's a big character in the show and it is a show that is based on his life.
The clothing plays such a huge part in the show and obviously the coded nature of clothing is discussed in the storylines. Can you discuss what they represent in the show and in Black culture? Obviously style is more than just looking good to Barris and it really means something. How did you interpret that?
I think that culturally, we've always taken great pride in the way we look, whether we had the money or didn't have the money. It's part of who we are, part of our culture. I think most Black folks want to look great. We want our hair to look great, our jewelry. Kenya talks about his necklace [the thick gold chain that is the symbol of his identity crisis in the show] and I think that's a cultural thing as well. I think it's something really neat. I've done so many Black shows from In Living Color to Martin to The Bernie Mac Show, and I can tell you every Black show I've ever done, the cast always looks great. I can remember my grandmother pressing underwear and sheets when I was growing up in Kentucky. There was great pride and I think that is a big part of us.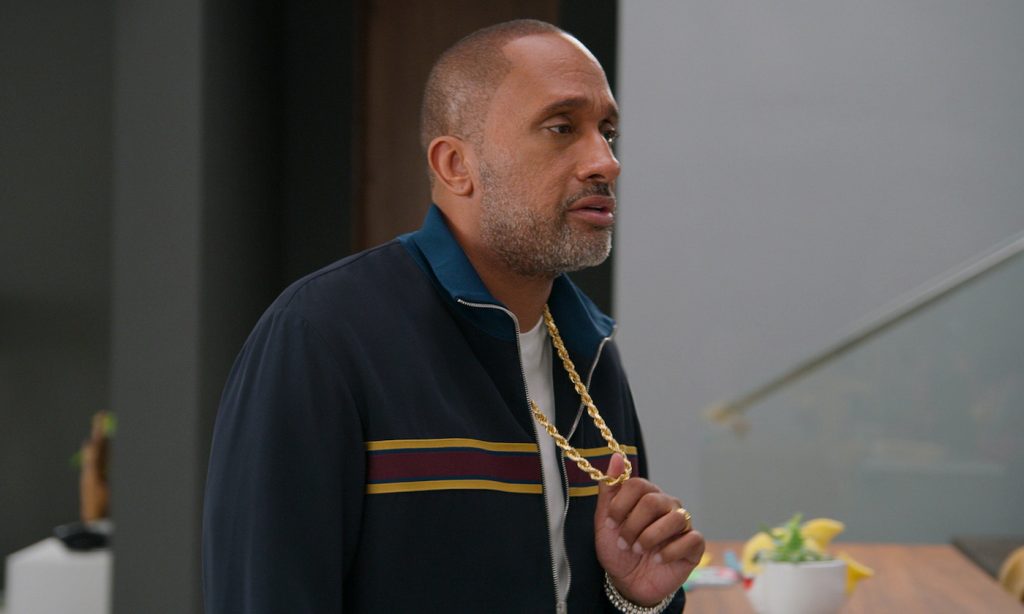 A lot of the clothes that Kenya wears on the show are limited edition. Was there anything that you sourced that you were really excited about?
I loved his blue velour Gucci sweatsuit with the orange Gs all over it. Only certain people can wear that, you know? I've heard people say they've tried to find that sweatsuit and they can't find it. I loved that.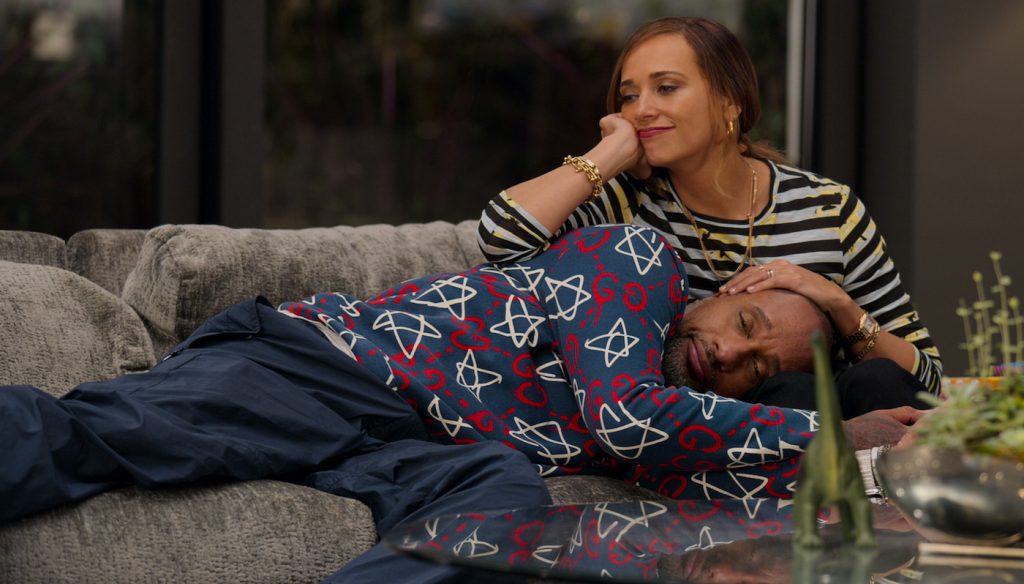 Did you have a favorite outfit?
When he's wearing silk shorts and a silk Gucci shirt on the beach in Fiji. That's truly one of my favorite outfits. He won't go into the ocean to save his life. Who does that? I think we did a great job of expressing him being a little bit over the top, a little bit eccentric. He's chic, he's urban.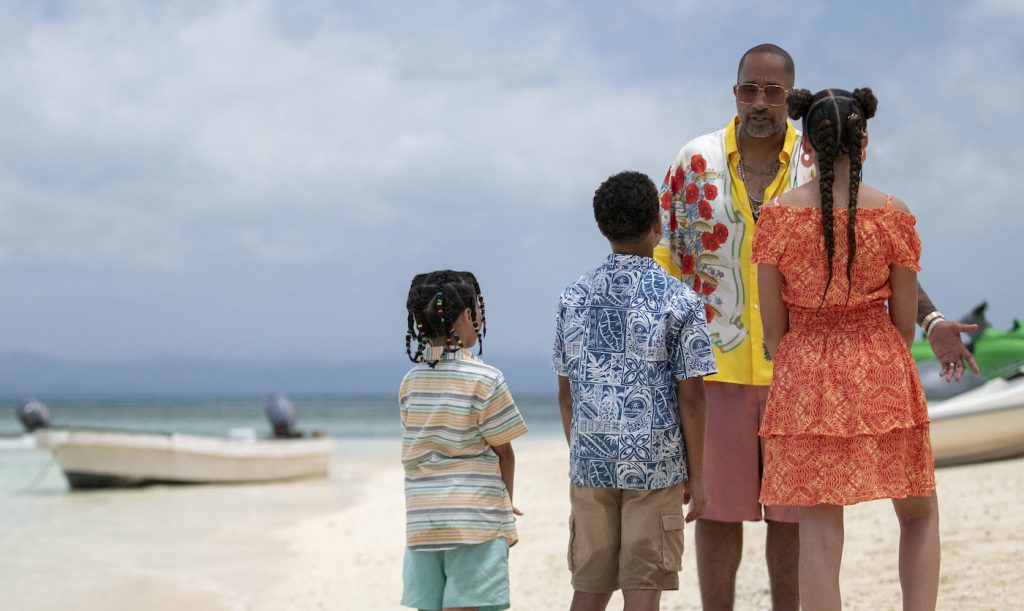 Barris is playing himself, so he must have had strong opinions on what he would wear on the show. In what ways did he make the costumes his own?
You're shocked when he comes out of his trailer because let's just say you put three costumes in his trailer, he'll take a t-shirt from one, and then maybe a pair of pants from another one and then sneakers from another one. He'll do it his way. It's okay because he's a great dresser.
You have more freedom on Netflix to use logos and visible labels and things like that compared to network TV. Was that liberating for you?
I think it was so important for this show because it is so much about the cars, the music, the home, and the clothes. It was really fun and liberating to be able to go over the top. For example, we put the little one in Gucci sneakers with Gs all over them. You can't do that on a major network. I thought that as far as the look of the show was concerned, we got really lucky to be able to use the logos.
With shows that have such broad appeal like Black-ish and Grown-ish, you've really had an opportunity to influence how people dress. You had a huge cultural impact in the 90s with In Living Color and the Fly Girls, even influencing a Karl Lagerfeld Chanel collection… does it feel as though you're having another moment?
It's funny because the biggest praise for me is from my peers. When #blackAF first premiered, I had so many texts and phone calls. Like, 'Oh my God, it looks so good.' It was kind of fun to see how everybody reacted to this show. It was such an honor to be really a part of it. I take each job because creatively they're different. With the Fly Girls, we didn't know In Living Color was going to burst the way that it did. No clue it was going to do that. And we didn't have a clue that Grown-ish was going to just blow off the map with clothes and things. So, I think that you just do your best job. I go by intuition. I don't wear clothes like that at all, so I think for me, it's just my alter ego.
Featured image: Kenya Barris in #blackAF, episode 7. Photo: Gabriel Delerme/Netflix