Caitlin Moran on Adapting Her Own Novel How to Build a Girl
The girl in Caitlin Moran's rowdy coming of age comedy How to Build a Girl, which the popular British author adapted from her 2014 semi-autobiographical debut novel, is so uniquely larger than life that finding the right actress proved problematic — at least for a while. The film is now available on-demand.
"We scoured Britain trying to find a British actress who could do it," says Moran from her home in London where she's "been in lockdown for weeks so just talking to another human being that isn't someone I gave birth to or someone I married is a genuine thrill," she says.
"I didn't realize when I was writing it that it was impossible to cast a teenage actress who can be in every scene, who can go from being clever and funny but very innocent then go to London and be this massive bitch with a huge persona, then go to this massive low point and come out the other side having learned something."
Then the production team saw Lady Bird and Beanie Feldstein, who played Saoirse Ronan's best friend.
"The minute she came on screen, it was like, 'That's not just an actor; that's a phenomenon,'" says Moran, an executive producer on the film which is directed by Coky Goidroyc. "One of the great thrills of my life is that I can text Beanie Feldstein whenever I want."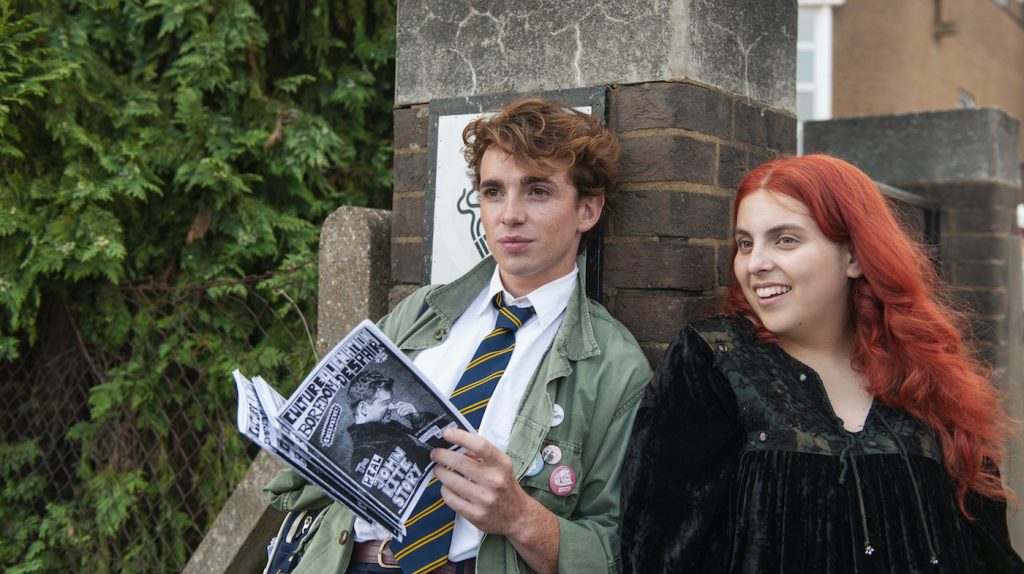 Feldstein anchors the film as Johanna Korrigan, a whip-smart 16-year-old misfit in the mid-1990s who's eager to use her literary gifts to break out of the Midlands projects where she lives with her mother Angie (Sarah Solemani), her dad Pat (Paddy Considine) and four younger brothers. She nabs a gig writing rock and roll reviews for a London music publication run by a bunch of arrogant young guys, writing snarky columns under the pseudonym "Dolly Wilde." Adopting a punk/goth look and raucous persona, Dolly soon earns the cool kid status she's been craving and the friendship of sweet Irish alt-rocker John Kite (Alfie Allen). But eventually, the pretense of viciousness crashes around her.
Dolly/Johanna's coming of age mirrors that of Moran who gained celebrity status writing for Melody Maker as a teenager in mid-90s London when few women had that kind of platform. "At one point, I was going to call [the novel] "Almost, Almost Famous." You had to construct a persona to be around men; those boys at that time, in those industries [like music], were so unused to women being around that you had to turn into a kind of half-boy/half-girl. You had to out-drink, out-smoke, and out-shag everybody. Otherwise, you had to reveal how innocent and naive you were and men would not know how to deal with that or they would take advantage of that," she says.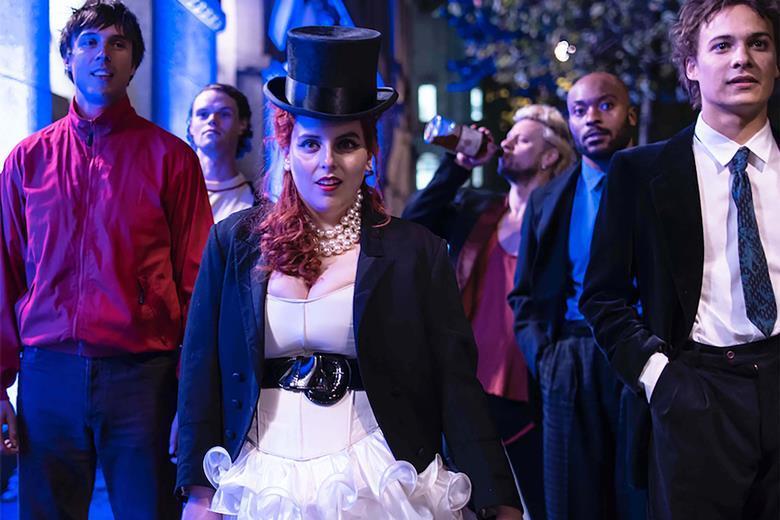 "Right around the time I made my first rock star cry, I was like, 'This isn't me. This is horrible and I'm going to have to try to find the balls to be different from everyone else here and be positive again.'"
Moran sees How To Build a Girl as both a nostalgic look at the '90s and as relevant to today's teenagers who often construct mean personas on social media.
"You go on [social media] all optimistic and cheerful and someone goes, 'You look fat' and you become more cynical and start attacking people," she says. "This isn't what communication is about; this isn't what language is for; and why are we using this to be horrible to each other? [The movie] is a story about what's happening to every teenager now. That was the main drive because I like to be useful," Moran says. "I want funny and sexy and I want to put stars in it but I want it to be useful so you can walk away and say, 'I learned things; that saved me a bit of time.'"
It was Moran's 2011 memoir How To Be a Woman that first nabbed her a movie deal. But adapting her feminist musings into a screenplay proved difficult, she says, so she wrote the more plot-driven How To Build a Girl "because I knew I had to write something to make into a movie."
Moran was also driven to give onscreen life to "Fat, working-class, clever, funny girls who don't get tortured or punished for their sexuality or for who they are, who don't get bullied or run out of town. They go out and make their way in the world, they encounter some problems but they find their way through it."
It's a model Moran says she learned from movie musicals like Johanna's favorite, Annie.
"If you look at lists of the greatest movies of all time, it's like The Godfather — all men, shooting each other, gangs, money. But when you look at the greatest musicals, it's always about girls; usually weird girls, poor girls who've got a talent. They can dance, sing, do something instead of standing silently and mysteriously while men are doing things. They get right in and sing and dance and run rings around the men and they're doing it backward and in heels and, always, unfailingly optimistic," she says.
"So the thrill now of putting girls in movies that other girls can see and go, 'That's someone who reflects me,' that's the thrill. I want it to be useful to some girls out there, to be able to look at the screen and go, 'I get that girl. That girl is a bit of me."
Featured image: Beanie Feldstein as "Johanna Morrigan" in Coky Giedroyc's HOW TO BUILD A GIRL. Courtesy of IFC Films. An IFC Films Release.