How Costume Designer Jeriana San Juan Helped Shape HBO's The Plot Against America
These are trying times. When The Wire creator David Simon and his longtime collaborator Ed Burns set out to adapt the late, legendary novelist Philip Roth's terrifyingly prescient 2005 novel "The Plot Against America," they were doing so in a pre-pandemic world. At first, Simon and his team were "merely" adapting a novel that seemed, with eerie clairvoyance, to peer around the bend of time into our present day. The book envisions a truculent presidential candidate rising to power on an America First platform, and a populace riven between those who believe his platform is at long last what the country needs, and the people who will suffer if that platform is fulfilled. Reading the book before COVID-19 was scary enough.
Roth's novel, and the adaptation it has inspired, is set in an alternate version of the country in 1940, with heroic aviator Charles Lindbergh—also a rabid isolationist—besting FDR in the presidential election. Lindbergh not only believes that America should stay out of World War II, he says, in a famous (and very real) radio address he made in Des Moines that among the people pressing the country towards war were "the Jewish race." In's Roth terrifying vision, this clarion call of nativism and anti-Semitism launches Lindy into the Oval Office.
Fast-forward to the present. Simon and Burns' adaptation of The Plot Against America debuted on HBO on March 16 during a crisis that even the visionary Roth might have been startled by. While the story at the heart of the book and the series retains its timeliness—it centers on the Levin family living in Newark, New Jersey, and how the election of Lindbergh throws their lives into chaos—the series now unfolds during a global pandemic. I spoke to the series costume designer Jeriana San Juan via email before the novel coronavirus had become the new, undeniable reality for Americans. I then reached out to her once the pandemic wreaked havoc on the health and economy of the United States to find out how she's dealing with both the pandemic and its effect on the entertainment industry.
Tell me about the initial conversations you had with David Simon and the rest of the team about the adaptation?
In my initial conversations with David and our directors Minkie Spiro and Tommy Schlamme, I posed several questions about if we would be telling this story from the same point of view as the novel. So much in the story in Roth's book is colored from the perspective of Philp, who is the youngest child in the central family. Our initial conversations were also centered around keeping the story relevant to an audience today. Our conversations also centered around embracing authenticity and imperfection with this family in order to keep them accessible to an American audience. We wanted to bring the viewer in and pull them up a seat at Shabbat dinner.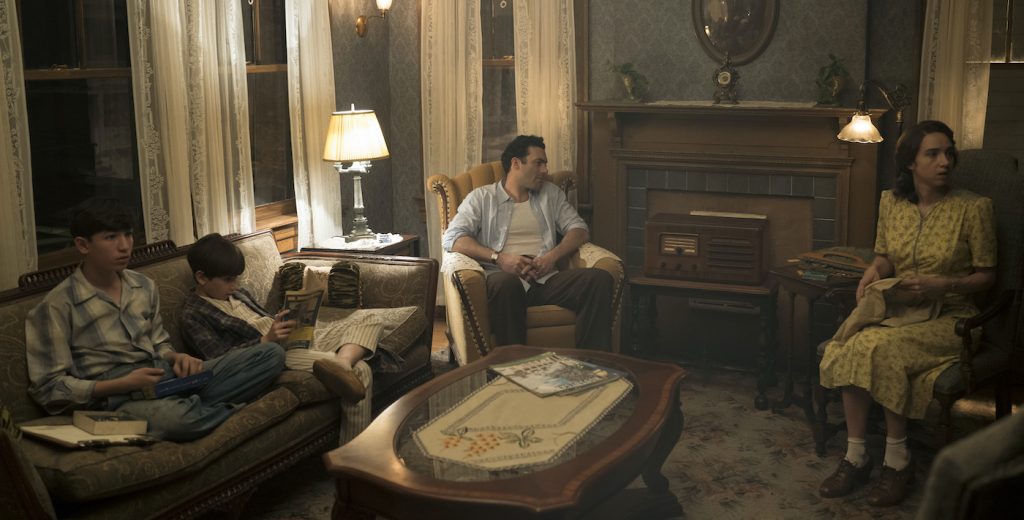 How did your clothes help tell the story of an America suddenly enthrall to a nativist like Lindbergh? What kind of notes by the show's creators?
In telling this alternate history it was important to refresh my own understanding of the real history. So much of American fashion of the period was driven by the war effort. The lack of rubber for shoes in order to conserve our resources to make tires or manufacture machine parts, the lack of silk for hosiery because we were cut off from the silk producers of the east, the introduction of fabrics like rayon, and the lessening availability of wool which was being used to manufacture uniforms. Shorter hemlines for women and the slim-fitting trousers for men in order to conserve fabric and cut smaller pattern pieces from a single piece of cloth. It was an interesting journey to contrast some of those truths in our alternate history. Therefore I used silk a great deal in Evelyn's clothing and lingerie, which was uncommon for the time. I took classical early 1940's silhouettes and interpreted them in fabrics that were untraditional for the time.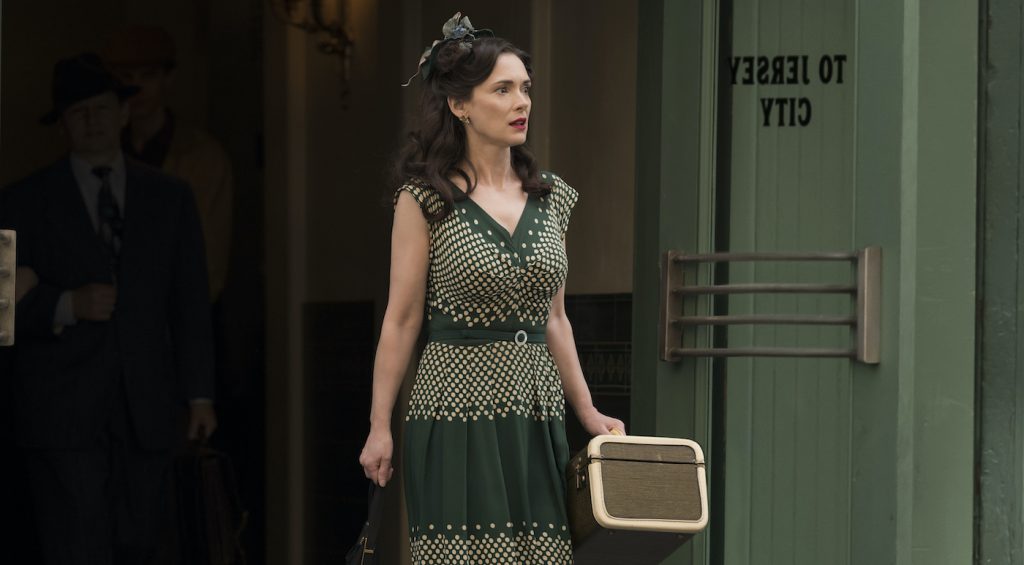 How much did you rely on Roth's book, and how much of your work was based on period research? 
I used some elements from the book, like the way Roth describes his mother's affinity for the color green. We adjusted that to blue because blue suited Zoe Kazan's eyes so well. Then we used it exactly as Roth describes in his book, in the wallpaper, in the color she chooses for her robe, in the flowers that decorate her summer hat. Those little notions help us understand the character through unspoken language. Clearly, this woman loves that color and chooses things that go with it or feature it in her home and her wardrobe.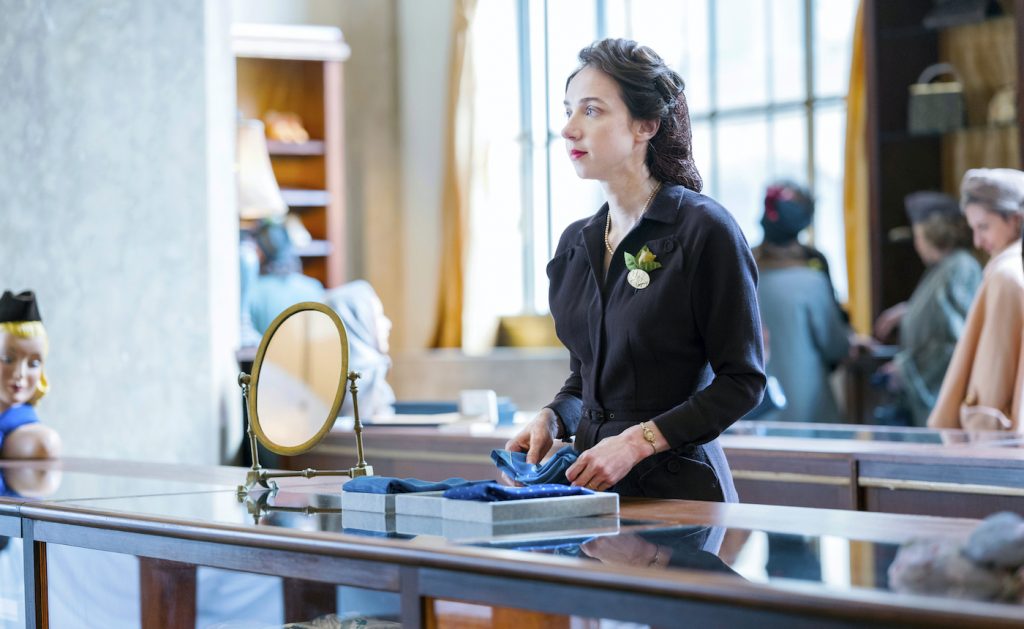 Did you rely on archival photos of the real people, like Lindbergh, Roosevelt, Henry Ford, etc., for their looks?
One of the most important parts of my process is the research I do leading into a project. I use the research to create mood boards for each character. For the characters in the story which are pulled directly from history, like Lindbergh, his wife Ann Morrow Lindbergh, Henry Ford, or Walter Winchell, I did exhaustive research pulling from books and all published historical and archival materials with photos of them. This will help influence the clothes a great deal in order to help pull off the illusion for an audience. I will also use this research to help disguise some differences between our cast and the famous figure. This is a trick I learned many years ago from my experience at Saturday Night Live.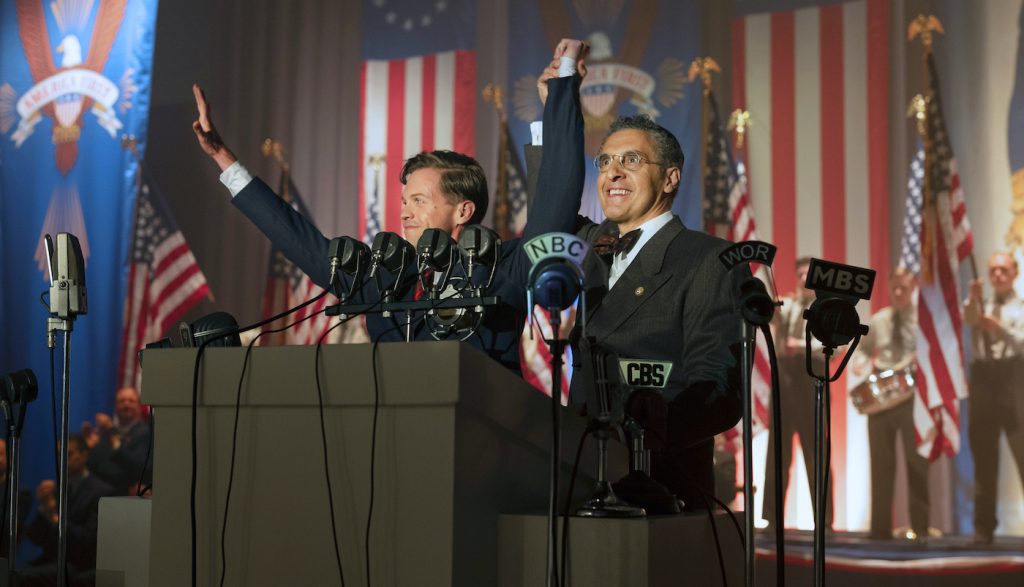 How do you go about your period research? And how much of it was specific to Newark, NJ in the late 30s and early 40s? 
For this project, it was important to keep the clothes as related to the real population as possible. We wanted this family to feel natural and realistic so I went to places like the Jewish Historical Society, and the New Jersey Historical society who helped guide me through some historical yearbooks, photographs from religious gatherings, vintage family photos, etcetera. 
I also went to places like the New York Public Library which is one of my favorite places in the city. I went to the Dorot Jewish Division at the library to access any material they had publishing photographs of suburban and blue-collar Jewish families at the time. I also reference photojournalistic style photography of the time through the works of Helen Levitt and Todd Webb, Garry Winogrand, and more. In addition to that, I did research in order to set a vocabulary for the fashion at the time through the archives at Conde Nast, who have Vogue and Harper's Bazar magazines dating back to the early 1900s.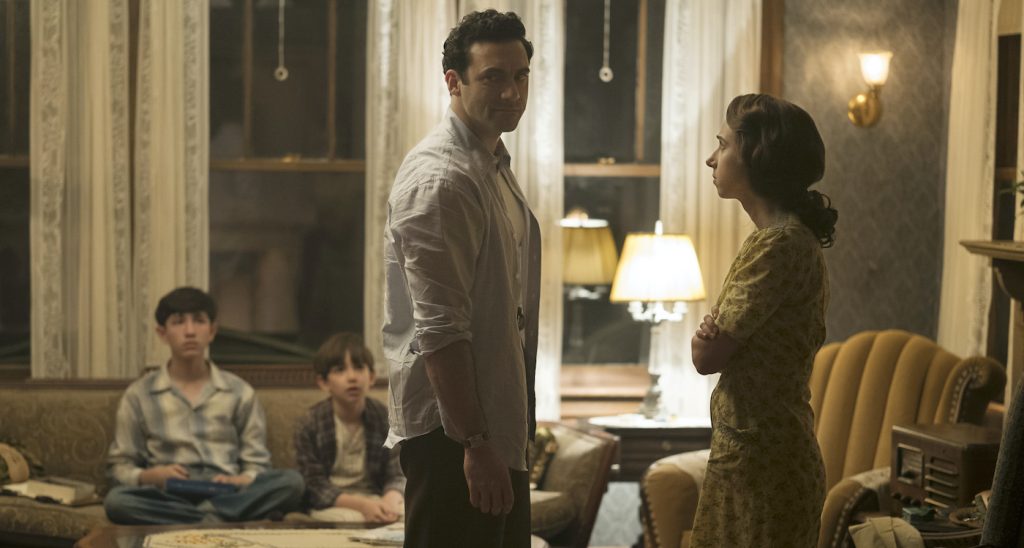 So red is an important color in this show? 
Minkie Spiro, our director for the first three episodes, was very careful to introduce red sparingly and allow the color to permeate through the story in the way that xenophobia, nationalism, and socialism does. When we first see Lionel Bengelsdorf (John Turturro) in the sanctuary of his synagogue, he is wearing a custom woven Tallit prayer shawl. I had a small line of red woven into this shawl. This is untraditional for a Tallit but served our story in a unique way. Later on in the story, he wears a suit with thin red stripes in the pinstripe of the wool. After that, he wears the Tallit in service again, but as he is more in line with the xenophobic administration the red in the prayer shawl is more prevalent.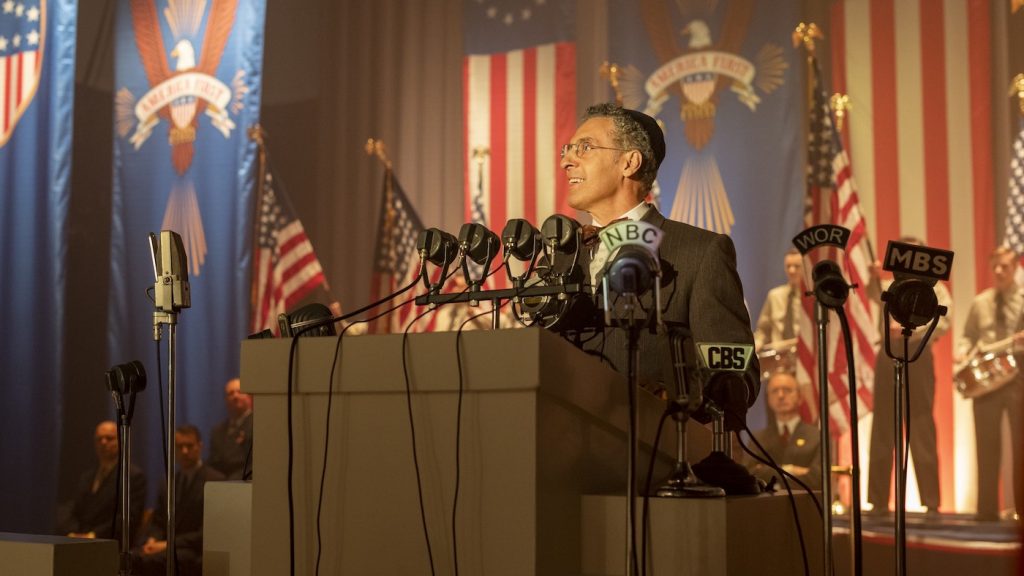 What other TV series or films, if any, were touchstones for you?
The period films that I referenced for this project were primarily as a reference for Winona Ryder's character of Evelyn. The character fashion herself after Barbara Stanwyck, and Winona and I had great fun finding moments from Mrs. Stanwyk's films of the late 1930s and early 1940s that the character might interpret in her own wardrobe. The Lady Eve or Remember the Night were both great sources of research for her wardrobe. I also referenced Norman Rockwell's work for the Saturday Evening Post. There is a special book that was published of the photos that he staged of people in real clothes in order to paint them, and those photographs were extremely valuable to me in recreating some classic, nostalgic Americana in the striped T-shirts for the young boys, or the cut of the apron or the housedress on Zoe Kazan who plays their mother.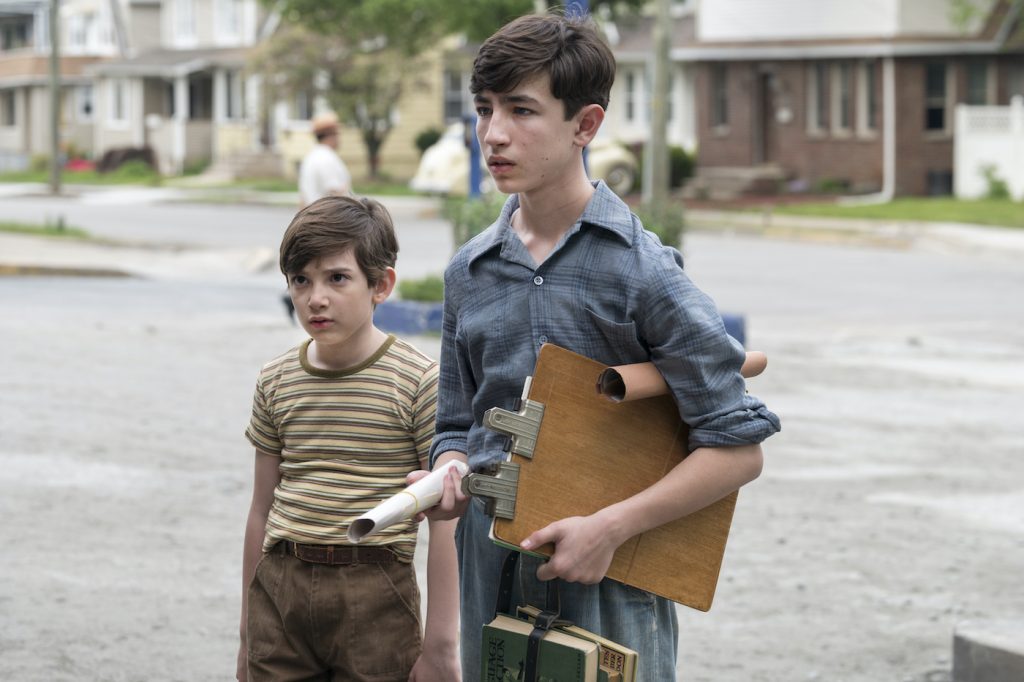 What was it like working on this series in general, considering our current, heightened political moment?
Filming this politically motivated story during an especially stressful political time in our world was a challenge. It wasn't long after the incident in Charlottesville when we were on set filming a scene where the Levin family is being targeted with hostility by a Lindbergh supporter. I found myself getting teary-eyed behind the monitor. You see the anger, discomfort, shame, and pride play out on all of the Levin family's faces, and at that moment I felt connected with the young boys as a first-generation American myself. The father, played by Morgan Spector, turns the scene on a dime, putting a positive spin on the experience to help retain dignity and positivity for his family, and my heart just ached. I remember Minkie Spiro reaching out to me at that moment, and we squeezed each other's hands, knowing we were creating something special. 
Let's address the most pressing issue for everyone right now. How is COVID-19 affecting your work?
I'm designing a new miniseries for Netflix called Halston, which is a biopic covering the life and career of the fashion designer played by Ewan McGregor. I was in the midst of fittings and designing when I got the news about a mandated hiatus for two weeks. So we suddenly stopped work and all rushed to tidy up and consolidate, pack things away, knowing that the two-week mark was one that might be changed pending how bad the pandemic would get. It's an odd and unrecognizable time in our country and I think this industry is facing the same challenges that so many others are. It will be hard for us all. 
Has this changed the way you look at your work in general?
The work that I do as a creative in the film and television business requires me to be physically near people and touching many things; fabrics, collaborating with costume builders, I'm in fittings with actors, working directly with directors in a cramped video village behind the monitors, working with assistants handling textiles and vintage clothing, etcetera. I think this experience has heightened my understanding of how important the tactile creative process is. When designing on a television series timeline, the creative process is so much about designing in real-time, as fabric swatches are coming in, thumbing through reference books while playing with trims on a dress form. It's very much the way I work. I hope that this human connection is not lost.  
As far as how this is affecting the economics of our business, I know that this will be a difficult challenge as we face the hurdle of cancellations and suspensions of work for so many people. But, I look forward to getting through this time and getting back to work again soon with a more conscientious practice of sanitizing regularly. 
Here's more of our coverage on how COVID-19 is affecting the entertainment industry, and how the entertainment industry is trying to do their part to help:
The below-the-line-talent who will be hit the hardest.
How studios and celebrities are using their massive platforms to spread crucial information about COVID-19.
How filmmakers, like cinematographer Kira Kelly, are responding to their sudden furlough.
Amy Adams & Jennifer Garner Team Up to Help Kids Affected by COVID-19
Featured image: John Turturro is Rabbi Lionel Bengelsdorf in 'The Plot Against America.' Photo by Michele K. Short/HBO