Writer/Director Brenda Chapman on her Beguiling new Feature Come Away
Oscar-winning animation artist, writer, and director Brenda Chapman had never considered doing live-action before she read the script for Come Away, which came from first-time screenwriter Marissa Kate Goodhill. She was taken by the story, which is a "what if" tale, suggesting the origins for both Peter Pan and Alice in Wonderland come from Victorian brother and sister Peter and Alice (Jordan Nash and Keira Chansa) who use their imaginations, in individual ways, to soothe their grief after the loss of their brother David. The siblings also have to navigate becoming caretakers for their loving but devastated parents, Jack and Rose (David Oyelowo and Angelina Jolie), who have uniquely self-destructive means to process their own sorrow. Through all this, Jack and Rose's love, for each other and their kids, never wavers. That love, and the way they have woven imagination into daily life with them from birth, are what allow Peter and Alice to rise above their trauma.
Chapman, famous for her directorial and story work on both Pixar's Brave and The Prince of Egypt, was drawn to the idea of using live-action to tell a deep, complicated story about the power of imagination as a way to heal. She felt up to the challenge of doing so in a way that speaks to both adults and children. As grief and healing were major themes of the story, the director had to find a way to speak about that, in an emotional language everyone could understand. She explains, "It really is a fantastical family love story, grounded in truth, which is rare. It was so important to set up the relationship between the siblings and get that connection so that the audience can understand where we started. I tried to show how they dealt with it differently but got lost in their imaginations to cope with the grief and the pain of losing someone they love so much. The script was a great blueprint for that." Chapman goes on to credit the screenwriter and actors, saying, "Marissa created an amazing script, and it made my job easier because I could picture it all in my mind. Also, the natural chemistry between the three kids was really powerful, and that made a huge difference."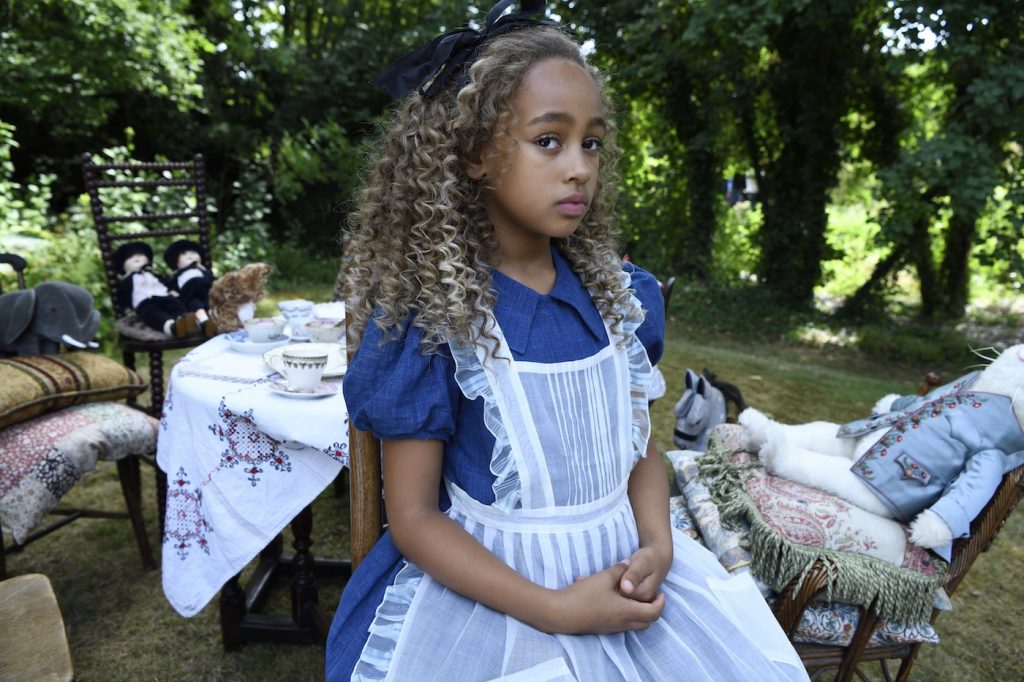 The idea that Alice and Peter could easily slip into their own fantasy worlds was particularly compelling to Chapman, who finds it difficult to watch kids on a playground focused not on play, but on staring into screens. She believes imaginative play has tremendous power. "That's what I loved about this film. These kids are outside, having fun, and using their imaginations to create these fantastical worlds. When the tragedy happens, they are able to turn to that, as a comfort and a coping mechanism. My hope is that families who see this will be inspired to find ways to play and use their imaginations together. We need children that can grow up and make sure new, inventive stories keep being told."
The director also enjoyed her collaboration with production designer Luciana Arrighi. "Luciana did Merchant-Ivory movies, and Sense and Sensibility, so I just loved her aesthetic. I think she enjoyed working with me because I'm a visual storyteller. I can draw what I want. I designed the boat in the film. I just did a rough sketch, and she whisked it away and did it. Honestly, her first instincts were always spot-on, and I trusted her because of her previous work. She really got into Alice. Sometimes the producers would freak out, because she'd have all these creepy dolls around Alice, and engaged this macabre sensibility at times, but it's perfect for the era. I loved it."
Adding to the depth of this story is the fact that the lead characters are played by people of different races. That is something not often seen in period pieces, but, it turns out, is more historically accurate. Based on the copious research by screenwriter Goodwill, this film is much closer to the reality of the time. Victorian England was far more diverse than most people know.
Chapman spoke about Jolie's enthusiasm for the diverse cast, "She was very excited, as was David, about the Littleton's being an interracial family, because they both have interracial families of their own. It had an appeal to them to put something like that on screen." About Oyelowo, she continued, "David read the entire script, got to the end, and didn't understand why it was sent to him, because there was no twist that explained why there was a Black man in the script. That fact got him excited."
Goodwill considered making changes once Oyelowo was cast, but determined to leave it and not change a single word. It worked exactly as it was. Chapman most enjoyed seeing how the film has been received. "People think it's just another period piece, but then their interest is piqued when they see it's interracial. I love hearing from viewers that they see their own family represented. It's also so exciting to be able to offer up Peter and Alice to a different group of people. They can look at the film and see themselves in these iconic characters. Peter doesn't have to be a white redhead and Alice doesn't have to be blonde-haired and blue-eyed. Those who only want to see whiteness in their movies might find Come Away uncomfortable, but it also might change their minds a little. You can really see the love in that family."
Come Away had its premiere at this year's Sundance Film Festival.
Featured image: Keira Chansa, David Oyelowo, Reece Yates, Jordan A. Nash in Brenda Chapman's COME AWAY. Photo Credit Alex Bailey