How Sundance Award-Winning Feature I Carry You With Me Came Together
The film I Carry You With Me (Te Lloevo Conmigo) landed in the NEXT category at the 2020 Sundance Film Festival with buzz about its great potential, as it was the first narrative directed and co-written by documentarian and Academy-Award nominee Heidi Ewing. It found an audience and great success in Park City. By the end of the fest, it had a distribution deal through Sony Pictures Classics in partnership with Stage 6, and had won both the NEXT Audience Award and the NEXT Innovator Award.
The story is of aspiring chef Iván (Armando Espitia), who finds his soulmate Gerardo (Christian Vazquez) through a chance meeting in rural Mexico. Knowing he won't ever get the creative and professional opportunities in Mexico he hopes for, Iván takes the dangerous trek across the border to the US, promising Gerardo he will soon reconnect with him. When challenges keep them apart, Gerardo decides to risk everything to join him.
I Carry You With Me is both a love story and an immigrant story, tackling issues like homophobia, poverty, and prejudice. Beautiful and surprisingly full of hope, it is based on real-world experiences. The seed of the idea for the film was planted in 2012 when Heidi Ewing was at Sundance and her longtime friends Iván and Gerardo also attended. They came to support her new documentary release Detropia, which she co-directed with Rachel Grady. During an evening spent at the Pizza Noodle on Main Street in Park City, Iván and Gerardo revealed the history of their life together to her. Ewing was floored. She couldn't get the story out of her head and knew it had to be told.
She explained, "Pretty quickly I realized, to do the story justice, and with the epic nature and the richness of the eras in which the story takes place, it needed to be a narrative. I either could not tell the story at all, or I'd have to make the transition into a scripted narrative, which was terrifying. I never intended to do it. I wasn't a documentarian who thought that one day I'd make features and my life would begin. I never looked at narratives as better, but this story had to be told that way."  On the way home from the fest, she wrote down as much as she could remember, calling it The Mexican Love Story. After working on it over the next 8 years, finding a co-writer in Alan Page Arriaga, and pulling all the elements together during 9 months of editing, I Carry You With Me was born.
Ewing also feels very strongly about supporting other women in film, as exampled by the fact that 7 out of 9 department heads on the film were women; director, writer, producer, editor, production designer, costume designer, and casting director. Four of those department heads were women of color.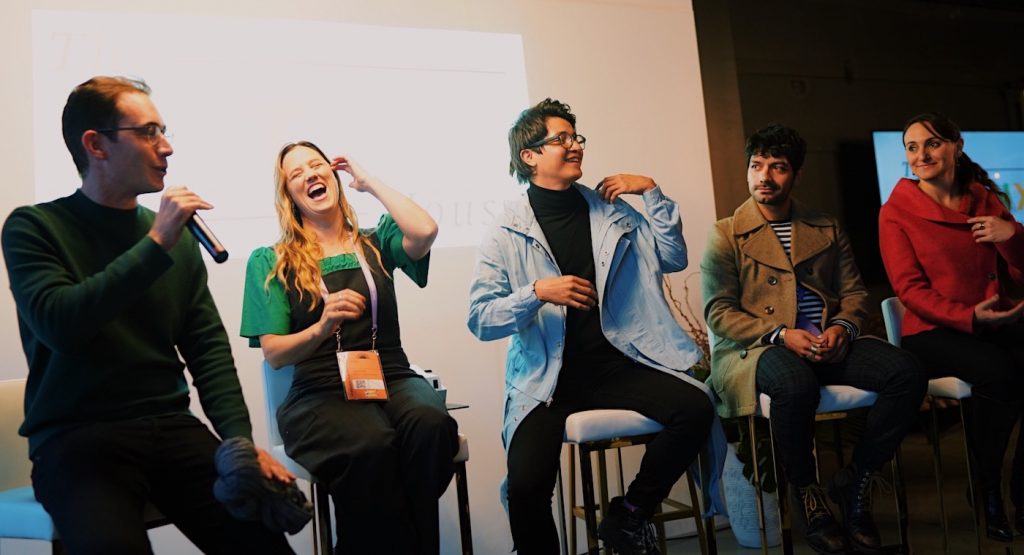 During the 2020 Sundance Film Festival, Heidi Ewing and members of her cast and crew came together for a panel at The Latinx House to discuss the film. Joining her were co-stars Armando Espitia and Christian Vázquez, who played Iván and Gerardo, respectively, co-writer Alan Page Arriaga, a Mexican poet and screenwriter Ewing found, whom she felt connected very deeply with the subject matter, and co-producer Gabriela Maire.
Alan Page Arriaga, who acted as moderator, asked Ewing about her experience filming in Mexico. She said she was uncomfortable at first. "I'm used to making movies with sometimes only 2 people. I make intimate, cinéma vérité films. I make nice films, but this was a very big production. It was hard for me to get used to, but I realized this was how they do it." She continued, "They were willing to work with my loose philosophy of filming, and I learned to work in the way filming is done in Mexico, so it was always a trans-cultural conversation. The crew was amazing and showed total respect. On the first day of filming, I got everyone in a circle and said, 'I'm your directora gringa, and I'm sorry that I'm an American telling this story, but please let me tell it right. I want you to be proud of it. It's a Mexican story. It's about my friends. Help me please make a great movie that you'll be proud of." Adds Alan Page Arriaga, "This was a co-production, and it really is both an American and a profoundly Mexican film."
Co-producer Maire spoke about the idea that I Carry You With Me could be placed in both the genres of LGBTQ and immigrant films. She believes pigeonholing the story that way diminishes the value of the populations represented. "People tend to think of immigrants as a mass. But they are individuals, trying to leave and create their own space. They were searching for a life for themselves." Maire went on to say, "This movie is talking about leaving your families and your comfort behind to move forward. It's not a 'gay' story, because, of course, love is love. We're talking about human beings.  Since that's what we all are, it has a message for everyone."
In some of the last comments on the panel, Ewing offered thoughts on how the film can and might be seen as political. "When we started working on this, the political climate was very different than it is now. Inevitably, the conversation around the film has changed, as the climate has changed." The director continued, "However, this is not a political film, nor speaking a particular message. It's not an advocacy piece. At this moment in history, there are a lot of things we can talk about, which we should be talking about, happening in this movie. I've never in my lifetime heard so much discussion about immigration. In the last 24 months, it's on everybody's mind, often for negative reasons. I'm hoping this film helps shed light on human stories, and the importance of immigrants in our country."
Featured image: L-r: Christian Vázquez and Armando Espitia. I Carry You With Me: Photo credit Alejandro López