Inside the National Association of Latino Independent Producers Events at Sundance
As part of their mission to discover, promote, and inspire Latinx content creators and diverse voices across media platforms, the National Association of Latino Independent Producers (NALIP) hosted a series of events during Sundance 2020.
One of the most compelling panels was called 'Inclusion in Action', sponsored by Coca-Cola, Skullcandy, and Latino Reel. NALIP is also an MPA multicultural creative partner. The panel began with a mixer including industry leaders. It featured moderator Laarni Dacanay, an award-winning entertainment and media corporate publicist and PR consultant for Comcast NBCUniversal. She engaged in a discussion with AMC Theatres VP Nikkole Denson-Randolph, Rotten Tomatoes, AWFJ, and AAFCA member film critic and actor Carla Renata, writer/director Emma Ramos, and NPR arts correspondent Mandalit del Barco, about successful proactive approaches to inclusion.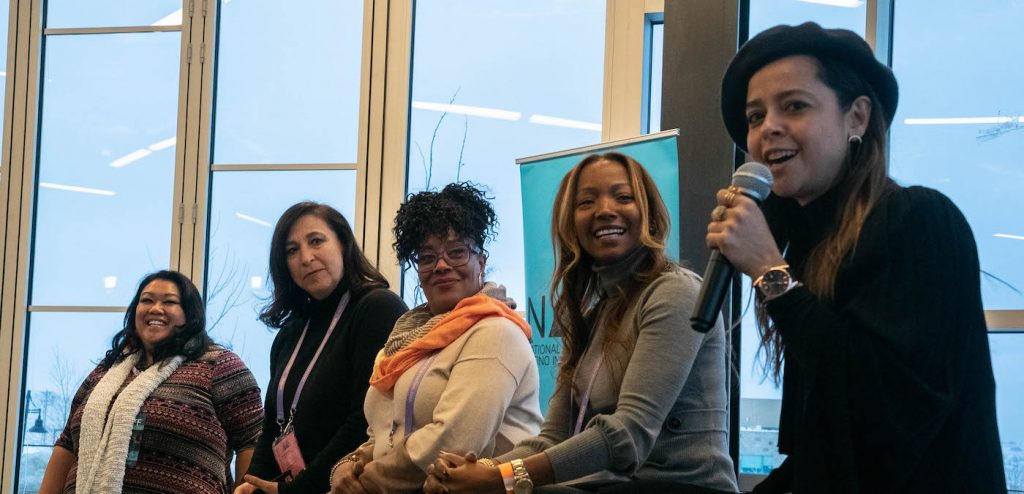 The panelists offered their thoughts on how they each try to make a difference in that arena. Mandalit del Barco explained how she centers marginalized people through her work. "What I do as an arts reporter is focus on different communities that have been underrepresented: Asian-American, Latinx, African-American, and people with disabilities. I have access to some people with power. We all talk amongst ourselves about what we are doing, and we all know we are trying to get more of our stories told, so I ask the people who have some power what they are doing. I think it's important to ask that of the people in power." She continued, "I do a lot of profiles of people, including actors, directors, and writers. Last year, out of dozens of profiles, I only did two profiles of white guys. That was natural to me. Those are the interesting stories, There have been so many interesting stories that have not yet been told. That's my mandate as a journalist, and as a person, as well"
Renata spoke about what inspires her. "As a female film critic of color, there's less than 3% that are represented, myself included. I like to make it my responsibility to make sure when I interview somebody or do a story. I try to make sure I'm putting a spotlight, as much as possible, on women and women of color. Here at Sundance, I am screening films that are starring, directed, or produced by women. With women, like Latino, African-Americans, people with disabilities, and Asian-Americans, our voices are seeming to be diminished more and more. The recent Oscar nominations are a perfect example of that."
Denson-Randolph said her long-term tenure at AMC has allowed her to speak up and stand up for more diversity in the films shown. "Now I have an opportunity to bring up certain things in areas that are missing. I make it a point to be vocal, and they listen to me. They want to do all they can for as many people as possible, but beyond age and gender, sometimes they miss things. I make it a point to step out of my comfort zone to do that." She went on to explain, "I appreciate they hire a lot of different kinds of people at the theatre level, but at the corporate level, I'm one of two senior women. It's a day-to-day job of considering options and finding ways of telling more diverse stories."
As an actor, Ramos has a very specific way of engaging herself in inclusivity. "For me, the way I do it is sitting in discomfort in everything I do. As an actor, I am in a show where I play a Latinx nurse becoming a doctor. We have 4 showrunners who are white, heterosexual men. When I have a chance to ask how we can make the characters a little more rounded, I do. By asking questions and building bridges with white, heterosexual men, about bringing more diversity to the cast, hopefully, it helps move the needle forward. There are a lot of us that are ready. If we get a chance, we can help expand the conversation."
NALIP also offered a contest called 'Take it to the Bank', in which 5 contestants pitched their projects in development, to a panel of executives and film insiders, for feedback, a chance to win $5000, and a meeting with a WarnerMedia 150 executive. The judges included trailblazing director Patricia Riggen (The 33, Under the Same Moon), VP of Corporate Responsibility for Warner Bros. Entertainment Stacey Hoppe, CAA agent Natalie Moran, and Ben Lopez, the executive director of NALIP.  The winner was actor, comedian, and sketch comedy artist Emma Ramos, for her half-hour single-camera series, Hangry. When asked why she chose Ramos, Patricia Riggen explained, "I heard a story and characters that were extraordinarily familiar, funny, and poignant, but yet have never been seen in mainstream television. Her project was just a step away from becoming a show. This award could be the final push for her to achieve it."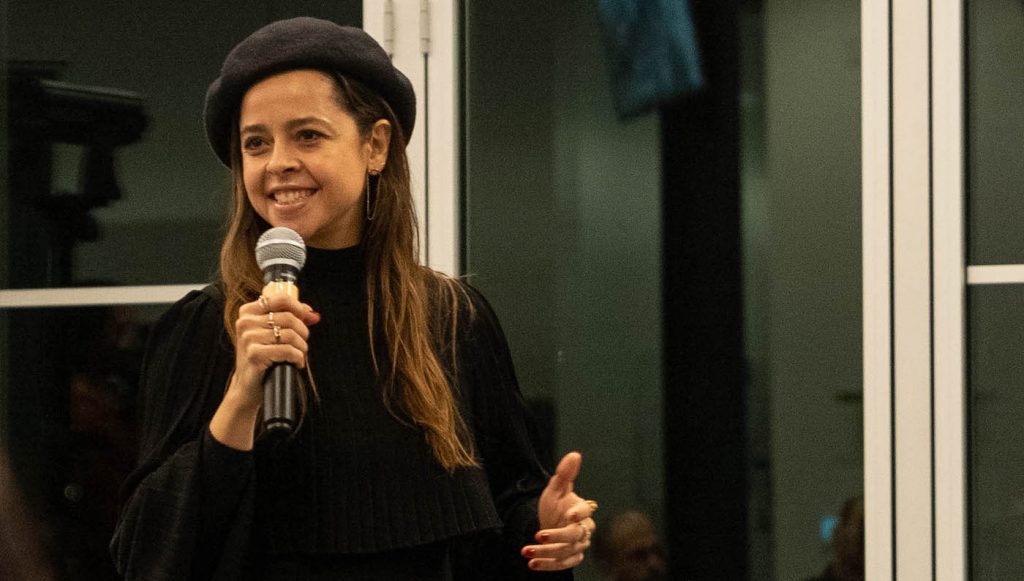 In another panel, 'Latinx in Action', directors with films at the fest spoke about their lives as creators, their hopes for the future, and the experience of being selected for and attending Sundance. Included were Angel Manuel Soto, whose film Charm City Kings will be released by Sony Pictures Classics on April 10th of this year. Also taking part was Cristina Costantini, co-director of Mucho Mucho Amor, which was acquired by Netflix ahead of the fest, and will debut on the streamer this summer.  Michael Arcos, director of the short Valerio's Day Out, which has already won awards at several other festivals, spoke about his experiences as well. The conversation was moderated by film critic Monica Castillo, and presented by WarnerMedia 150.
The National Association of Latino Independent Producers is a nonprofit organization that has addressed the needs of Latino content creators and professionals for over 20 years. Among the programs that help the producers, performers, writers, directors, and industry professionals NALIP serves, are the Latino Media Market, the Diverse Women in Media Forum, the NALIP Media Summit, and the Latino Lens Incubators. Their presence at Sundance 2020 furthers their commitment to building the pipeline of Latino talent to cultivate diversity in the current and future generations of storytellers.
Featured image: CAA's Natalie Moran, filmmaker Patricia Riggen, and NALIP Executive Director Ben Lopez speak to participants in the Take it to the Bank contest, presented by WarnerMedia 150 and Skullcandy. Photo courtesy of NALIP