Venom 2 Set Photos Reveal Tom Hardy's Return as Eddie Brock
We've got some official set photos from Venom 2, and they show Tom Hardy's head-devouring alien symbiote having a laugh with his nemesis, the other head-devouring alien symbiote Carnage, played by Woody Harrelson. Okay, these new images, from photographer Greg Williams, give us a glimpse of what appears to be a very fun set, rather than stills from the film itself. Hardy returns as Eddie Brock, the reporter-turned-antihero Venom, and the sequel is being helmed by the multitalented Andy Serkis. One image shows Hardy as Brock, in a driving rain without an umbrella. The second image shows Hardy and co-star Woody Harrelson, back on board as Cletus Kasady, better known as Venom's fellow alien symbiote Carnage.
Joining Hardy, Harrelson, and Serkis are Once Upon a Time in…Hollywood cinematographer Robert Richardson, and original Venom co-star Michelle Williams, who played a crucial role in Ruben Fleischer's original.
Fleischer's Venom was a big hit for Sony in 2018. The film gave us the origin story of one of Marvel's most iconic antiheroes, all carried on Tom Hardy's broad shoulders. Venom has long been a nemesis to Spider-Man, yet in Fleischer's Venom, he was definitely a proper antihero, going after the bad guys via his gloriously grotesque version of justice. Granted,  Spidey would never approve of his methods, but audiences flocked to see him mete out vengeance.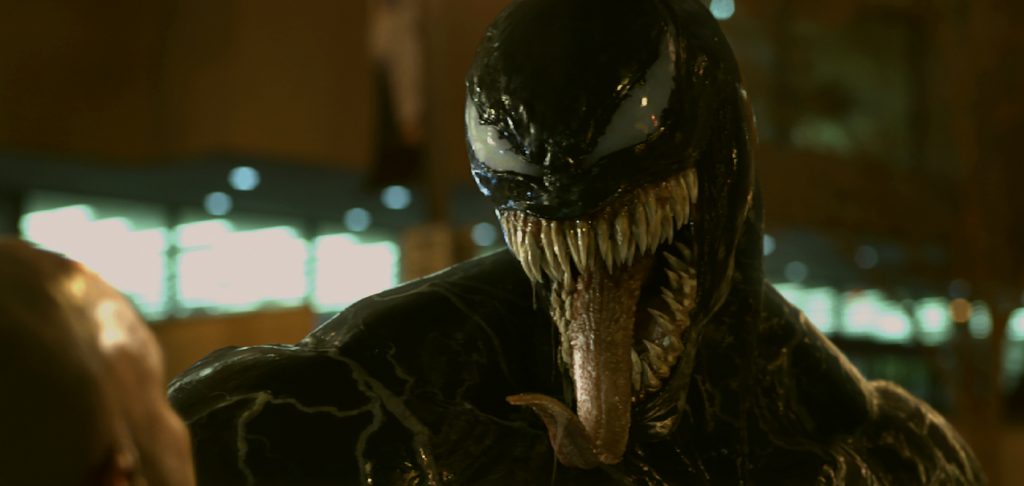 While William's images merely show us that production is moving along, you can be sure that Venom 2 will utilize Serkis's expertise with motion-capture performance to create a visually stunning sequel. Venom 2 will be the director's third feature, after his 2017 drama Breathe and the jaw-droppingly beautiful Mowgli, his photo-realistic take on Rudyard Kipling's "The Jungle Book." 
Joining Hardy, Harrelson, and Williams are Naomie Harris and Reid Scott.
Check out the images via Greg Williams' Instagram below:
Featured image: Eddie Brock (Tom Hardy) in Columbia Pictures' VEMON. Photo by Frank Masi. Courtesy Sony Pictures.