The Photograph Writer/Director Stella Meghie on Making Movies About Black Love
Director Stella Meghie has been on an accelerated rise in just these past few years. After an impressive feature debut with her 2016 indie comedy-drama Jean of the Joneses, the filmmaker followed up the next year with a studio picture, the YA adaptation Everything, Everything. After a return to indie filmmaking with 2018's The Weekend, Meghie is once again working in the studio sphere—The Photograph is a Universal release (it premieres on February 14, Valentine's Day) but closely resembles the filmmaker's pure creative vision—this is, after all, her original story, inspired by her grandmother.
Issa Rae (with whom Meghie has worked before on Insecure) plays Mae, the daughter of a famous late photographer, who left behind letters and the titular photograph, which propel Mae to dig into her past personal history. Meanwhile, she meets and falls for the journalist reporting on her mother's story (played by Lakeith Stanfield). This swoon-worthy romantic drama, which features a steamy caught-in-the-storm moment, is a perfect Valentine's Day release. Meghie spoke to The Credits about shooting the date scenes between Rae and Stanfield and what it's like to direct for studios versus shooting independently.
Did you always know this would be a Valentine's Day release? It's so sexy.
No, I didn't know. Right before we started shooting, Universal slated it for Valentine's Day. It's a good date!
Did any rehearsals go into ensuring the chemistry between Issa Rae and Lakeith Stanfield?
There wasn't any rehearsal. It's like matchmaking. I knew Issa and her vibe and then I ended up Skyping with Lakeith and got such a good feeling about him for Michael. He seemed to get the character so honestly. We did one reading of a few scenes right before we shot. They started with the date scene and as soon as they started talking, it was so immediate. I was smiling from ear to ear. It was so obvious.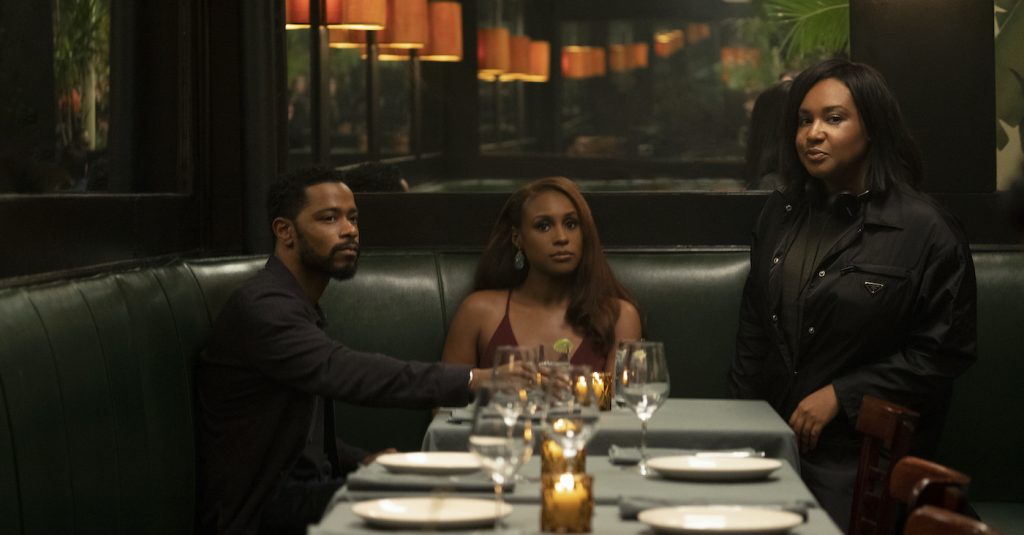 That date scene is so cute. Where did that Drake versus Kendrick argument come from?
I don't know but it was in the first draft and it always stuck. I love hip-hop. I love Drake—I'm from Toronto. I love Kendrick. It was a fun way for them to get to know each other.
Does Kendrick know he's inadvertently a huge part of this movie?
I know, right! We had to get clearances from his team so somebody knows over there.
I know you've worked with Issa before and you have another collaboration coming up. Could you tell me how that working relationship came to be and when you two knew you clicked creatively?
We have American Princess and it's still in development. We both signed onto that before she signed on to do The Photograph. And I'm doing a special episode of Insecure this season.
The first time I met her was working on Insecure but I've been a huge fan of her web series, Awkward Black Girl. When we were on set for Insecure, it was really easy going. I can be a little reserved on set in terms of building relationships and making it natural but she's so fun to be around and so talented and professional and on point. We have the same kind of working style so I really wanted to do something else with her. And I got really close with Amy Aniobi, one of the senior writers on her show, and she kind of bridged American Princess for us. And when I was doing The Photograph, I had the producers reach out and she loved the script and signed on immediately!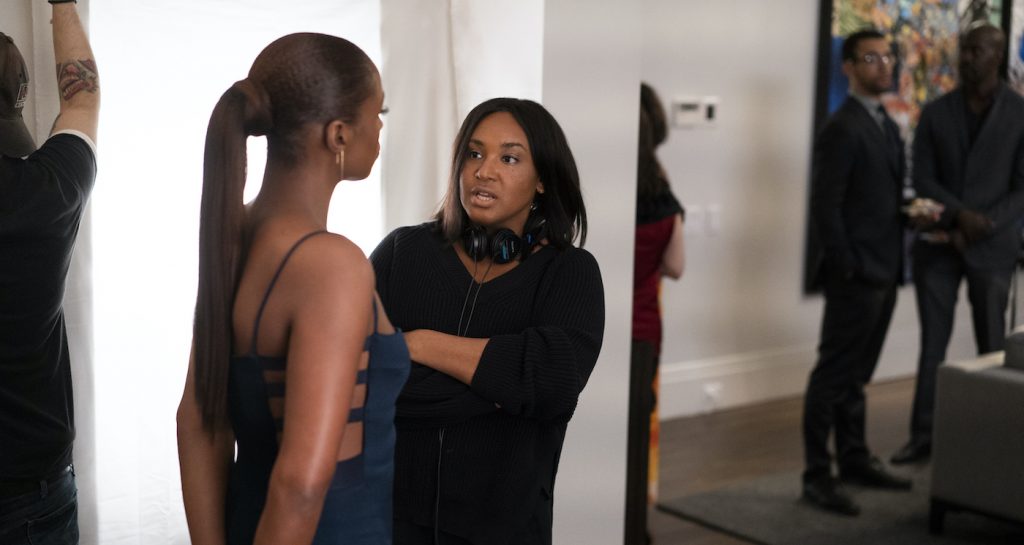 I also loved the side romantic storylines in this film, like his intern slash wingman.
Oh my God, Kelvin Harrison Jr.! I love him. He does such serious movies like Luce and Waves and It Comes at Night, but he's one of the funniest people I know.
I was like, he's cute too! He needs his own romantic storyline! And I was so glad he got it.
Absolutely, I would love to write something for him and Jasmine Cephas Jones.
I know this movie is somewhat personal. What is the real story behind it and how long have you had this idea for?
I wanted to write this romantic drama and at the time, my grandmother, who's since passed away, was meeting her daughter that she had given up when she was a teenager. She was just a different person. She was nervous and regretful and excited and I've never seen her like that and it got me thinking, "What if you had been separated from someone for so long but it was someone so deep inside your bones?" I thought about what it would be like to think about them every day and not see them and I ended up flipping that kind of feeling and idea into the more romantic love [Mae's parents] Christina and Isaac have. I wrote it five years ago, even before Jean of the Joneses, so it's been a long process. I wrote it by myself and brought it to Will Packer [the producer], and he brought it to Universal and they ended up buying it. We developed it for a year and then made it. Once I sold it to the studio, it got going pretty quickly.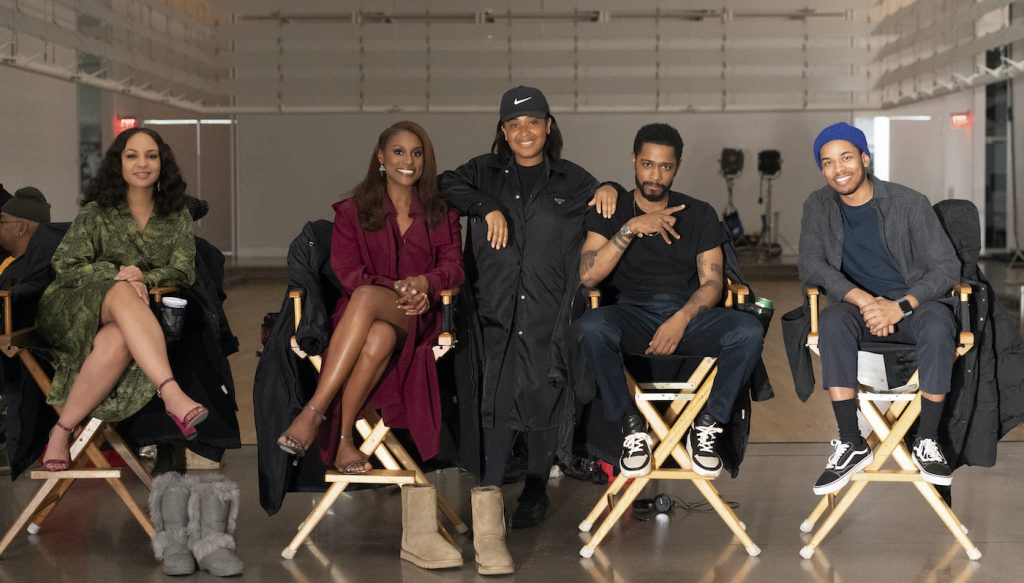 Obviously there aren't very many black women directors working in the studio system, and you've cracked that. What was it like getting your foot in there and do you often feel tokenized or asked to compromise your visions?
I felt like when Everything, Everything came up, I never really pictured myself doing a teen romance but I liked the book and the author Nicola Yoon and it seemed like a spot in the studio system that doesn't exist so I went full force to get that job. I'm glad I did. That's probably the reason Universal was happy to do The Photograph since I had a little bit of a track record. But I did The Weekend afterward because I didn't write Everything, Everything and often when you're working in the studio system, it's not your whole vision. There's a lot of collaboration and a lot of thought about how you're gonna reach a wide audience, so there are compromises sometimes. Specificity can be lost and I think that's what I battled most in the studio system because they make movies for a wide audience. The Photograph is a combination of that because it's an original story that I wrote on my own. Things change a little bit and there are compromises, of course, and people have given you a lot of money and you make the best film within the circumstances you're in. But it's much closer to my voice than Everything, Everything.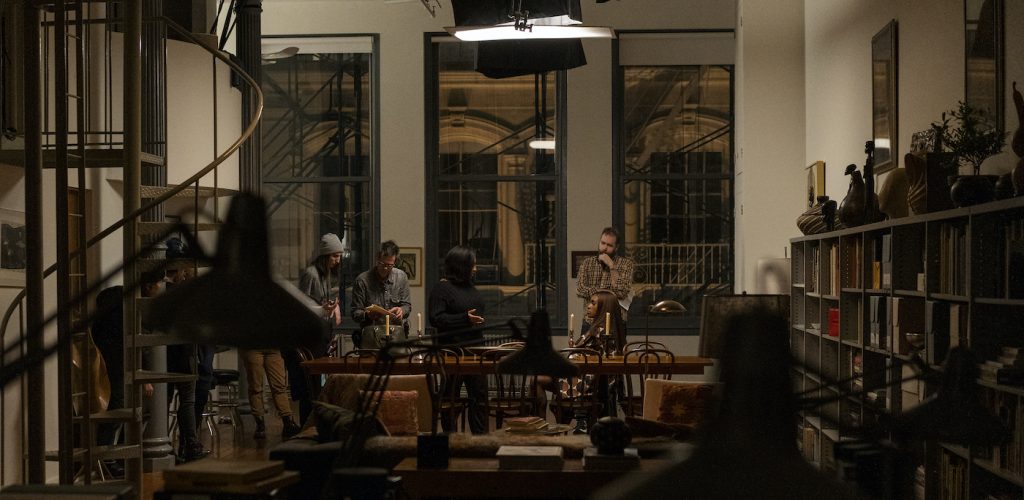 How do you go about looking out for young, black talent?
I watch everything—all the indies, everything out of festivals. I keep an eye on the talent that's rising. This story was cool because there are two different time periods and such a large cast. I was able to lock in Issa and Lakeith and then pushed the studio to agree on Kelvin, Jasmine, Chanté Adams…I went to bat for them because they deserve to be working at the studio level. I wouldn't take no for an answer. We need stars. There's a gap of young, black stars in their 20s and 30s.
And then you have Chelsea Peretti…
[Laughs] Chelsea! She's so amazing, I've been following her career. When we got to talk, I was so excited. She always checked in with me and was so sweet. But yeah in this movie, strangely, she's the only white person. She and Lakeith are friends in real life.
Could you talk about the importance of telling a story like this, a romantic drama, versus the tragedy of black livelihood?
That's my lane—I like romantic comedy-dramas. This is more on the dramatic side, but this is the tone that I enjoy and thrive in and that I'm best at writing. When I'm doing a film, I always want to entertain and be thought-provoking. I want people to leave feeling happy. I don't imagine that changing.
Featured image: Director Stella Meghie. Courtesy Universal Pictures