Portrait of a Lady on Fire Writer/Director Celine Sciamma on her Masterpiece
French writer-director Céline Sciamma, whose first three features, Water Lilies (2007), Tomboy (2011) and Girlhood (2014), established her unique voice with visually compelling depictions of coming of age, gender identity and the intimacy of girls' relationships, has created a masterpiece with her fourth film, Portrait of a Lady on Fire. A sumptuous lesbian romance set in France in 1760, Portrait of a Lady on Fire won the best screenplay award and the Queer Palm at this year's Cannes Film Festival and a host of year-end critics' accolades. It's an unforgettable love story that unspools at a slow burn until the final act, which is as incandescent as the title suggests.
Sciamma spoke with me following a February 13 preview of Portrait of a Lady on Fire at Boston's Coolidge Corner Theatre (the Neon release opens wide on February 14).  Sciamma was scheduled to attend the event in person but was held up in Chicago due to a blizzard. To cheers from the sold-out crowd, she gamely and affably fielded my questions via Skype.
Unlike nearly all on-screen love stories, Portrait of a Lady on Fire doesn't have a score that cues the heartstrings but instead uses silence and natural sound — crashing waves, footsteps, crackling fires — to create its rhythms and pacing. But there are two pieces of music featured in pivotal scenes. One is the a-cappella chant by a group of women on a beach at night; the other is Vivaldi's The Four Seasons featured in a finale that leaves audiences breathless because it is a one-shot summation of the film's layered themes of love, the memory of love, the consoling power of art and "how love brings us to love art," says Sciamma.
"It was kind of scary because making a love story without a score is pretty challenging. But I wanted the audience to be in the same position as the characters. When music appears, I wanted the audience to actually feel the impact of the music. I chose Vivaldi because I wanted a classical piece that everyone remembers so we all have the same experience."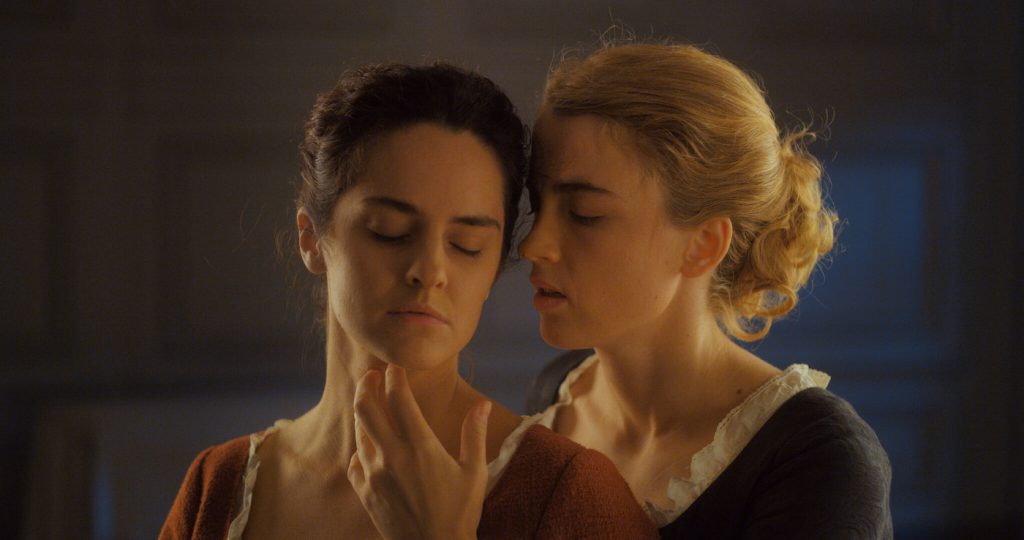 Portrait of a Lady on Fire is Sciamma's first film set in the distant past but it's a period piece that feels as immediate and modern as her coming of age classics. A painter, Marianne (Noémi Merlant), arrives on the coast of Brittany, commissioned to create a wedding portrait of an upper-class young woman, Héloïse (Adèle Haenel who starred in Sciamma's Water Lilies and the Dardenne brothers'  The Unknown Girl), who's fresh out of a convent and unhappily betrothed to an Italian she's never met. It's Héloïse's mother, a French countess (Valeria Golina), who's hired Marianne because the previous male painter failed to execute the portrait. Marianne is instructed to be Héloïse's companion and to paint her only secretly, purely from memory.
What ensues is a textured, complex but engaging tale of friendship, romance, class differences and how women navigated love and lust under strict patriarchy. Most brilliantly, it's about the female gaze: Marianne struggles to capture an accurate representation of Héloïse. Finally, she sees her; and Héloïse allows her herself to be seen. The portrait in question becomes a true collaboration as the women fall in love. They don't end up together — no surprise, given the times, and this outcome is made clear by the film's opening scene. But through artistic images of one another, recorded and remembered, they keep alive a precious, private memory forever burned into their hearts and minds.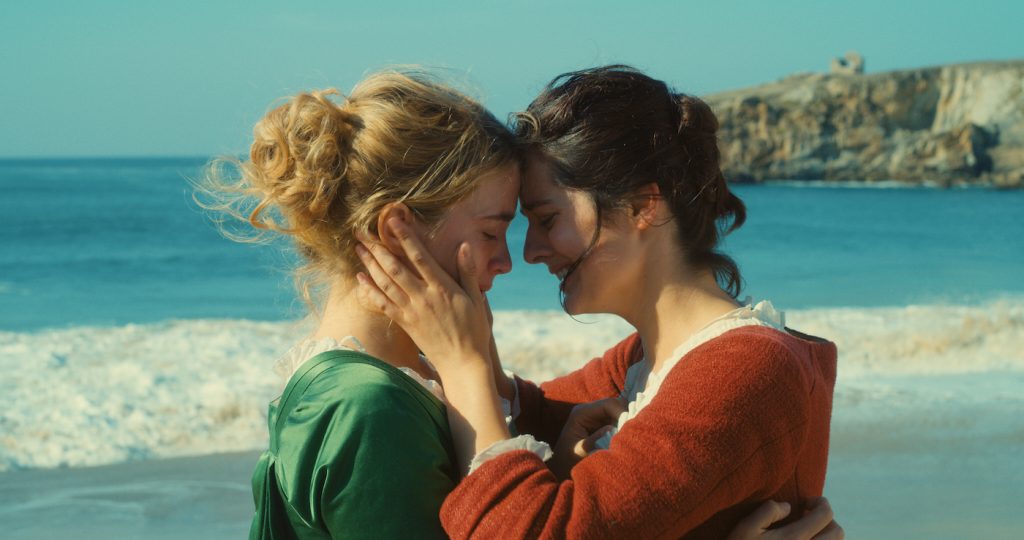 Sciamma says she wrote the script for Haenel as their second screen collaboration; they have been open about the fact that they were a couple for some time. "I wanted to make a love story, I wanted to talk about creation, and I wanted to work with Adèle again," says Sciamma who trained at the prestigious Parisian cinema school La Fémis. Besides her own films, she wrote the screenplays for Being 17 (2016) with director Andre Techine and the award-winning animated film Ma vie de Courgette (2016) which was released in the U.S. as My Life as a Zucchini.
Sciamma, 39, grew up in the Paris suburbs and says her favorite childhood movies included Hollywood musicals with Fred Astaire and Amblin Entertainment releases such as E.T. and The Goonies. Her formal but inventive visual style shows the influences of filmmakers such as Ingmar Bergman, David Lynch, and Chantal Akerman, but Sciamma says her visual language is inspired by many forms of art.
"It's not [just] cinema images that give the desire for cinema. It could be a painting or a sentence in a book that will bring an image to mind," she says.
Along with her cinematographer Claire Mathon ("She's really fun; for me, that's really important," says the director), Sciamma researched the lives and works of women painters in the 18th century. "There were hundreds of them in this period," she says. "Some were the daughters of painters; wives of painters." But the character of Marianne sprang from her imagination. "I wanted to show an artist at work as an everyday thing."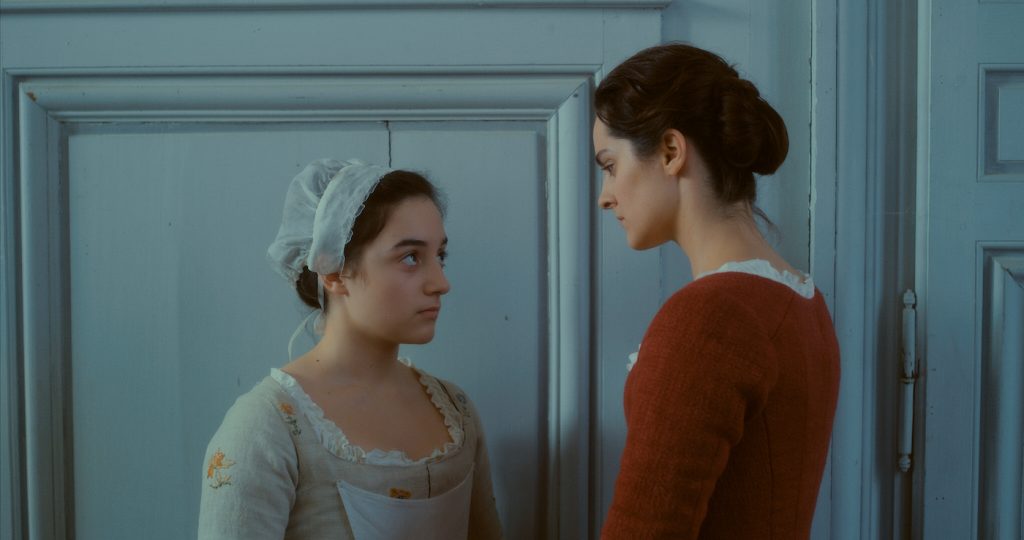 It was a clear visual image in her mind that resulted in the film's powerful subplot about Sophie (Luana Bajrami), the young maid in the household. "It was a scene I was craving to do for a long time, when [the three young women] are in the kitchen" preparing a meal, says Sciamma, a moment of quiet domestic familiarity and equality. "Sophie was part of the process of my writing from the beginning. I wanted to talk about friendship and sorority."
In another of the movie's memorable sequences, Héloïse and Marianne accompany Sophie to a small country house where a peasant woman provides her with an abortion. It's Héloïse who later that night urges Marianne to sketch the memory of what they experienced, creating an artistic document of the ordinary yet profound event. It is another of Portrait of a Lady on Fire's themes about the complexities of women's interior lives and the shared histories that have been erased and neglected by the culture. "When I discovered the body of work of those painters who were erased by art history, it was troubling and sad," Sciamma says, "because those images are consequently missing from our lives."
Featured image: Adèle Haenel is Héloïse in 'Portrait of a Lady on Fire.' Courtesy Neon.