Hope for a New Era of Sustainable Filmmaking at Film Goes Green at the Berlinale
On Friday during the run of the 70th Berlin International Film Festival, a diverse audience gathered at the law offices of Morrison Foerster for a panel on green filmmaking, hosted by the entertainment firm and the Motion Picture Association. "Our studios recognize that sustainability is business, and business is sustainability," remarked MPA chairman and CEO Charles H. Rivkin, who opened the evening's event. The panelists represented professions across the film industry as well as niche areas like electric car racing and futuristic city development, and all agreed that while filmmaking is in a far better place in terms of sustainable practices than it was a decade ago, there is plenty more to do. Luckily, as Film Goes Green demonstrated, there's never been a better moment for good ideas and even better intentions.
Major studio productions are already approaching sustainability in their own way. Rivkin pointed out that Little Women was awarded for protecting areas around Louisa May Alcott's former home, the Downton Abbey movie's team eschewed paper documents for digital, reused their sets, and made plentiful nonprofit donations, while the Netflix series Berlin Station bussed their crews around Europe, only used hybrid vehicles and donated their production assets to the series Angel of Darkness. These examples all fall under the MPA's umbrella of studios, and Rivkin seemed rightfully proud. Recalling his time as CEO at the Jim Henson Company, he said, "Jim used to say something that has always stayed with me. He said: 'media, if used properly, can be a force for good.'"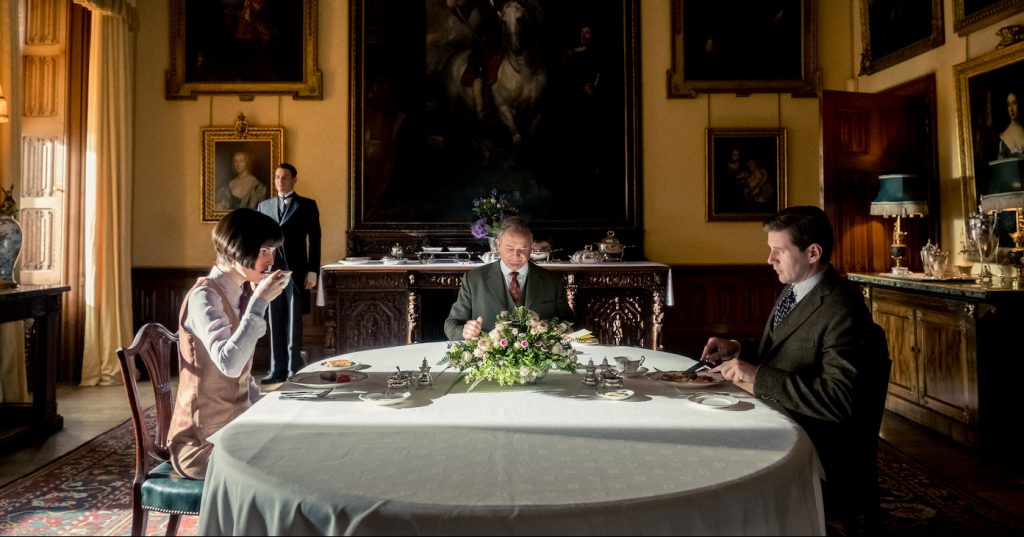 To panelist Louisa Céline Gaffron, a German actress, the correct application of this force translates to preserving a world for filmmakers to come. After playing a clip from a Fridays for Future demonstration in Berlin, she discussed her observations working concurrently on several sets at a time, with some attempting a range of sustainable practices and others, none at all. "I've seen a lot of sets which were sustainable but not really, with people flying in and no plastic cups for actors, but for all the extras." She emphatically urged her fellow panelists and the audience to change their ways, and faster. "We have a lot of young people who want to continue doing this job and to tell stories, so please give us the opportunity to do that."
Cups were a hot-button issue across the panel. Peter Dinges, the CEO of the German Federal Film Board, pointed out that reusable cups will be introduced on a set, only to disappear after a couple of days, making them emblematic of the way that a greener mindset has taken hold within the industry but has far to go to become entrenched. In Europe, at least, one solution is to mandate that shooting subsidies are granted only to sufficiently green productions. "This planet will not wait for us until the film industry is ready," Dinges said. "Personally, I think many producers are already ready and prepared and full of enthusiasm. Some of them just don't know how to do it. They need help, support, they need training, advice, and they need money to do it."
A producer in attendance, Alvaro Longoria, is past the point of readiness. Asked about the potential for incorporating higher green standards into shooting practices, he was frank: "The initial reaction is, oh, it's going to cost me money. But once the whole crew is integrated into that mentality, it kind of flows naturally. And then it saves money," he said. "Reusing props on sets. Not having water bottles. Having catering that's from around where you're shooting. Green initiatives seem expensive, but most of the time, they are cheap."
It's also possible to extend such efficiencies extend to studio shoots. Oliver Vogel, the Chief Creative Officer at Bavaria Fiction, noted that his studio upgraded their premises from using 30% of the total heating energy consumption in their local area, to becoming the first climate-neutral studio in the world. It was neither easy nor cheap, but the energy-sucking studio in question also occupies a 100-year-old building. "It's easier if you have a studio built from scratch," Vogel pointed out. "You have to do it. Don't think about it."
The panelists generally agreed that adopting a more thoroughly green mindset from the commercial end will work best when both encouraged and required by thoughtful regulation. A lawyer for Paramount Pictures, Peter Flanigan, presciently submitted notes on this very topic to the entertainment law firm where he was working back in 2002. He sounded optimistic about the progress he's seen since then, from all sides. "Much like the saying, no filmmaker sets out to make a bad film, I don't think any filmmaker sets out to hurt the environment. But it wasn't necessarily at the top of their minds 18 years ago," Flanigan pointed out. What he's observed since the early Aughts is an increase both in studios taking environmental issues into consideration and on the regulatory side, local governments specifically looking at a production's environmental practices when issuing shooting permits. At Paramount, for example, a greener approach begins with a checklist of sustainable practices the crew will have to hit on every production, and a debriefing at the end on how they did.
At its conclusion, the panelists at Film Goes Green agreed that time is of the essence—the innovative ideas presented on Friday need to become reality in tandem with the good work already being done. Longoria, the director and producer, summed up nicely everyone's wished-for end to wasteful practices in film: "my hope is this becomes part of history very soon, this all becomes part of our dark past."
Featured image: BTS: Emma Watson and Director/Writer Greta Gerwig on the set of Columbia Pictures' LITTLE WOMEN." Photo credit: Wilson Webb; © 2019 CTMG, Inc. All Rights Reserved.