How Color and Cut Transformed the Characters of Little Women
In the opening scene of writer-director Greta Gerwig's adaption of Little Women, Jo March (Saoirse Ronan) walks into the New York offices of the Weekly Volcano and offers a novella to its publisher Mr. Dashwood (Tracy Letts), who chuckles at its jokes, editing as he reads. Jo sits across, hiding her ink covered hands and wearing a Marengo-colored jacket that drapes a comfy, black sweater. A white collar peeks out from her neck. The worn-in outfit is a seamless extension of a woman who has no desire to conform to the unwritten standards society has placed on her.
The iconic novel has been retold on film times before but Gerwig explores the March sisters – Meg (Emma Watson), Amy (Florence Pugh), Beth (Eliza Scanlen) and Jo – differently. Gerwig jumps back and from the March sisters' childhood to adulthood, detailing their creative hopes and dreams and what has become of them. Wardrobe was key in illustrating the story arc of each sister while subliminally outlining their individuality and quirks.
Costume design was led by Jacqueline Durran, who's known for crafting elegant bespoke styles having worked on quintessential period films Pride & Predjudice (2005), Atonement (2007) and Anna Karenina (2012), the latter she won an Oscar and BAFTA. More recently, Durran designed the looks of Beauty and the Beast (2018), Darkest Hour (2018) and Sam Mendes's "one-shot" war film 1917.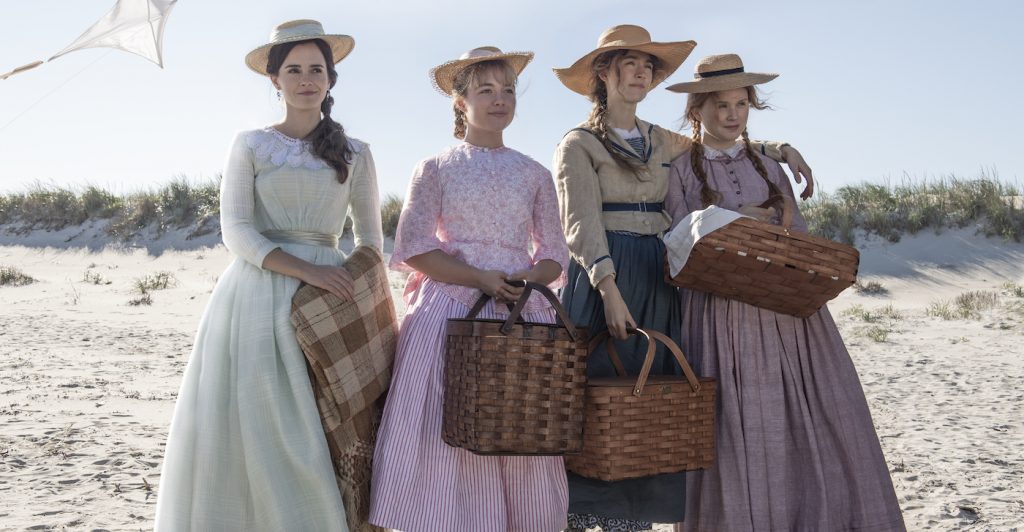 For Little Women, Durran says she didn't stick to Victorian lifestyle rules, the period where the story takes place, but instead, layered a vibrancy to the designs paralleling the family's radical nature.  "As a rule when you get into the characterization of the family what we were trying to do is make it feel like a real lived-in world, so when you watch, you feel that this is what their family life is like."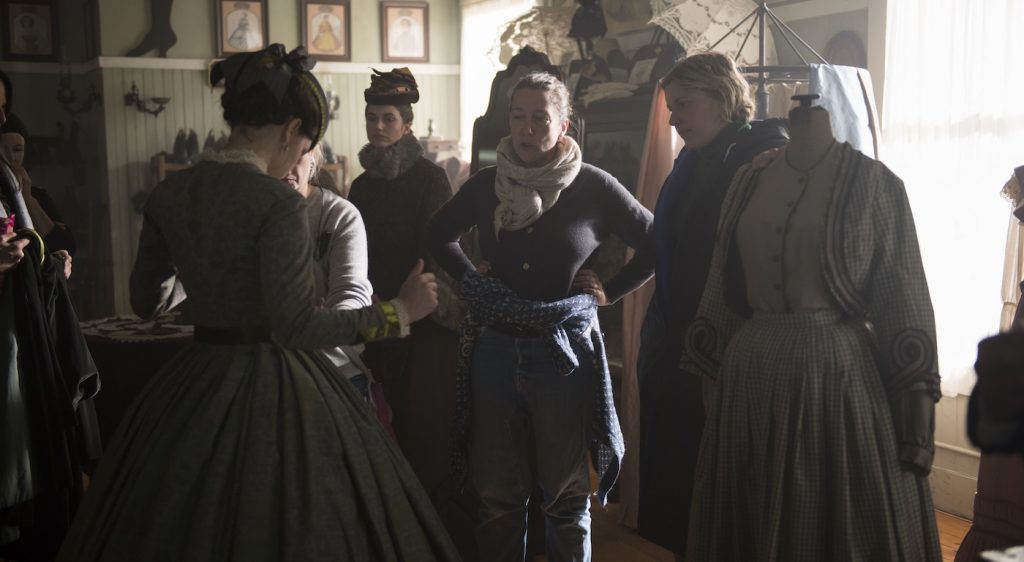 In establishing the color palette, a reference was made to a Christmas gift given to them by their mother (Laura Dern). "They all receive notebooks and each has a color attached to it we used to define their colorways," says Durran. "Jo's notebook was red but we didn't' want her to wear red all the time so we fell on red and indigo as her palette. Meg was lavender and green. Amy was light blue and Beth wore pink and brown tones."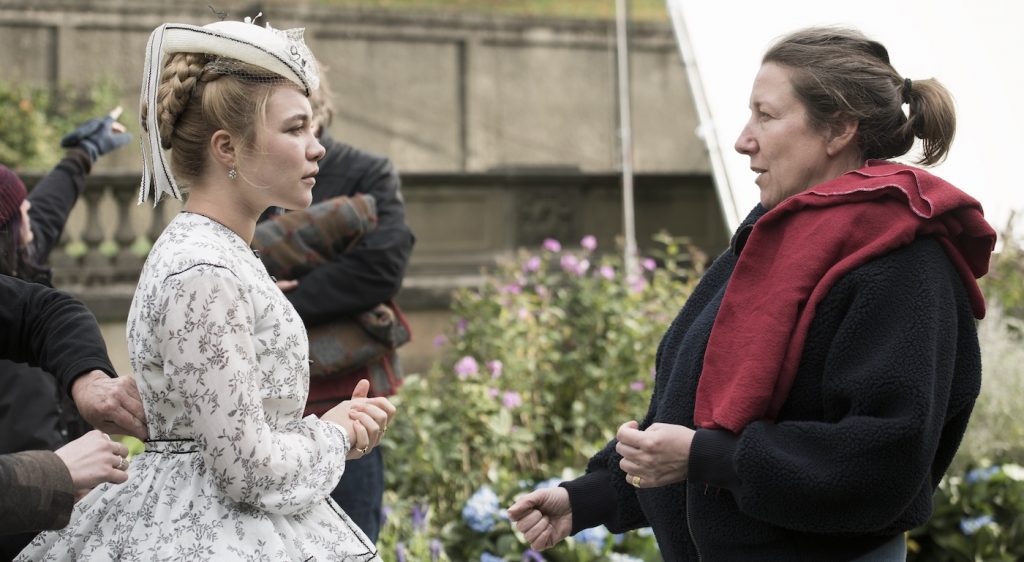 The designer needed to fashion two looks for each sister to support an interweaving timeline of young and old. Skirt length was one driving force to establish age as children in the Victorian era tended to wear a shorter hemline than adults. Only Meg carried a slight change since she's seen as the most mature of the group. Corsets also marked the transition between childhood and adulthood. In particular for Meg, who attends a dance wearing a full-skirted pink dress and matching gloves. "Going to this dance is part of her young self. Something that she wanted to achieve as a girl and then puts it behind her," mentions Durran. "After we see Meg pivot and she wears a corset which is a connection to her older self."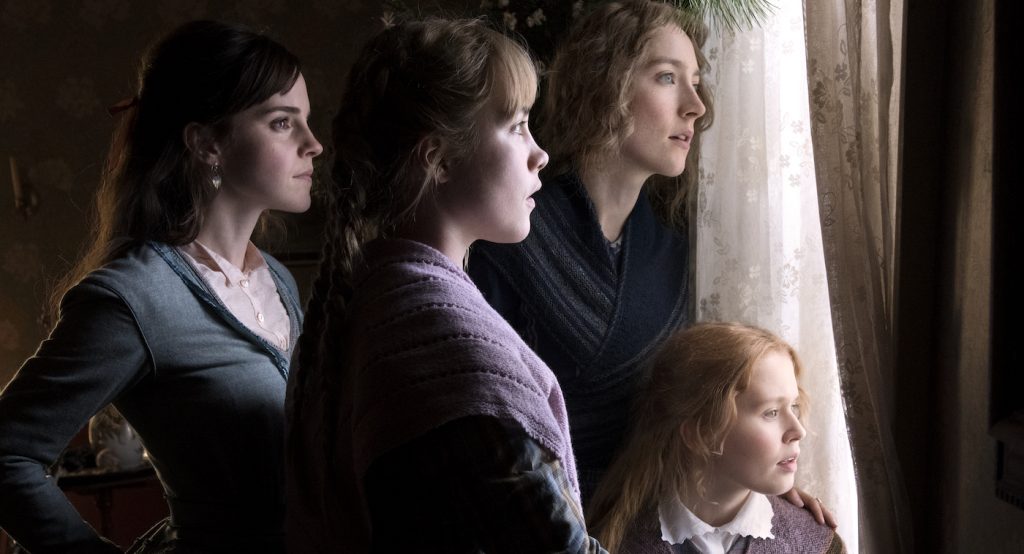 Jo was dressed the furthest from the Victorian era. "She wears boy's and men's waistcoats. The way she wears her shirt with a skirt would be the way a man might have worn it. The brimmed black hat she wears is taken from a Homer Winslow painting of a boy in a field. All her references are quite tomboyish," notes Durran. "We did think about changing her look when she arrives in New York but it fell too far from the character we established and pulled it back."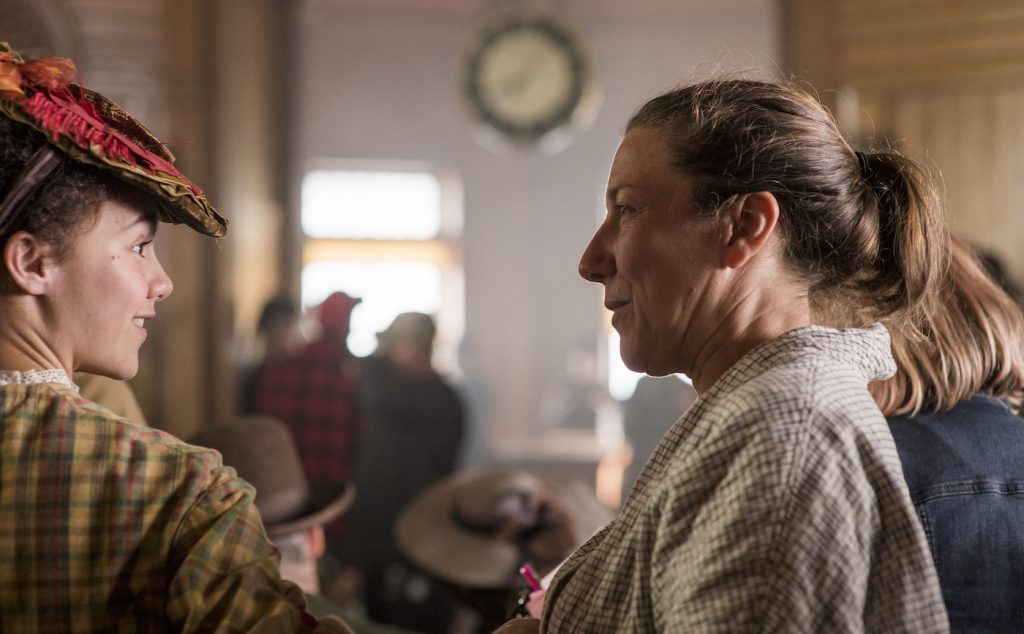 Opposite in style of Jo is the sisters' Aunt March (Meryl Streep), who wears darker clothes fitting for an older woman of the time. What separates her is the accuracy of the costumes. "With the girls, we tried to capture a sense of freedom and fight the Victorian rules as we know them. With Aunt March, we recreated the Victorian style as accurately as possible down to the slightest detail," says Durran.
Durran orchestrated three distinct dances for the film. One being Meg's lavish party. The second near the March home that touted a more rural, homespun vibe. Here, Jo dances in a floor-length red dress with her childhood friend and neighbor Laurie (Timothée Chalamet) on the porch as a way to escape the contrived evening. The other, attended by Amy, aired a European chic style with hundreds of extras wearing rich blacks and darker hues. "The idea of it was a more sophisticated approach. One that hadn't hit America yet," notes Durran.
Though the costume designer has a history of recreating period clothing, on Little Women, Durran was inspired by the actors around her. "It was a pleasure to be with a group of young, brilliant and talented women. Greta gave them a space to create these fantastic characters and we wanted to reflect that in the costumes."
Featured image: Florence Pugh, Saoirse Ronan and Emma Watson in Greta Gerwig's LITTLE WOMEN. Photo by Wilson Webb. Courtesy Sony Pictures.