Best of 2019: How Us Cinematographer Michael Gioulakis Captured Doppelgangers in the Dark
*We're reposting some of our favorite interviews of 2019.
"I have an aversion to moonlight, at least in movies." So says cinematographer Michael Gioulakis, who had ample opportunity to capture dark spaces in Jordan Peele's critically acclaimed horror film Us. Peele's follow-up to Oscar-nominated thriller Get Out casts Lupita Nyog'o as a high-strung mother who's being stalked, along with her husband (Winston Duke) and kids (Shahadi Wright Joseph and Evan Alex), by homicidal doppelgangers. In one of the movie's spookiest night-time shots, a mysterious family of four stands motionless outside the hero's home. "Because I don't like moonlight, we decided that having a street lamp behind these characters would motivate that silhouette shape to happen," Gioulakis says. "Our art department brought in some street lights, and we lit up the area behind the actors."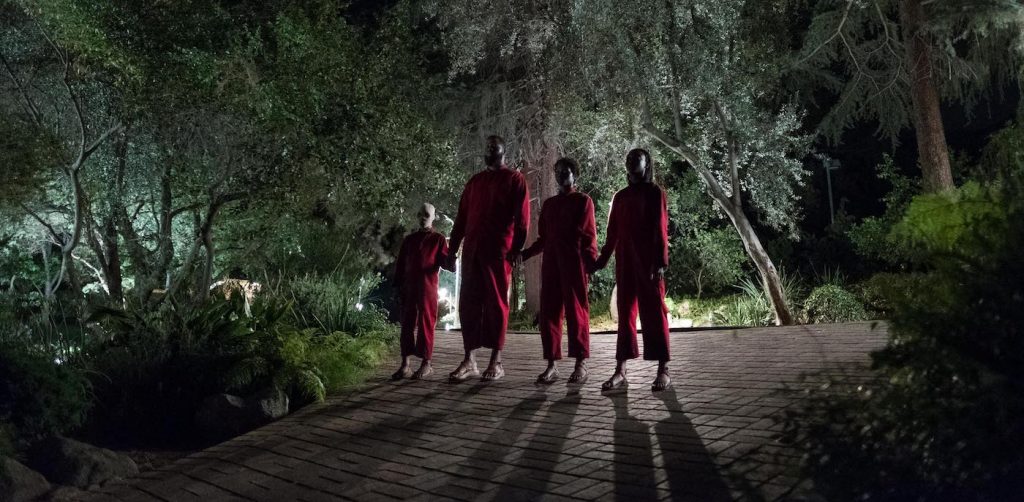 Before teaming with Peele on Us, Gioulakis honed his horror chops by shooting It Follows for Florida State University classmate David Robert Mitchell, followed by M. Night Shymalan's Glass. He says, "One of the things I learned about horror from working with those guys, and now with Jordan, is that the most successful moments intensity-wise are the ones where you're able to get close to the character, rather than being too objective with the camera."
Us was filmed partly in Santa Cruz along the central California coastline, but much of the night-time carnage takes place inside a dimly-lit house located in sun-baked Pasadena. "It was challenging to film inside a home with the lights off because you have to decide how to light the faces," Gioulakis explains. "You want to see just enough of the character so you can read the expression, but you don't want it to feel too lit up." Gioulakis and his team embedded the interior with LED lights and set up tungsten lights on the outside. Complicating matters: young co-stars Joseph and Alex were minors restricted from working long hours at night. Gioulakis explains, "That was a big challenge in scheduling since most of the movie takes place at night." The solution. "We had to tent the whole house so we could shoot 'night' during the day."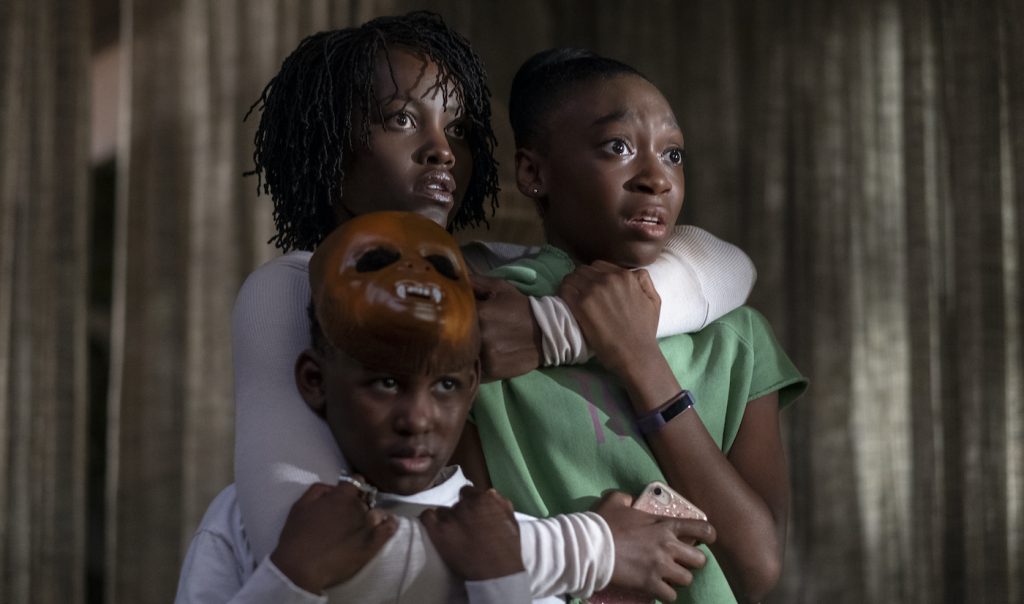 Gioulakis filmed Us with Alexa cameras and Zeiss Prime lenses. For the bloody home invasion sequence, he deployed a special rig that situated the camera low to the ground to follow "Bad Jason" as he crawls around on all fours. Gioulakis says, "We used a low-angle prism, which is basically a mirrored contraption that allows your camera lens to go six inches lower than it normally would. I liked the idea of having the camera really low as a constant reminder about what's underneath—death."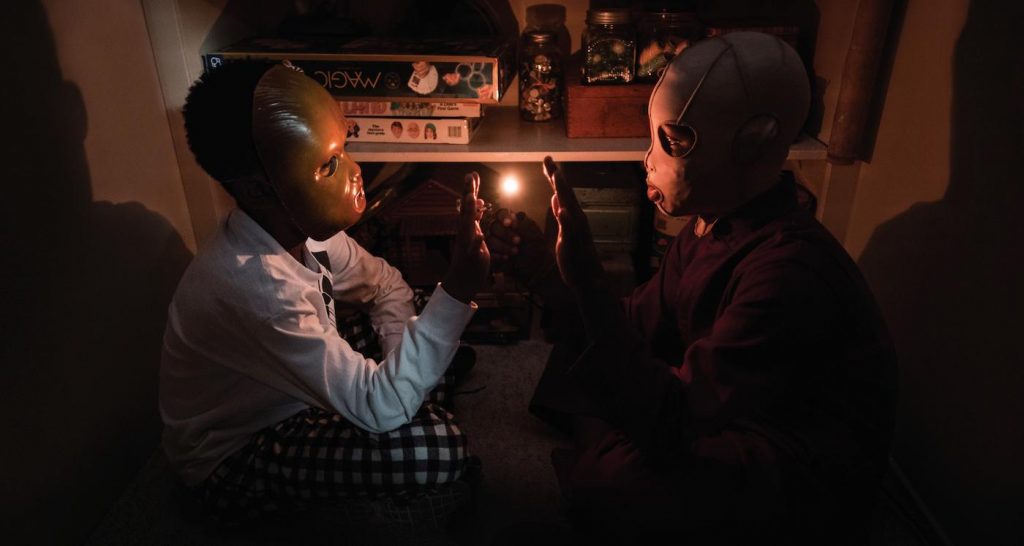 Fight sequences were staged with precision thanks to storyboards that meticulously sketched out blocking and camera angles in advance. "Pretty much every shot was boarded," Gioulakis explains. "Throughout the shoot, Jordan and I would be in his trailer at lunch or the end of the day reviewing the boards and sometimes revising them. The boards were really important to shoot efficiently because we had body doubles on set the whole time standing by to play the opposite character of the lead. That meant we always needed to know exactly whose face was going to be seen."
Storyboard artist Eric Yamamoto became an indispensable part of the filmmaking process, Gioulakis says. "Eric usually works digitally but he was with us the whole time on this shoot, so sometimes he'd draw stuff out by hand and just give it to us if we needed something quick. I love having storyboards as a blueprint for what we need to shoot on any given scene."
The movie's climactic confrontation takes place in the basement of a carnival house of horrors, where Nyog'o as Adelaine goes face to face with Nyog'o as Bad Adelaine. "We didn't use motion control or any fancy movement, and we didn't use green screen," Gioulakis says. "We just left the camera in the same position and set up an eye line or positioned the double in the other half of the frame. Then we'd flop the lead, and Industrial Light and & Magic would stitch it together into the same shot. Jordan made a conscious decision to avoid the spectacle of having two versions of the actor being in the same frame at the same time. It only happened a handful of times because we tried not to make a thing out of it."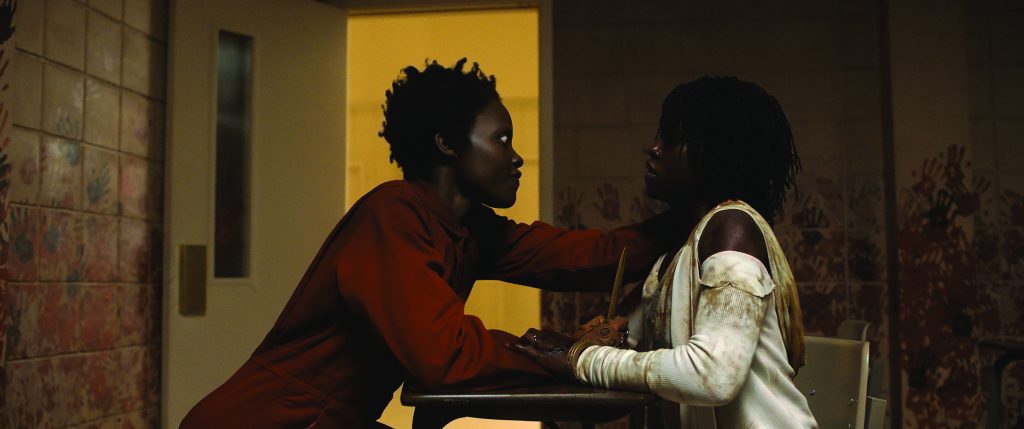 Gioulakis captured the sinister proceedings of Us with a variety of Steadicam, Ronin gimbals and hand-held camera moves, but when it comes to the film's unsettling visualization of social injustice-empowered zombies, the cinematographer defers all credit to his director. He says, "What you see in Us? That's Jordan's mind on screen."
Featured image: The Wilson family doppelgängers (from left) Abraham (Winston Duke), Umbrae (Shahadi Wright Joseph), Pluto (Evan Alex) and Red (Lupita Nyong'o) in "Us," written, produced and directed by Jordan Peele.