Producer Daniela Taplin Lundberg on Pushing Boundaries With Harriet and Honey Boy
She has produced more than 25 feature films that have moved audiences and in many cases also earned industry accolades. Indeed, Daniela Taplin Lundberg has demonstrated a knack for bringing to the screen soulful stories that deftly explore the human condition — all while keeping budgets in check and quality high.
Armed with filmmaking insights gleaned early on from her parents, producer Jonathan Taplin (Mean Streets) and actress Rosanna DeSoto (Stand and Deliver), as well as valuable past experience gained as a co-founding partner of Red Crown Productions (Hello, My Name Is Doris and Patti Cake$), Taplin Lundberg is balancing two highly different films under her Stay Gold Features banner: Harriet and Honey Boy.
Harriet stars Cynthia Erivo as the eponymous Harriet Tubman in a broad biopic that focuses not only on the perils she faced in freeing slaves but on her early life and later love as well. Directed by Kasi Lemmons, the Focus Features release is the first theatrical film about the Underground Railroad heroine.
Honey Boy, a stirring drama inspired by writer and star Shia LaBeouf's own turbulent childhood, follows the complicated relationship between a young actor and his alcoholic father. Alma Har'el helmed the Amazon Studios release, which took home the U.S. Dramatic Special Jury Prize for Vision and Craft at this year's Sundance Film Festival.
The Credits chatted with Taplin Lundberg about her two potential Oscar contenders. "It's extraordinary. I've never had a moment like this!" she says. Edited interview excerpts follow.
What are your criteria for producing a film? Looking at your past work, there seems to be the theme of the underdog.
Yes, yes! That's like my favorite phrase when we're talking about films we want to pursue. I always try to get behind films that ultimately reflect the triumphs of the human spirit and the ability to overcome major obstacles, and I think underdogs are a major theme in all of my films. And I also feel like novelty is really something that we try to capture. You know, don't follow a trend just because something was successful last year. Always try to be pursuing something that feels fresh and new and that audiences might be intrigued by.
How did these films come your way and what drew you to become involved?
My partner, Debra Martin Chase, first spoke to me about Harriet. We're from two very different schools. Debra's a big studio producer. She'd done Sisterhood of the Traveling Pants and The Princess Diaries, and I was from the independent side of town. I had pulled together the financing and produced Beasts of No Nation and Hello, My Name Is Doris and The Kids Are All Right, and I really knew how to produce a film on a budget. So together we became this dynamic duo and for five years pushed the ball up the hill and finally sat down with Kasi Lemmons about two years ago, got her to rewrite the script and really infuse it with a sense of femininity and humanity. And then at one point, I was going to raise all the production financing independently and committed to that. And at the 11th hour we decided to go out and take another shot at the studio approach, and that's when Focus stepped in and we were shooting three months later.
Harriet is the first theatrical film about Harriet Tubman. Did you ever think it would be too risky?
I've taken so many risks in this job and there have been so many moments in my history where I've really, really, I think, done things that maybe other producers have not. And so at this stage in my career, I really felt like there is a market for this movie, I know there is. I just had this utter confidence that people wanted to see the story about Harriet Tubman.
There's been mention that the cruelty of slavery is not amplified in the film. In interviews with Kasi and Cynthia, they emphasize that the focus is on Harriet's life beyond her being a slave, and toward this end even includes a love story that helps to carry the larger story of her escape and the Underground Railroad. What do you say to people who may criticize this approach?
When Kasi, Debra and I came together, and also Cynthia, we were really adamant about making this a tale of inspiration that multi-generations could come out and see together. And I think that there were many ways to tell this story of Harriet, and there's a version of this story that's incredibly violent and incredibly visceral and that would be a worthy version as well. But I love the idea of one woman sort of changing her trajectory and changing the course of a nation. And by the way, it's not that Kasi ignored the heinous history of the time. I don't think Kasi shied away from the violence, but she was very much focused on inspiring generations in the telling of the story.    
What do you think Cynthia Erivo brings to the role?
The level of commitment and research that that woman did, and just observing her on set for the several months that we were shooting, it was inspiring. I have rarely seen an actor so committed and focused on anything of this nature, and I think Cynthia did not take on this role lightly. I think she knew the responsibility that came with playing Harriet Tubman. I mean the way that she committed to it physically, emotionally. The last day that she shot on set she sort of fell apart, because I think she was holding the character so closely. I could not be more proud of her performance.
So how did Honey Boy come your way?
Honey Boy was a script I got from my friend Brian Kavanaugh-Jones, who was my producing partner on the film. I met with Alma Har'el the year before, I'd been a huge fan of her work. And the story that came with the script, Shia wrote this in rehab. This has been a form of therapy for Shia, and that immediately was intriguing to me, although daunting and scary at the same time. I read it in one sitting and it was some of the most authentic, beautiful, heartbreaking, funny writing that I had read in a really, really long time. And so we immediately thought this is something we should go after.
I think that not many people were willing to get behind a story like this with Shia in the lead. He had just recently come out of rehab. So I went out to LA, I said I need to sit with him and I need to look him in the eye and I need him to tell me that he's gonna show up, he's gonna commit and he's not gonna frankly screw me over on this. I'm risking a huge part of my company on this project. He came into the office and he told me the story of how it all came to be, and he said this movie is saving my life and I promise you I will show up every day and I will be prepared and I will give my all. And as he said that I started crying, because he told me a lot about his father and his history, and I believed him. And so we shook hands, we hugged, and he was true to his word. It was not easy to make, but everyone was there to make something great.
Since it was such a personal story for Shia, was he open to collaboration?
He and Alma are dear, dear friends, for six or seven years. They became collaborators and did some videos together. And so I think they had a real inherent trust, and I'm not sure any other director could have gotten that performance out of him, or he would have trusted another director.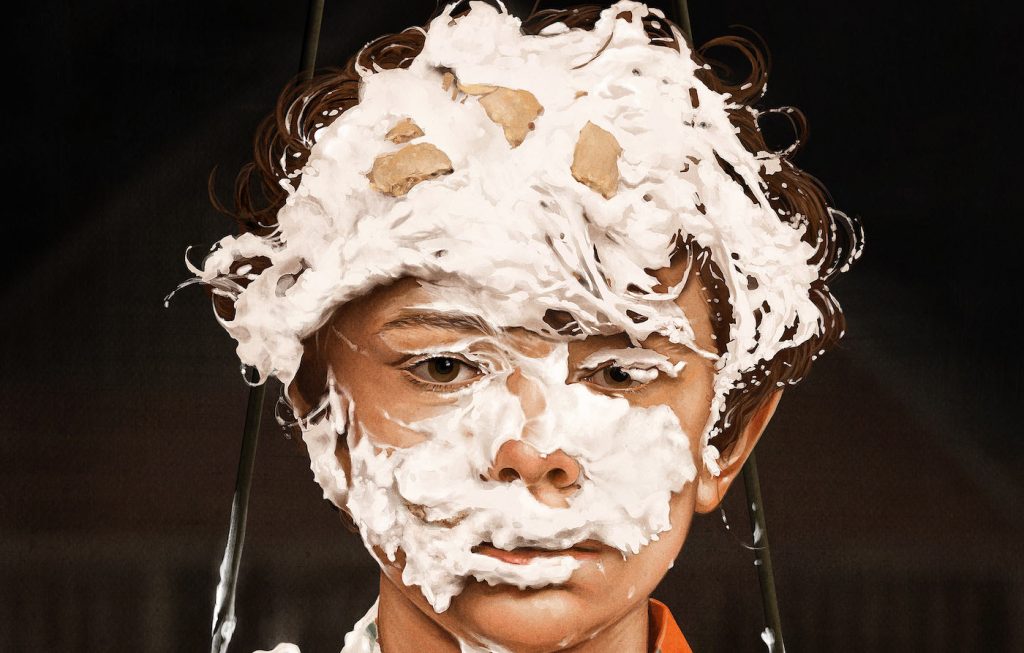 How did Noah Jupe, who plays young Otis, come to your attention? Did you know right away he was the one?
I have to credit Brian Kavanaugh-Jones and ultimately Alma with that. He was a pretty seasoned young actor and Brian was convinced from the get-go that he was the one, just because he was so talented. The initial idea for young Otis was sort of a scruffy kid from the streets, and Noah's this lovely English polite kid, and so it took a little bit of a leap to see him as a kid from California who was living in a roadside motel. But I think once he and Shia read together, they immediately had the chemistry that was necessary.
I was also struck by the limit of the sets that were used. Much of the story takes place in the motel where they lived, which adds to the feeling of their small, intimate world.
Totally, totally. And you know, I was a little bit worried about that. How are we gonna keep this from feeling so small while we're in this tiny little bedroom? But as I watch this film I never really consider that, because the acting is so dynamic and colorful. The setting just fits nicely into the character study.
Both these films are among the first under Stay Gold Features? What prompted you to start Stay Gold?
I had a company called Red Crown Productions with a former partner, Dan Crown, who I'm still very, very close with. I made Beasts of No Nation there, I made Hello, My Name Is Doris there. But I think at a certain point I realized I had to be brave enough to go out on my own and try to raise my own money. So about five years ago, I started going out and trying to raise a private equity fund, a blind fund for a slate of films that I wanted to make, Harriet included, and people took a shot. They'd seen that I was able to choose winners in the independent market, which isn't always easy. I just want to keep pushing the boundaries on what we're telling, and I want to make movies that impact people, so that's the path.
Featured image: Cynthia Erivo stars as Harriet Tubman in HARRIET, a Focus Features release.
Credit: Glen Wilson / Focus Features