How Harriet Costume Designer Paul Tazewell Helped Portray an American Icon
For the last two decades, costume designer Paul Tazewell has been conquering Broadway. His eclectic range of work spans from revivals of such classics as A Streetcar Named Desire, Jesus Christ Superstar, A Raisin in the Sun and Guys and Dolls to newer hits like The Color Purple, In the Heights, Memphis and Ain't Too Proud. He's been honored with seven Tony nominations, winning in 2016 for Hamilton.
When Tazewell turned his attention to television, the costume designer won an Emmy in 2016 for The Wiz Live! He received a nomination in 2018 for Jesus Christ Superstar Live in Concert.
Now, Tazewell is setting his sights on the film world. And he's doing it in an epic way with Harriet, the sweeping saga of Harriet Tubman, the legendary 19th-century enslaved-person-turned-abolitionist who, after escaping to freedom, orchestrated the rescue of hundreds of fellow enslaved people.
"I was delighted," says Tazewell when director Kasi Lemmons, who co-wrote the script with Gregory Allen Howard, approached him to design the costumes for Harriet. "To be given the opportunity to tell Harriet Tubman's story is a huge honor. Everything that she stood for changed my life, as well as the lives of so many others."
After consuming the script, it became evident to Tazewell just how extensive the wardrobe requirements would be. As the film opens, Harriet, played by Cynthia Erivo, is still enslaved. Her costumes, and those of her fellow enslaved, were kept simple and basic. Household heads and slave owners Gideon Brodess (Joe Alwyn) and his mother Eliza (Jennifer Nettles) needed looks that showed their stature but still suggested their rustic, rural lifestyle.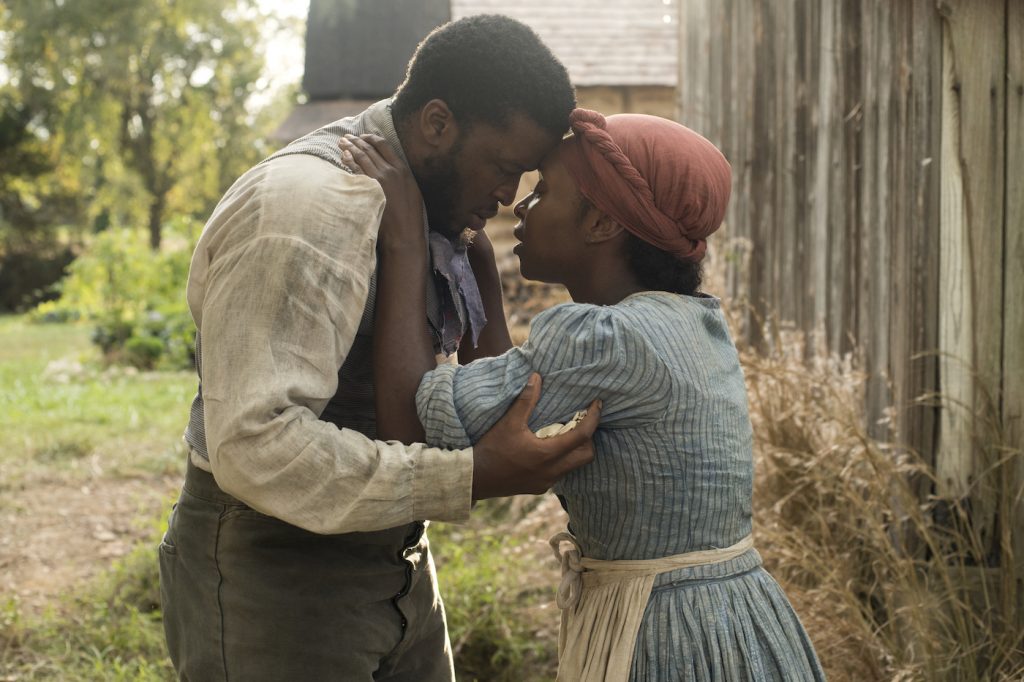 When Harriet flees to Philadelphia and begins her life as a free woman, she enters a world of sophisticated fashion, reflected in the suits of William Still (Leslie Odom Jr.), who acclimates Harriet into her new life, and the elegant dresses of Marie Buchanon (Janelle Monáe), a leading black business owner who takes Harriet under her wing.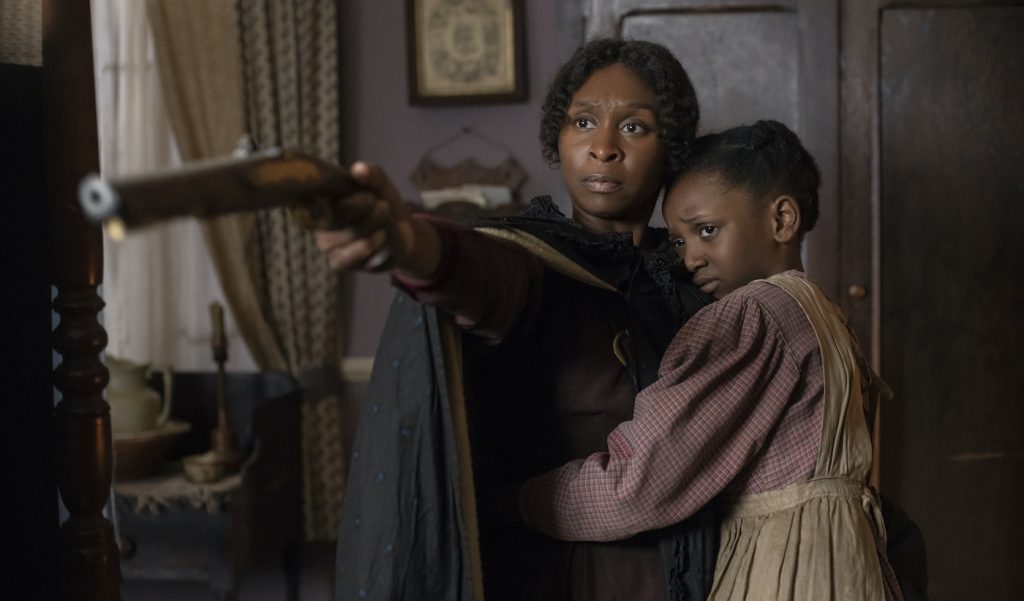 Tazewell felt that the outfits Harriet wears on her quest to free more enslaved people should suggest the stealth nature of her work. He describes it as her "bandit look." Period costumes for the supporting cast and extras were rented, whenever possible, but the wardrobes of all the main characters were designed from scratch.
"Harriet was one of the most extensive, lengthy trips that I have done," says Tazewell, "Having worked on Broadway and on different period productions, I'm used to building them. Everything for Hamilton was custom-made. Ain't Too Proud…all the Broadway musicals are custom-made. Part of it is for accuracy. But it is also for function and wear and tear. The clothes have to be built to stand that activewear."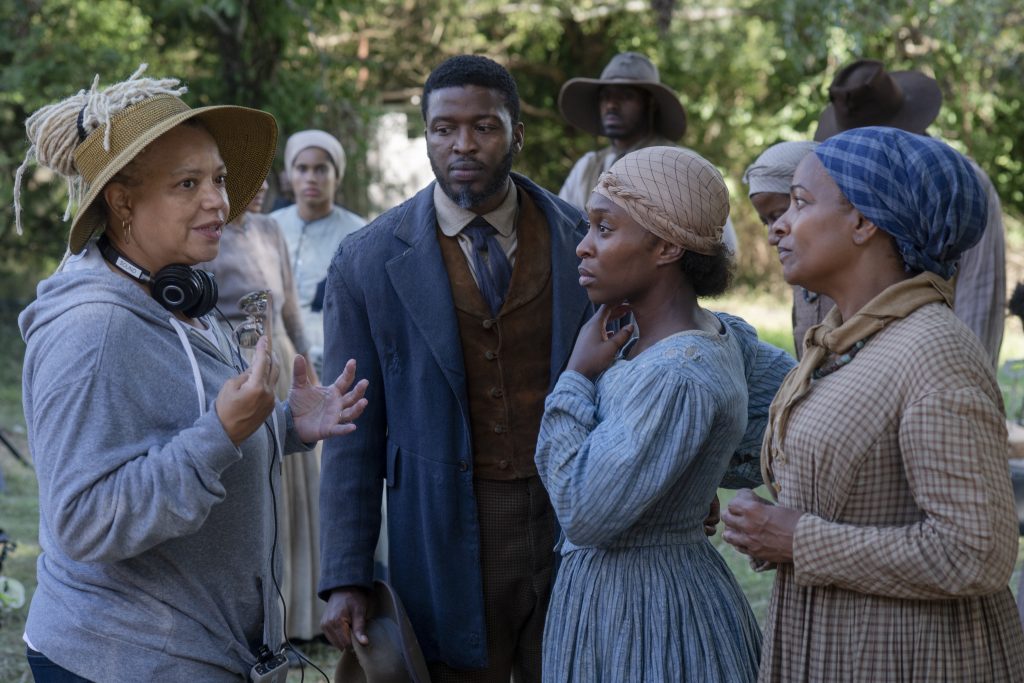 It turned out that most of Harriet's outfits also needed this durability. Tazewell made duplicates of the dress she wears when she makes her escape. Each was designed to look slightly more worn and tattered to show the effect the arduous journey had on her clothing. Harriet had two different looks when she goes on her missions to free the enslaved. Six versions of a green jacket outfit and four of an alternating red costume were created for these scenes.
"We built a lot. We had to do a lot for Harriet because she was so physical and had to do so many physical feats, like running through mud, crossing rivers," explains Tazewell. "We needed a backup if anything were to happen to one. Cynthia was a trooper. She was really quite amazing. She only used a stunt double once."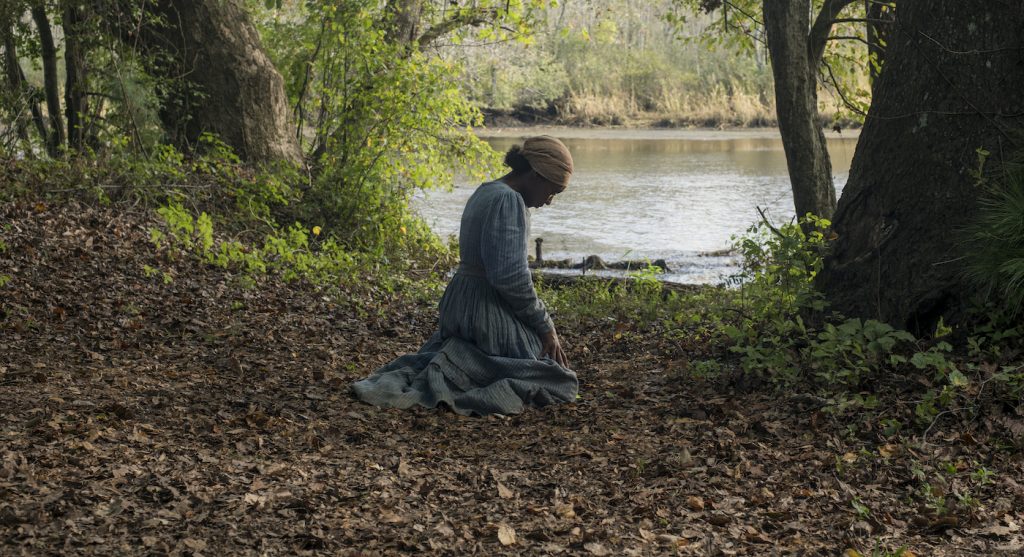 Tazewell cites Harriet's bandit looks as his favorite designs. He believe they helped build an air of mystery around her. "It solidifies how she is kind of a shape-shifter, taking on different looks — some of them male — to ride under the radar of the slave catchers," he says. "They establish her as this impactive, powerful woman fully embracing her heroic, ethnic persona."
Erivo couldn't agree more. The actress believes Tazewell's costumes helped her connect with Harriet. "I loved that with every new costume comes this extra part of her that you wouldn't see unless she was in the clothing. Every time you put something new on, it's like, 'Oh, this is a different part of her. How would she move in this? How would she feel in this?'" she says. "She has nothing, and she goes through a huge journey and her clothing breaks down completely, almost to the point that it's falling off. Then she recreates herself as this superhuman woman. It was more about an emotional feel for who she had become and how she had realized herself. It's this pastiche of clothing pieces that all put together makes her into this bad-ass woman."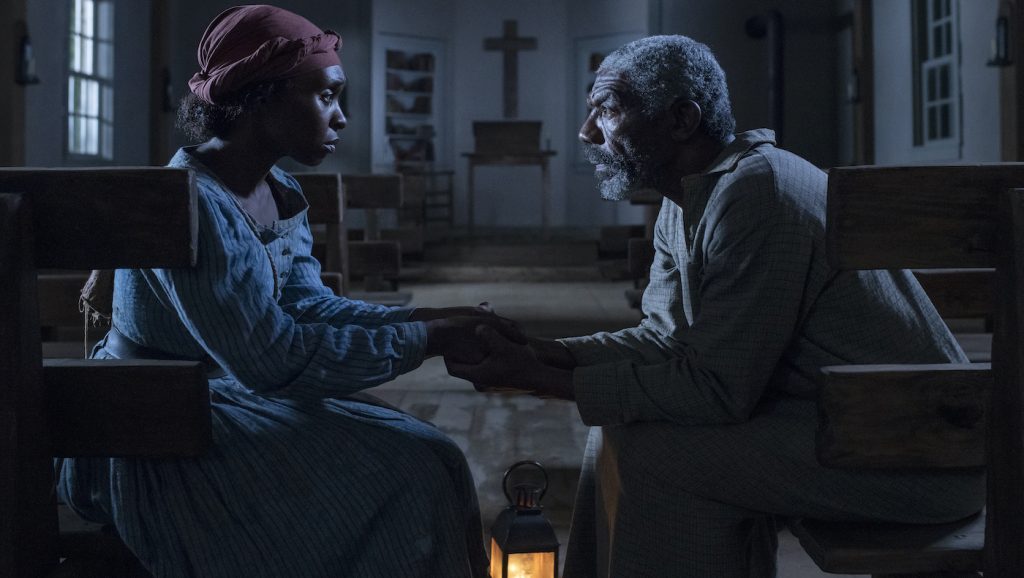 Making sure the costumes were as authentic as possible was priority number one. "If you're dealing with an actual person who lived and breathed, it's very important to create a world that is believable," says Tazewell.
Fortunately, Tazewell had an advantage to keeping it real. Tubman, who lived from 1820 to 1913, was born right after the invention of the camera. During his research, Tazewell discovered a wealth of photography depicting the clothing he wanted to recreate. "The daguerreotypes of the period are quite amazing," he says. "The eyes in those faces and the humanity that resonates out of them, I think that's where I get my inspiration because my work is based in character, developing different types of characters and making those feel as real as possible."
Tazewell used a number of resources. He was pleasantly surprised by how much material there was online. The Library of Congress' Prints and Photographs collection, in particular, yielded a wealth of information — most notably, photos of the plantations featuring group shots of the enslaved. "I imagine the master…the owner wanted to document how many slaves he actually had — whether for a measure of wealth or power," he says.
Synthetic fabrics were banned from the set. Tazewell insisted on only using natural materials from the time period — linen, cotton, wool, silk, and velvet. He strove to ensure that every costume design, in some way, helped advance the story.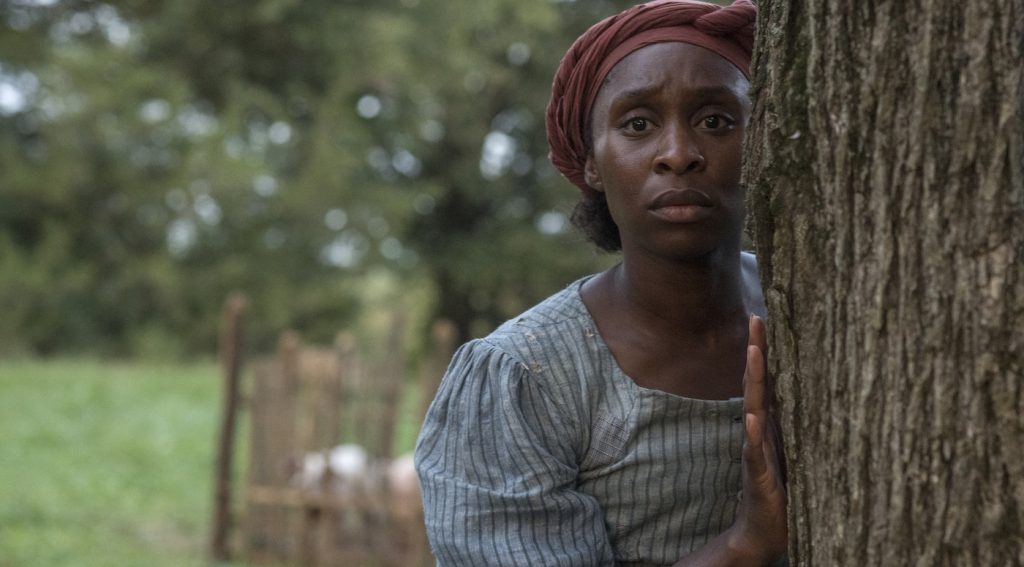 "I hope that I was able to visually create a world that was inviting, but acknowledges the fissures of Harriet's life… the full hardship, and then also the heroic," says Tazewell. "I wanted to show how we come to know her and then go beyond that. My intent was to render a character of note. I think the film does that and I hope that my work does that as well."
Harriet hits theaters on November 1, 2019.
For more of our Harriet coverage, check out our interview with editor Wyatt Smith.
Featured image: Cynthia Erivo stars as Harriet Tubman in HARRIET, a Focus Features release. Credit: Glen Wilson / Focus Features