Star Wars: The Rise of Skywalker's Final Trailer is all About Scale
There was a lot to parse in the final trailer for J.J. Abrams' Star Wars: The Rise of Skywalker. We did a bit of dissection work when we broke down the new images that Disney released shortly thereafter. We were mostly wrapping our heads around Rey (Daisy Ridley) and Kylo Ren (Adam Driver)'s complicated relationship, which has included brutal lightsaber duels and fighting side-by-side. In the final trailer, once again they do both. On the one hand, they're battling it out atop what appears to be the destroyed Death Star II. Then, as shown in the below image, they seem to be on the same side, destroying, well, we're not entirely sure: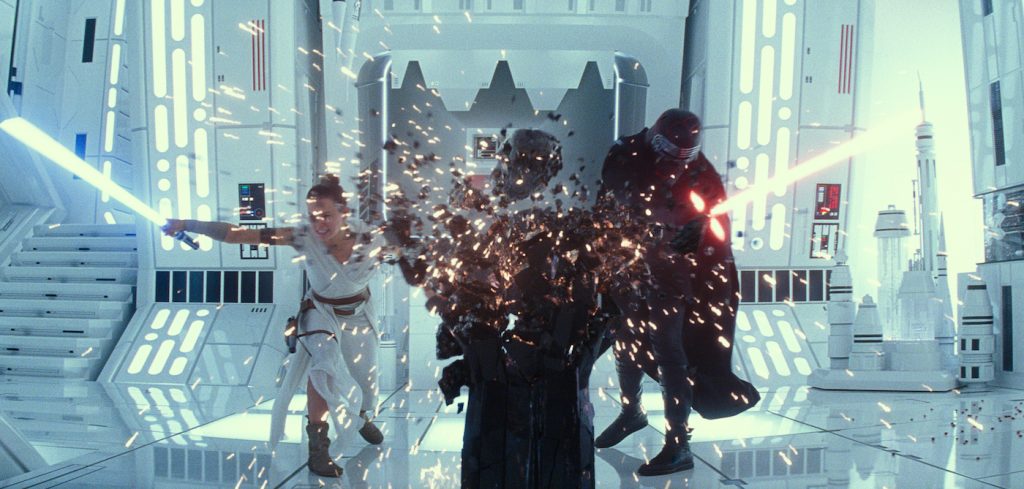 We also tucked into a few thoughts about the return of Emperor Palpatine, Finn (John Boyega) and Jannah (newcomer Naomie Ackie) riding space horses in what looks like a rescue or attack, and droidsmith Babu Frik working on C-3P0 (Anthony Daniels). Then there's this image—one of our first good looks at Keri Russell's character Zorri Bliss. She's the one in the helmet on the left: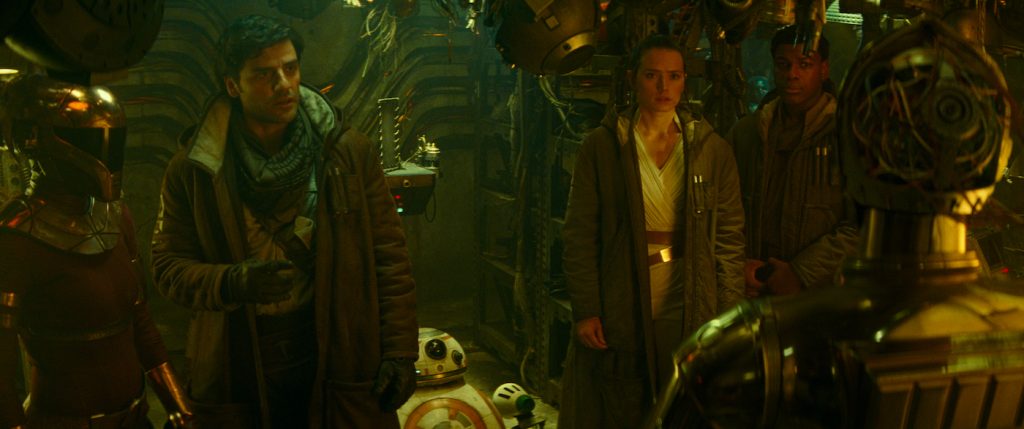 Yet the more we go over the trailer—hey, it's our job, after all—the more the sheer scale of The Rise of Skywalker comes into focus. Considering that this is the 9th and final film in the Skywalker Saga, closing out a single story (more or less) that began with George Lucas's 1977 A New Hope, you would assume the final installment would be big. Yet what grabs us in re-watching the trailer a bunch of times is just how big Rise is going to be.
Take, for example, the number of crucial characters that will play a role in how things shape out in the battle between the Resistance and the First Order. Let's just take a brief glance at this massive ensemble.
For the Resistance, you have your main triad of Rey (Daisy Ridley), Finn (John Boyega) and Poe Dameron (Oscar Isaac). You've got the returning legacy characters; Luke Skywalker (Mark Hamill) Leia (the late Carrie Fisher—Abrams used unused footage of her from the previous two films), C-3P0 (Anthony Daniels), Chewie (Joonas Suotamo), R2D2 (Jimmy Vee), and Lando Calrissian (Billy Dee Williams). You have Rose Tico (Kelly Marie Tran) from The Last Jedi and Maz Kanata (Lupita Nyong) from the past two films, as well as Lieutenant Connix (Billie Lourd). Joining this already healthy ensemble are newcomers like the aforementioned Naomie Ackie as Jannah and Keri Russell as Zorri Bliss. And whoever Dominic Monaghan's playing! And again, this is only the folks fighting for the Resistance.
The First Order includes Kylo Ren (Adam Driver), General Hux (Domhnall Gleeson), newcomer Allegiant General Pryde (Richard E. Grant), and the back-from-the-dead Emperor Palpatine (Ian McDiarmid). And there are a lot more folks who are on the First Order's side, it's just that many of them are in helmets (and are often cannon fodder).
Then there's the size of the battles we've glimpsed, both in the air and on the ground. Abrams and his crew have conjured up massive sets here, both on location and via CGI, to give The Rise of Skywalker a sense of scale that looks massive. Rey and Kylo don't just have a lightsaber duel, they do so amid heaving seas and atop a drowned Death Star.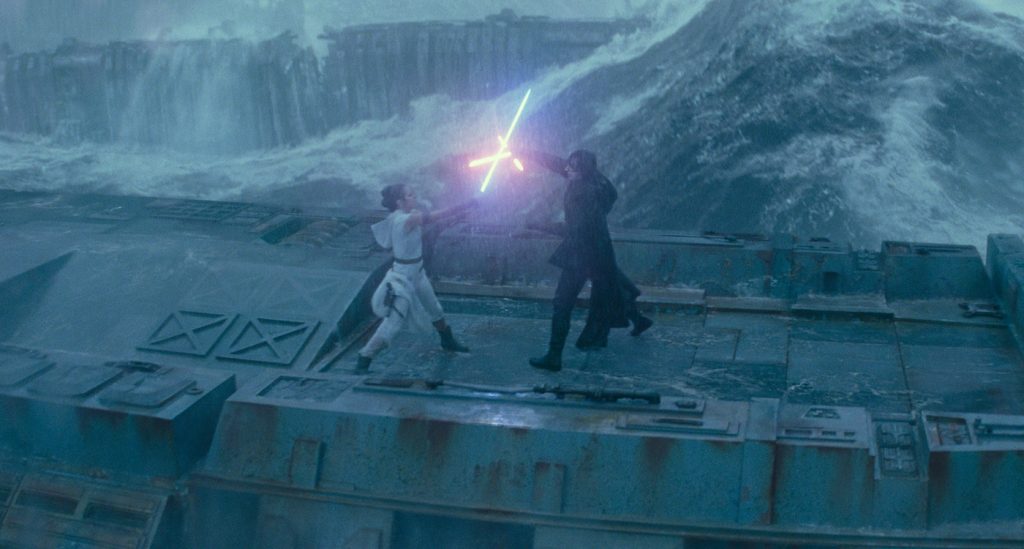 The Resistance doesn't just throw a squadron at the First Order, they appear to assemble every craft in the galaxy not carrying the First Order's banner: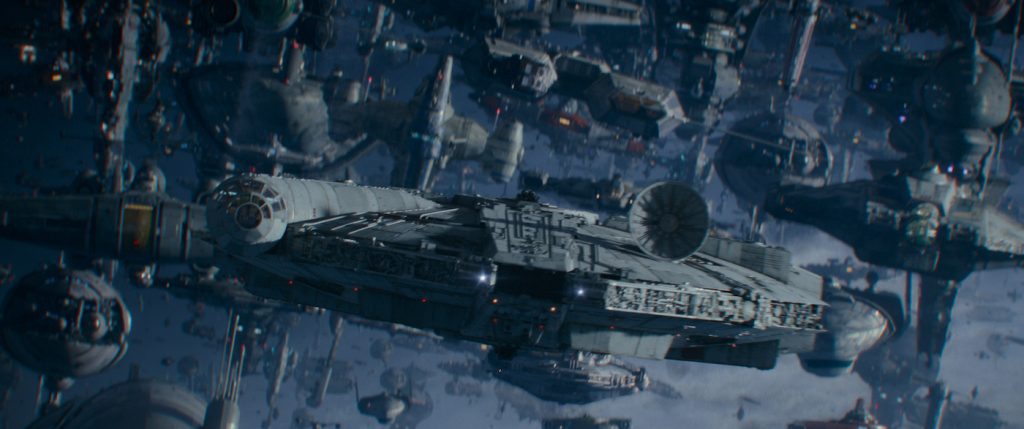 Every big set-piece we see in the final trailer feels monumental. At the 50-second mark a huge fleet of TIE Fighters zooms over a glacial lake towards a mountain range of ice, and the effect is that it looks both stunning and appropriately dramatic, as if Abrams and his team had looked at every battle over the franchise's long history and said, 'Hold my beer.'
And it's not just that film technology has improved to the point where anything a writer or director can imagine can be conjured (although it's a huge part), it's that from what we've seen, everyone involved in The Rise of Skywalker seems to have worked towards the end goal of concluding the Skywalker Saga with the biggest of possible bangs. Heck, even Palpatine's throne is so huge it would make Cersei Lannister jealous.
Take another look at the trailer to see what we mean.
We'll know soon enough how big The Rise of Skywalker gets. It premieres on December 20, 2019.
Featured image: Daisy Ridley is Rey and Adam Driver is Kylo Ren in STAR WARS: THE RISE OF SKYWALKER. Courtesy Lucasfilm/Walt Disney Studios