Unpacking the Surprisingly Confusing Fast & Furious Timeline
You might not think that tracking the narrative chronology of the Fast & Furious franchise would be complicated, but it turns out, it is. In fact, in an almost sci-fi twist worthy of Hobbs & Shaw, the narrative chronology of the movies doesn't match up to the names of the films or when they were released. The third film in the series, Tokyo Drift, would actually be the 6th film in the series narratively—or the 8th film if you were counted the two shorts created for the DVDs in an effort to explain some of these narrative gaps (more on these in a second). Meanwhile, Fast 5 is, narratively, the 4th film in the franchise.
The DVD extras that were specifically created to explain the narrative gaps between the first four films are The Turbo Charged Prelude for 2 Fast 2 Furious and Los Bandoleros. They were created to explain things like why Dom (Vin Diesel) isn't in the second movie, how Brian O'Connor (the late Paul Walker) ends up in Miami, why Dom shows up in Tokyo at the end of Tokyo Drift, and how Dom and Han (Sung Kang) get to the Dominican Republic at the beginning of the fourth film, Fast & Furious.
Confused yet? What has made Universal's globe-trotting franchise even harder to track is the fact that they've played, well, fairly fast and furiously loose with the titles. Some titles have ampersands, some don't, some include definite articles, others don't. This lack of a coherent style guide is almost a badge of honor. Consider there are two separate movies with essentially the same title—one is called The Fast and the Furious (the franchise opener, released in 2001) and the other is Fast & Furious (released in 2009), which seems…problematic. Only it's not, really, as the series has gotten bigger, bolder, and more successful over time. Hobbs & Shaw, a spinoff featuring Dwayne Johnson's Luke Hobbs and Jason Statham's Deckard Shaw, was just released last weekend. Fast & Furious 9 is currently filming.
Anyway. We've done our level best to explain this all for you with this handy graphic and video. Buckle up—it's going to be a bumpy ride.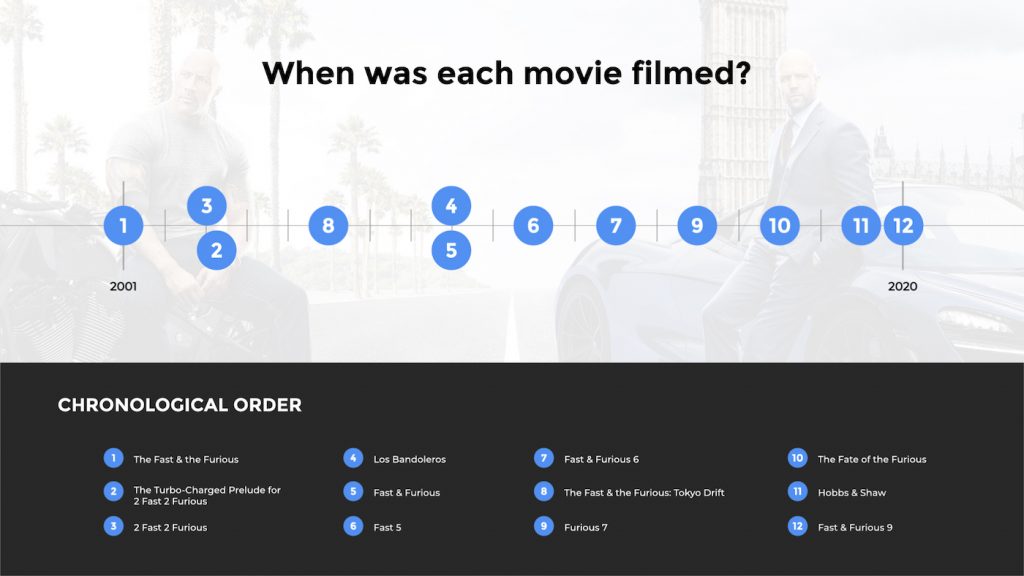 Featured image: (from left) Deckard Shaw (Jason Statham) and Luke Hobbs (Dwayne Johnson) in "Fast & Furious Presents: Hobbs & Shaw," directed by David Leitch. Photo Credit: Daniel Smith/Universal Pictures.