Meet the Caricaturist who Created Once Upon a Time in…Hollywood's Classic MAD Magazine Cover
Quentin Tarantino's Once Upon a Time…in Hollywood takes place in 1969 and it is filled with meticulously researched and re-created period detail. Leonardo DiCaprio plays television star Rick Dalton, whose western series was once a big hit but whose career has faded. How bad is it for Rick? He's relegated to doing guest shots on other shows. One indication of his former success is the magazine covers he appeared on, including that ultimate accolade, the MAD Magazine parody.
To create a believable MAD cover from the '60s, Tarantino's team approached one of MAD's top current caricaturists, Tom Richmond. In an interview with The Credits, Richmond explains how he was brought in, which classic MAD artist he used for inspiration, and which TV star responded to his MAD caricature with something less than enthusiasm.
How were you first approached about creating a MAD cover for the movie?
I received an email from Chris Call of Call Props, who was the prop master for Quentin Tarantino's production company Magnum Opus for the film. They were looking for an illustrator to create an early 1960's era TV Guide cover depicting Leonardo DiCaprio's character Rick Dalton as his TV alter ego "Jake Cahill." After finding out I was a current artist for MAD Magazine, the director thought a faux MAD cover from the same era would be another nice addition to Rick's TV Star memorabilia. So we did both a MAD cover and a TV Guide cover, and both appeared in the film.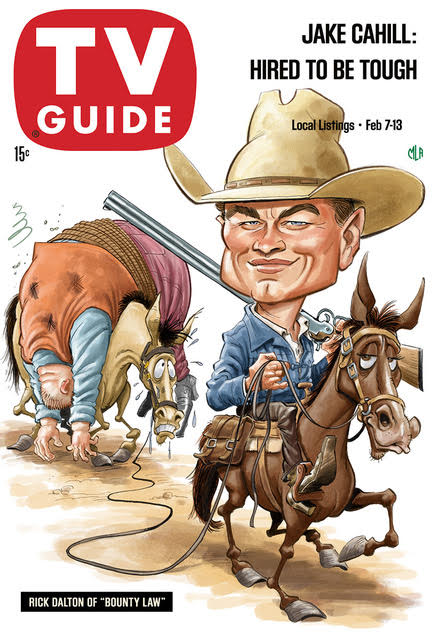 What direction did they give you?  How much did they tell you about the television show MAD was supposed to be making fun of?
Quentin described the concept, what the fictional TV show was all about and what the purpose of the throwback covers was. He detailed what he wanted to see for each cover, and I was sent still photos of DiCaprio in character from the movie. I was allowed to "MAD up" the MAD cover a bit with a little gag with the "Eccch" flag coming out of the gun, but most of the imagery was from Quentin's direction.
Have you done DiCaprio before?  How was this different?
I've drawn him a few times but not for MAD. This was no different except I was asked to work a little more closely to the style of Jack Davis, one of MAD's most famous artists who also did many TV Guide covers at the time.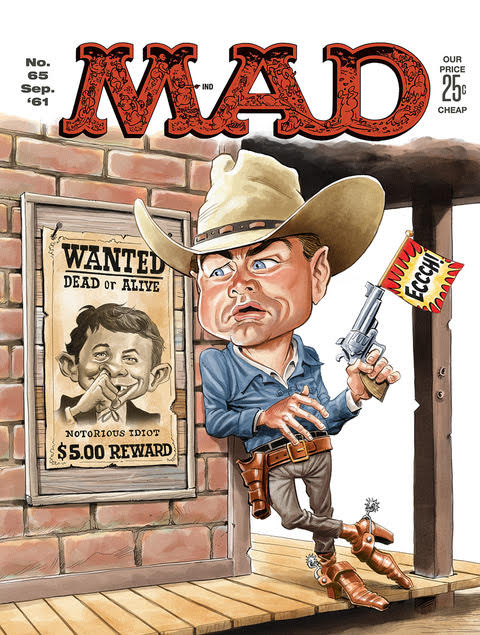 How have the materials and style for creating MAD covers changed over the years?
Most things have moved over to digital tools now, but the funny thing is the look art directors often want is one of natural media, but delivered digitally, MAD included.
What did you do to make this cover look like it was created in 1962? 
I added a number of "Jack Davis" touches in the drawing, like his signature feet/boots and the look of the figures, and I tried to emulate his washy watercolor style of painting. That and using the vignette with the white background effect that was prevalent at the time seemed to do the trick.
I'm sure you have all of the MAD covers memorized, but did you do any special research to make sure this image look like the covers from the '60s?
I looked at the MAD covers from that particular period. Jack Davis actually did not do any covers during the 1960s, most of his were in the 1950s when MAD was a comic book, and the 1970s and 80's, but I also looked at those as well as Jack's other 60's era illustration work. We created a kind of general nostalgic look without being slavish to the actual look of the time.
What does a MAD cover in the film show about the significance of the fictional western series DiCaprio's character starred in?
Quentin's purpose for both of these cover illustrations was to drive home the point that Rick's TV show was a big hit at the time, but that was in the past. Being on the covers of MAD and TV Guide was as big as it got for TV shows then. The scene where the camera pans over these bits of memorabilia tell the audience those were great days but they are behind Rick now.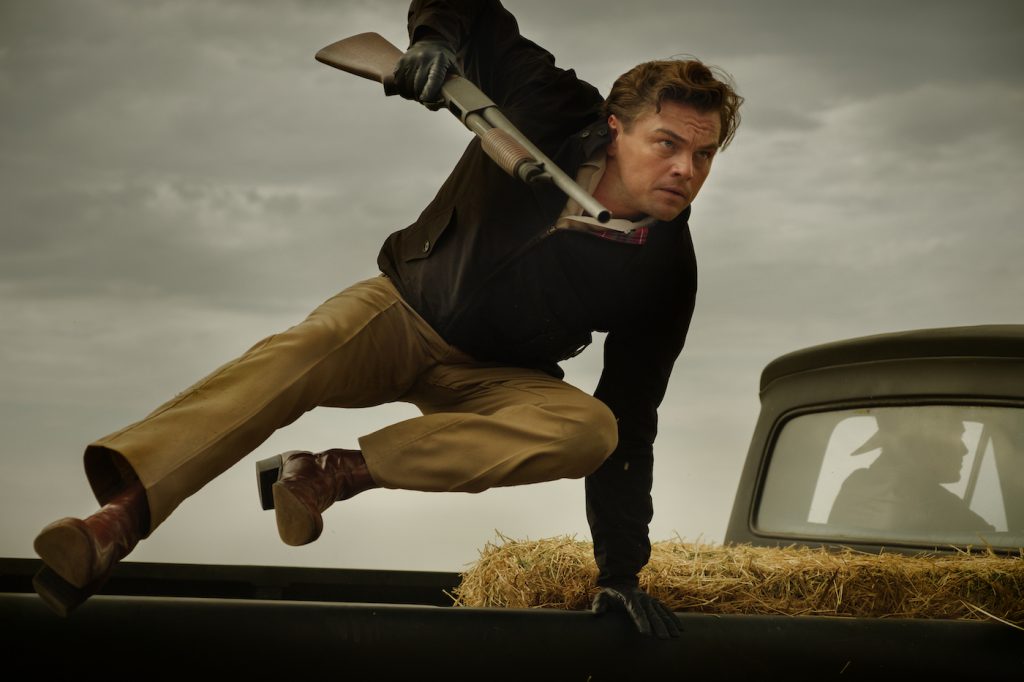 Your late colleague, Nick Meglin, said about caricatures, "We don't need a damn good artist. We need a damn good storyteller." How do your pictures tell the story?
Narrative is the not-so-hidden secret behind effective illustration. Even with a single image you are "telling a story," whatever the message of the piece you are illustrating is trying to say. In this case, all we had to convey was that Rick's Bounty Law TV show was a big hit and he was a famous star. That was accomplished by nothing more than convincingly recreating the look of the early 60's era MAD and TV Guide covers and having them framed on Rick's wall in his Hollywood home.
How do movie and television stars respond to your pictures?  I heard a story about James Gandolfini……
I don't too often hear from the actors themselves. Usually, if I hear from anyone associated with the TV show or movie I spoofed in MAD it's one of the producers or writers who was a big MAD fan growing up. The James Gandolfini story took place in 2003 after I had done the art for a featured called "A MAD Peek Behind the Scenes of the Set of The Sopranos" in MAD #422. It was a two-page spread showing the entire cast of the show on the set with a lot of gags. One of the producers of the show contacted me and wanted to get a print of the spread. I asked if I sent him two prints if he could get the cast to sign the other for me. He obliged, but James Gandolfini may have objected to the fact that I drew him with a big belly wearing a tank top with the slogan "Body By Gabagool," because he signed it "F*ck you, James Gandolfini." That hangs proudly in my studio.
Featured image: L-r: Leonardo DiCaprio stars in ONCE UPON A TIME IN HOLLYWOOD. Photo Credit: Andrew Cooper. Tom Richmond's MAD Magazine cover. Courtesy Tom Richmond.