Disney Reveals The Mandalorian Poster at D23
Yesterday we wrote about some of the Star Wars reveals we were hoping to see at Disney's D23 Expo that begins today. Even though the event hasn't even kicked off yet (it begins in earnest this afternoon), the Mouse House has already given us some of the goods. We've now got our first look at the poster for the first-ever live-action Star Wars series, The Mandalorian. The series, which will launch on Disney's new streaming service Disney+, is one of the titles we were hoping to learn more about at the Expo. We know we've got the first trailer coming during The Mandalorian panel, so we'll be sharing that when it drops. For now, feast your eyes on the poster here: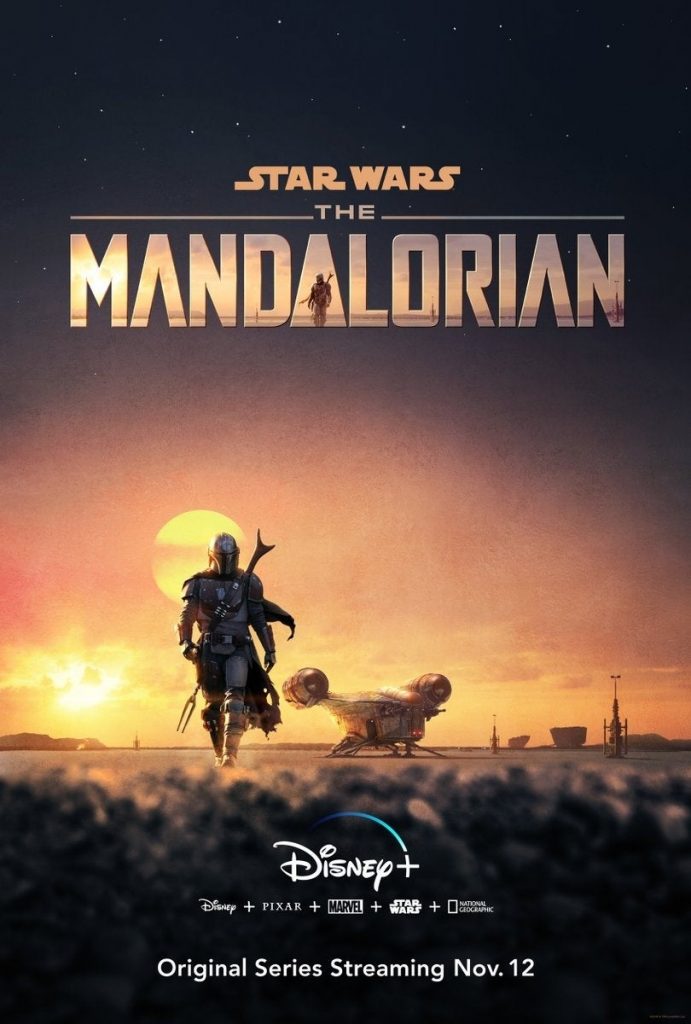 The Mandalorian stars Pedro Pascal (and a really fantastic cast) as the titular bounty hunter, is set on Luke Skywalker's home planet of Tatooine and takes place shortly after the events in the original Star Wars trilogy. Writer/director Jon Favreau (The Lion King) told Collider how he's using cutting-edge technology to bring the series to life, but not in the same way he made the photo-realistic Lion King and The Jungle Book:
"In The Mandalorian, because we're doing live-action production, we're using the Epic game engine and using that to do real-time in-camera visual effects. So if you visited the set for The Mandalorian you would've seen a completely video-wall wrapped stage and we were in there filming the characters in the foreground, and oftentimes either blue screen or full digital versions of set extensions in the background with Parallax, because the positional data of the camera was informing the backgrounds, so it was like a translight that had perspective. So that allowed us to have environments—as long as we could build them digitally and put enough work into planning it, we could have the game engine be used for creating effects in a timeframe that allows us to get a TV season done."
Yes, that's all very technical, but the gist is that The Mandalorian will probably look about as good as any sci-fi series ever has. The gangbusters cast includes Nick Nolte, Werner Herzog, Gina Carano, Carl Weathers, and Giancarlo Esposito. Favreau is joined by directors Taika Waititi, Bryce Dallas Howard, Dave Filoni, Rick Famuyiwa, and Deborah Chow.
The Mandalorian will be released exclusively on Disney+ on November 12th.