Creating the Look for Tarantino's Once Upon a Time in…Hollywood
It's Quentin Tarantino's dream vision of 1969 Hollywood. So it is only appropriate that working on Once Upon a Time…in Hollywood was a dream come true for makeup department head Heba Thorisdottir.
"Every day of this movie was epic," says Thorisdottir. "This was everything that I love about LA. When the actors were driving down Hollywood Boulevard, I remembered the first time that I came to Hollywood. He recreates all that. After we wrapped the first day, I turned to Quentin and joked, 'Okay, I can retire now. I'm good.'"
Born and raised in Iceland, Thorisdottir came to Los Angeles approximately 20 years ago to find her fortune as a makeup artist. She broke in working as a craft service and production assistant on music videos before starting her makeup career with R.E.M., Bruce Springsteen, Red Hot Chili Peppers, and Sting. These days, she's constantly in demand, heading the makeup crews for such features as Ant-Man, Bridesmaids, Spider-Man: Homecoming and Ant-Man and the Wasp.
Thorisdottir has also become Tarantino's artist of choice. She was the department head for Kill Bill: Vol. 1 and Vol. 2, Inglourious Basterds, Django Unchained and The Hateful Eight. She couldn't have been more thrilled when he approached her about Once Upon a Time…in Hollywood and she learned that it would take place during the year 1969.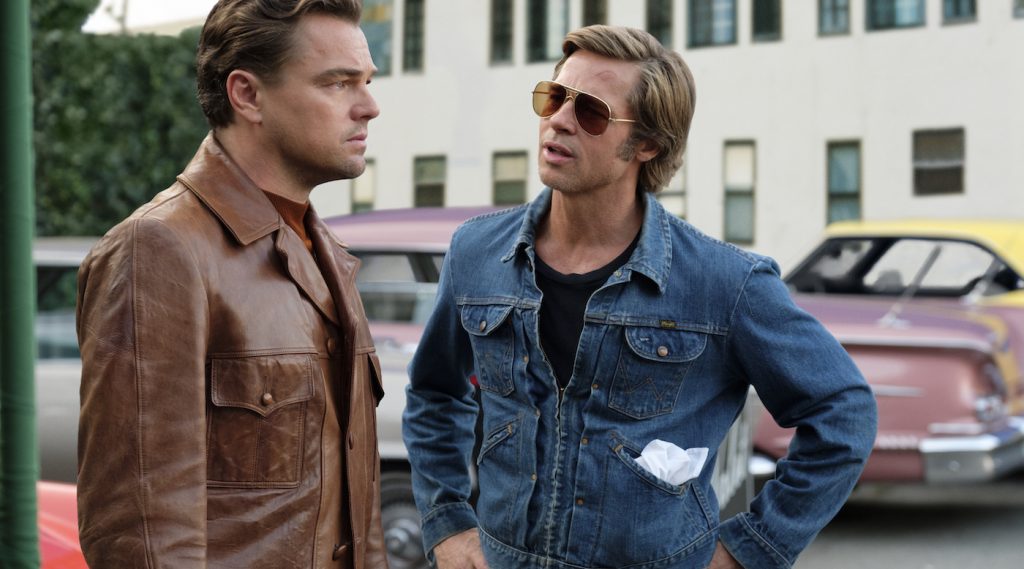 "I've always been obsessed with the city of Los Angeles. I love the historical buildings and the history of it" says Thorisdottir. "When I first read the script, I felt I didn't need to research much, because it is my favorite period. It's just a really interesting time in Hollywood. So I kind of felt like I knew the makeup."
Ironically, Thorisdottir almost missed out on getting to work on her fairy tale project. She was department heading Captain Marvel and all looked good until the schedule was pushed back a month. Some juggling had to be done.
"I sent my team over three weeks before me to start prepping with Quentin and Janine Thompson, the hair department head. We had worked together for over ten years on and off and she kept me in the loop with everything — every meeting, any pictures, I got all the info right away. I prepped it basically while I was shooting Captain Marvel. I was going from the sixties back to the future."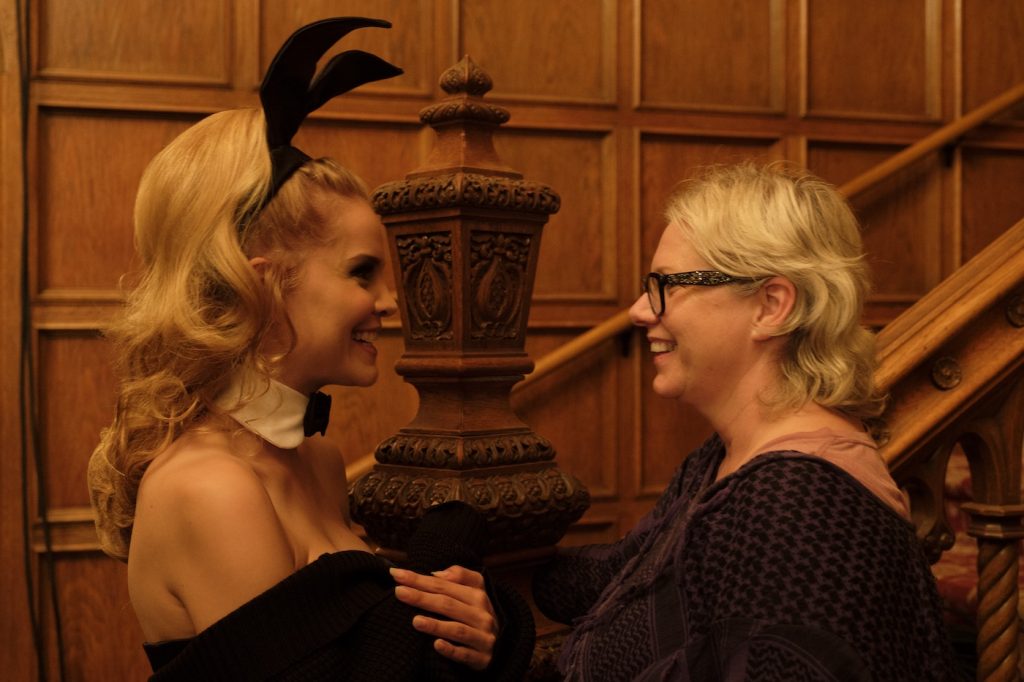 Tarantino also held screenings for his creative team during prep, showing movies from 1969 shot in Los Angeles. "This provided great references," says Thorisdottir, adding that the podcast You Must Remember This was on continuous play in the trailer, along with Billboard's 1969 hit playlist.
Before one of those screenings, the director approached Thorisdottir about acting in the movie.
"He had written 'makeup artist Sonya' into a scene with Leonardo DiCaprio," she remembers. "I had read the script and thought, of course, that Sonya would be played by an actor. I was completely shocked when he told me I was Sonya. I am actually still in shock!"
Once Upon a Time…in Hollywood is about the new Hollywood coming in and shaking up the old guard. Thorisdottir believed the makeup had to show this pivotal change. "There were a lot of people who were still stuck in the 50s…the early-to-mid 60s. And then these hippies came moving in and it didn't please everybody," she said.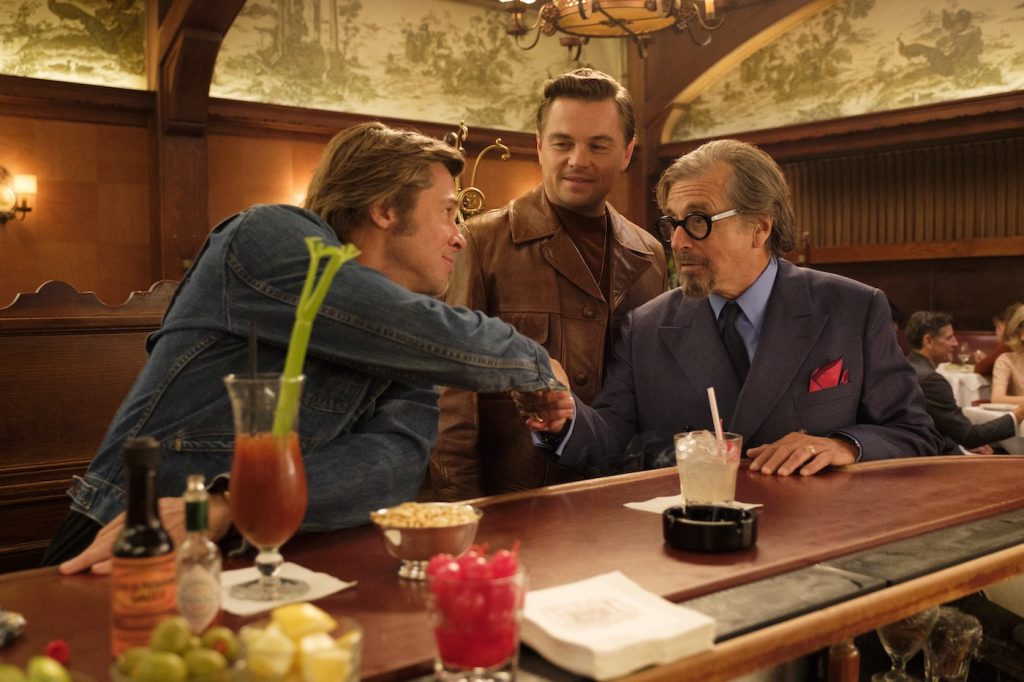 Characters such as Leonardo DiCaprio's Rick Dalton, Brad Pitt's Cliff Booth, and Al Pacino's Marvin Schwarzs were given a more traditional makeup, reminiscent of old school Hollywood. With the younger crowd, specifically Manson family members, such as Dakota Fanning's Squeaky Fromme and Margaret Qualley's Pussycat, Thorisdottir went for a minimalistic, unkempt look.
"The first email to these actors went something like this: 'Do not shave. Anything. Armpits, eyebrows, legs—it all needs to be natural,'" says Thorisdottir. "The poor girls all had to wear long-sleeved gowns to events while we were shooting."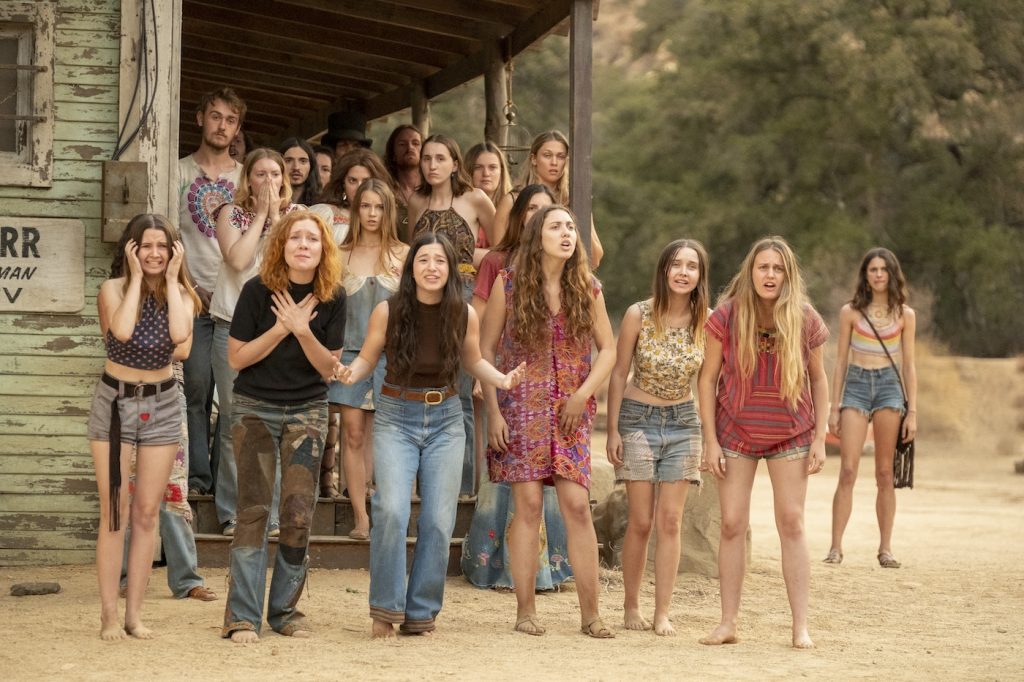 For background players, Thorisdottir tried to show a really distinct difference between those players who were a little bit older, more conservative by using a little more eyeliner, colored eyeshadow, and frosted lips, as opposed to the hippies with no makeup and messy hair. Thorisdottir adds that a big plus to nailing the makeup was collaborating with costume designer Arianne Phillips. "She just had one fantastic costume after another," Thorisdottir says.
Sian Grigg transformed DiCaprio into his bedraggled, alcoholic Dalton. She often serves as the actor's personal makeup artist and was nominated for an Oscar for her work on The Revenant. Kathryn Blondell, another frequent DiCaprio collaborator, was in charge of his hair. An extra effort was made to make Dalton look more weathered to indicate he's not the star he once was. The makeup also reflected his newfound hipness when Dalton returns from Italy with a beautiful wife.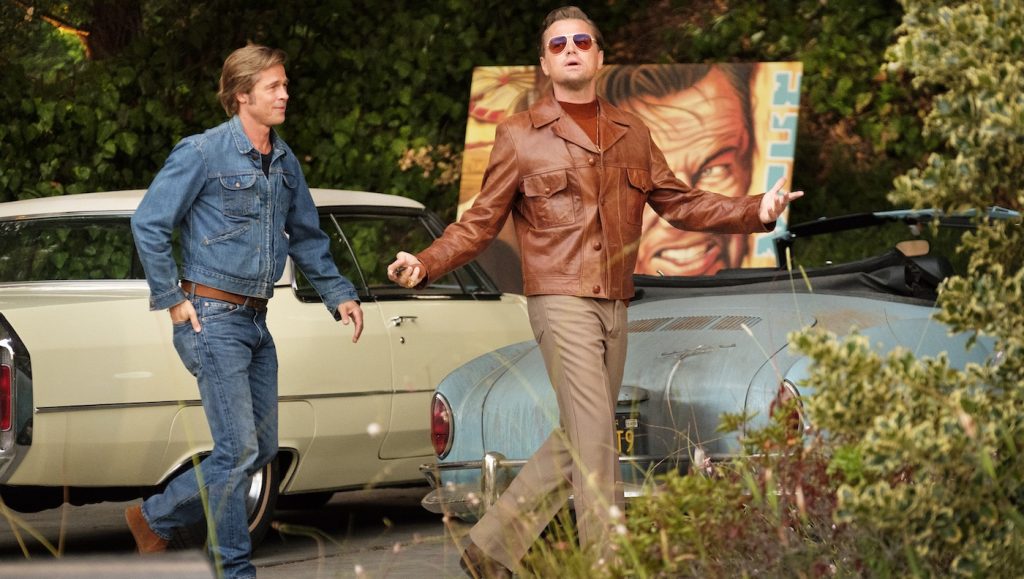 Jean Ann Black, who has worked as Pitt's personal on many films, including Moneyball, World War Z and By the Sea, was in charge of creating Cliff Booth's sun-drenched makeup. Stephen Bettles is credited with the assist for helping to cover up Pitt's tattoos and replacing them with ones that Booth would more likely sport. Bettles, who is getting a lot of attention for the tattoos he recently created for Skin, also designed several prosthetic scars that were placed on Pitt's face and body to show the wear and tear of stunt work. Thompson oversaw Pitt's hair, striving to make it look as if he just stepped out of his convertible at all times.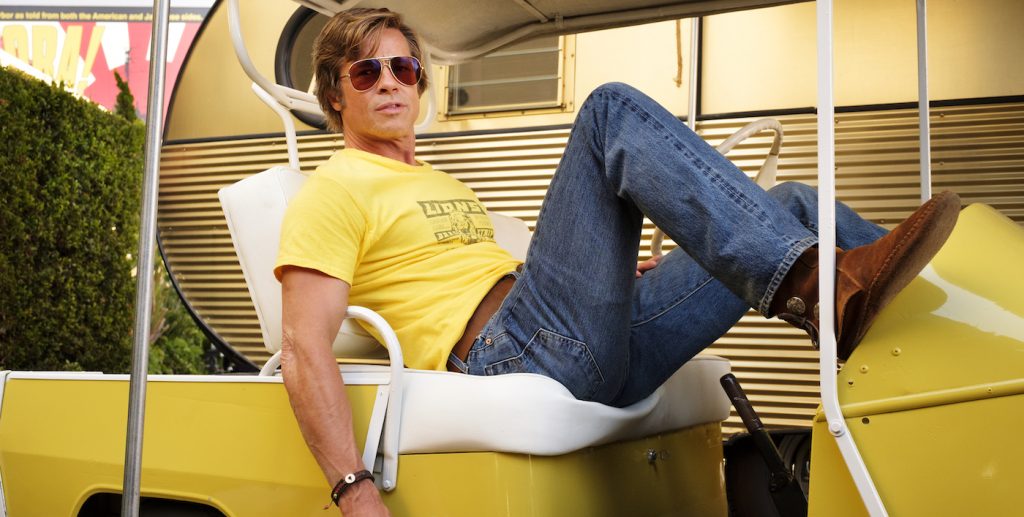 Thorisdottir and her team — Greg Funk, Seana Gorlick and Jennifer Zide — handled the rest of the makeup.
One of Thorisdottir's favorite applications was transforming Margot Robbie into Sharon Tate. The makeup artist felt a special connection to Tate, even when she was a little girl.
"I've been enamored with Sharon since I was four years old and have seen all her movies," says Thorisdottir. "She was so compelling and so beautiful and she had this amazing energy around her. Even though I never met her, I could see it."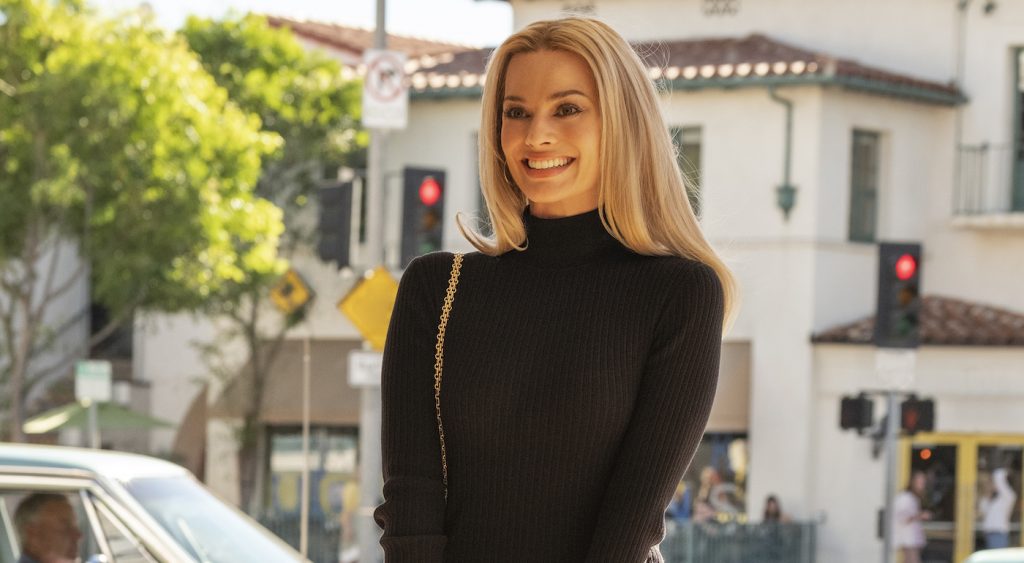 Thorisdottir reacquainted herself with Tate's movies. She watched news footage of the actress. A big advantage was getting to meet her sister Debra Tate and reading her book "Sharon Tate: Recollection." Debra offered insights into Sharon's look, revealing it was based on Greta Garbo's makeup and was replicated for Tate by legendary makeup artist Ben Nye during the filming of Valley of the Dolls. The actress liked it so much, she made it her own.
Thorisdottir also wanted the makeup to be more natural, to show how Tate would look in everyday life.
"This is more like her family knew her," says Thorisdottir. "A lot of the story shows Sharon at home. It isn't necessarily the Sharon a lot of people know. We had scenes where she didn't have make-up on, but we also didn't want to disappoint her fans. It was a very delicate line we were walking. I think Margot was just brilliant — she is just so passionate and so aware of everything around her."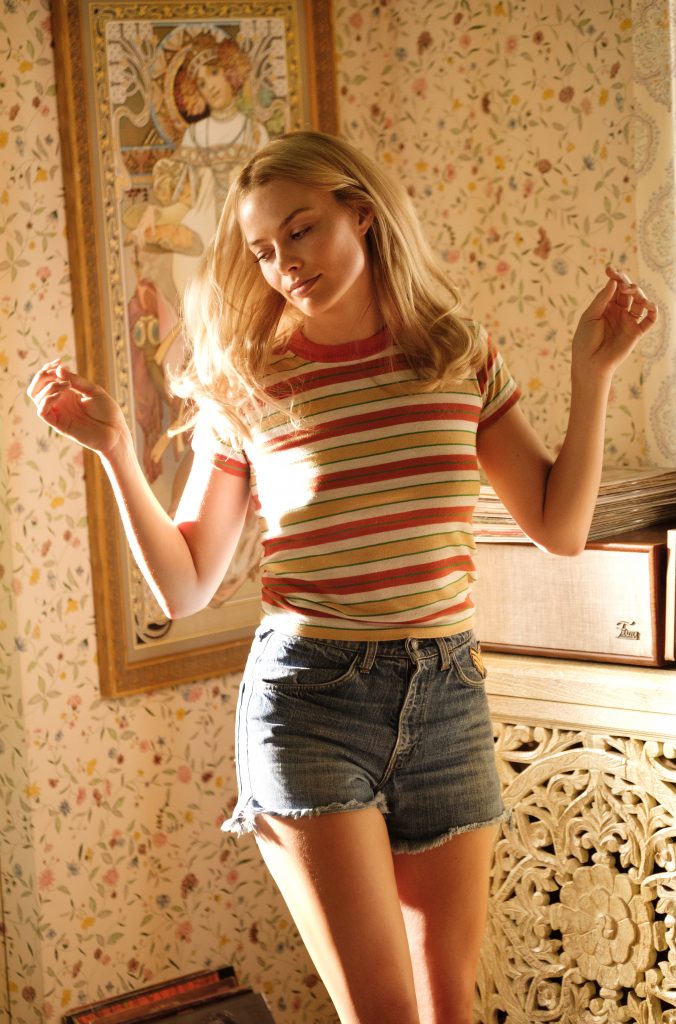 Robbie, Thompson, and Thorisdottir talked about how much makeup Tate would put on on a normal day and how she would wear her hair. They also had Professional VisionCare fit Robbie with amber contact lenses to look more like Tate.
Knowing that Tate was very fashion-forward, Thorisdottir wanted to show how her look evolved during 1969 when she was pregnant. "She was moving towards a more natural look," she says. "She started growing her eyebrows a little thicker. Her hair started going darker. But we had a chance to show her iconic look for the scene where we recreated a huge party at the Playboy Mansion! We had Steve McQueen, Connie Stevens, Michelle Phillips and Mama Cass to do, plus partygoers and tons of Bunnies."
Another challenge was making Dakota Fanning look like Squeaky Fromme. The actress is known for her long, flowing blonde hair and blue eyes. Fromme had a cropped auburn cut, brown eyes and she was covered in freckles.
Fortunately, Fanning was completely invested in becoming one of the Manson family's more infamous members. She wanted her blonde locks dyed red. Thompson decided to go strawberry blonde with the color as Fanning was scheduled to resume her TV series and had to be back to blonde by then. Thorisdottir dotted Fanning's face and body with freckles to mirror Fromme.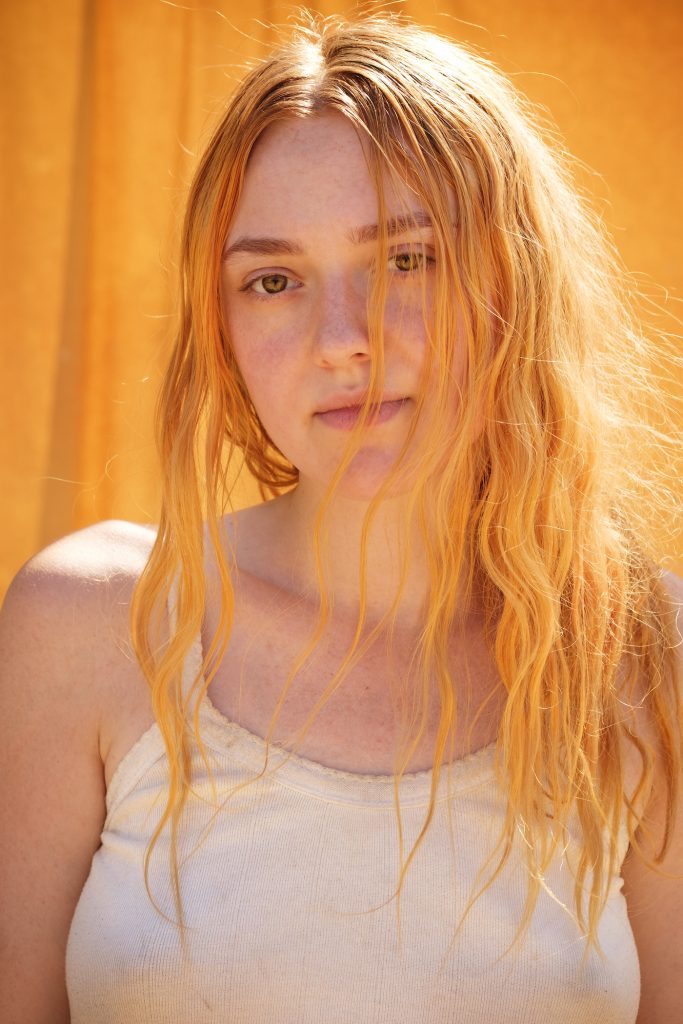 At first, Tarantino resisted the idea of adding contacts to turn Fanning's blue eyes brown. But Thorisdottir thought the lenses looked so good, both she and Fanning lobbied the director to include them. He later admitted it was the right choice.
As it turned out, the lenses were practical as well. "They worked like a pair of sunglasses," explains Thorisdottir. "Her first shot was practically looking into the sun. Dakota told me she could never have done that had she not worn the contacts."
The team kept lens techs Sean Kenney and Judy Hudson of Professional VisionCare busy. In addition to Fanning and Robbie, Emile Hirsch as Jay Sebring, Damon Herriman as Charles Manson and Rafal Zawierucha, who was transformed into Roman Polanski, all had contact lenses.
When it came to recreating Once Upon a Time…in Hollywood's famous faces, Thorisdottir and Thompson would gather photos from a range of periods and ask Tarantino to approve the look he wanted. The selection often veered towards the most iconic image.
"It is called Once Upon a Time. It is his memory of the time," says Thorisdottir. "We have a theater in the movie and someone online said that didn't open until later. That didn't matter to Quentin. I'm sure that he knows the facts. But for him, that's Hollywood Boulevard. It was the same with the people. In the film, Steve McQueen looked a little different from how he appeared in 1969. Quentin wanted the audience to recognize him immediately."
It didn't hurt that Damian Lewis, who portrays McQueen, bears a resemblance to the actor. Funk, who did the makeup, tested a set of eyebrows on Lewis, but it didn't feel right. So Funk hand-laid thicker brows on him and added sideburns.
Thorisdottir admits that part of the fun was watching the actors transform into their characters after the makeup and hair was applied. She particularly remembers Austin Butler, who plays Manson follower Charles "Tex" Watson. Thorisdottir was amazed at how much the actor changed.
"Austin Butler is a gorgeous human—both inside and out," Thorisdottir says. "We gave him long hair and darkened it. It's chocolate brown but looks almost black. Immediately, his facial structure changed. His eyes became piercing. They really stood out. I just saw photos of him from Cannes and he still has the dark hair. He loved it."
But perhaps most of all, Thorisdottir loved Tarantino's philosophy regarding the makeup.
"Quentin wanted everything out of kit. He would say, 'If I just look at them and I recognize them, that's good enough," says Thorisdottir. "It made for a lot more work, but it was a lot of fun. It's very rare these days when you are not using prosthetic makeups or CGI when you are doing real-life characters. It was just thrilling to get to do this and know that there wasn't any CGI changing what we were doing."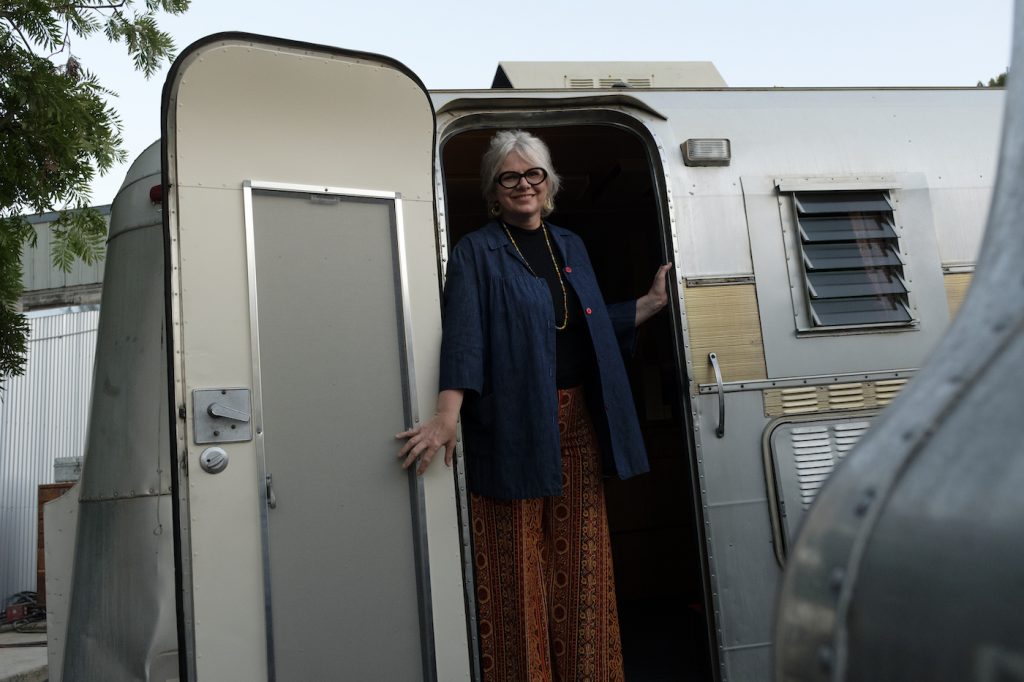 Featured image: Margot Robbie on the set of 'Once Upon a Time In…Hollywood' with hair department head Janine Thompson. Courtesy Sony Pictures