Bringing the Beautiful Beasts of Crawl to Life
It didn't take much to convince Adrien Morot to sign on for the new feature Crawl. The producers had him at "alligator."
When the makeup effects artist heard that the thriller involved a family of deadly reptiles terrorizing a small Florida town flooded by a hurricane, he immediately wanted in.
"I was like, 'Holy crap, Yes,'" says Morot. "I was five years old when Jaws came out. And like any kid that age, I was hooked on those nature-gone-wild movies — Piranha, Orca, Barracuda, even Grizzly. I always had a soft spot for them."
But as is often the case, there was a catch. Crawl was being made on a tight budget and Morot would have to work wonders for little money. He didn't mind. He was getting the opportunity to create the killer stars of the film.
"Sadly, they don't do many films like this these days," continues Morot. "And a lot of them are being done with CGI when it comes down to building the actual animal."
The production was asking for two alligator heads, complete with mechanized movements so the neck could move, the head pivot and, most importantly, the jaw could bite off a tasty arm or leg on cue. But Morot wasn't willing to settle for half a gator. "I thought, I'm not just going to do a snout. I'm going to give you the front at least until the hind legs," he says.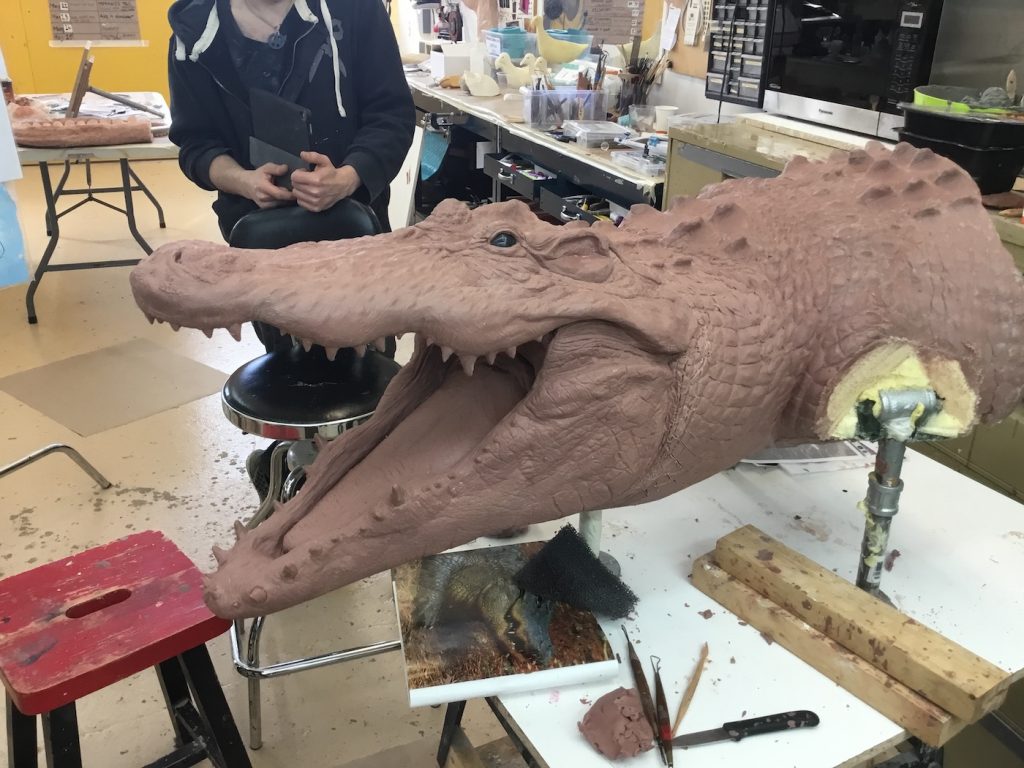 In addition to these pieces, Morot and his team, which included key artists Michel Bougie, Kathy Tse, Cyril Hipaux, Camille Bouvet and Pierre-Emmanuel Kaas, built two full gators that could float in the water. They were framed using an aluminum skeleton with flexible joints so they could move when submerged. "Depending on how you moved it across the water, it would really give the impression that it could swim," he explains. "One of the tails was detachable, so we could put it on handlebars. That allowed us to use it as an individually tail that could be controlled by a puppeteer. We could also swipe across the frame and get this nice swimming movement. It worked really well."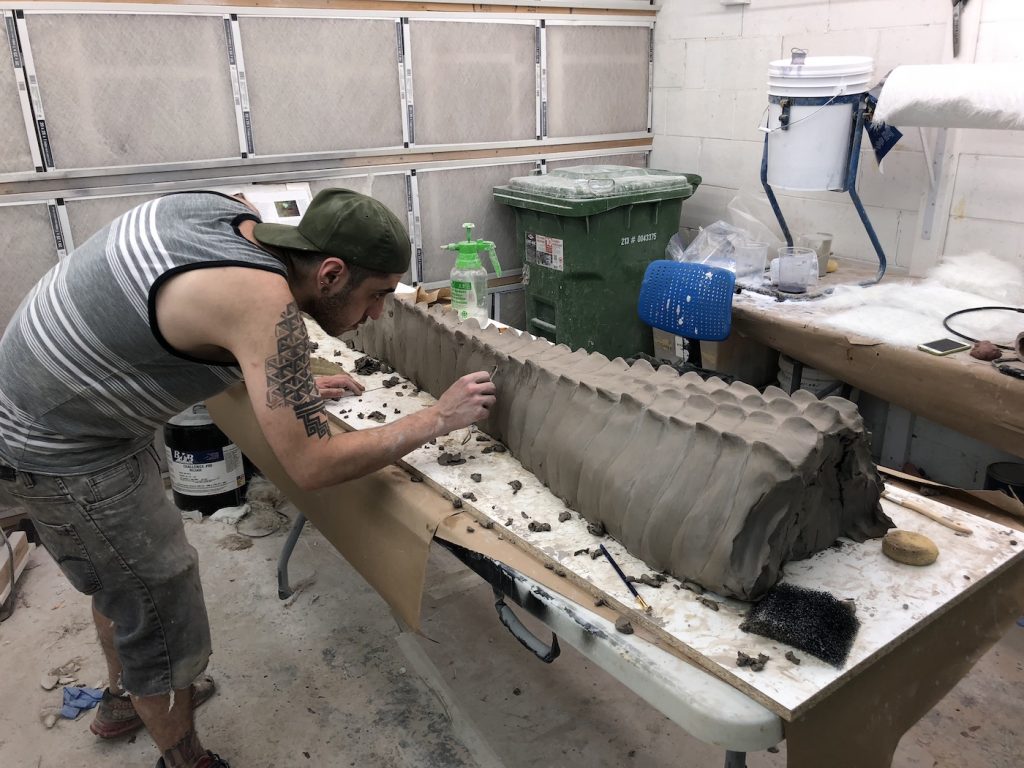 Knowing that money was tight, Morot came up with an idea that he thought would both cut costs and save time. For the 2014 film Noah, his team created hundreds of animal pairs to populate the ark. Lack of storage had forced Morot to discard most of the molds. But he kept one —  the mold used to make the crocodile. He thought at some point he'd use it to create a crocodile to put in his pool as a prank.
But now, Morot thought, he could use the existing mold to make the creatures he needed for Crawl. Who knows the difference between an alligator and a crocodile? In theory, it should have worked. But there was one person who could tell the difference — the film's director Alexandre Aja.
"We took the mold out, poured in the Monster Clay and started retooling the thing. Then we sent him a picture and said, 'Look at this.' He said, 'That's great, but it's a crocodile.  We want alligators.' He sent me a picture of an alligator. I told him we know what one looks like, but we didn't think that it would matter.  'No, I want my alligators.' So, for no money, we had to turn our crocodiles into alligators."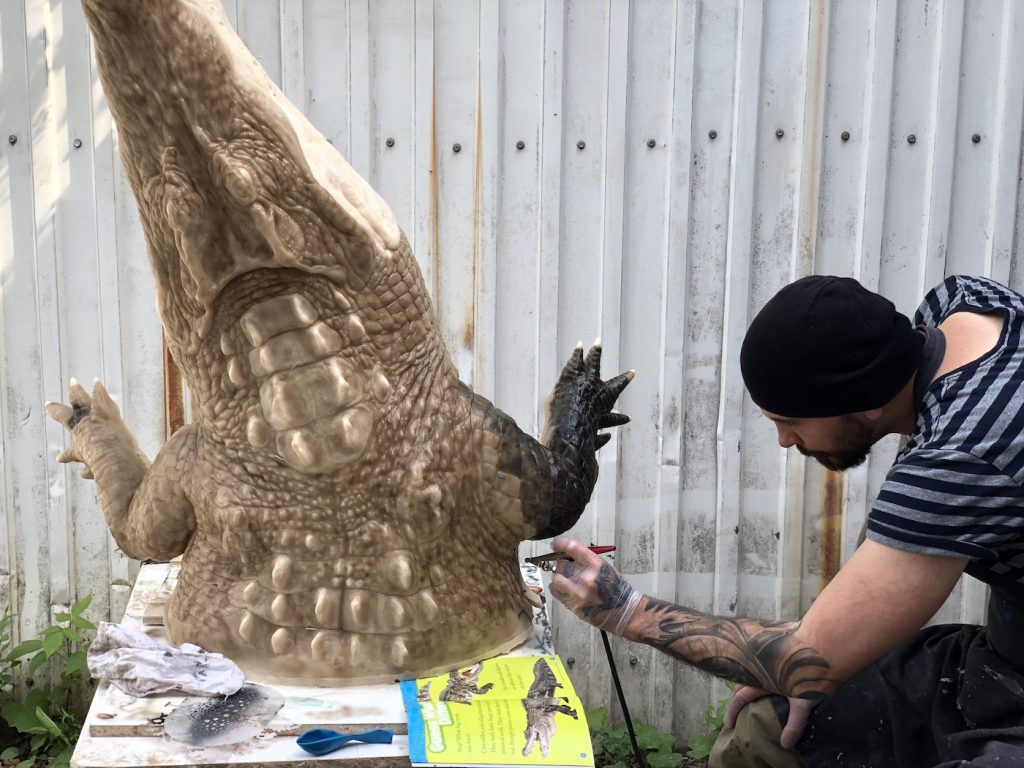 Not only that, but Aja wanted his beasts to be about a third bigger. That meant retooling the animatronics. Morot thought he was going to be spending the bulk of his time during preproduction overseeing Pet Sematary, the job the shop was finishing up as it was prepping Crawl. Instead, Morot said he brought a sleeping bag into his shop and spent all his time making sure the alligators would be ready when the cameras rolled.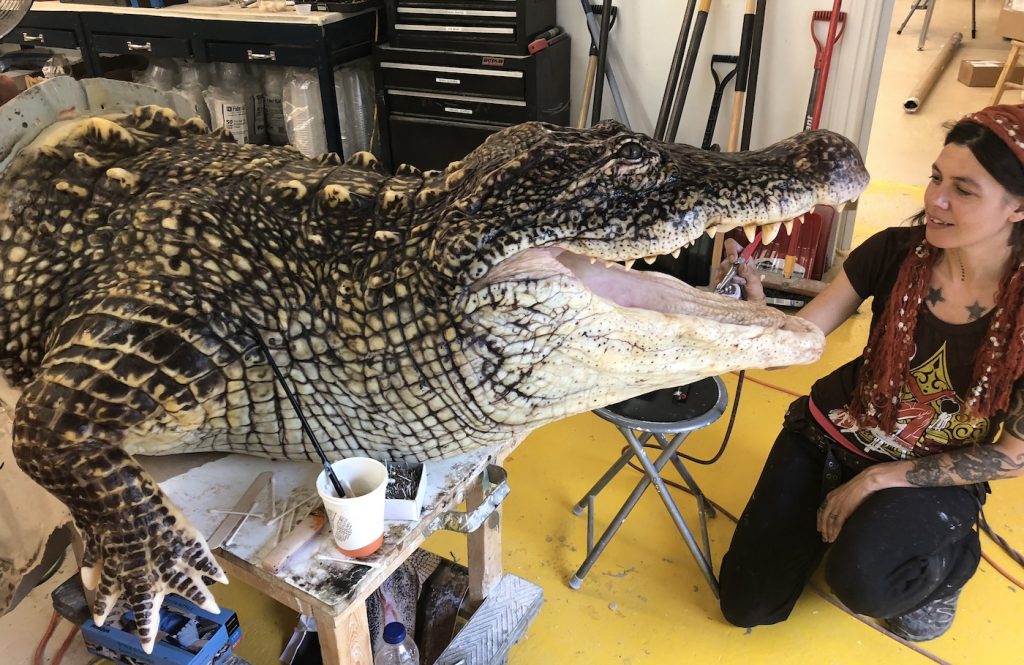 But Morot's Crawl adventure was just getting started.
The film shot in Belgrade, Serbia where an entire southern town was built on a soundstage. "Belgrade for Florida. How about that?" jokes Morot.
Budget limitations allowed only Morot and Kaas to make the trip. Although a few local Serbian hires were brought in and there was an assist from the on-set special effects crew to move the creatures around, it was up to Morot and Kaas to make all the gags work. The gators had been constructed with a silicone skin over a fiberglass shell. Morot's crew use aluminum for the skeleton because it was lightweight. This made both transport from Canada to Serbia and moving the creatures around the set easier. But as soon as Morot got his alligators in the water, he could see there was a problem.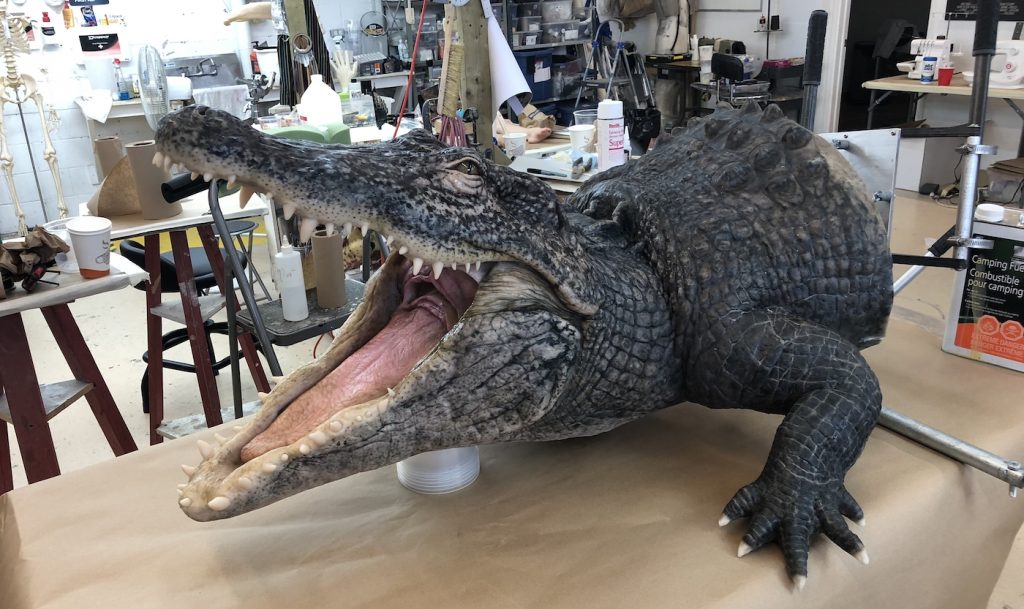 "The frame was not strong enough to withstand the weight of the water. It was too hard on the mechanics," Morot remembers. "Once we got it in the water and lifted the head two or three times, we could see the bend in the aluminum rods. We knew we had to redo all the mechanics from scratch."
A task easier said than done in Belgrade. The plan was to switch out the aluminum for reinforced steel rods. The nearest place they could be found was in Italy. A driver was dispatched to get them. The cable also had to be replaced. Morot realized he could use motorcycle brake cables. This led to a hunt through town for a bike shop that carried them. Upping the degree of difficulty, everything had to be converted from meters to inches.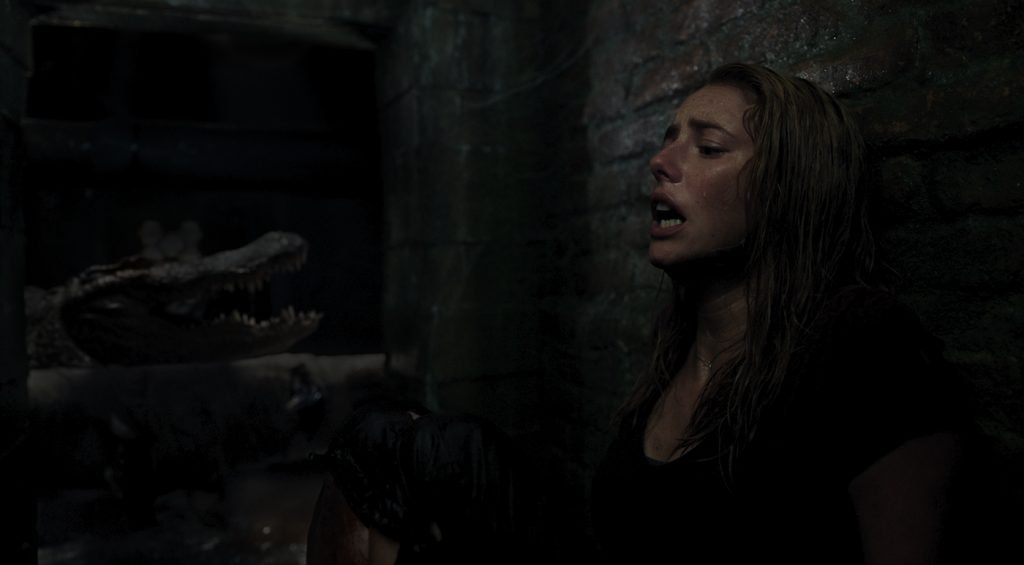 And where there are big alligators, chances are there will eventually be little alligators. The make-up effects team manufactured about a dozen of them, complete with eggs. Each baby gator was also made with silicone skin over a fiberglass shell and featured a rudimentary mechanical system so it could wiggle out of its shells on cue.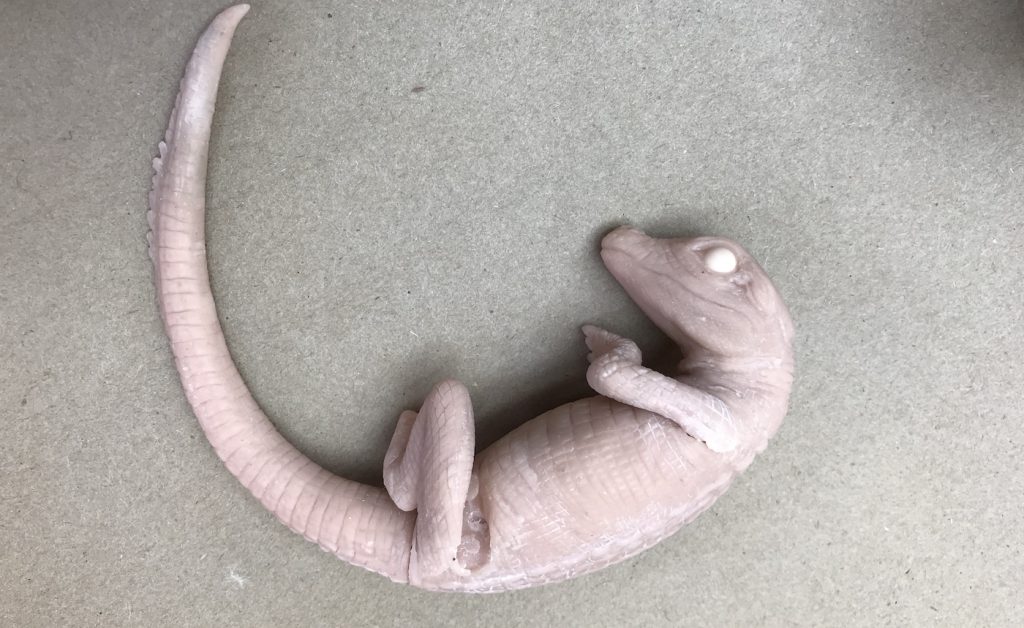 "They were the highlight of the show," says Morot. "Everyone was in love with those gators. The main actress (Kaya Scodelario) ends up in the gator nest. She steps on all those gator eggs much to the displeasure of gator mom."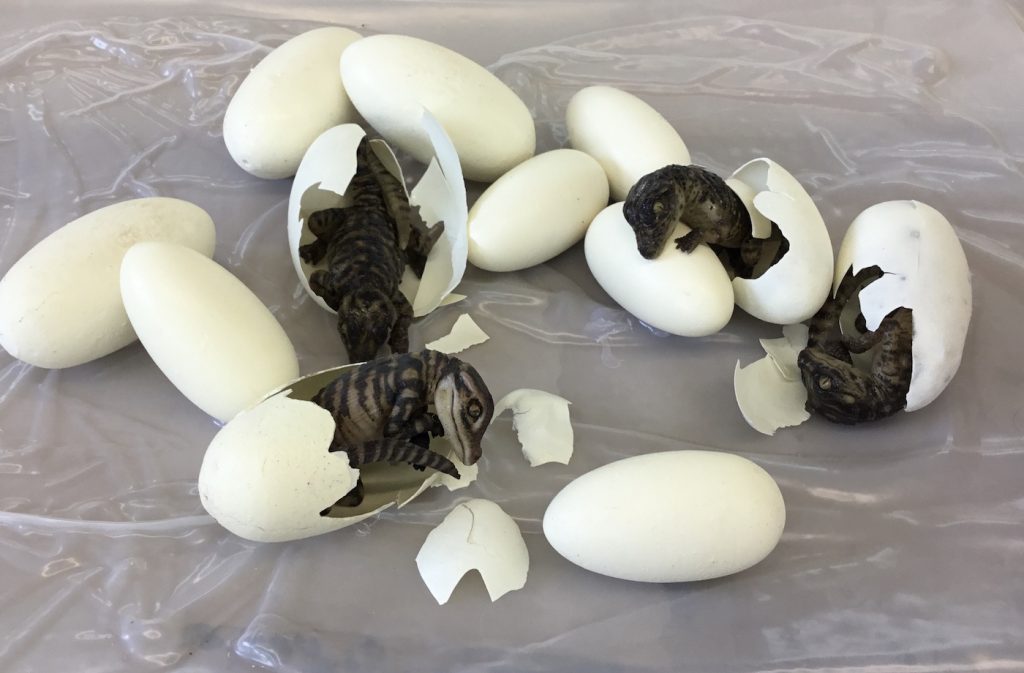 And what good is an animal-gone-wild movie without a few gasp-inducing gore gags? [Spoiler alert].
Barry Pepper, who plays David Kester, the father of Scodelario's character Haley, was fitted with a dummy arm that gets bitten off in an early encounter with a gator.
A full-sized dummy was devised to be ripped apart into three pieces by the gator. Foam was shaped to resemble muscle that could be torn from the skin. The sections were designed to snap back together for retakes. Another dummy was created to look like the aftermath of a character after he's encountered an alligator. It comes into view as Scodelario's character wanders into the nest. "She steps on something," adds Morot. "Whoa, what's that? And there's the classic reveal of the half-eaten guy floating to the surface."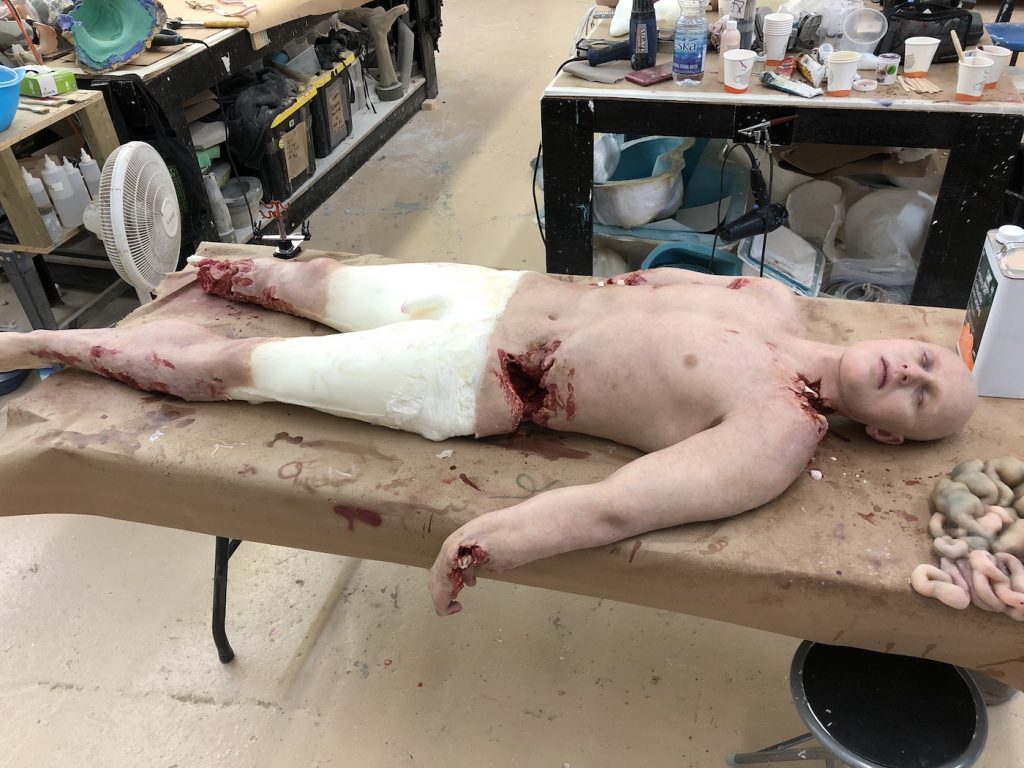 But undoubtedly, Morot's favorite gore gag involves the final fate of a looter who stays behind to rob the town after it has been evacuated. While his pal is inside cleaning out the shelves of a flooded gas station, he waits outside. Through the window, we see the looter in the distance frantically running in the water towards the building. Then he disappears from sight. Suddenly, the dummy, mounted on a pneumatic rig, bursts out of the water and slams against the bars on the window.
"Bam, bam, bam, and then he's pulled back down — all in one shot — it is brutally fantastic," exclaims Morot. It was a gag he and Aja had devised together. "He asked me early on if I had any ideas for the kills and that was something that we came up with. It was a bit of a magician's trick, but it worked really well."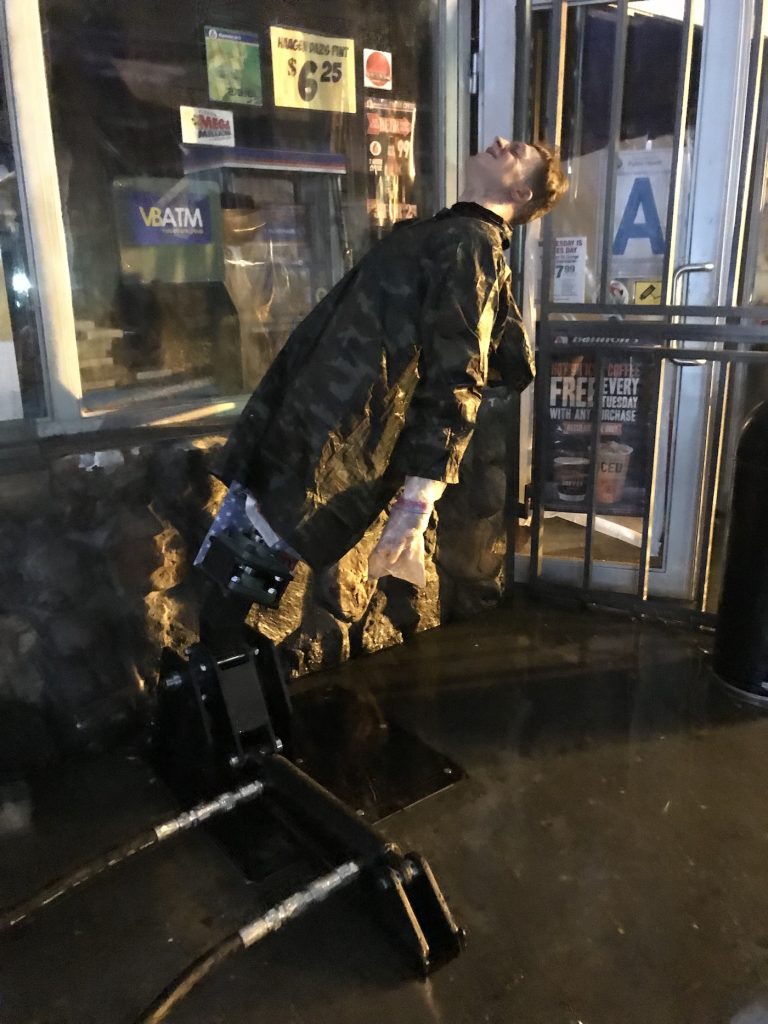 And then there was the dog. The script called for a family pet to be swept away by the water. As Morot was budgeting the script, he put in a line item to create the animal. The producers thought the cost was too high and nixed it from the make-up effects budget. Instead, they hired a local Serbian artist to make it.
Morot didn't give it another thought. Cut to two months later during a Friday night dinner with the director. He happens to mention the dog. Turns out what was delivered looked more like a plush toy and was completely unfilmable. In desperation, Aja asked Morot to make him a dog he could actually put before the cameras. The catch? He needed it the following Wednesday.
"I took it as a personal challenge to build a fake dog in five days out of mattress foam and carpets and different pieces I could find at the hardware store. And you know what? It's not half bad," says Morot. "As that dog was being hooked up to rods to make it swim, people were coming on set and looking in the monitor and seeing that dog in the water surrounded by debris and they would say, 'Oh my God!' like we had put a real dog in there."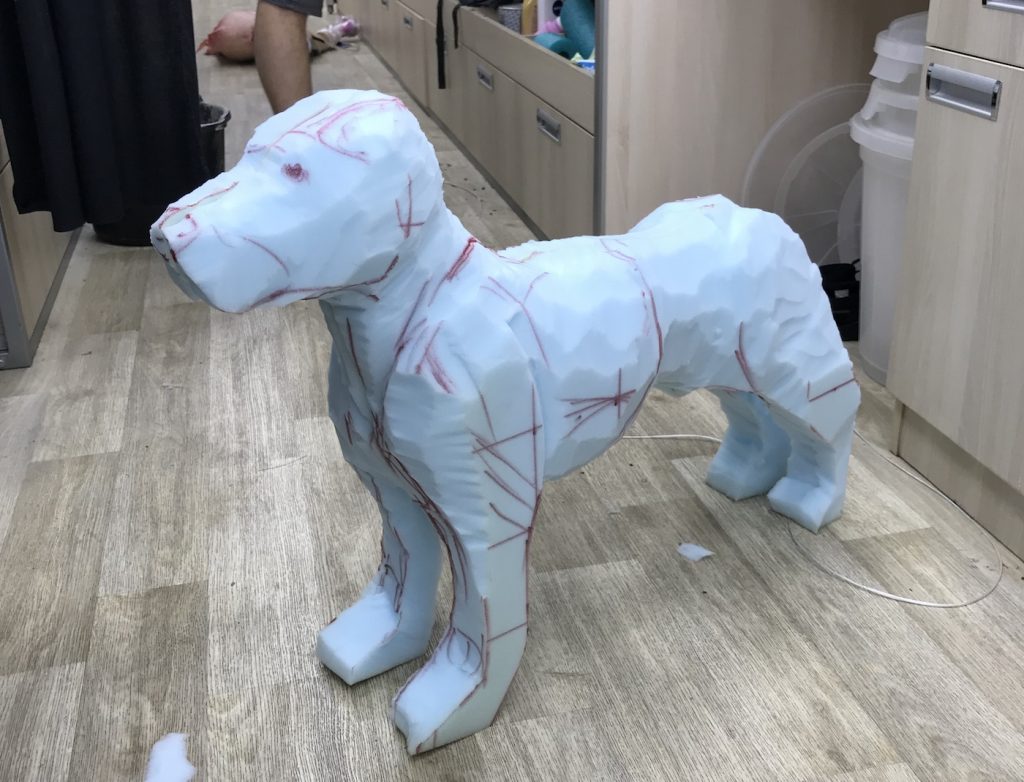 Crawl might just be one of the challenging film's Morot has ever done. "My body really took a beating. I look like a 70-year-old man," he jokes. "But he admits it was all worth it to see his creatures come to life. "Alexandre was really impressed with all our physical effects. I won't lie. About 90% of the movie will be CG because then you can have the whole thing. But we had little snippets where we got to do our thing and at the time we did them I was like, 'Yeah! Jaws! There you go!'"
Crawl is in theaters now.
Featured image: Adrien Morot and his team created the monster alligators in 'Crawl.' Courtesy Adrien Morot.