Kevin Feige Confirms More LGBTQ Characters in Marvel's Phase 4
We've known for quite a while that Tessa Thompson's Valkyrie was a member of the LGBTQ community. The talented actress said it herself. But Marvel Studios president Kevin Feige has confirmed that Thompson's butt-kicking heroine (and, as revealed in Avengers: Endgame, the Queen of New Asgard) isn't the only LGBTQ character that will have a big role in Marvel's Phase 4.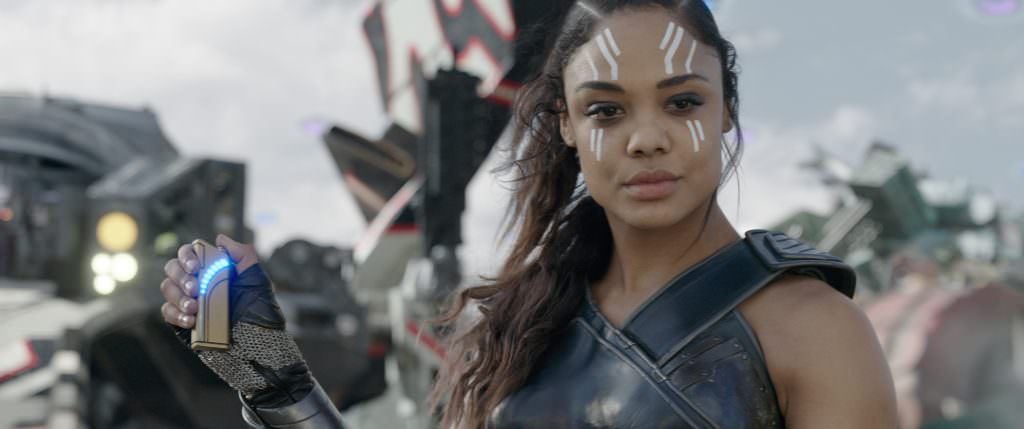 Thompson joined Feige and a huge slew of talent at San Diego Comic-Con on the stage of Hall H to discuss Phase 4. One of the major reveals was that Takia Waititi's Thor 4—the official title is Thor: Love and Thunder—would not only include a female Thor (Natalie Portman's Jane Porter!) but that Thompson's Valkyrie's sexuality will be confirmed. Thompson said that Valkyrie would be "needs to find her queen" when Thor: Love and Thunder hits theaters. Then speaking with Collider, Feige further pointed out that Thompson's Valkyrie won't be the only LGBTQ character in Marvel's Phase 4:
"Yes that's the case, and will be the case not just with [Valkyrie] but with other characters in some of the movies we talked about today."
Some of those movies include Eternals, directed by The Rider's Chloe Zhao, Destin Daniel Cretton's Shang-Chi and the Legend of the Ten Rings, and Cate Shortland's Black Widow film. There's also Captain Marvel 2, Doctor Strange: In the Multiverse of Madness, Black Panther 2, and Guardians of the Galaxy 3. Feige didn't specify which of these films would boast an LGBTQ character (or more), but clearly, there's a ton of possibility here.
We also learned who's playing who in Zhao's Eternals. The cast for this very ambitious adaptation of one Marvel's weirder comic books is stellar. Angelina Jolie is Thena, Richard Madden is Ikkaris, Lauren Ridloff is Makkari, Brian Tyree Henry is Phastos, Salma Hayek is Ajak, Lia McHugh is Sprite, Dong-seok Ma is Gilgamesh, and Kumail Nanjiani is Kingo. They are all immortal beings who live on Earth and shape its history.
Back to Thompson—who might the Queen's queen end up being? We won't be able to start guessing until the full cast of Thor: Love and Thunder is released. Until then, we're just happy to hear that Marvel's Phase 4 is becoming a more diverse universe.
Featured image: SAN DIEGO, CALIFORNIA – JULY 20: Chris Hemsworth and Tessa Thompson of Marvel Studios' 'Thor: Love and Thunder' at the San Diego Comic-Con International 2019 Marvel Studios Panel in Hall H on July 20, 2019 in San Diego, California. (Photo by Alberto E. Rodriguez/Getty Images for Disney)