Meet the Sound Team That Helped The Lion King Roar
After a massive worldwide opening weekend, it's safe to say the iconic songs from 1994 Disney animated classic The Lion King are still infectious.
In the retelling of the story, not only did director Jon Favreau bring back the original Oscar-winning composer Hans Zimmer and songs from Elton John and Tim Rice, but he added icons Pharrell Williams as a producer and Beyoncé singing "Spirit" and "Can You Feel the Love Tonight" as Nala.
While music is the beating heart of Pride Rock to match the photorealistic visuals created by MPC Films, a rich soundtrack needed to find its way on screen. Heading the ambitious project was supervising sound editors Frank Eulner and Christopher Boyes, who also served as sound designer and re-recording mixer alongside re-recording mixer Lora Hirschberg.
"Jon gave us one of the best directives saying, 'I know you're used to playing lead guitar but this is a musical so you're playing rhythm'," Eulner notes. What it meant for post was to support the dialog, music, and score with a dynamic effects track that wouldn't compete.
But before the team began its final mix, their research led them to amass a library of authentic sounds that included personal recordings from Boyes dating back to Jurassic Park, historical sounds from the BBC and Skywalker Sound's own audio library.
Post didn't stop there. Eulner spent ten days at Disney's Animal Kingdom recording birds, hyenas, warthogs, lions, and other animals. Lucas Miller (assistant sound design) went to Germany's Magdeburg Zoo to track lion cub audio. And with other key filmmakers, sound spent two weeks in parts of Africa recording everything from water buffalo and wildebeest to elephants and environments. "It was an effort to be real as we could be," says Eulner. "It's what Jon set out for this film."
The dialog was a separate beast and was recorded in different ways. Either on a traditional ADR stage or when schedules permitted, actors performed inside a black box theater where dialog recordist Ron Judkins captured them in the non-traditional space. The latter was used to help the actors feel uninhibited allowing them to move around and vibe off each other. The challenge for sound was later separating the overlapping dialog.
Picture editor Adam Gerstel, who replaced Mark Livolsi after his unexpected passing, was a key collaborator. "Delivering sound elements early helps the editing process, especially in animation," says Eulner. The group effort allowed them to aurally detail Pride Rock, the Elephant Graveyard and Pride Lands.
One scene at the Elephant Graveyard is when Young Simba (JD McCrary) and Young Nala (Shahadi Wright Joseph) are trapped by the hyenas and he lets out a roar to spook them. "It's a moment where the audience actually hears Mufasa [James Earl Jones] who's come to their rescue," Boyes says. "Jon wanted to reference the original film so the Mufasa roar you hear is the same but we included additional elements as it's meant to be one of the strongest roars in the film."
When Young Simba is caught in the stampede, sound had to delicately set up the action using falling debris effects that culminated into a rush of charging wildebeests hooves. As Zimmer's "Stampede" score finds its way into the sequence, effects had to sneak out. "It was a difficult sequence," says Boyes. "We had a lot of back and forth with the music department to find a balance of constant energy."
For the score, Zimmer brought back many who worked on the original film, including Lebo M, orchestrator Bruce Fowler, conductor Nick Glennie-Smith and arranger Mark Mancina. However, his approach was different, tapping the Re-Collective Orchestra and the Hollywood Studio Symphony to rehearse and record as it was a live concert performance as opposed to a studio session.
Post approached each piece of score and song the same way. "Once the music started we were very delicate and protective of individual sounds in the background," says Boyes. "We didn't want to muddy up the background." Mixing, Hirschberg and Boyes would stay out of the way of chord changes and progressions by removing or isolating certain sounds to help the transition between music and effects.
One of those moments is when Timon (Billy Eichner) and Pumbaa (Seth Rogen) unknowingly save Simba from vultures before singing "Hakuna Matata."  The team detailed the expansive openness of the desert with broad air and extended vulture sounds with Dolby Atmos.
When the trio reaches their magical homeland; waterfalls, insects, birds and animals fill the track before making way for "Hakuna Matata." The song also serves as a transition point between young Simba and adult Simba, where sound finessed the voices of JD McCrary and Donald Glover who continues as Simba. "We were very intentional with our choices. Everything you hear can be heard on the African Savanna," says Boyes.
"We created a tremendous amount of singular events embedded into the atmosphere – an insect that has a moment and never returns, a bird that flies by," Eulner adds. "We used a lot of foley [foley artists Jana Vance and Ronni Brown] to give lushness to the track."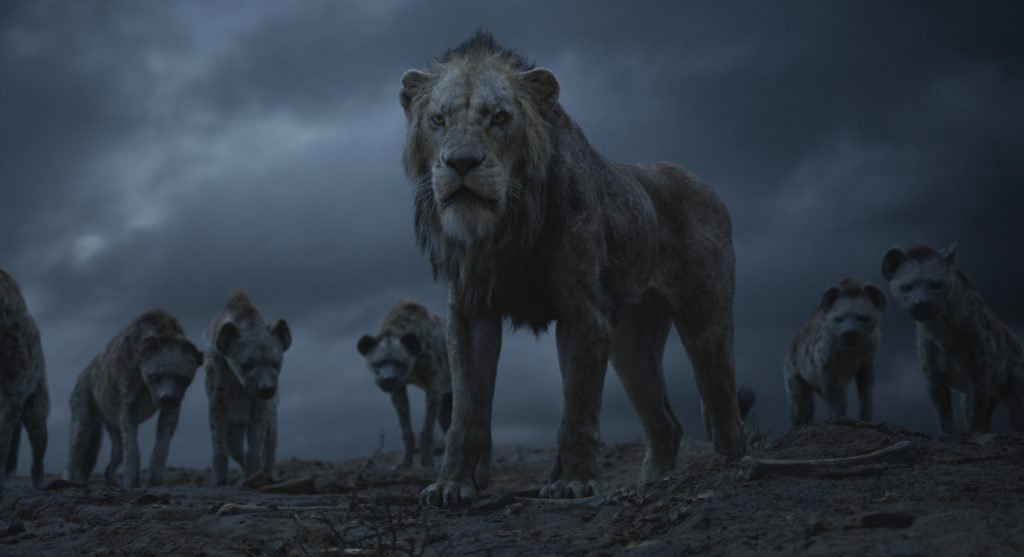 This is especially evident when Simba returns to Pride Rock, which has turned into a wasteland under the rule of Scar (Chiwetel Ejiofor). Confronting Scar, Simba belts out a vicious roar. For the climactic moment, Mufasa's roar was used for the voice of Simba. "We wanted to show he gained his father's voice and it's a wonderful dove tale," says Boyes.
Throughout the journey, the team pushed for a natural-sounding track. "Visually, everything is very realistic so we wanted to celebrate that with sound," Boyes says. Eulner adding, "It wasn't about one person but a team working to bring Jon's vision to life."
Featured image: THE LION KING – Featuring the voices of Chiwetel Ejiofor as Scar, James Earl Jones as Mufasa and John Oliver as Zazu, Disney's "The Lion King" is directed by Jon Favreau. In theaters July 19, 2019. © 2019 Disney Enterprises, Inc. All Rights Reserved.