New Avengers: Endgame Promo Photo Teased Pepper Pot's Epic Moment
*Spoilers lurk for Avengers: Endgame below. Abandon all hope, ye who enter here but have not yet seen the film!
The massive scope of Avengers: Endgame meant that some storylines, and even whole characters, never made it to the final cut. The Russo Brothers built a mega-narrative that tied up the previous 21 films in the Marvel Cinematic Universe. They managed to make time for a huge amount of characters (while time-traveling, no less) all while gearing up to a final—for real final—battle with Thanos that required just about every single superhero Captain America could muster. One of those superheroes was Pepper Pots (Gwyneth Paltrow), who arrived in the form of Rescue, wearing the custom made armor Tony Stark made for her.
Now a new, unused promotional photo of Pepper and Tony embracing in their full armor has surfaced thanks to Marvel Studios artist Liz Georgoff. Georgoff got into Rescue's armor for the publicity shot, posing with her partner Christopher Swift. Georgoff has been working within the MCU since Iron Man 3, so she knows a thing or three about Pepper and Tony's long, complicated and ultimately loving relationship:
This shot is all the more wonderful for what we know happened at the end of Endgame. Pepper took the fight to Thanos alongside every female Marvel superhero left alive (RIP, Black Widow), and was a big reason why Tony was able to rip the Infinity Stones from Thanos and finally end the Mad Titan's murderous quest. But Tony paid the ultimate price, and Pepper was there to say goodbye as Tony died. Although Rescue and Iron Man never met on the battlefield in their armor, which gives this promo shot a 'what if' quality. What could have been! But then again, what had been was potent enough.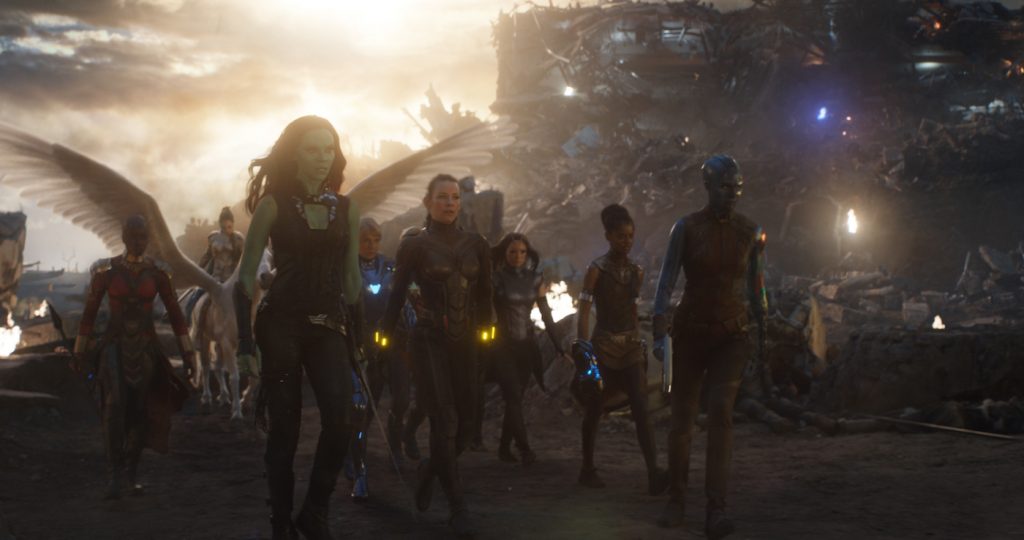 Whether or not we see Pepper Pots again in the MCU Phase 4 is unclear. She played her part—and a big one, it turned out—in Endgame. She was the one who pushed Tony into solving the time traveling problem so that he could help his fellow Avengers bring back everyone Thanos dusted. She arrived on the scene, in full armor, to fight alongside Tony. And she sacrificed him, in a way, nudging him to take one last shot at Thanos, so that people the world over could be reunited with their loved ones. That feels like a pretty great sendoff for the character if Pepper is, indeed, retiring.
Featured image: Marvel Studios' AVENGERS: ENDGAME..L to R: Pepper Potts in Rescue Suit (Gwyneth Paltrow), Valkyrie (Tessa Thompson), Scarlet Witch (Elizabeth Olsen), Captain Marvel (Brie Larson), Mantis (Pom Klementieff) and Shuri (Letitia Wright)..Photo: Film Frame..©Marvel Studios 2019