Laura Dern on Finding Renata in Big Little Lies
When Laura Dern took on the character of Renata Klein for HBO's mammoth hit Big Little Lies three years ago, she knew exploring the emotional life of this alpha female wasn't going to be her focal point. The character is tough, all business, and doesn't have a lot of friends – not the least of which her co-stars' characters, played by Nicole Kidman, Reese Witherspoon, Shailene Woodley and Zoe Kravitz (and, this year, Meryl Streep).  "It was really knowing Renata was the…B-word," she laughs.
With over 80 roles since she began her career in the 1970s, the actress knew her approach to Renata, one of five women – the Monterey five, as they came to be known, involved in the death of Kidman's character's abusive husband – she would need to approach the role differently.
"For Reese's character, you understand from her background what she's going through, with her affair and with her daughter. And you know that from Nicole, as a woman who's a survivor of domestic violence. Shailene, as a survivor of sexual assault, an Zoe, at the crux of the trauma we went through, you learn more and more about her emotional connection to all the things that have happened," Dern explains.  But the all-business Renata, a CEO in a tech firm and a professional on several corporate boards, "is an outsider, and does have it 'all.'  And is someone to envy and not empathize with, traditionally," as the audience does with the other characters.  "So, as an actor, there's no challenge I could love more."
Indeed, therein laid the actor's challenge – the kind that an actor of Dern's experience finds "delicious," as she says of the role.  "How do you break down what it is to be terrified, lonely, vulnerable, feeling that you're not being the mother you want to be?" Dern asks. "Handling secrets and lies, betrayal – all the things we witnessed in the first season. Where to go deeper into someone that isn't on the page? How does one find ways to have the audience go on a ride with a character that they don't necessarily empathize with, like those of her colleagues? I think Renata's the only one that it's not easy for the audience to do that with.  And yet people love her."
Dern's character-building process began early on, even before receiving the first script, first beginning by having conversations with season one director Jean-Marc Vallée, followed by chats with series creator David E. Kelley, and then with author Liane Moriarty, on whose novel the series is based.  "Then I read the book," she says.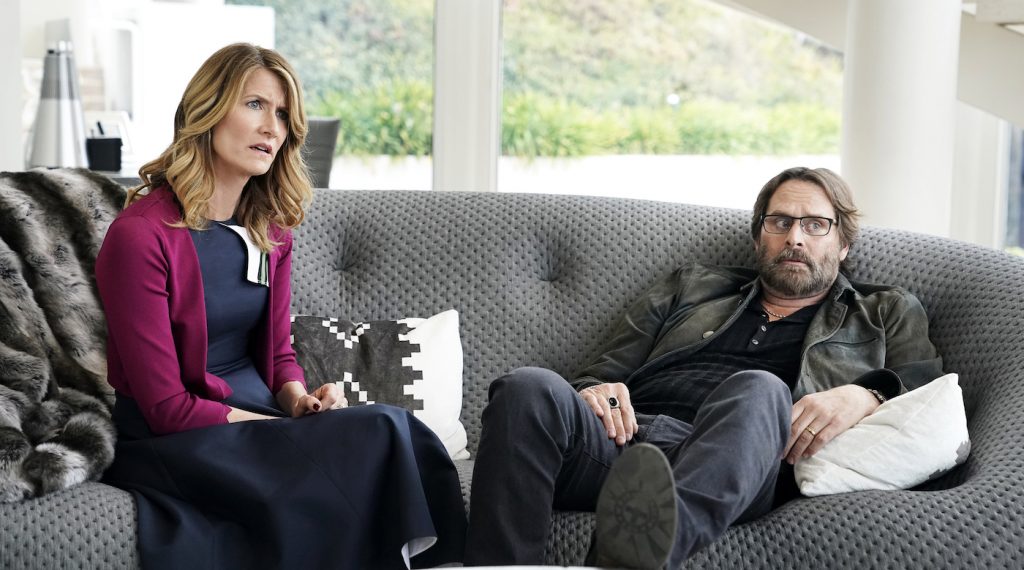 Within that book, she notes, was Renata's personality, as well as in the scripts that followed. "But there was a lot that was unspoken, as well. So there was a lot of room to play," Dern says. There was much, even, which never came up in the show's first season, still to explore.  "It was inferred – like how she handles grief or heartbreak or challenge or somebody wronging her. So those definitely were all part of the roadmap to her."
Upon receiving an episode's script, the first thing she looks for is the why of what's happening with the story and her character. "The show doesn't necessarily have to answer the why, in terms of the behavior of the characters," Dern says. "But as an actor, you must understand it. To understand the people that we play, and truly know and own their habits and their heartbreaks and their greatest fears. But also, the why gets you to where the plot needs to drive you toward. So to support the filmmaker's narrative, you don't just have to understand your place in the story. You have to understand why you end up where you end up, and where your drive is. Plot is not something you can act. That longing, though, is a narrative you can play."
She'll next have long conversations with writer Kelley, as well as with the director – Vallée last year and Andrea Arnold this year, directors who helmed every episode throughout the season, as was Kelley's wont.  "We all dove in."
Such digging in allows Dern to do something she loves. "To find the humor in broken places," of which there is plenty in Renata. "This story goes to very painful places and emotional places, for all of us. So I also look for places to expose the most vulnerable parts of her. At one moment, it's a boss, a woman on top, tough, irascible, this impossible creature. And then, at another moment, there's something very vulnerable about her. In some of these storylines, Renata is so delicious. And outrageous at moments. That is really fun to mine those painful moments, and finding the humor in them, as well."
None of this mining is done alone. Like the characters they all play, the cast watches out for each other, to find those special moments or character qualities and twists. "Usually on projects, I go about it in a very isolated way," Dern relates. "And one of the things that has been really moving about this process is, it's a really collaborative space. From the very inception, when we would have a table read, what has been so incredible is the team which we are on. Everyone is weighing in for everybody else." One might receive an e-mail from a castmate, saying, "That doesn't track for me" or "Do you understand that relationship now?" or "Wouldn't it be great if your husband said more about this or that?" she recalls. "It's a very beautiful looking out for these female characters, as a tribe, versus just one actress considering their isolated part."
And that is how the actors all keep the grief and shame of their common trauma consistent, buried mostly just below the surface, and occasionally leaking out. "Because all these stories weave in and out of each other, and we're all in response to the same trauma or event," Dern says. "We obviously have different relationships to it, and different things happen in our specific storylines. But it's been beautiful to have a committee looking out for Renata. So it's not just me, as an actor."
It doesn't hurt that the level of "colleague" Dern is surrounded by is A-list all around – something that pays off while developing scenes, often from take to take. A castmate might introduce a new reaction or response from one take to another, offering more opportunity to explore, as an actor, her own character, in the moment. "That's actually amazing," she says. "And it's particularly amazing when you're working with great actors who love to try different things and improvise and see what happens."
Things have moved along for the characters of Big Little Lies, since the end of last season. "There's a deepening of knowing the characters now. We've been asking ourselves these same questions we're discussing here, for a couple of years now, which has been just fantastic and rich. On a movie, you get to know a character for a few weeks maybe. But now, I think we really feel close to these women."
And what is the biggest change that's taken place for Renata?  "Well, what I found it both devastating and amusing about Renata's experience of this trauma is that, yes, there's PTSD, and, yes, there's the trauma of holding on to a secret or a lie. But there's also one person in the story who finally has friends!" she laughs. "So this worked out really well for me."
Featured image: Season 2, episode 3, debut 6/23/19: Ivy George, Laura Dern. Photo: Jennifer Clasen/HBO