Costume Designer Michael Wilkinson on Outfitting the Live-Action Aladdin
In Guy Ritchie's live-action remake of Aladdin, Disney revisits Agrabah, the fictional Arabian land where a plucky street thief and his incorrigible monkey sidekick cross paths with an unlikely love interest, the local sultan's daughter, Princess Jasmine. Similar to the 2017 Beauty and the Beast remake, turning a bustling, fictional historic animated township into a three-dimensional place is a colorful, lively affair. In both, labyrinthine city streets give way to the intensity of nature, which in Aladdin takes the form of endless desert interrupted only by the animated feline entrance to a magic lamp's cave.
The story is consistent with the 1992 animated hit, as are the key players. Aladdin (Mena Massoud) and a persevering Jasmine (Naomi Scott) must contend with the sultan's (Navid Negahban) power-hungry vizier, Jafar (Marwan Kenzari, awarded a different sort of crown by the Internet, which has deemed him an official Hot Villain). Will Smith ties the palace together as the wish-granting, advice-dispensing blue Genie who, this time around, finds fellow comic relief as well as a love interest in the film's primary new character, Dalia (Nasim Pedrad), Jasmine's daffy handmaiden.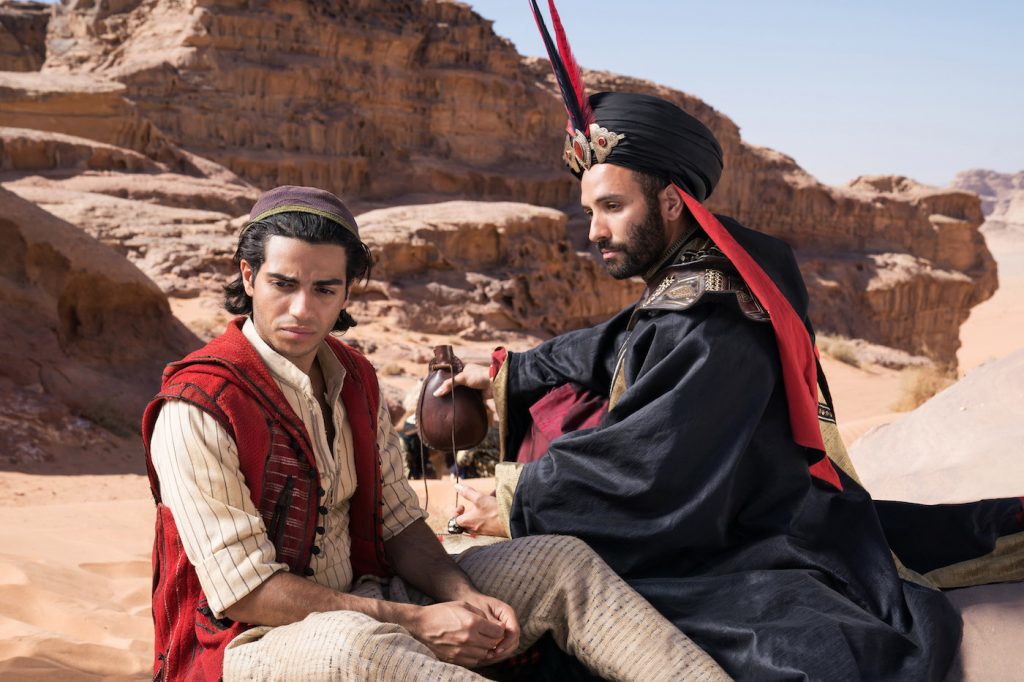 Enhancing a newly three-dimensional Aladdin are abundant fresh looks, with the film offering an array of costumes that are as rich as the streets of Agrabah are bustling. Aladdin still does street thief parkour in the loose white shirt, red vest, and faded taqiyah familiar from the cartoon, of course, with Jasmine donning her classic turquoise ensemble around the middle of the film. Knowing what a draw that particular outfit has been for the past quarter-century, costume designer Michael Wilkinson recreated it to a T, and then went on to weave it into her ten or so other looks: "I made sure that there was always a turquoise element to each, a little tease and a flash of the classic Jasmine turquoise in all her costumes," he said.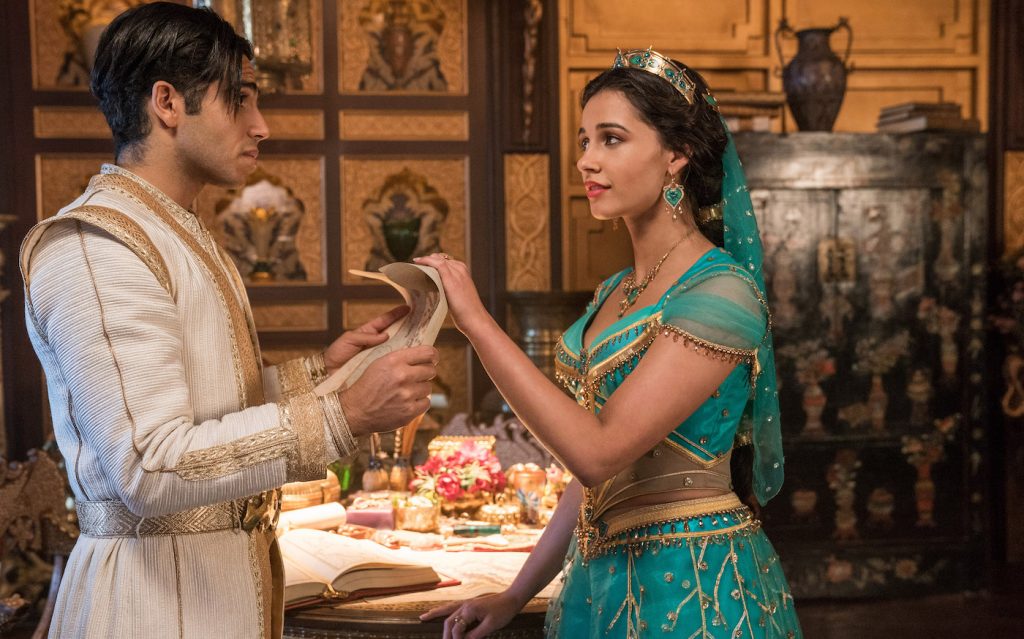 Aladdin has been performed live as a stage show since 2011, and the film's big ensemble numbers seem designed to evoke the thrills of sitting in the orchestra seats at a Broadway musical. Set in a fictionalized independent port city at an indeterminate point in history, the movie had the freedom to use these scenes to go aesthetically wild. "One of the things that came out of my original discussions with Guy Ritchie was that we didn't want to be slavish to any one time or place," Wilkinson explained. "We wanted to embrace the idea of this film as a piece of fantasy," while still anchoring the story with a sense of authenticity.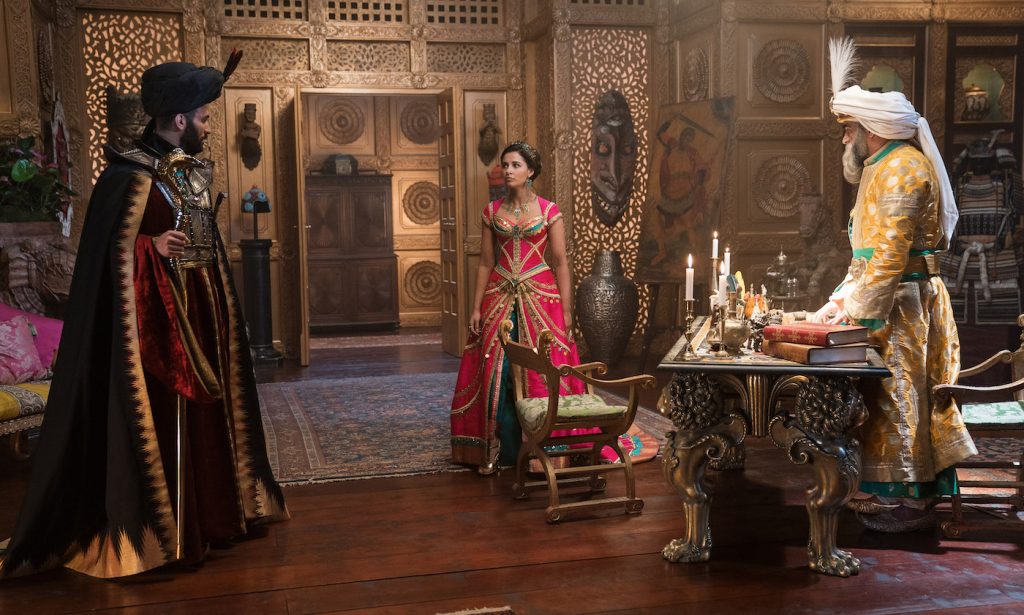 Attaining the production's more reality-oriented goals brought the designer in contact with a large swath of the globe, rather like the citizens of Agrabah. "We sourced fabrics from Morocco, Turkey, India, Jordan, and Iran," he said. "Our town that the film is set in is kind of a trading center, like a crossroads of different influences. It's on a coast, so we figured there'd be influences from all around the world."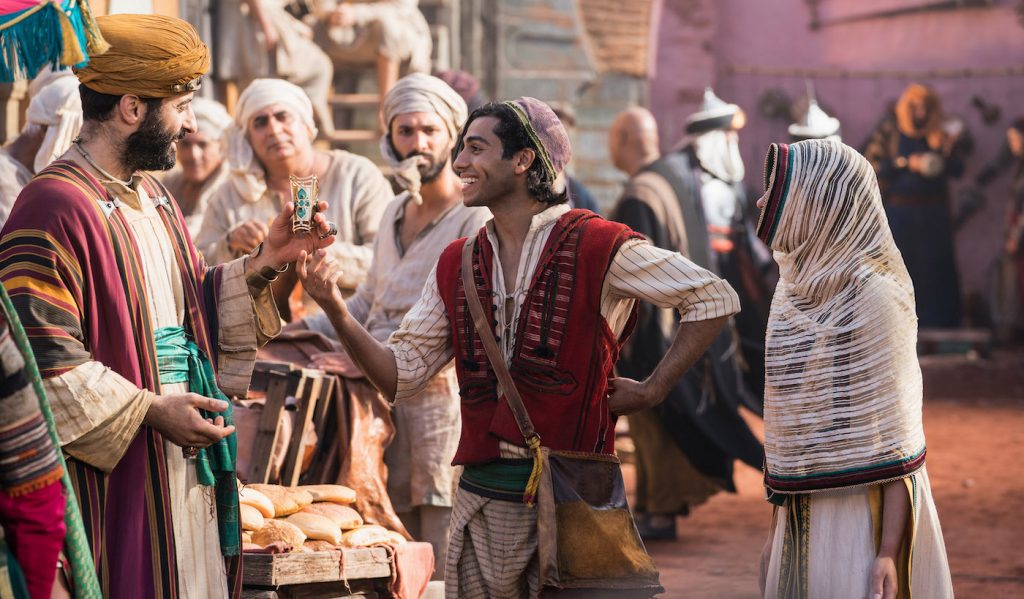 It's best encapsulated in the film's biggest dance number when Aladdin comes back to town as "Prince Ali." Clad in cream and white atop an elephant, the would-be prince's dancing retinue is outfitted in an array of pastel gem tones, a festive procession that Wilkinson and his team built entirely from scratch.
The costume designer worked with 80 people — "during busy times, that surged to about 100" — to build a total of about 400 costumes. Ten costume prop-makers worked for six months to make a truly fantastic assemblage of headwear, "from Will Smith's one-meter-tall exploding turban to the more elaborate, intricate headpieces and tiaras that Princess Jasmine wears."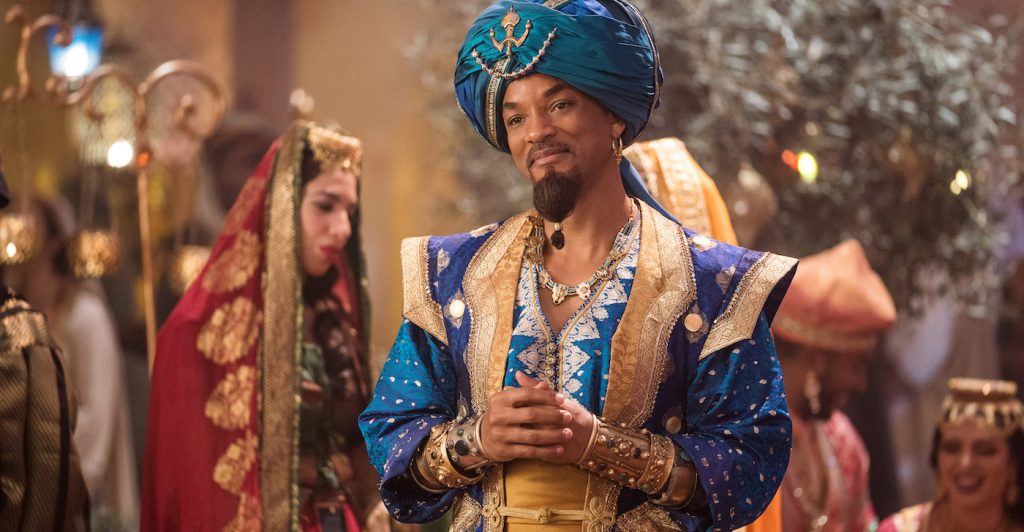 The team's research started at 6th-century Arab images and continued to the present day, stopping along the way at touchstones like One Thousand and One Nights. Then "we cut free from that and looked at sculpture and painting, as well as modern references like video game characters, digital art, and modern fashion," Wilkinson said. For a sense of an era, one might look to the foppish Prince Anders (Billy Magnussen), Jasmine's other, less welcome suitor, kitted out in exaggerated medieval duds and a hammy German accent. More pressing than assigning a particular time to Agrabah, however, is which aspect of the city might soon be ubiquitous in the present day—one of Jasmine's magnificent yet practical dresses (in a nod to her independent spirit, Wilkinson incorporated some form of slacks, from harem pants to silk trousers, in all her costumes) will surely upstage her original turquoise harem pants and cropped top to become a new favorite among little girls everywhere.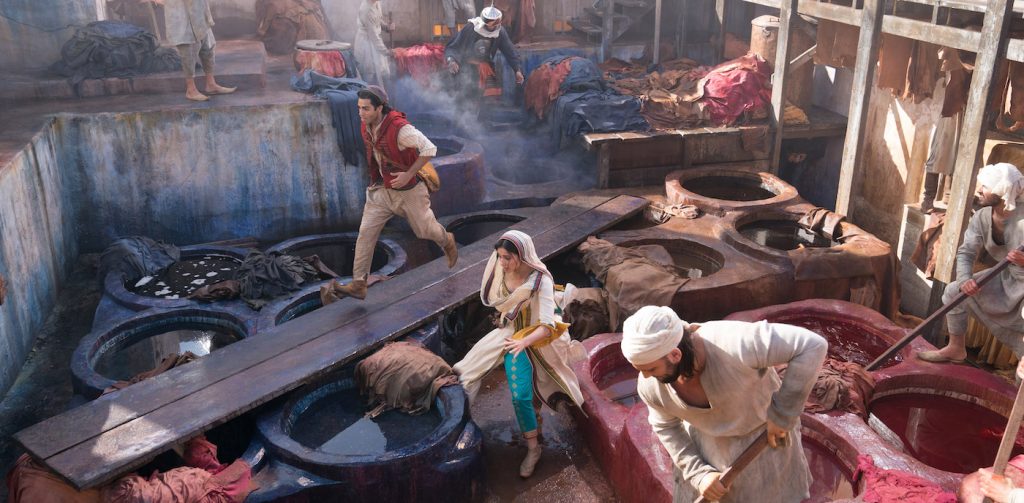 After all, beyond its splendid costuming, the film is a charming, upbeat update on one of Disney's greatest hits. This was Wilkinson's first time working with director Ritchie, and he explained that "the first time I met with him, he let me know that he just wanted to make a film that's rollicking good fun for kids, but also a compelling and irreverently entertaining film for adults. He wanted to make something that he could watch with his five children, so I kept that in mind as I was creating things—I wanted to create pieces that would inspire awe and wonder in young audience members but feel cool and relatable for adults, too." In keeping to the beloved story, Ritchie gives a classic its due, but Wilkinson's costumes, on the other hand, are a whole new world.
Featured image: Naomi Scott as Jasmine and Mena Massoud as Aladdin in Disney's live-action adaptation of ALADDIN, directed by Guy Ritchie. Courtesy Walt Disney Studios