Pet Sematary's Makeup Designer on Creating Death From Life
It's always risky adapting a beloved novel for the big screen. It's even riskier when that novel has already been adapted in a beloved film. Yet this is precisely what directors Kevin Kölsch and Dennis Widmyer took on with their Pet Sematary reboot. Director Mary Lambert's iconic 1989 film version of one of Stephen King's most wrenchingly unsettling novels gave the world some of the most disturbing sequences of any film that decade. Kölsch and Widmyer took their Pet Sematary in interesting new directions while remaining faithful to a story that takes a long, hard look at the effects of grief, and the lengths people will go to avoid dealing with their own.
The basic outline of the plot is the same, but the specific tweaks are crucial. The Creed family has moved from Boston to rural Maine. Their new house is set on a street that appears to be a through-route for some rather large trucks. It's also backed by expansive woods. Lois Creed (Jason Clarke) is a doctor. His wife Rachel (Amy Seimetz—read our interview with her here) harbors a lot of trauma—namely from the terror of what befell her sister Zelda. The kids, Ellie (breakout star Jeté Laurence) and Gage (Hugo Lavoie) are just trying to adjust to their new home. A friendly neighbor, Jud (John Lithgow) seems to a little uneasy about the property behind the Creed's house, specifically the Pet Sematary where the neighborhood kids bury their best friends and the woods beyond it.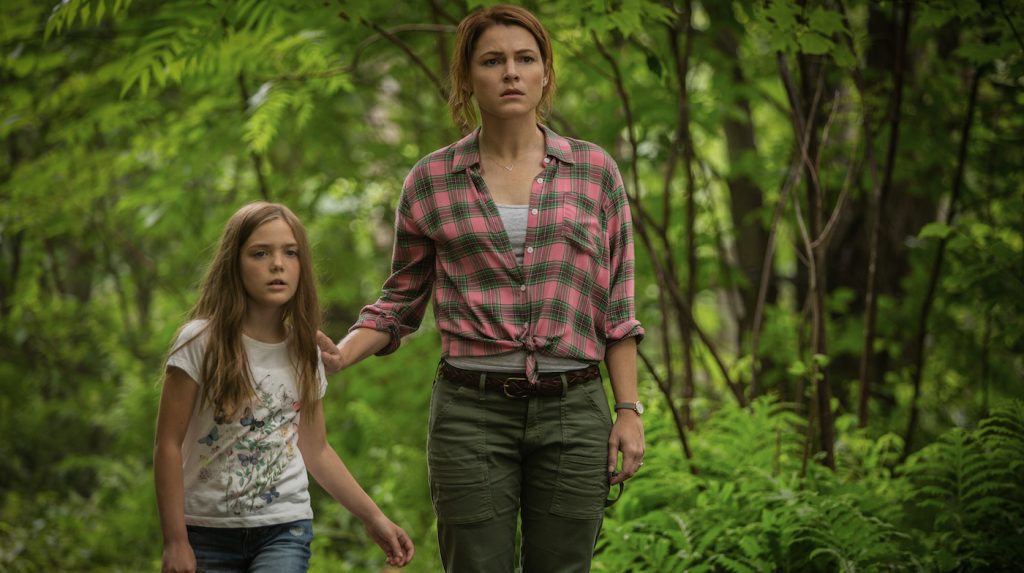 One major plot point already revealed by the trailer is that in this version of the story, it's not Gage who dies, but his sister Ellie. Veteran makeup designer Annick Chartier knows a thing or two about young girls taking on paranormal roles; she worked on Jaume Collet-Serra's 2009 horror film Orphan.
"I've worked with young girls before," Chartier tell us, remembering how potent actress Isabelle Fuhrman was in Orphan. "This child, Jeté, is also really, really good," she says. "Even on set, she was just like an adult. She's very quiet, very soft spoken, she's so professional. I'd take her aside after a scene and say, 'Jete, you're scarier than Isabel in Oprhan!' Chartier says. "She was so excited! She wasn't even allowed to see that movie."
In Orphan, a newly adopted girl turns out to be a terror. Pet Sematary takes a much different route. After the Creed's cat Church is struck and killed by a car, the family buries their beloved feline in the Pet Sematary behind the house. Of course, Church comes back, setting up the film's masterful, heartbreaking next act, when Ellie gets hit by a truck and killed. Her grief-crazed father can think of nothing else to do but go against Jud's warning and bring Ellie back.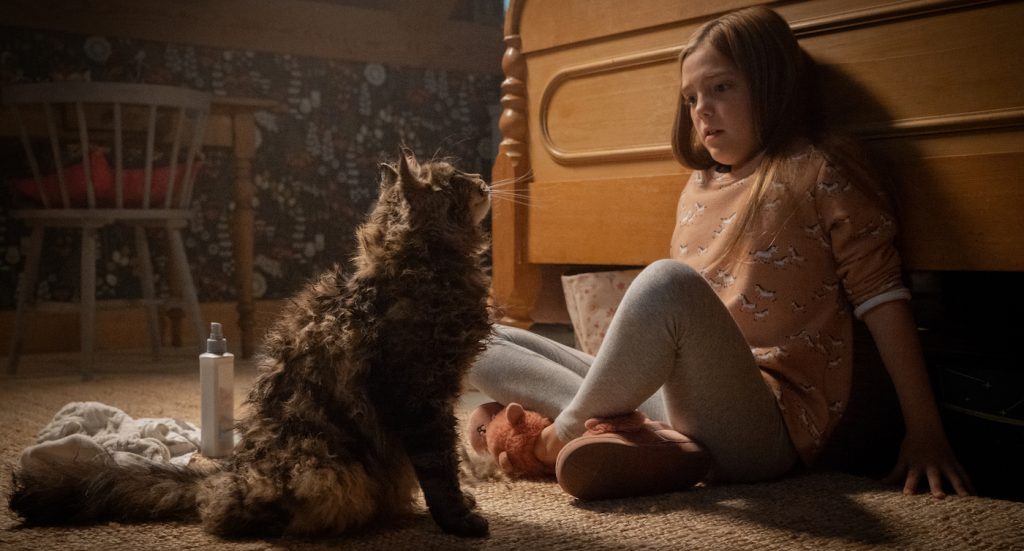 Transforming Laurence from the fresh-faced young girl into an undead version of herself fell largely on makeup effects master Adrien Morot. Getting the look exactly right for the newly undead girl was crucial.
"The directors started developing certain characters with Adrien in pre-production," Chartier says. That included both Laurence's Ellie and Zelda (Alyssa Brooke Levine), Rachel's sister. Zelda's body is horribly deformed by disease, while Ellie's is deformed by death. "Rachel has a sequence of memories and dreams about her sister, and the makeup Adrien created was phenomenal," Chartier says. "For Ellie, after she's dead, they put some prosthetics on her, so she was in whole body makeup. The hair as well. When we shot the scene of Jason brushing her hair and the brush snags and you see some of the staples in her head—it's very creepy when you think about it. You could tell even Jason was grossed out."
Chartier says that one key to pulling off Ellie's return was to make sure her makeup, before and after death, was subtle. "Alive, obviously, she's a young girl. I try not to do so much with children," she says. "Some children are born with dark circles under their eyes, and that doesn't read well on camera so we'll change it. Jete has beautiful skin, so aside from sunscreen, I didn't want to do much." Because they filmed in summer in Montreal, the heat was an issue. "We had enormous, relentless heat. So I had to make sure the actors didn't get sunburn."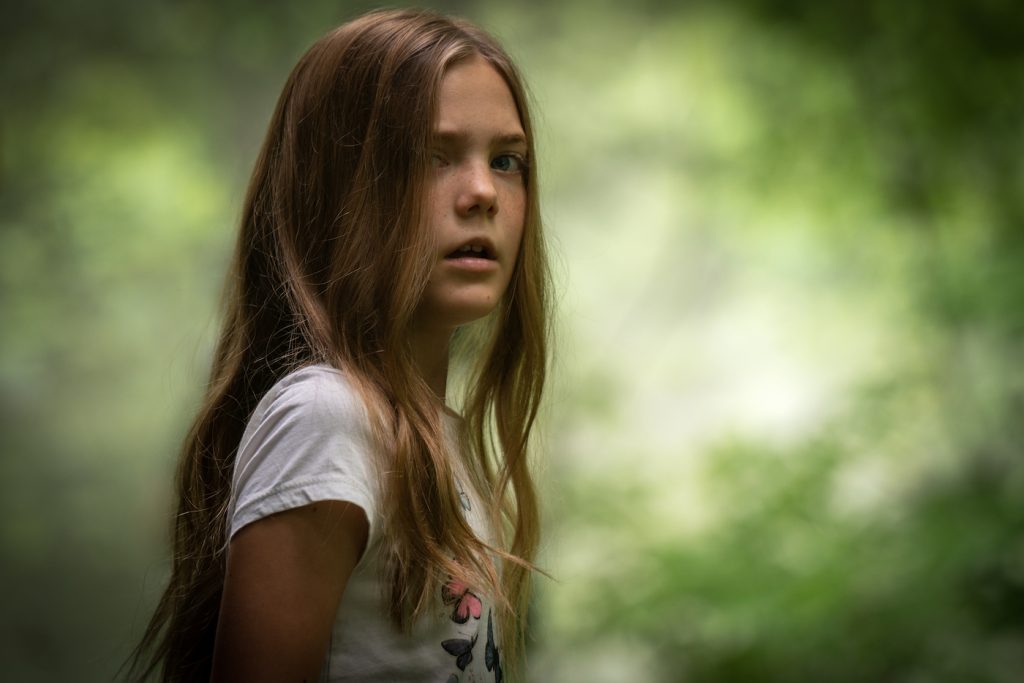 For Lithgow's crucial character Jud, Chartier had a blast turning the dapper actor into a grizzled old man.
"Every time I have actors, I make myself mood boards for them," she says. "We have to be in harmony with the director, with the costumes, and with the actors. So for John, Jud has a secret in a sense, a bad experience that happened to him that weighs on him and has made him somewhat of a recluse in this movie. He drinks too much, smokes too much, he's outside a lot, so I wanted to give him this weathered look, sunburn and windburn. He's got this beard he let grow, so we stained his beard and his fingers with nicotine. We also worked on his face and created all these age spots—it was a lot of fun to work on him."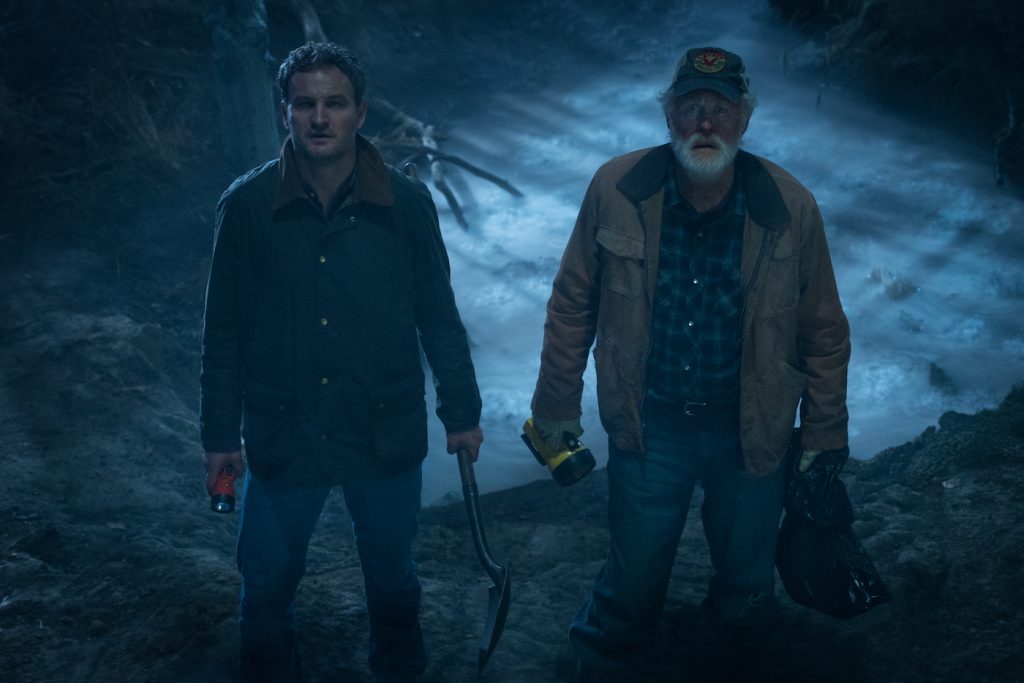 Lithgow wasn't initially keen on wearing any prosthetics, so Chartier and her team transformed the veteran actor with makeup alone.
"A lot of people were shocked when he walked on set. When makeup is applied the way it's supposed to be, you don't register that there's even makeup on a person," Chartier says.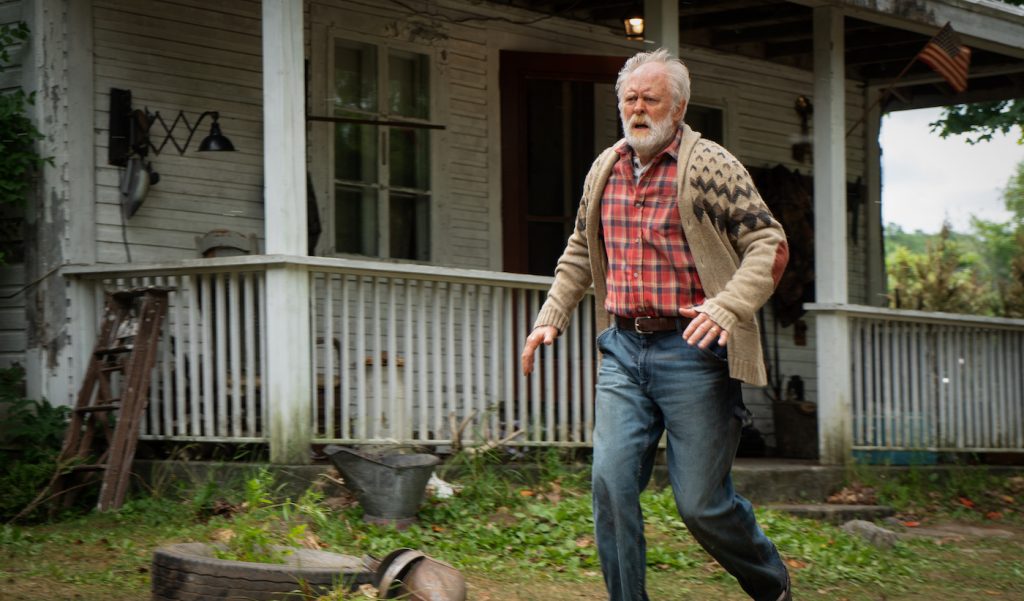 In the end, like every member of a film crew, Chartier's number one responsibility is to the story itself.
"You're working on something and hope you're giving the story what it needs to be told correctly," she says. "For Pet Sematary, that also means that a scare needs to be really scary."
Featured image: John Lithgow as Jud, left, and Jason Clarke as Louis and in PET SEMATARY, from Paramount Pictures.