How Dumbo's Producer Carves out Creative Space for Tim Burton
Twenty-three years ago, Dumbo producer Derek Frey started working for Tim Burton as a gofer on Mars Attacks. Over the course of Burton's next 11 movies, Frey rose through the ranks to become a trusted consigliere to the visionary director. Among Frey's chief tasks: making sure that Burton gets to be Burton. "Tim's an artist," Frey says. "He treats every project like a canvas. I always try to – I don't want to say 'protect' —  but I try to ensure that Tim has the space he needs to delve into his creativity because certain people within the studio system—they want answers now. They want to see things before they're ready to be seen."
Especially for Dumbo, a mostly live-action re-make of Disney's 1941 flying elephant fable featuring Danny DeVito, Colin Farrell, Eva Green, and Michael Keaton. The London-based filmmaker needed time to shape Ehren Kruger's script to his liking. Pre-production began in October 2016 and Dumbo only wrapped final edits three weeks ago, Frey says. "Before we had the elephant rendered, we weren't really sure what the movie was going to be, so I helped carve out that little corner [for Tim] and told the studio, 'Guys, you've got to trust us on this one. Look at Tim's track record. You know he'll deliver something wonderful."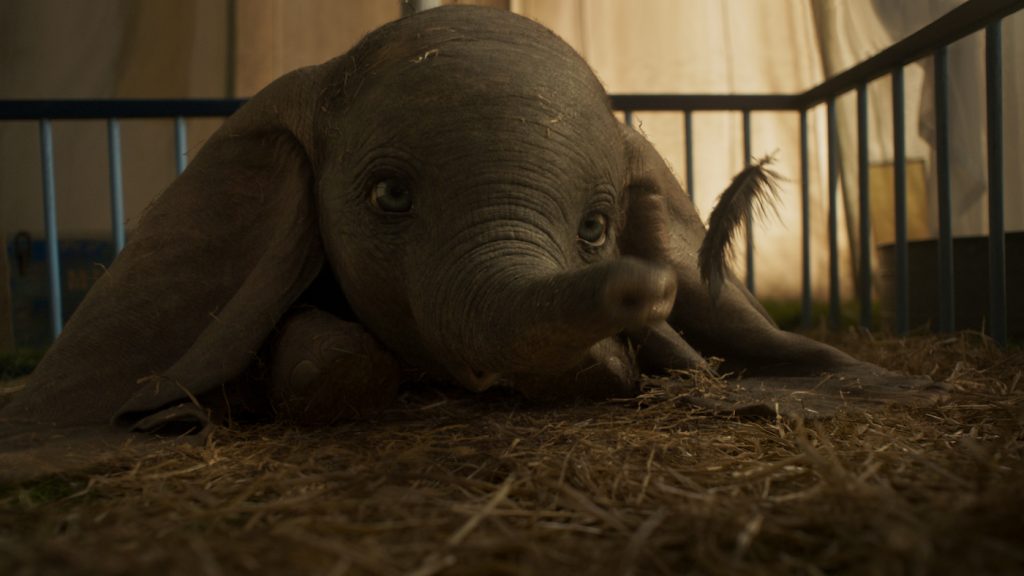 In re-creating the wonder that is saucer-eyed baby elephant Dumbo and his world, Burton enlisted long-standing collaborators including Frey, composer Danny Elfman, costumer Colleen Atwood, and production designer Rick Heinrichs. Frey sees Team Burton as a de-facto repertory company, not unlike the itinerant entertainers depicted in the film. "Tim's group in a way is really like a circus troupe," Frey says. "We're kind of a ragtag bunch where each person brings their own talent to the table, with Tim front and center" as the ringmaster.
In fact, the Dumbo set outside of London often times resembled an actual circus. "We brought in real circus acts from Mongolia and Brazil and Eastern Europe and Spain and Russia," Frey says. "Five months before we started filming, they put on a show for Tim at Pinewood Studios and he selected a short list of performers for the movie. When you see Danny DeVito and his Medici Brothers Circus, there's always stuff going on in the background with jugglers, knife throwers, people on a high wire. They're the real deal. It was really cool to be part of a movie where you'd see these people in the corner every day doing tricks or rehearsing some kind of acrobatics gearing up for their time on screen."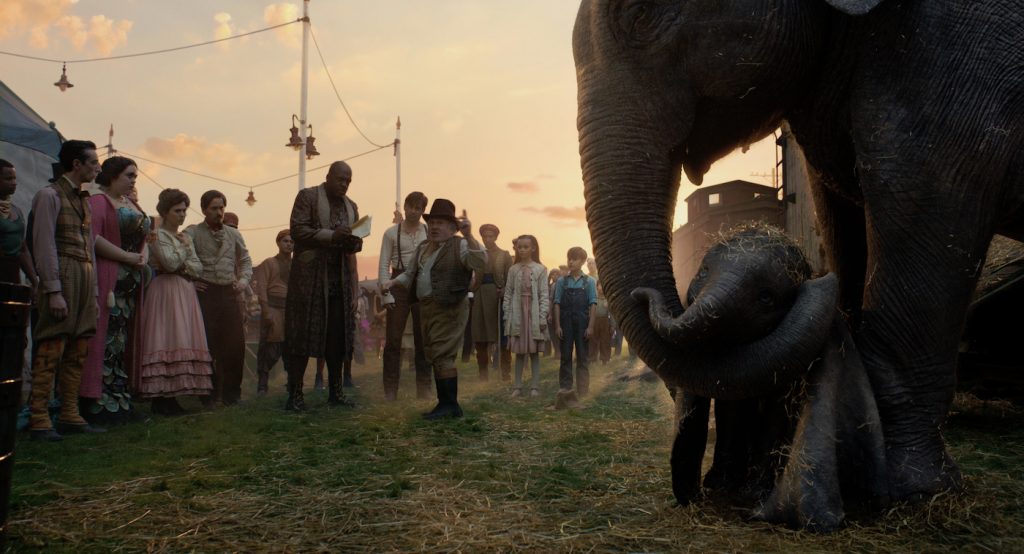 The circus environments designed by Oscar-winner Heinrichs (Sleepy Hollow) was constructed on a Pinewood Studios soundstage near London and the massive Cardington Airship Hangar once used to build World War I blimps. "We researched real locations in the U.S. that paralleled places in the script but Tim decided to shoot the movie on the new soundstage at Pinewood where we could completely control the light and color and camera," Frey recalls. "From a production standpoint, we wouldn't need to deal with rain or weather elements or [changing] light. We used a green screen for Alice in Wonderland, but for this one, we felt the elephant was the fantastical element and everything else should be as real and tactile as possible."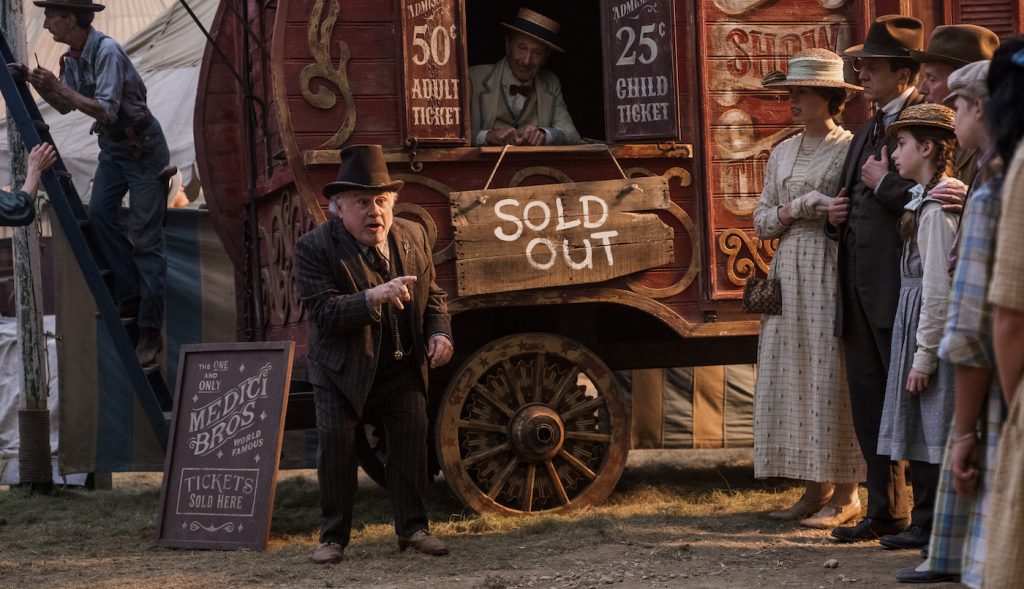 The folksy Americana backdrop, circa 1919, evokes a lush context for the story but at its core, Dumbo requires an adorable and fully plausible baby elephant to drive the drama. After finishing his 2016 contemporary fantasy Miss Peregrine's Home for Peculiar Children, Burton turned his attention to the big Dumbo questions. Frey explains, "It really became about the development of the look for Dumbo. A, what could he look like in a live action environment and B, could the visual effects pull that off realistically?"
The answers came from MPC company, which had just finished state-of-the-art visual effects in The Jungle Book. "MPC had already taken a stab at Dumbo on their own and when they showed us their tests, it proved you could create a flying elephant that looks convincing. That's when Tim decided the technology had arrived for us to make this movie."
Frey regards Dumbo as a culminating moment in Burton's filmography, and he should know. Long before joining the director's inner circle, Frey admired Burton's black-humored brand of surrealistic horror aesthetic from afar. In high school, he watched Edward Scissorhands dozens of times at the local movie theater. In college, Frey found personal inspiration in Burton's bio-pic of D-movie director Ed Wood. "It's probably my favorite Tim Burton movie ever," Frey says. "Ed Wood made me recognize even if you're making a horrible film that nobody sees, you can still have a passion for the actual process of getting a bunch of people together, grabbing a camera and running around getting shots. That movie gave me the strength of purpose to pursue film as a career, and looking back, I feel very fortunate about my trajectory."
As for Burton's artistic trajectory over the past two decades, Frey believes the man he works with nearly every day has remained essentially unchanged. "Maybe he's slightly more comfortable in his own shoes than he was 25 years ago but Tim is still very much a champion of the outsider, he's still talented and touched and unique and very much an outsider himself," Frey says. "The moment that he's not the outsider, the moment that Tim Burton is universally accepted? Then it's over!"
Featured image: BATHTIME — In Disney's live-action reimagining of "Dumbo," Milly Farrier—the daughter of a former circus star charged with caring for a newborn elephant—quickly embraces the newest member of their circus family. Featuring Nico Parker as Milly, "Dumbo" opens in U.S. theaters on March 29, 2019. © 2019 Disney Enterprises, Inc. All Rights Reserved.