Oscar Watch: The Favourite's Production Designer Re-Designs History With a Flourish
England's Queen Anne, who only reigned from 1707 to 1714, is hardly the most notable female British sovereign, but to watch her played by Olivia Colman in director Yorgos Lanthimos's The Favourite, one might wonder why this the first we're hearing of her in so long. True to history, Lanthimos's depiction of the queen shows her nearly constantly ill and in other ways unwell—she is in possession of 17 rabbits, for example, who mark a combination of lost pregnancies and infants who died young. Though Queen Anne suffers deprivation in terms of her health and lost children, however, she is well-supplied in terms of supplicants. Her closest confidante, in a tough-love sort of way, is Lady Sarah Churchill (Rachel Weisz), who looks after her health as well as her war with the French.
The relationship begins to sour not long after the arrival of Abigail (Emma Stone), a fallen aristocrat intent on climbing from her new position as a servant back to her rightful place. Doggedly, she works her way not just up the ranks but right out of them, moving up into Anne's bedchambers as her handmaid, and from there, into her bed. Lady Sarah, far from pleased and initially helpful to Abigail, enters a rivalry that, despite its reticence, is sinister and fierce.
The triangle's complexities deepen against a backdrop of opulent royal living quarters. Another area in which Anne does not suffer deprivation, after all, is in her dwelling. The Favourite was shot in a mix of storied British homes, most notably Hatfield House, and on sets painstakingly designed to blend seamlessly with the historic architecture of which they are part and parcel on screen. However, even filming on as grand an estate as Hatfield, the film's design team had ample work to do to bring the film's locations up to a very particular version of early 18th century royal snuff. We got to speak with production designer Fiona Crombie on creating Queen Anne's palace, trawling London's best antique market, and subtly influencing the setting to reflect the main characters' evolving influence on their superior.
Can you tell us about the film's locations, and what it took to get them ready for filming and in line with your and director Yorgos Lanthimos' visions?
The crucial thing with the locations was finding places that were open to us modifying, building, and doing what we needed to do to bring the location into the story. Hatfield House was quite available in terms of accessibility—often places are quite busy—but also, they were really supportive of letting us do those candles, for example, and to do construction within these spaces. In each of the rooms, with the exception I think of the gold corridor, we had to do some degree of construction, to facilitate the storytelling—in particular, the secret corridor, to make that conceit work—and to make the rooms into bedchambers. What I did was use [Hatfield House's] architecture as a starting point, so we were basically extending their detailing. It was quite invisible—the work is very integrated. The crucial thing with that location, of course, is that it's an unbelievably precious building. You can't use screws, you know! Painting had to be done off-site; you have to be very careful of any damage because it's basically priceless.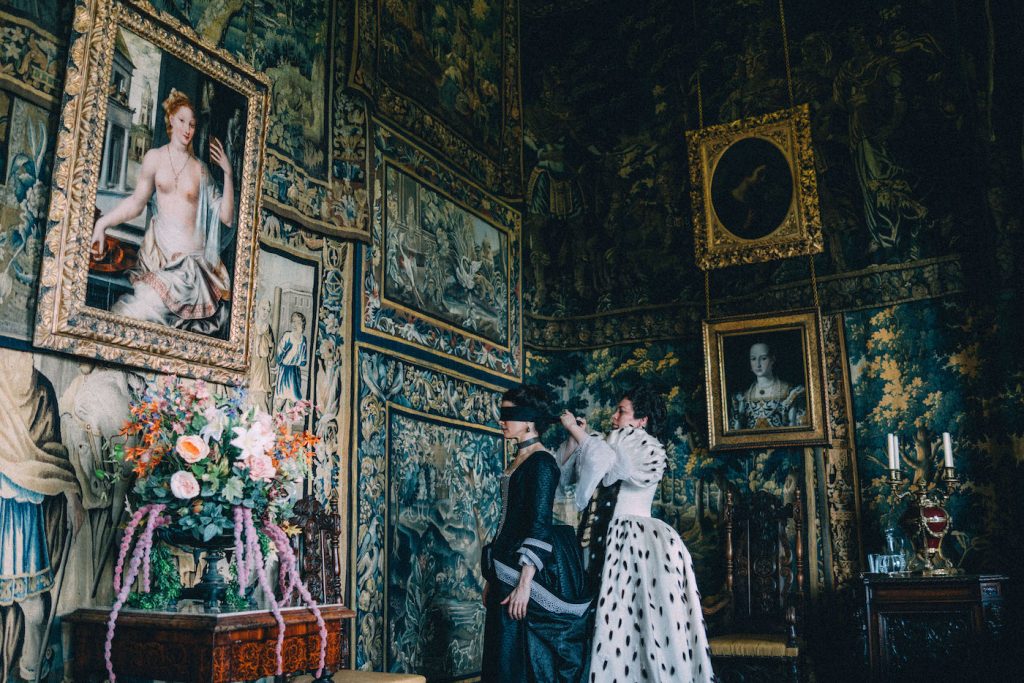 What is this kind of incredibly careful construction process like?
The house has volunteers, who normally you'd see if you were there on a tour. In this instance, they just came and sat and watched us work the whole time. We had to be very careful because one of the other major things we did was empty their rooms—all their furniture, curtains, floor coverings. And these things are irreplaceable. So they had their archivist come in. Even in the library we turned into Sarah's bedroom, we removed a lot of their books and put in our own, and just the handling of those books—it's something you have to be so respectful of because historically they are so important. We gave them a lot of advance notice, it wasn't the case that we'd call down and say, "hey, I want to put this up here." We booked time with art handlers, specialist furniture removers, and were very, very careful.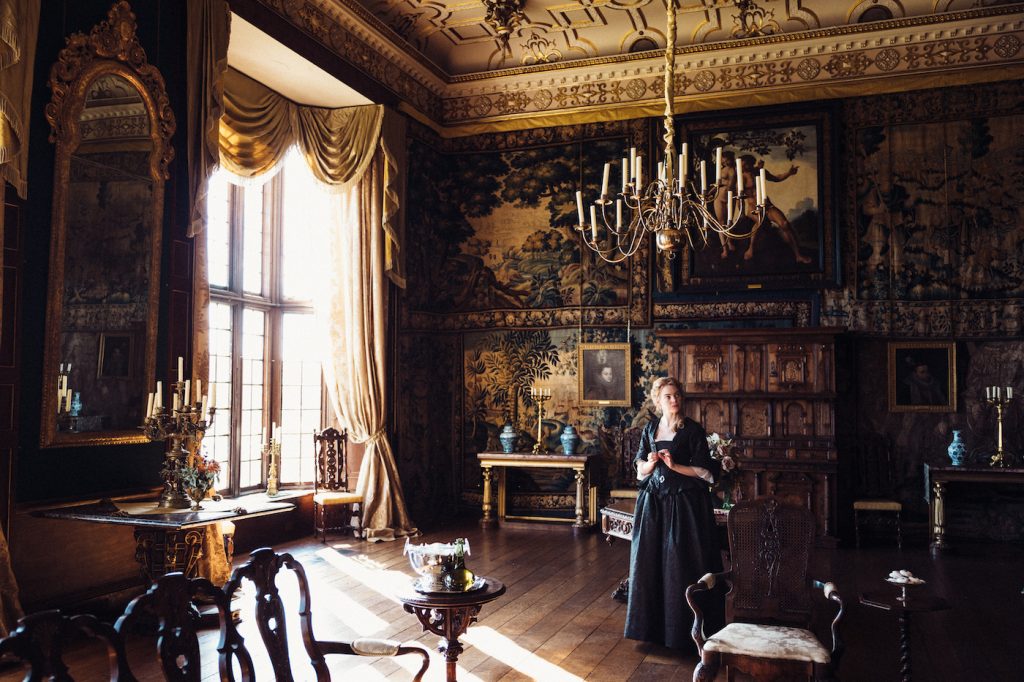 When you go about bringing in your own furniture to a place like Hatfield House, how does that work?
Some of it was built. The most obvious example is Anne's bed. t's almost like every time I do a period film, one of the first things we do is go and walk through this brilliant antique market and pick up things that feel like they could fit. In fact, Abigail's bed is from that market, as well. So there were a few pieces we just picked up, and then they start to inform what we're doing.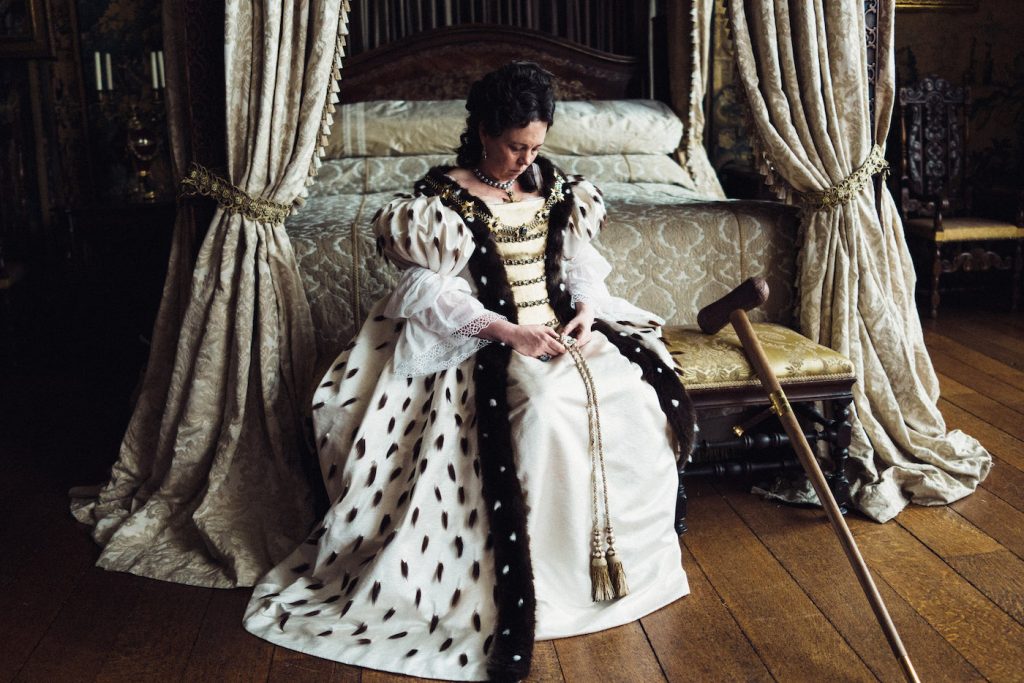 Were there any design choices that specifically reflect the film's theme of people vying for the attention of the Queen?
Sarah was concerned with Anne's well-being. We showed her influence over Anne by keeping her room neat, her bed made, and her diet healthy. When Abigail started taking control, the room became unkempt and the food sugary and unhealthy. Abigail was intent on pleasing Anne, not opposing her wishes. We also had a subtle story arc in the floral arrangements. As Abigail took control, the flowers became more frivolous but by the end, they are comparatively somber. We created a document that charted Anne's health, her state of mind, and the relationship dynamics, etc., and we would change the set-up of the room and details accordingly.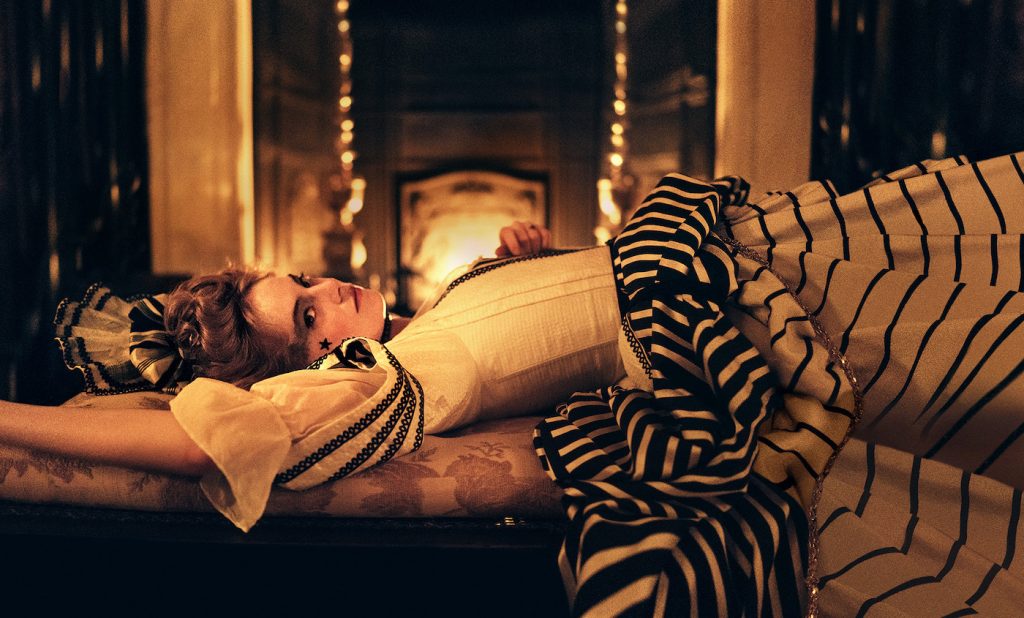 Did you have any difficulties or challenges striking a balance between historical accuracy and the overall vision for the film?
I knew immediately on reading the script that this was playful. You can tell that from the way the language is constructed. There are so many phrases that are contemporary. Also, there are a lot of elements that are scripted that are historically inaccurate, so that meant Yorgos had a choice: you either change the script so that it's historically accurate or you embrace that and go with what is great for the story, and that's the way we approached it. The agreement we settled on, also across costume, hair, and makeup, was that we would always find out what was accurate and then we'd decided where it felt good to depart.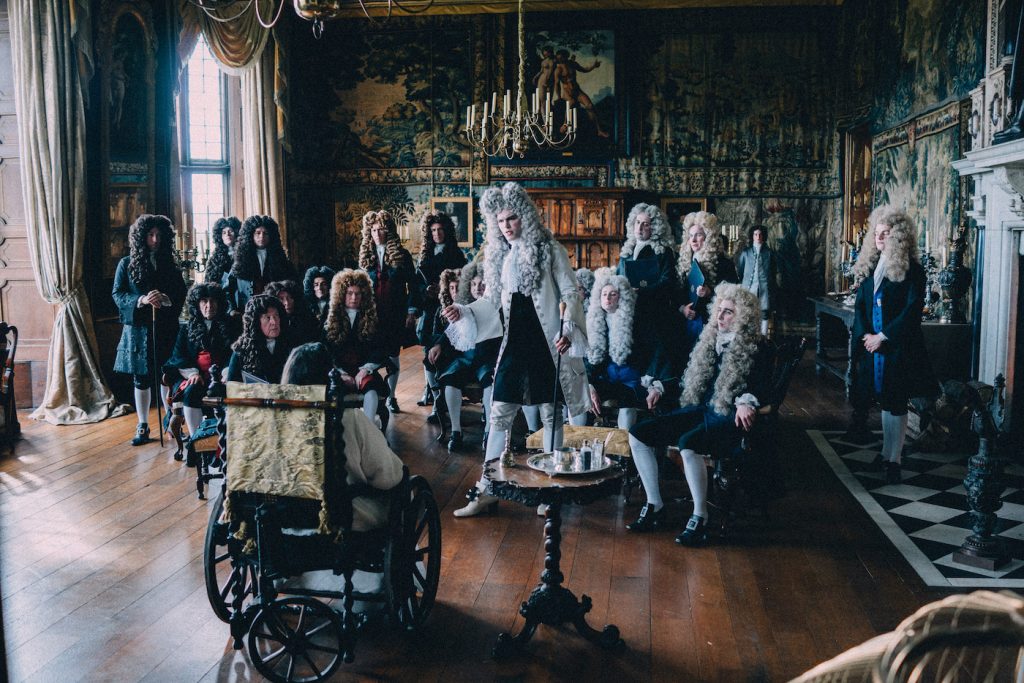 Out of all these incredibly historic locations, was there one that particularly challenging to put together?
Hatfield House is a challenge because we wanted to make sure we were inventing our own world in there, and that was complicated because we had to have the support and permission from the location, in particular using all the candles, and just having them be on board with us doing that sort of stuff. But in many ways, I think the most challenging scene was the spa because we really struggled to achieve that within our budget. We had very little time and not very much money, so we just pushed and pushed and pushed. I felt that it was such an important scene. It was also one of the few opportunities to leave the palace. So we were all really massaging the budget to enable us to create something. Also, one of the key things for me was knowing that we were always having to operate at a level that spoke of extreme privilege and luxury. This is the Queen of England. So whether it's glassware, the food, the table dressing, it was always about finding ways to inject each scene with a sense that you're at the pinnacle of what anyone could get their hands on at that time in England.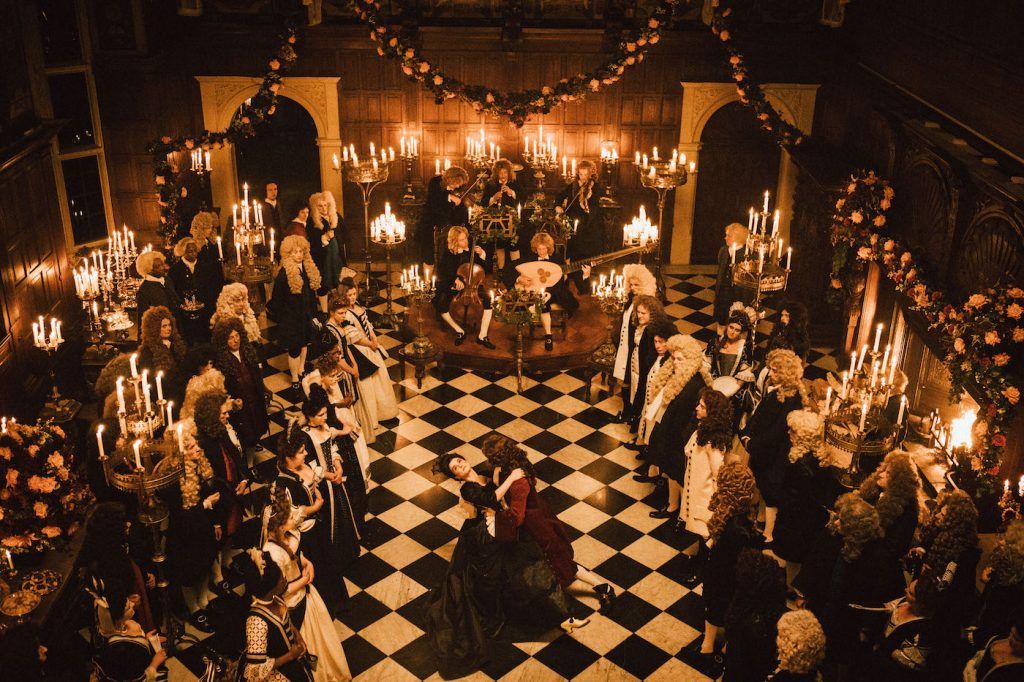 Featured image: Olivia Colman and Rachel Weisz in the film THE FAVOURITE. Photo by Yorgos Lanthimos. © 2018 Twentieth Century Fox Film Corporation All Rights Reserved