Glimpse Three of the Year's Best Performances in First Full The Favourite Trailer
A new Yorgos Lanthimos is an event. It's an opportunity to go into a theater and either white-knuckle your way through something deeply alarming (here's looking at you, The Killing of a Sacred Deer and Dogtooth), or something offbeat, funny, and deliciously weird (The Lobster). Now the unpredictable director is back with The Favourite, a period piece set in 18th century England, and Fox Searchlight has released the film's first trailer. The Favourite stars Olivia Colman as a frail (and deeply funny) Queen Anne who lives a quiet, comfortable life with her best friend Lady Sarah (Rachel Weisz). That quiet, predictable life is thrown into turmoil when a young servant named Abigail (Emma Stone) arrives looking for employment. Cue a vicious fight for the Queen's favor and three performances by actresses of the highest order, and you've got a Lanthimos film that skews more towards dark comedy than pitch black darkness.
This brief synopsis doesn't sound like a Lanthimos film, but that's the beauty of the Greek auteur's range—the only thing you could say that all of his films share is the sense that anything (often something disturbing) could happen at any time. Yes, The Favourite is a period piece set amongst British royals, but it's also been hailed as one of the year's most passionate films, with three performances from the female leads that are already generating Oscars buzz (specifically Colman's as Queen Anne).
Here's your first glimpse at The Favourite:
The reviews since The Favourite made its run on the festival circuit have been very hugely positive. Here's a brief sample:
Chris Nashawaty, Entertainment Weekly: I suspect that some scholars on the Royals will take issue … But Colman's performance is so volcanically great, they may shrug and find themselves giving in to the daffy, fiery vulnerability of her portrayal.
Stephanie Zacharek, Time Magazine: Whatever really happened, this reimagining sets a broad, generous stage for three characters who will do anything to get their way, and the actors who portray them are clearly having a terrific time.
Owen Gleiberman, Variety: It's a perfectly cut diamond of a movie – a finely executed, coldly entertaining entry in the genre of savage misanthropic baroque costume drama.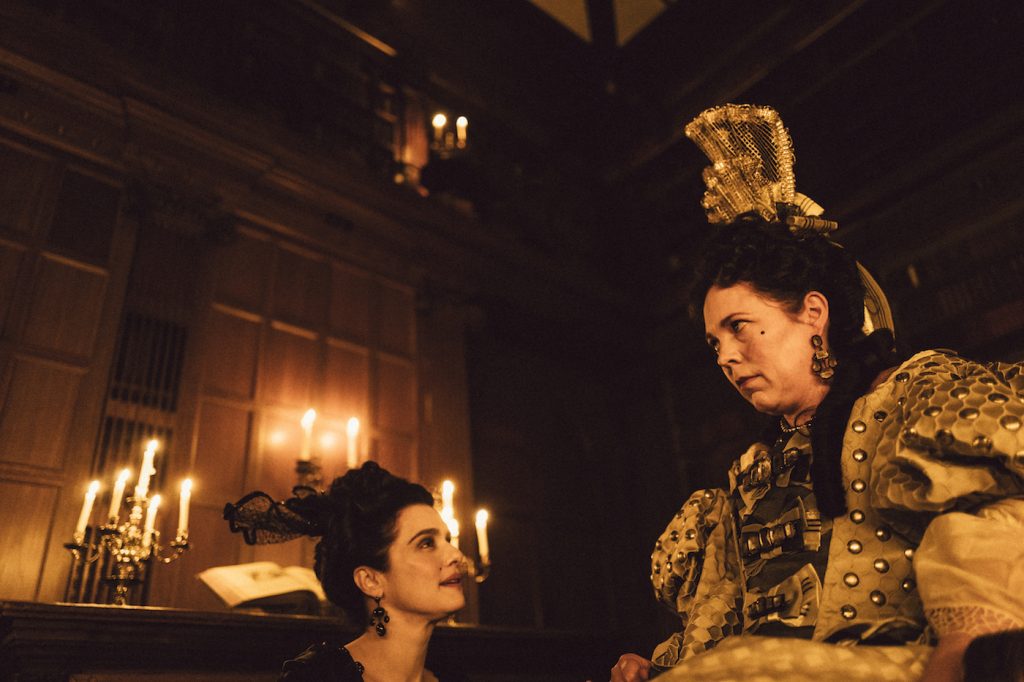 Here's The Favourite's official synopsis:
Early 18th century. England is at war with the French. Nevertheless, duck racing and pineapple eating are thriving. A frail Queen Anne (Olivia Colman) occupies the throne and her close friend Lady Sarah (Rachel Weisz) governs the country in her stead while tending to Anne's ill health and mercurial temper. When a new servant Abigail (Emma Stone) arrives, her charm endears her to Sarah. Sarah takes Abigail under her wing and Abigail sees a chance at a return to her aristocratic roots. As the politics of war become quite time consuming for Sarah, Abigail steps into the breach to fill in as the Queen's companion. Their burgeoning friendship gives her a chance to fulfil her ambitions and she will not let woman, man, politics or rabbit stand in her way.
Featured image: Emma Stone in the film THE FAVOURITE. Photo by Yorgos Lanthimos. © 2018 Twentieth Century Fox Film Corporation All Rights Reserved