How Aquaman's Colorist Battled Mera's Red Hair—and Won
Aquaman made history over the weekend, becoming the highest-grossing film in DC Comics history. Arthur Curry (Jason Momoa)'s journey from high-seas crusader to King of Atlantis surpassed Christopher Nolan's The Dark Knight Rises, the final film in his Batman trilogy.
FotoKem colorist Mark Griffith was one of the many, many people who had a huge-but-invisible role in Aquaman's success. The colorist's job is to tweak, massage, amplify, dilute, and pretty much any other verb you can think of that could pertain to color. They do this because the colors captured during principal photography can vary.
"A lot of people assume there's color already on the film, but what we have to do is unify all of the differences in the colors that happen during the shooting," Griffith says. "Color changes in different lighting, color changes if something happened with the costuming, color changes if they were in a situation where the area wouldn't accommodate, or certain lights were flagging—we fix all that," Griffith says.
Creating the First Underwater Superhero Film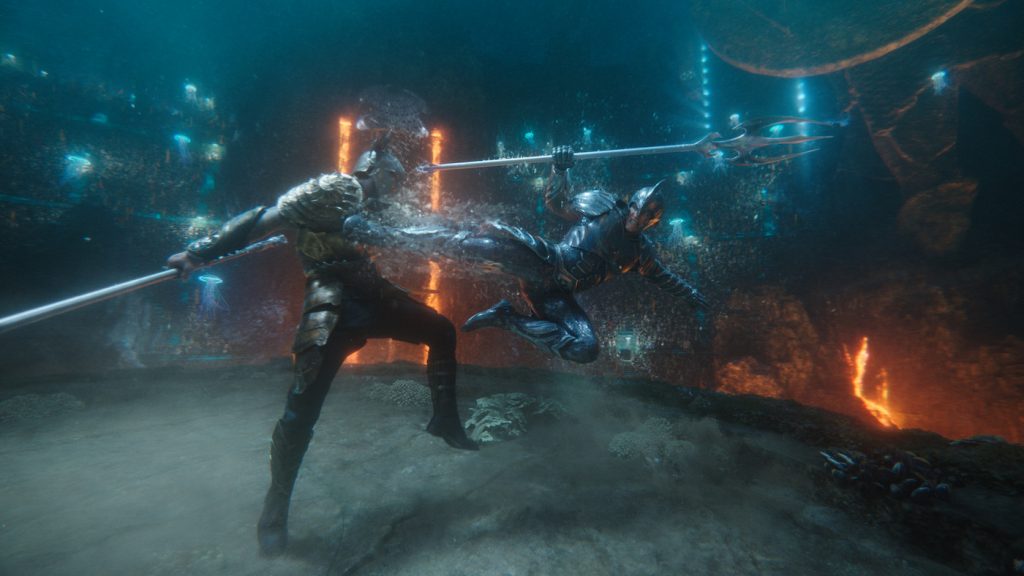 A film that takes place more or less completely underwater is a massive challenge for everyone, the colorist included.
"The biggest task was trying to balance between the film looking too flat and murky, and too contrasty," Griffith says. "You're dealing with characters who were acting in front of a blue screen, but by the time I'm looking at it, they're in Atlantis and I'm fine-tuning what the VFX folks have done. I have to be careful that I don't go too harsh so it looks phony, or too weak so that it doesn't expose the foreground/background separation that the VFX people created with their very difficult blending tools. If you detect that this character is standing in front of a blue screen, the story's over. We needed the underwater to feel like underwater, we needed elements that held the eye, but we also had to make sure people didn't feel like, 'Oh, this is just a set, and it's just an actor floating around on a set.' This is what we were trying to figure out, where the best sweet spot was."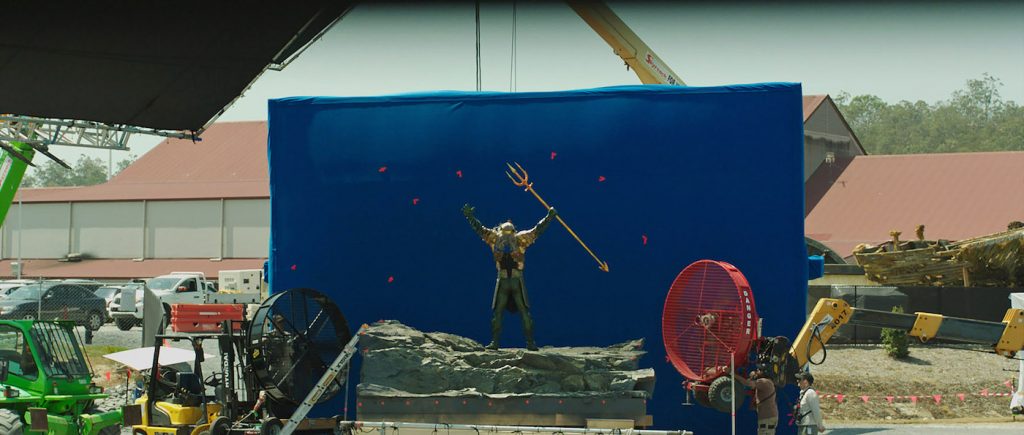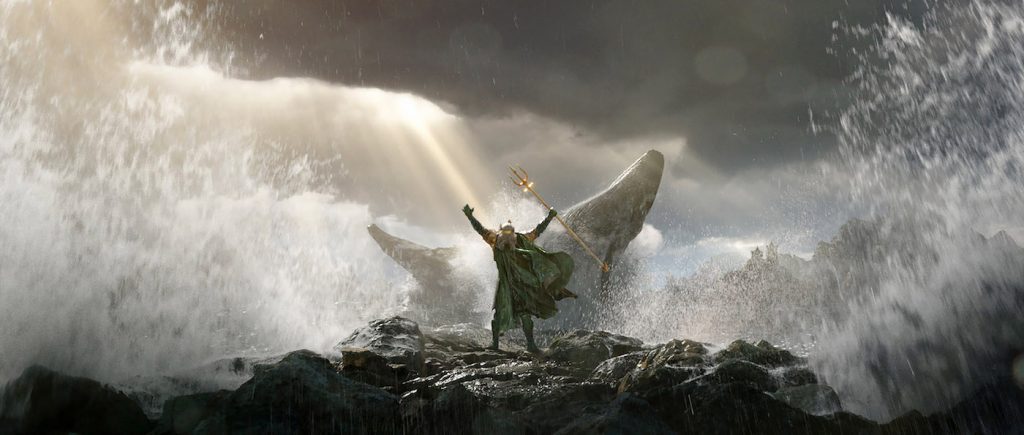 Mera's Hair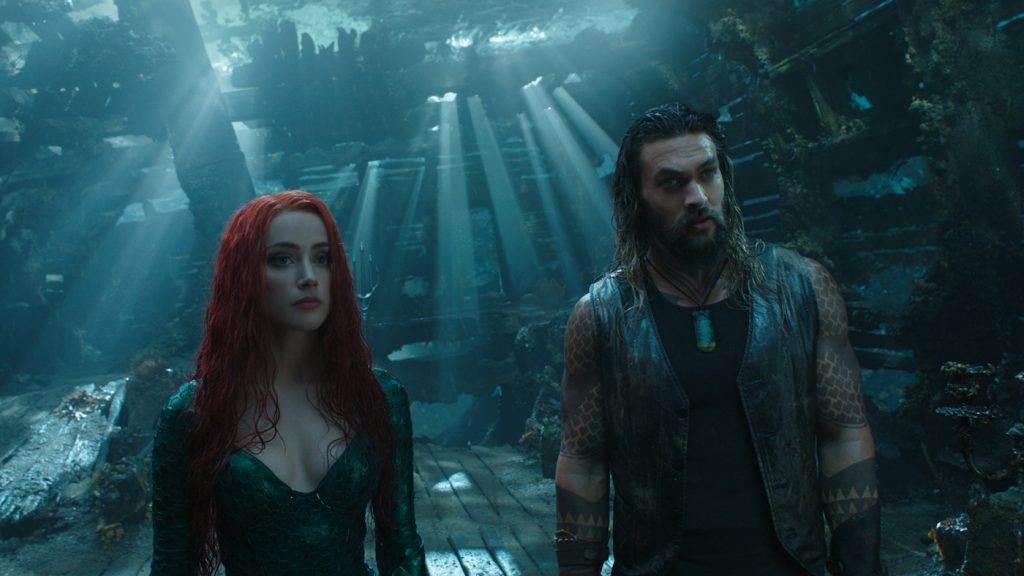 Amber Heard's Mera was a force to be reckoned with in the story, in more ways than one. She is not only the conduit through with Arthur Curry is introduced to the underwater kingdom of Atlantis, but she is also his protector, his ally, and eventually, his love interest. Yet for Griffith, she was also a problem to be solved; her red hair was too vibrant.
"Photographically, Mera's hair got to be overpowering in some shots, the red was too strong," Griffith says. "I had to key and track and isolate her hair and adjust the color and saturation and contrast to be able to get it to where everyone was satisfied."
It wasn't only Mera's hair that was a challenge, it was also her most stunning costume.
"Another thing to catch the eye was in the ring of fire challenge; Mera is wearing a stylish dress that includes a collar of jellyfish," Griffith says. "Now there were elements of magenta in there, but we really wanted to dig in there and give it a stronger color so that it would have more of a presence, so every shot where she's wearing that gown with the jellyfish, I keyed it and amped up the magenta and had to carry that match from shot to shot."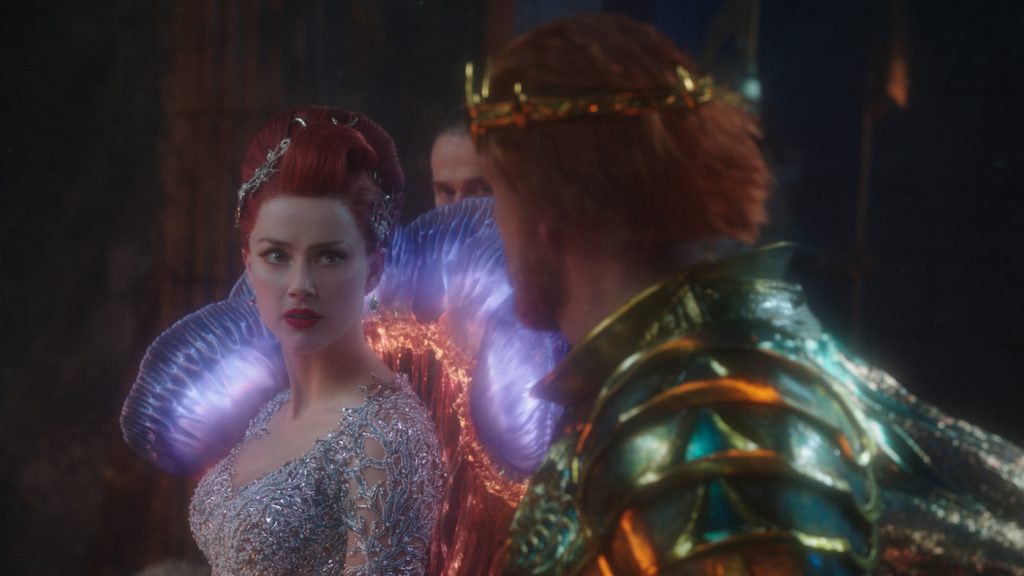 Getting Atlantis Right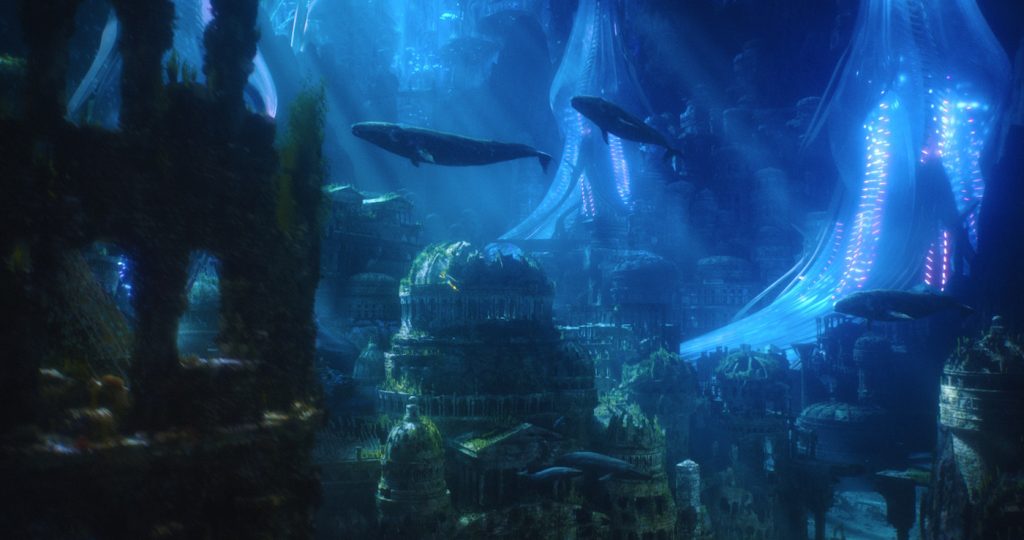 Getting the underwater kingdom of Atlantis right was absolutely critical. Like Black Panther's fictional African kingdom of Wakanda, Atlantis was more than just the setting of Aquaman, it was its heart and soul. Only unlike Wakanda, Atlantis has the added challenge of being at the bottom of the ocean.
"The biggest trick was finding the right balance that wouldn't feel flat or uninteresting to the viewer," Griffith says. "You can't go on the Internet and find images of Atlantis and then just mock that up. We had like 14 different VFX houses working on the shots and scenes. It was a 9-reel movie, with more than 2,800 VFX shots in total. In those effects houses, there are hundreds of people who may not have contact with each other, all working on the same end product. I have to unify all the things that were a little different from place to place or shot to shot."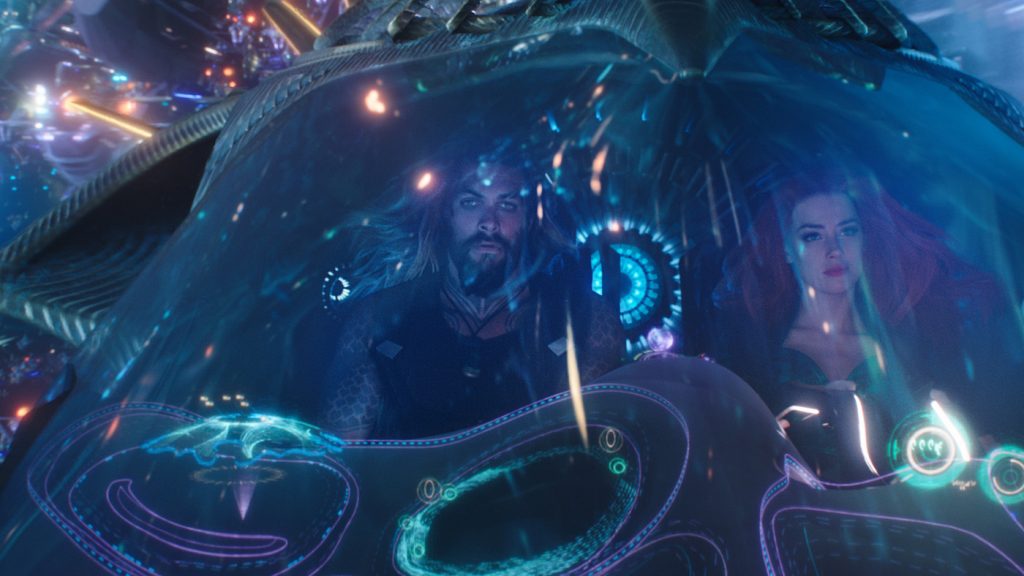 When Mera takes Arthur to see Atlantis for the first time, the sequence is a feat of visual storytelling.
"We go through the bubble and emerge and there it is—it's the first time Arthur sees Atlantis," he says.  "We did a bunch of embellishments in color correction where we added glows to make the city more mystical. We started with more glow and then as you go through the bubble it starts to look and feel differently. We amplified different colors to make them more visually interesting. "
The Beautiful Beast—Manta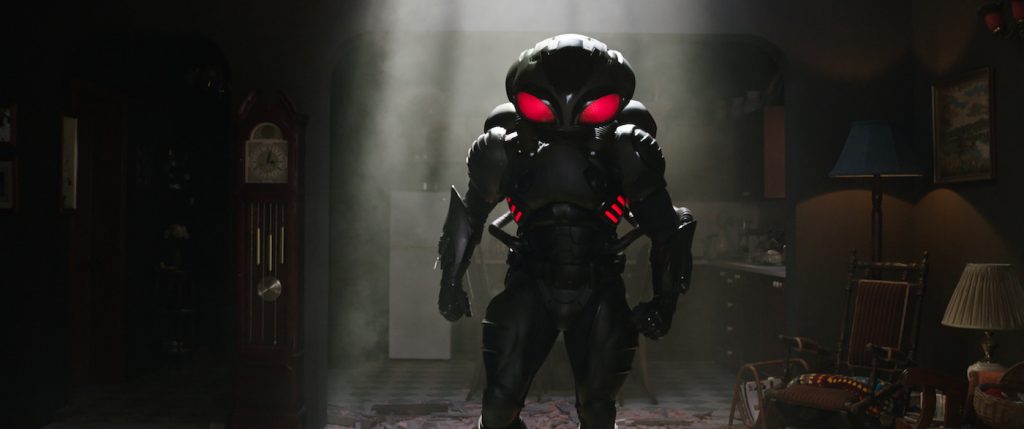 One of Aquaman's greatest sequences is when Black Manta (Yahya Abdul-Mateen II) and his elite squadron track down Arthur and Mera in a small Italian village and do their damndest to take them out. It's the rare out-of-water scene in the film, but the action, and the colors, pop.
"I loved the Black Manta fight in the Italian village," Griffith says. "It's probably some of the only moments in the film that look like reality, but they just have such a beautiful appearance and it's so striking and the photography really shines," he says.  "The textures are beautiful, and everything just comes out of those shots. It's just a beautiful setup. And Manta's just so dark and clean; it's enjoyable to watch. He's such a big character."
In the end, just like every other person who worked on Aquaman, Griffith's job is that of a storyteller.
"Watching Aquaman, you get immersed into the story, and once you start enjoying the film, you just buy into the fact that you're going on a ride, and you're not conscious of 'well, this doesn't really exist!'"
Featured image: Caption: AMBER HEARD as Mera in Warner Bros. Pictures' action adventure "AQUAMAN," a Warner Bros. Pictures release. Photo Credit: Courtesy of Warner Bros. Pictures & © DC Comics