The new Godzilla: King of the Monsters Trailer Ends With Epic Clash
This is the trailer you need to get you through Monday. The king of the monsters himself has a fight on his hands that's going to make the events depicted in 2014's Godzilla reboot look like a walk in (Jurassic) park. Warner Bros. has just dropped the second trailer, and it reveals a film, directed by Michael Doughtery (Krampus) and starring Stranger Things' Millie Bobby Brown and The Conjuring's Vera Farmiga, that looks bigger, badder and bolder in every way.
The trailer reveals the kind of Kaiju main event that Kong: Skull Island teased—the long-dormant Titans, in this case, Mothra, Rodan and the three-headed alpha King Ghidorah, are unleashed on a world that can do little but pray that Godzilla saves them. The reason these monsters have been raised is, once again, idiot humans believing they can harness their immense power to their own ends. Doughtery told this to EW: "The world is reacting to Godzilla in the same way we would react to any other terrifying incident, in that we are overreacting, but there's paranoia and endless speculation about whether he is the only one out there or whether we're threatened by others like his kind."
There's plenty of fresh footage here of the monsters leaving a trail of destruction and carnage everywhere they go, with a massive clinch between Godzilla and King Ghidorah at the end that is worth the price of admission alone. (Also, we've never seen Godzilla move this fast.)
Check out the new trailer here:
Here's the official synopsis from Warner Bros.:
"The new story follows the heroic efforts of the crypto-zoological agency Monarch as its members face off against a battery of god-sized monsters, including the mighty Godzilla, who collides with Mothra, Rodan, and his ultimate nemesis, the three-headed King Ghidorah. When these ancient super-species—thought to be mere myths—rise again, they all vie for supremacy, leaving humanity's very existence hanging in the balance."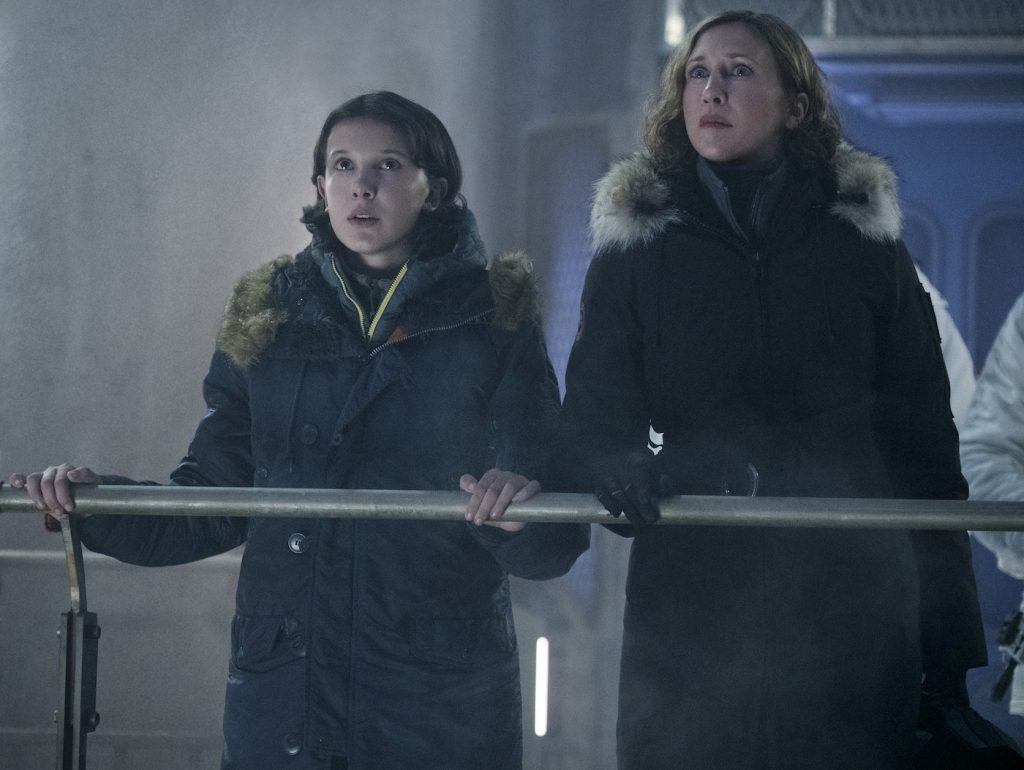 Godzilla: King of the Monsters opens on May 31, 2019. Joining Brown and Farmiga are Kyle Chandler, Bradley Whitford, Sally Hawkins, Charles Dance, Thomas Middleditch, O'Shea Jackson Jr., Ken Watanabe, and Zhang Ziyi.
For more on Godzilla: King of the Monsters, see below:
Humans Have No Power Over Beasts in New Godzilla: King of the Monsters Image
Featured image: Caption: Godzilla rises from the depths and unleashes his atomic breath to claim his crown as King of the Monsters in Warner Bros. Pictures' and Legendary Pictures' action adventure "GODZILLA: KING OF THE MONSTERS," a Warner Bros. Pictures release. Photo Credit: Courtesy of Warner Bros. Pictures