Here's the Poster for Jordan Peele's Next Horror Film Us
Of all the films that you're excited to see in 2019, we're going to go out on a limb and say that Jordan Peele's Us should be at or near the top of the list. The Oscar-winning writer/director of Get Out is back with his new social horror film, and Universal has just released the poster. While little is known about Us, the fact that it's written and directed by Peele is really the only thing you should need to know to make this one of your must-see films in 2019. There was a leaked synopsis, but we're not in the habit of sharing news we can't verify. What we can share is the poster, which makes solid use of a gloved hand and a very gold pair of scissors: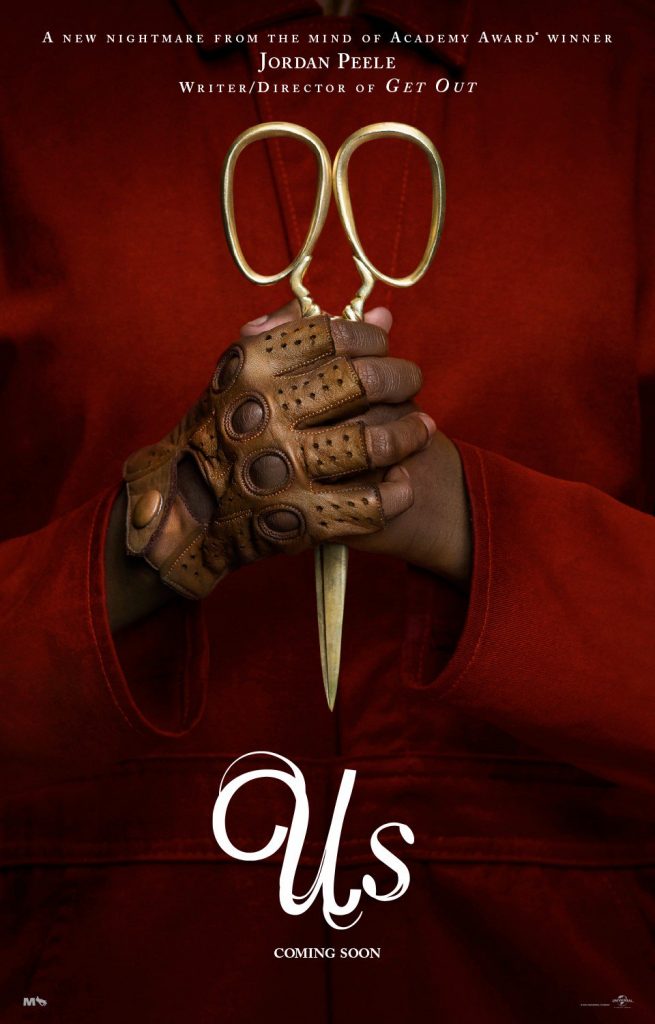 What we know for sure is that the cast is excellent. Lupita Nyong'o, Winston Duke, Elisabeth Moss, Tim Heidecker, Yahya Abdul-Mateen II, Anna Diop, Evan Alex, Shahadi Wright Joseph, Madison Curry, Cali Sheldon, and Noelle Sheldon star. Universal has only shared the following about the film itself:
"Visionary filmmaker and Academy Award® winner Jordan Peele, who created the blockbuster Get Out, follows that success with another original and provocative thriller: Us. Peele produces for his Monkeypaw Productions alongside Sean McKittrick and Jason Blum. Also producing is Monkeypaw's Ian Cooper. Written and directed by Peele, Us will be released by Universal Pictures on Friday, March 15, 2019."
Get Out was a game-changer, introducing those who hadn't already loved Peele in Keanu and his years on Key & Peele to one of the most talented people in his generation. If Us is as good as Get Out (and with this cast, we're thinking it could be even better), it will be one of 2019's most exciting films. High expectations come with the territory when your directorial debut is that good.
Peele has Tweeted both the poster and this little nugget:
Trailer drops Xmas.

— Jordan Peele (@JordanPeele) December 13, 2018
We'll share more when we can, but until then, you can put March 15, 2019, on your calendar.