Rosamund Pike & Director Matthew Heineman on Their Riveting Biopic A Private War
A Private War is the story of the intrepid journalist Marie Colvin, who endured terrible trauma including the loss of an eye and post-traumatic stress disorder before being killed in Syria during the siege of Homs. Rosamund Pike, who plays Colvin, and director Matthew Heineman talked to The Credits about blending documentary and narrative and about Colvin's contradictions and convictions.
Tell me about how you created the physicality Marie Colvin, her posture and her walk, especially after she lost the sight of one eye.
Pike: Marie was someone who has such a unique physicality and she had such charisma and a sort of glamour that was so strong. It was in a different way than we have been tutored to think of glamorous but she cut such a striking figure and obviously, her eye patch was a part of that. There was no doubt in my mind that I wanted to give audiences the same sort of sense that I had when I watched her in documentary footage. I wanted them to remark on it, to feel it, to feel the impact of this career over a lifetime on the human body, be that in losing an eye or be it in the trauma that the body has suffered from the situations it's been in, fear, pain and then the dependence on alcohol and how that shows itself in the body, as well as obviously fear and the clear and present danger of being under fire. So it was a long process of everything; it was embracing smoking in a big way, it was figuring out spending time with a single eye with an eye patch, working out how that affects how you scan a room, how you cross a road, how you navigate a new situation, how you gauge depths. It was also working out where are all the different tensions situate themselves in the body, where she holds tension, where she is free. She gestures a lot with her hand yet her shoulders are held tightly. That's just one small example but I wanted to lose my mannerisms and take on hers.
Colvin was always trying to overcome compassion fatigue in her readers. How do you prevent a feeling of overwhelming helplessness in following her stories in the midst of some of the world's most terrible atrocities?
Heineman: I don't think of this film as a sad story, I think of it as a story about an astounding, courageous, complicated woman. For me, the film is an exploration of what drove her to the most dangerous places in the world and compelled her to tell these stories and the effects that that had on her. So obviously it covers a difficult subject matter but for me, it's a very human story that someone who feels pushed to do something despite every single siren and signpost and friend saying, "You have to stop." She kept going.
Pike: The one thing that Matt and I both took from Marie is that she was a tremendous optimist and I think that is ultimately what cut through what you described as compassion fatigue. If you can retain a sense of optimism as you see and witness all that she saw and still believe in an ultimate faith in humanity that people can make a difference, you do not get overwhelmed as much. If you view every story with total despair then yes you might experience it but I think Marie's great legacy is that she remained optimistic despite everything that she saw. I think that ultimately there's something enriching about it. It's a privilege to care, isn't it? I think any time that one feels deep empathy it's an essentially a soul-enriching experience and that's my perspective.
Matthew, you are a documentary director and this is your first narrative feature. I understand that some of the footage in the film was almost documentary, for example, the women singing at the mass grave uncovered by Colvin. How did you blur the line between documentary and narrative?
Heineman: I can't escape my past and so I wanted to bring all that I've learned as a filmmaker into this process of my first narrative film. That meant doing many different things, but one of them meant surrounding Rosamund and Jamie [Dornan] and other actors in the various war zones they were depicting with real refugees that were living in Jordan where we shot. So when we were in Iraq there were real Iraqi women. When we were in Syria they were real Syrians, many actually from Homs. When Rosamund walked into the shelter in Homs, the women that she was speaking to were real women telling their own real stories and shedding real tears. It created a really intense atmosphere on set, a very emotional atmosphere on set, and I think amongst everyone, especially Rosamund, who had to be on screen and react to it but everyone from the grip to me to sound was just feeling that we were doing something hopefully that was honoring the people that Marie was trying to honor and shed light on the things that Marie was trying to shed light on.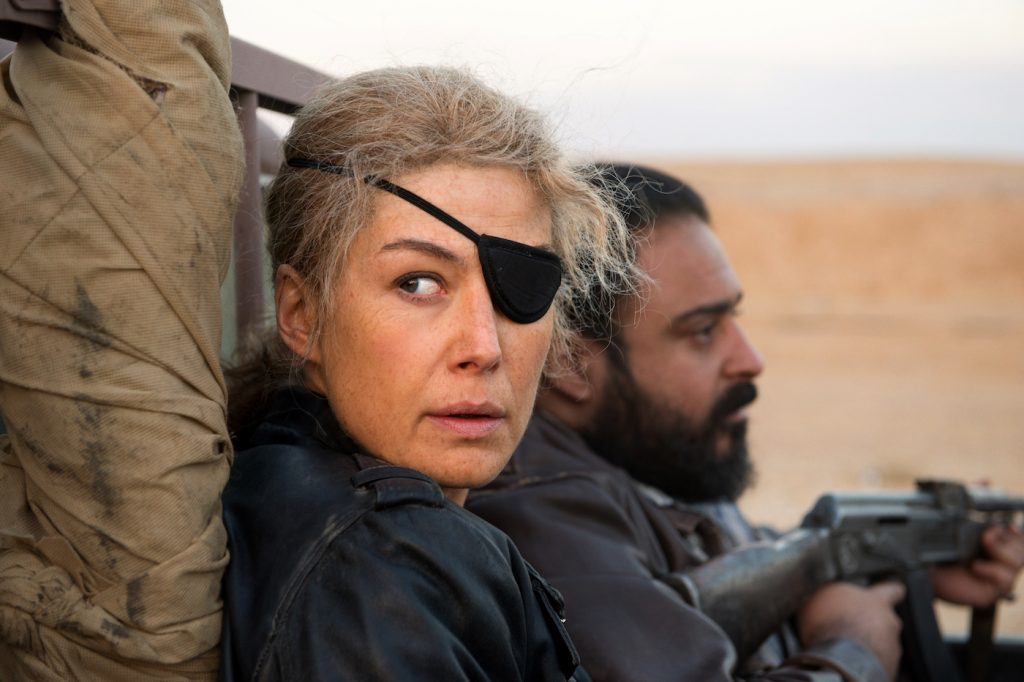 Pike: It wasn't such a real blurring of the line between drama and documentary because obviously, the scenes were all recreated (we filmed everything in Jordan) and obviously they're all historical occurrences so we had to set a scene and build a world to such a degree that when people who had lived through those times stepped into our recreated world they felt they were reliving something very real, which is what happened.
I think the thing that people don't anticipate necessarily about being on a film set is the level of reality that can be achieved when you have a very good production designer and costume designer and makeup department so that wounds are painfully real. What had been three weeks previously an abandoned apartment complex now became the siege city of Homs filled to the brim with rubble and the shattering and falling apart that comes when homes are destroyed. The people who played in our movie maybe weren't even anticipating that they would feel as strongly as they did when we lived those scenes. We weren't shooting on film so we were never restricted by time, only by the length of our days.  So when we did the scene in the clinic, for instance, all that was really happening in real time and the chaos of the clinic was captured because our cameras could roam and first the young man was brought in and then through the chaos of that story erupting, the parents with the dying baby ran in and there was a sort of controlled chaos but still definitely a production that favored the unpredictable so when they came in there was adrenaline pumping everywhere.
We had multiple languages going on, Jamie and I had a translator who was with us from our media center who was translating for us. The man who played the father was a man who had lost a relative, a boy who was his nephew who was shot during a protest rally. So when the doctor says that the child is not going to make it, I don't know what awful trauma that brought back to him but it certainly took the form of the incredibly painful grief that you see in the film. There's only one chance to get that stuff, it's what happens in real time when the moment and the truth of the moment is allowed to erupt.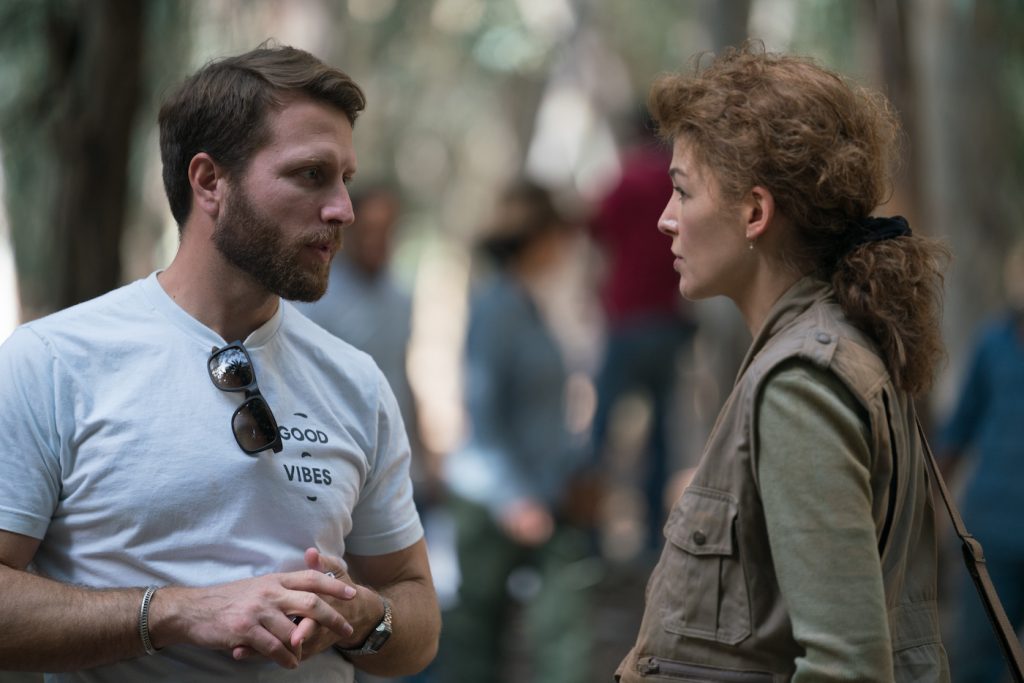 Rosamund, what was it about Marie that made people trust her?
Pike: I think it's because they knew that she was not there to put herself in the story. She really, really cared and she would just always bring it back to the human. There was this bit that was very key for me in thinking about her in a documentary called "Bearing Witness" that Barbara Kopple made about five female journalists, including Marie. It actually covers the scene where Marie went to the digger and they uncovered the bodies in the mass grave and she is interviewing a group of people and they're all coming up and they're saying, "lots and lots of bodies, lots and lots of bodies," and she said, "Stop. I don't want to hear about numbers. I don't want to know if there were lots of people here. I want to know about individual people." She said, "I want to know who your father was. Tell me about him." She rooted everyone in their own story and I think that made people trust her.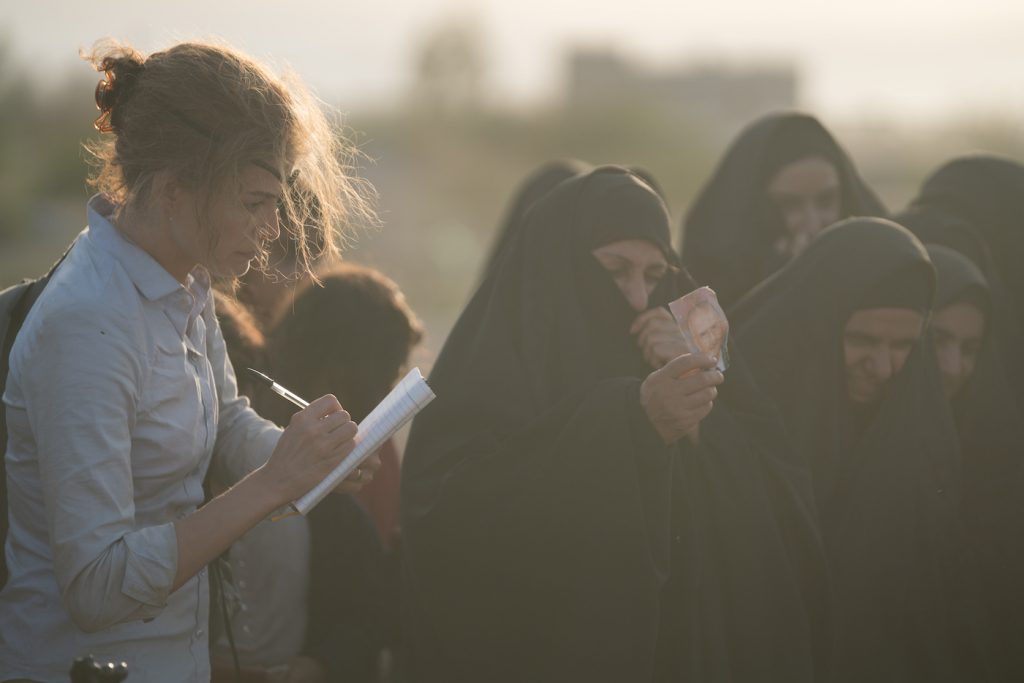 Why did she want to wear very expensive, lacy La Perla lingerie, even in war zones?
Pike: I think because she was essentially a girl's girl as well. That was why this woman was so goddamn appealing because she was this bundle of contradiction. She's in this gritty man's world and yet she was going to wear fine underwear. She could be witnessing some of the worst human tragedy and yet she could also comprehend how privileged it was to be able to go home and live in London and yes, she was going to allow herself to go shopping. She suffered enough PTSD and trauma that she sought refuge in some of life's luxuries. It's like she said, "God forbid I be seen as a pseudo-man when I'm out there just because I'm always in pants and cargo boots." When she lost her eye in Sri Lanka her editor allowed pictures of her, which our production designer recreated so accurately with me on that bed in the Sri Lankan hospital. When he saw them, her editor rang up and there was a picture of her lacy red bra showing and he said, "God, Marie I can't believe it, what's with the lacy red bra?" and she said, "You are such an idiot, that bra is cream-colored and it's soaked in my blood."
Featured image: (L to R) Marie Colvin (Rosamund Pike) and Paul Conroy (Jamie Dornan) scout the arid landscape in A PRIVATE WAR. Courtesy Aviron Pictures.