Ralph Breaks the Internet Co-Directors on Harnessing Disney Princess Power
Ralph Breaks the Internet goes viral in theaters Thanksgiving weekend, one of the most coveted times of the year for Hollywood releases. 2012's Wreck-It Ralph gleaned an Oscar nomination for director Rich Moore and became a huge hit. We spoke to Moore and his co-director, Phil Johnston, who co-wrote the screenplay for Ralph Breaks the Internet with Pamela Ribon, about building a Disney sequel with both hard edges and sentimentality. They also shared the joy of working with 2D legend Mark Henn, who is known for animating some of the most popular, beloved female characters in Disney history.
Mark Henn, renowned 2D artist and supervising animator for the lead character in Pocahontas, Ariel in The Little Mermaid, Jasmine in Aladdin, and Tiana in The Princess and the Frog, was involved in developing what will be a favorite scene of the film featuring Disney princesses. What assistance did he provide? Can you talk about character and design changes that happened through his guidance? 
Rich Moore: Well, to start with, for the design, we had to play with their scale a little bit, because when we lined up all the princesses side by side from their movies the way they appeared, the scales were way off. Some are much taller, because, say, they were nine heads tall, and somewhere seven heads high. I don't remember who was way shorter than who, but I do remember one princess was only 5 heads high. There were some really big differences in their scale, so we had to bring them all to one uniform scale that worked. On top of that, since they are all in such different styles in their movies, Cory Loftis, our production designer, and Ami Thompson, our art director or head of characters, gave them an aesthetic which we called "Oh My Disney". It wasn't them right out of their movies, but more avatars that you would find on that kind of website. It's a little bit in the style of the first Wreck-it Ralph movie, where it's more cartoony and less realistic, so that was part of getting things to look uniform. Mark was our secret weapon. Mark was at every one of our animation dailies review, and did both Cintiq draw-overs, and also was doing thumbnails just on his own that he would pass along.
Phil Johnston: An animator would walk out after we gave them a review of their shot, and Mark would just hand them a drawing. It was like Picasso giving someone a napkin sketch! He was there every day at the animation review, sitting nearby, with the animators in the hot seat. There would be Mark, with his notes.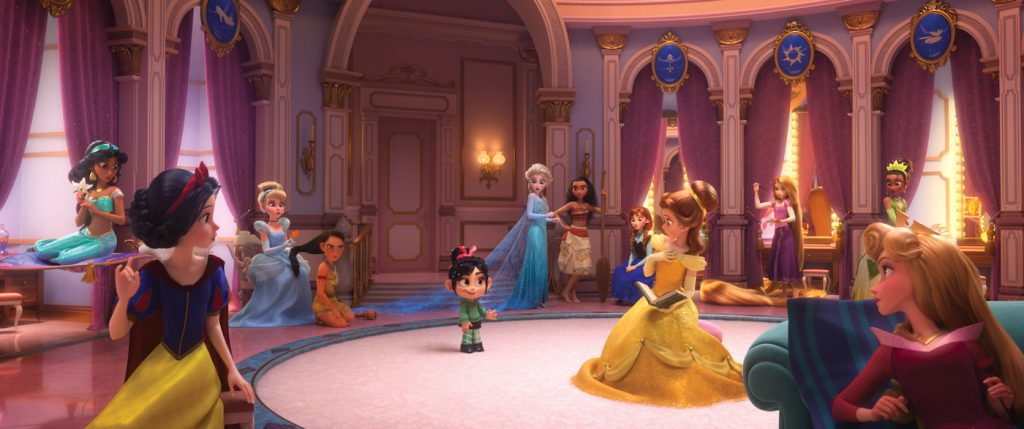 It's great that Mark Henn's expertise and history with Disney played a part in crafting that part of the film. I understand the actresses who voiced the princesses really helped shape the film as well. It must have been inspiring to be able to actively draw on so much experience.  
Moore: I, of course, knew of Mark in animation because he's a legend, but I never really knew him that well. I came to really love him, with his commitment to the movies, and his good-natured humor. He was someone who would be able to say we were going too far with something. The same was true with the actresses that we had, who came in, to reprise their roles. They saw the value of this scene, that it was being done with love for the characters, but also having fun at our own expense. The actresses were a huge part of it, beyond their voices. They sat with the animators, so many of whom were inspired to become animators from the second golden age of animation, with movies like The Little Mermaid, Aladdin, and Beauty and the Beast. We would facilitate a meeting after we recorded, with the entire animation crew and each actress. Just to get their insight on who the characters were, we would have a conversation with basically two halves of this character brain, trying to figure out who this character is exactly. For a director in animation, that was amazing. It was like sitting back and watching a child being born, these two halves of a brain that really never communicate that much. Seeing them kind of locked together, feeding one another, was great.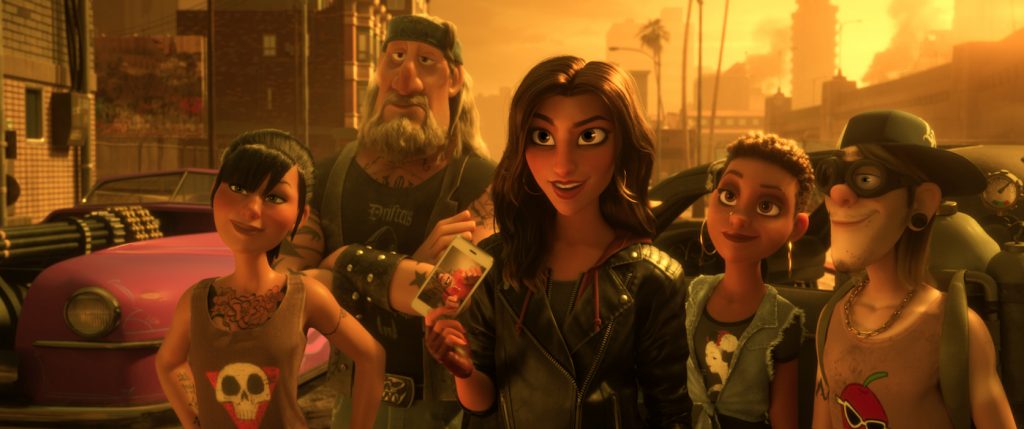 Zootopia, a movie on which both of you worked, is a complex adult story set up as satire, but it also works as animation children can enjoy. Ralph Breaks The Internet is like "Disney's Death Race 2000: Friends Collide".  Appealing to both cynics and Disneyphiles is a difficult needle to thread. How, in writing this film, did you walk the line of authentic sweetness and satire? 
Moore: We have a lot of cynics on the crew, and when we can win them over, it's like we know we have something.
Johnston: The writing and the tone is something I'm very proud of, with both of these movies. To me, walking the tightrope of sharp satire and abiding love for the characters is the sweet spot. I'm not entirely sure how it's done, other than many of the closest relationships in my life are based on making fun of each other. I love my family and I love my friends. We spend half our time insulting each other, and that's the greatest form of love.  All I can say is I love these characters so much that whatever satire is there, and I have a very distinct point of view about the world, in my heart, I have great hope for the world and love for human beings. I want out of the meanest of it, to find some kindness and some good. I think that's what churned in my brain writing it.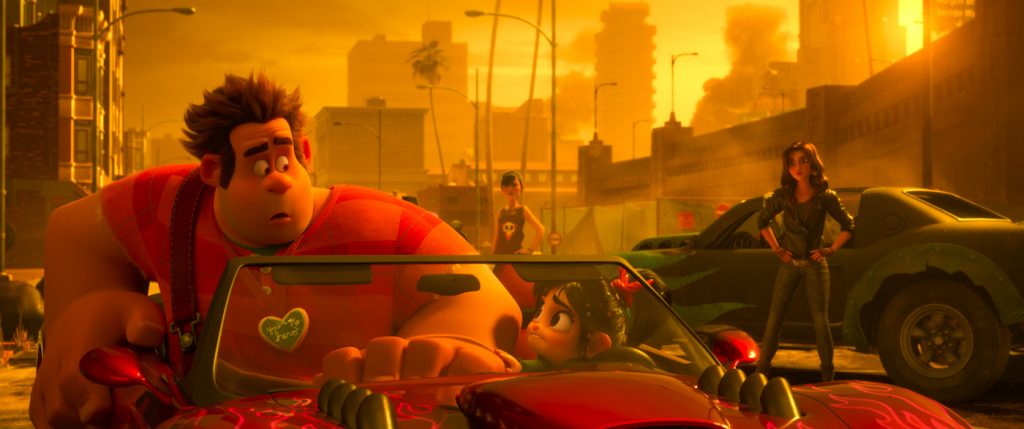 How did co-writing with a female screenwriter influence the screenplay? 
Johnston: Rich and I are dyed-in-the-wool feminists, even though we're men. Having female voices in the room is essential. Our writers' room is half women, half men. Our head of story is a woman. Our co-screenwriter, Pam Ribon, is a woman. We have people from 25 countries who worked on our film. I think you want as many points of view as you can have.
Featured image: Vanellope von Schweetz hits the internet where she encounters and then befriends the Disney princesses. Filmmakers invited the original voice talent to return to the studio to help bring their characters to life, including Sarah Silverman (Vanellope in Ralph Breaks the Internet), Auliëi Cravalho (ìMoanaî), Kristen Bell (Anna in Frozen), Idina Menzel (Elsa in Frozen), Kelly MacDonald (Merida in Brave), Mandy Moore (Rapunzel in Tangled), Anika Noni Rose (Tiana in The Princess and the Frog), Ming-Na Wen (Mulan), Irene Bedard (Pocahontas), Linda Larkin (Jasmine in Aladdin), Paige OíHara (Belle in Beauty and the Beast), and Jodi Benson (Ariel in The Little Mermaid). ©2018 Disney. All Rights Reserved.