New Toy Story 4 Poster Seems to Confirm Carnival Theme
Toys can get pretty expensive, but sometimes our best memories are with the cheap plush prizes we won at the fair. There is a Cookie Monster doll I won at age six that will live on in the infamy of my childhood. Pixar is apparently hoping that many people have similar memories. A new poster for Toy Story 4 suggests the sequel will have a carnival setting.
We already had an inkling that the toys would be heading to the fair. Earlier this month we were introduced to Ducky (Keegan-Michael Key) and Bunny (Jordan Peele), two new stuffed prizes from a carnival game. The two were skeptical of Buzz and Woody, but all in good fun. Hopefully, this means the witty pair will get a lot of screen time. The other character expected to have a breakout role is a plastic spork that's been lovingly transformed into a sentient toy. Forky (Tony Hale) made his debut in the first teaser for the film.
This is not the first encounter Buzz and Woody have had with fair games. Both Disneyland and Disney World sport slightly different versions of the ride Toy Story Mania. The 3D attraction features a variety of virtual carnival games that I never win. The game was also adapted to a video game so you can practice at home, which I cannot confirm nor deny that I have firsthand experience with.
Carnivals come and go, but the biggest change this time will be the toy's owner. Andy is grown and moved on. Bonnie will be their beloved caretaker from now on. The first poster looked extremely somber, but the new one looks more hopeful. Woody is in the same position, but the sun appears to be rising, rather than setting as before. Here's to a new day dawning for Bonnie and her toys.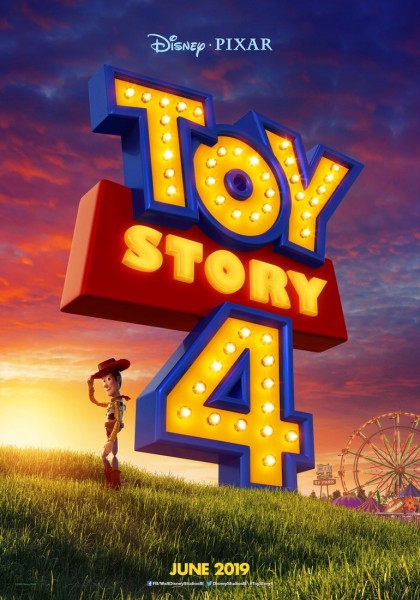 Toy Story 4 opens in theaters June 2019.
Featured Image: PICK ME! — Ducky and Bunny are carnival prizes who are eager to be won. But when their plans are rudely interrupted, they find themselves on an unexpected adventure with a group of toys who have no idea what it feels like to be tacked to a prize wall. Funny men Keegan-Michael Key and Jordan Peele provide the voices of Ducky and Bunny, respectively. Directed by Josh Cooley ("Riley's First Date?") and produced by Jonas Rivera ("Inside Out," "Up") and Mark Nielsen (associate producer "Inside Out"), "Toy Story 4" ventures to U.S. theaters on June 21, 2019. ©2018 Disney•Pixar. All Rights Reserved.