Bohemian Rhapsody's Production Designer on Re-Constructing the World of Queen
As Freddie Mercury in Bohemian Rhapsody, actor Rami Malek is incredible, an on-stage writhing echo of the groundbreaking rocker's performances with the band Queen. Surrounding Malek in this uplifting rock biopic are exacting recreations of the bands' 1970s and 80s-era haunts, from stadium concerts to a youthful Freddie's London flat with his girlfriend Mary Austin (Lucy Boynton). Bookended by Queen's seminal performance at Wembley Stadium in 1985 for the Live Aid benefit, the film depicts the band coming together, their quick morph from Smile to Queen, rechristened by Mercury, and recreates how Queen's hits were born, in between illustrating Mercury's rapidly evolving personal life and relationship to his traditional Zoroastrian family. The film focuses on Mercury's experience, as he confronts his sexuality while at the same time dealing with the vicissitudes of rocketing fame: harassing press conferences, the pressure to lead Queen, a painful if inevitable romantic separation from his confidante and fiancée Mary, and eventually, coming to terms with his illness with AIDS.
In memorializing the band, Bohemian Rhapsody revisits not just their massive shows, but the intimate London clubs where they began, as well as the Bulsara family home, the lavish Georgian mansion in which Mercury finds himself wistfully alone, and in one particularly memorable scene, the London office of music producer Ray Foster (Mike Myers). The producers and art department plumbed the memories of band members Brian May and Roger Taylor—both executive music producers on the film—to get the look just right, and it shows. We got to speak with Aaron Haye, Bohemian Rhapsody's production designer, about recreating Queen's world entirely in London and its surrounding suburbs, copying Freddie and Mary's wallpaper and using loaner instruments from Queen's own band members.
You worked closely with the band itself to create the look of the film. How closely could you hew to their memories?
We tried to be as faithful as we could, taking liberties where we needed to. But from the very beginning, the band and our producers on the film were involved intimately, so they came to visit when we were setting up the art department, and on multiple occasions, popping in and giving us advice and offering input. More than anything else, they were surprised at all the details that we were bringing in, and how faithful we were to their past. It was sort of a strange experience for them, I think.
Can you give me an example of a detail the band was pleasantly surprised by?
We were looking at early press photographs of the band from, say, 1973, that were taken in Freddie and Mary's apartment in London. They had some of their decor from Biba, where Mary Austin worked, and we pulled some of the details from that, right down to copying the wallpaper in their flat. We blew up the picture, replicated the pattern, and printed the wallpaper to match.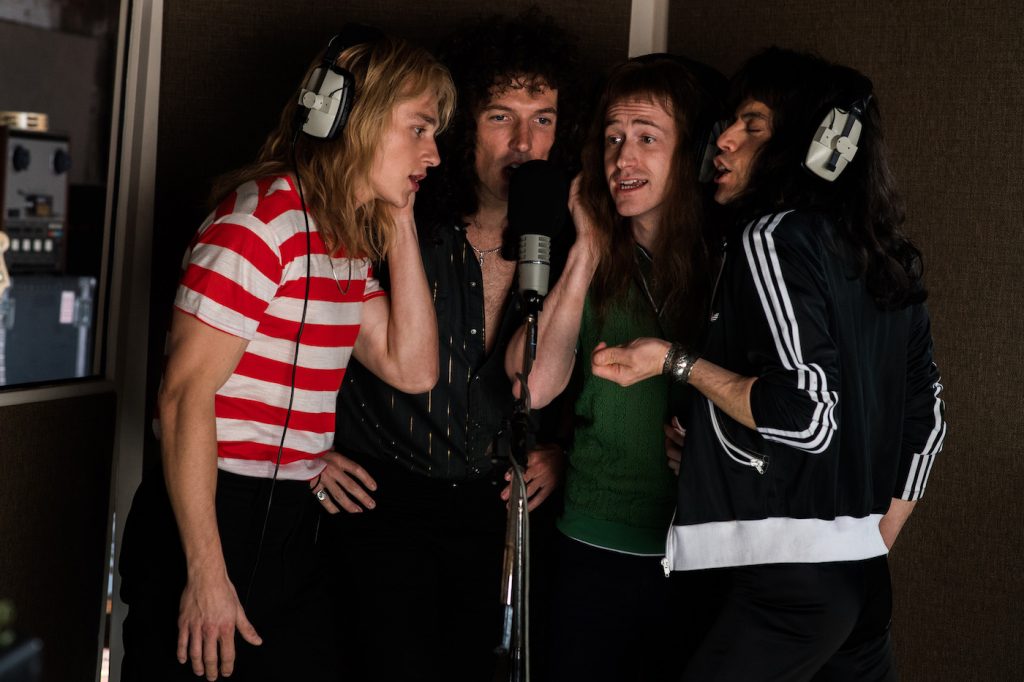 How did you put together all the massive concert scenes?
We had multiple arenas and large theater gigs to do—Madison Square Garden and Budokan in Japan, and the tour across America—and those originally were going to be spaced out in the schedule. Ultimately, they were all slammed together within a short period. So we had to come up with a stage design at a facility called LH2 in London. We built a big stage rig and recreated some of Queen's iconic lighting rigs, what they call the pizza oven, and basically created a modular system for both the stage dressing and the lighting, with different drum risers, gear, and wings on the stage, so that within a day, or an overnight, we could switch from Madison Square Garden to Rio just by changing the dressing. We were trying to communicate their progress as a band through their dress, their stagecraft, as well as their lighting—so by the time you got to Madison Square Garden and "We Will Rock You," at the peak of their power, we had the full glory of this big light array above them. Tom Sigel, the DP, really made sure to be as faithful to the original as possible.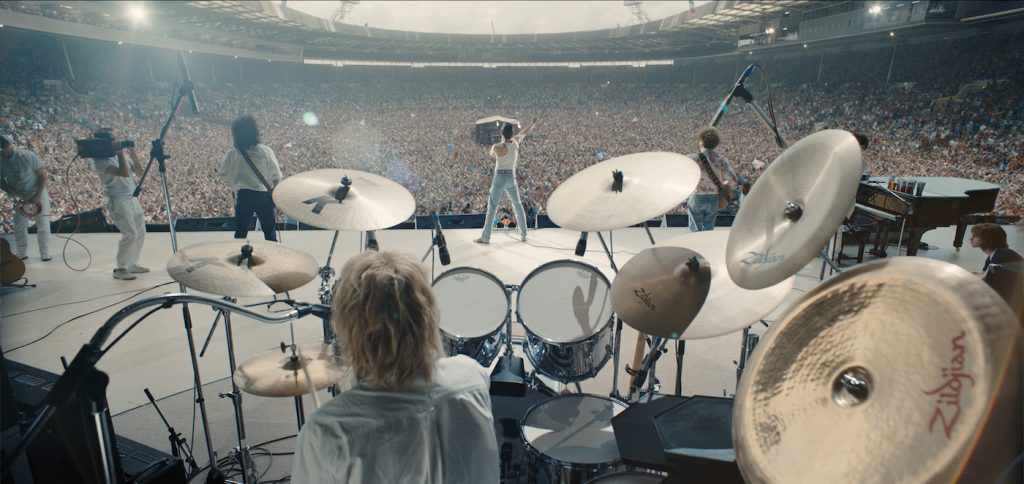 Can you tell me a bit about the location for the farmhouse where Queen recorded an album?
They recorded a good chunk of Night at the Opera at two different farm locations. One was in Wales and one was somewhere in England, quite out from everything else, Rockfield Farm and Bridge Farm. We did a bit of a hybrid of the two. We took this idea of turning this 200-year-old barn into a 70s, mid-century recording studio. We built a beautiful, sort of mid-century recording booth into that space, which I absolutely loved. In all the references we had, often recording consoles looked really similar, but there was one which had existed, I think in the Basing Street recording studio in London, which looked like a console from Star Trek. We couldn't get our hands on one, so we decided to build it from scratch.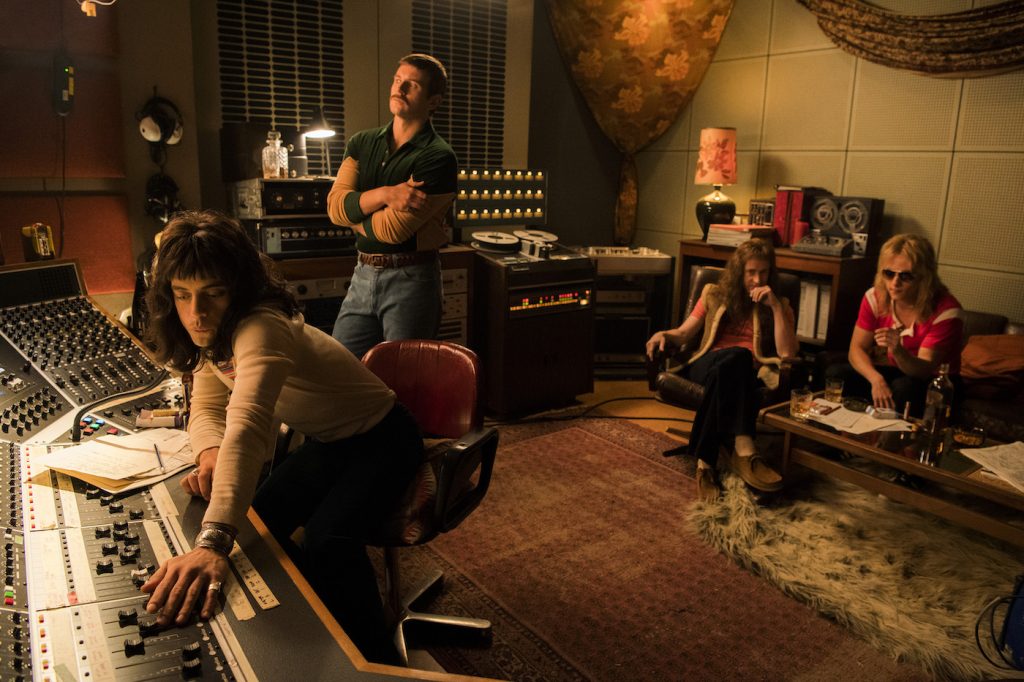 In general, how did you find your shooting locations?
When Bryan Singer first approached me about doing [the movie], he said, I want everything within the M25 [around London]. On our list were exteriors in Zanzibar and India, and a bunch of locations that we shot that didn't wind up in the final cut of the film, which we knew would be challenging to find within that radius. We went to a pretty well-known filming location, which I believe is called Stocker's Farm. It's a location where they shot Children of Men, for instance. It was a great space that served both for an interior location for the recording facility as well as the rooms [the band] go into when they're first getting set up. We created our own version of the interior of that farmhouse for a scene where Freddie wanders in, after everyone's been arguing, sees the life of the people who live there, goes into a family room, sits down at the piano, and writes "Bohemian Rhapsody." I think a lot of that storytelling was lost in the final edit, but we were trying to recreate that feeling during Live Aid, when Freddie was sitting at the piano, playing in front of basically a billion people.
Is it hard to recreate 1970s London and Munich these days?
London is an amazing city, full of fabulous locations, but so much of it has been modernized. We had to find places that could give you a bit of exterior as well as interior character. For instance, the Ray Foster office scene with Mike Myers. We could have done that on a stage, but I really wanted to find a space where you could actually throw a brick through the window from downstairs, and Mike could stick his head out the window and yell at the band. So we found a location at an old town hall in one of the boroughs of London, an Art Deco building from the 30s that was still in great kit.
We also did several scenes in New York in the 70s. For instance, when Freddie fires their first manager, we were actually on a street in central London. We dressed a street as New York City, threw down all of our snow, yellow cabs, but if you were to turn around, you'd be looking at the Shard. Then for Munich, we were trying to find something that just looked different, more like Germany, closer to the mountains, but right in London, so we ended up in one of the suburbs to the south, in a town called Esher, at a lovely 1970s, mid-century house.
Where do you dig up 70s-era recording equipment to put together the studio settings? Is that sort of thing difficult to find, or lovingly preserved?
It was a combination. Some of the stuff we recreated, but we had a lot of help. John Wheatley, our dedicated instrument and equipment wrangler, was directly in touch with Brian May's guitar tech and Roger Taylor's drum tech. Brian would say, I've got that guitar that I played at, for instance, that Smile gig or for Crazy Little Thing Called Love. He had a particular guitar he played that on and he brought that to Live Aid, so Gwilym could play it. We copied some of the 70s-era amps and other equipment, but we were able to find a lot.
Brian May invited us to his home archive, which had photographs, recordings, printed material, and costumes. It was pretty unique having that access, pretty special, and I hope that that translates on screen, in terms of the realism and the sense of place. Especially in something like Rockfield Farm or the Live Aid set, we really wanted the actors to walk into that space and feel that they were 100% there. I hope we succeeded.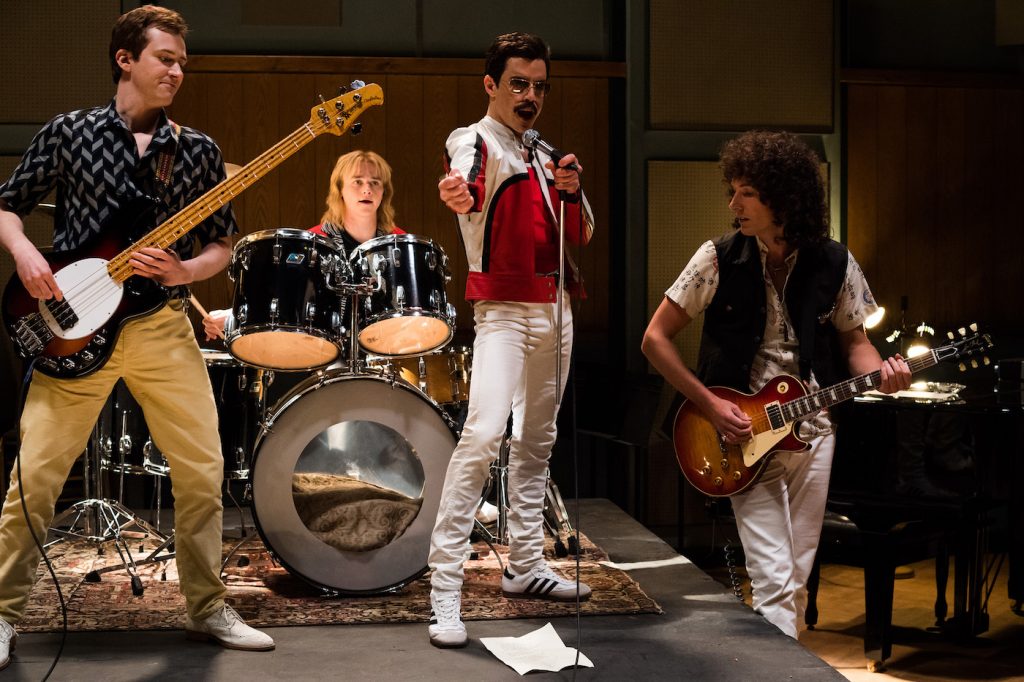 Bohemian Rhapsody is in theaters now.
Read our interview with Bohemian Rhapsody cinematographer Tom Sigel here.
Featured image: L-R: Joe Mazzello (John Deacon), Rami Malek (Freddie Mercury), Ben Hardy (Roger Taylor), and Gwilym Lee (Brian May) star in Twentieth Century Fox's BOHEMIAN RHAPSODY. hoto Credit: Alex Bailey. TM & © 2018 Twentieth Century Fox Film Corporation. Photo Credit: Alex Bailey. TM & © 2018 Twentieth Century Fox Film Corporation.