Beautiful Boy's Production Designer Builds a World of Heartbreak & Hope
A desire for anonymity may be rare in the movie business, but production designer Ethan Tobman, whose credits include Room and most recently Beautiful Boy, doesn't want audiences to notice his work.
"Whenever you're designing contemporary drama, especially anything that's inspired by real events, you want to support and create a unique world with an instant sense of intellectual and emotional empathy. And you want to do it subtly," he says.
For Beautiful Boy, about the anguish of a father, writer David Sheff (Steve Carell) who can't save his beloved son Nic (Timothee Chalamet) from his descent into drug addiction, that world began with the Northern California home of the Sheff family. The film is based on two memoirs, one by David Sheff and the other by Nic Sheff who, as a teenager with everything going for him, begins getting high, first on methamphetamine and later, heroin. David and Nic's stepmother, Karen (Maura Tierney) do their best to help Nic, from paying for expensive rehabilitation to keeping him at their bucolic home under caring but close supervision. But Nic keeps struggling.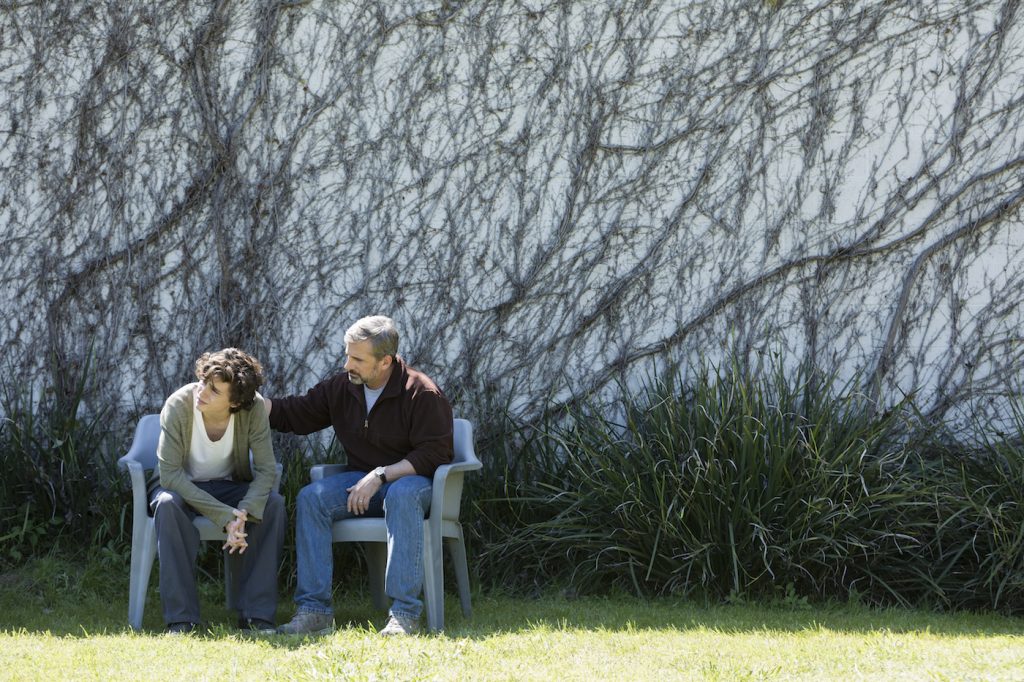 Tobman says one of the key moments in pre-production came when he and others on the creative team visited the real-life Sheff home which would be reconstructed as the film's primary set.
"We were not planning to recreate it, but we wanted to be inspired by who they are. It had a profound effect on me," he says. "This was the last house on earth that I could see fostering a drug addict's behavior. It was a home that was incredibly open and that embraces individuality and nature. There was an almost medieval landscape, almost Game of Thrones with twisted limbs and rain-soaked mountains. I knew instinctively [that] I had to explore the idea that this is the last place you would expect this to happen and had to show how secrets are hidden in plain sight."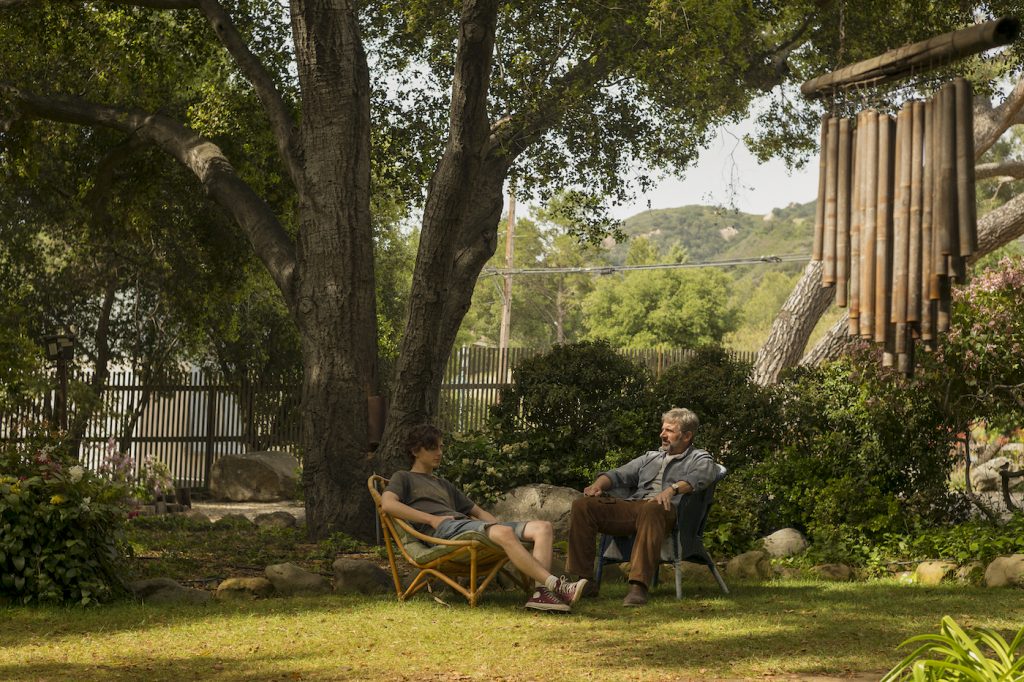 Tobman, a Montreal native who attended NYU's Tisch School of the Arts, earned much praise for his construction of the central, claustrophobic space where the main characters are held captive in Room (2015), designed Nic's bedroom to be in deliberate contrast to the rest of the house. "To show claustrophobia, his ceiling is lower; the walls of his room are painted purple and blue, like a bruise, where in other parts of the house they are salmon and orange. Nic's windows are smaller and closed; the walls are cluttered with his artwork and music posters but in a haphazard, almost angry, way."
Planning the look of the Sheff house also impacted Tobman's designs for the rehabilitation clinics that becomes Nic's residences as he battles his addiction. "The sets for the clinics had to contrast visually in every way imaginable with that home," he says. "We learned through research and visiting rehab clinics that all drug addicts gravitate to smaller and smaller spaces with less and less sunlight."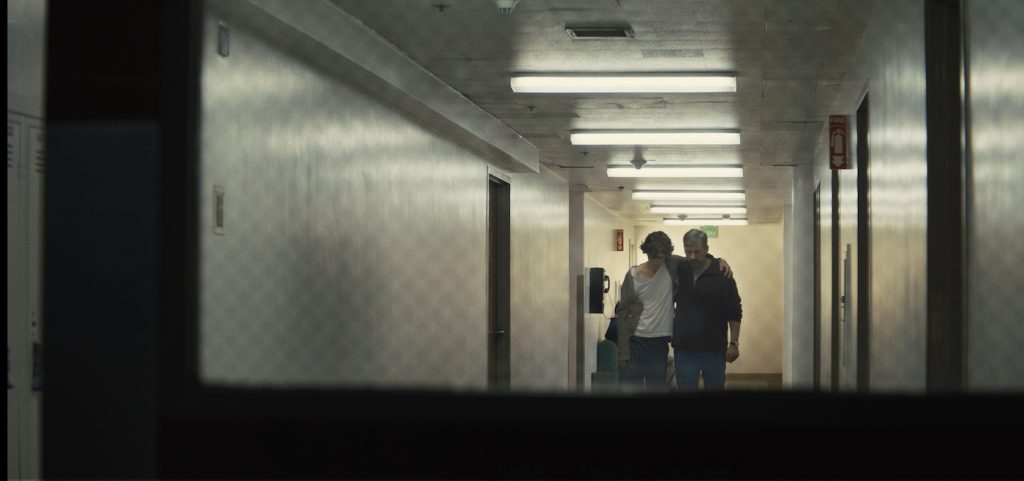 Subsequent rehabs ad living spaces as Nic spirals downward "had to move further away from naturalism, from sunlight, from open rooms, from communal planning, and from any sense of individuality or the fostering of personal love."
That progression was important to the story because it conveyed Nic's slide into illness as well as his family's progression from denial to being proactive and, then, into increasing hopelessness, says Tobman. "That's a difficult and important theme that every family experiences with a drug addict, no matter what the drug, or how affluent or how destitute they are. We needed to portray that responsibly to capture the reason for telling this story."
Though set in a specific California locale, Beautiful Boy tells a universal story. It didn't matter that director Felix Van Groeningen and DP Ruben Impens both hail from Brussels. But for Tobman, there was an initial surprise that neither had ever employed a production designer. "Production design does not exist where they work in Brussels," he says. "They usually hire prop masters and set decorators. So they were excited but nervous about the [film] not looking extremely naturalistic; it's not their comfort zone."
In their meetings with the Sheff family, who are all creative and artistic, notes Tobman, the design team decided to ask Jasper Sheff, Nic's younger brother, to create Nic's journal of images and writing that serves as a major plot point in the movie. "I remember the day we shot [David finding] the journal and still feeling my heart drop out of my chest as the pages advance when I saw the movie. It confirms [David's] worst fears," says Tobman.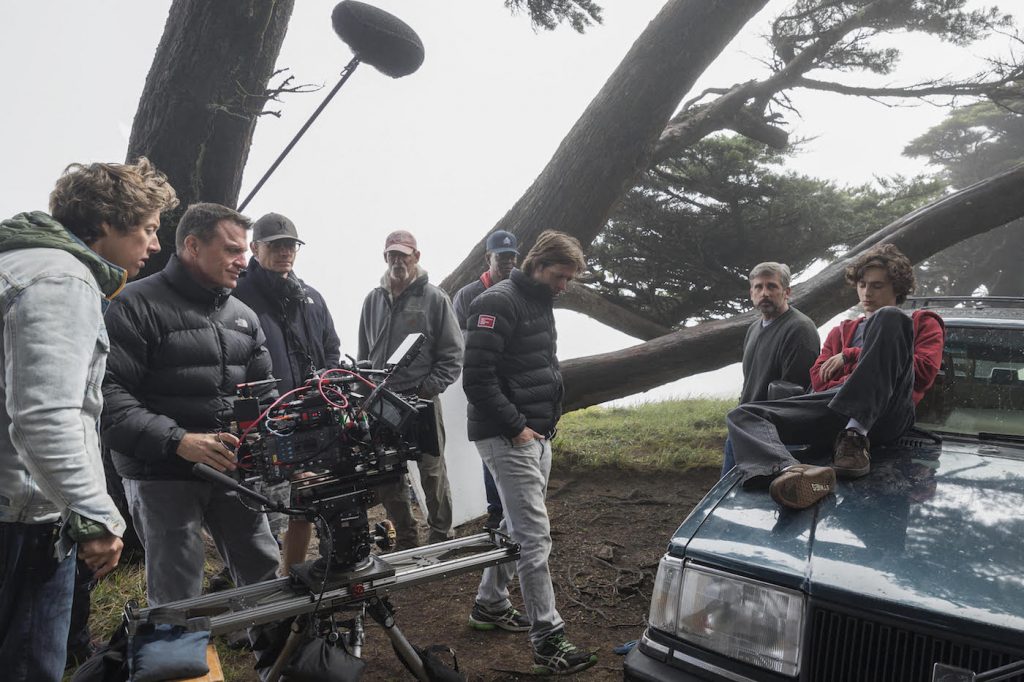 Tobman will leave his trademark confined spaces for his next project as he readies for his first large-budgeted film, Shawn Levy's Free Guy starring Ryan Reynolds. "It's part fantasy, part sci-fi, and set in the video game world," he says. "So after doing contemporary dramas in contained environments, I am amazingly inspired after months of being able to draw things that don't exist.
Featured image: Oakley Bull as Daisy Sheff, Maura Tierney as Karen Babour, Timothée Chalamet as Nic Sheff, Christian Convery as Jasper Sheff, and Steve Carell as David Scheff star in BEAUTIFUL BOY. Photo Credit: Francois Duhamel/Amazon