The Mid90s Cast on Skating & Sticking to the Script in Jonah Hill's Directorial Debut
Sunny Suljic, the young, breakout star of Mid90s, says most audiences don't even know that he's a proficient skater in real life. But for Suljic that's proof that he did a convincing job playing a novice skateboarder in Jonah Hill's directing debut.
Truth is, the pint-sized Suljic, at just 13, is as adept at extreme skateboarding as the rest of the movie's young ensemble of non-professionals (Na-kel Smith, Olan Prenatt, Gio Galicia, Ryder McLaughlin) that was cast for both skateboarding skills and group chemistry. Written and directed by Hill, Mid90s follows Stevie, a thirteen-year-old in 90s-era Los Angeles who spends his summer escaping his bullying older brother (Lucas Hedges) and his working single mom (Katherine Waterston) by hanging with an older group of new friends that he meets at a Motor Avenue skate shop.
Suljic says one of the hardest challenges was skating like a beginner. "It's not about the tricks, it's about how long you've been skating and how comfortable you are on the board," he says. "The scene where I'm coming back from the skate shop and I'm skating uncomfortably like I'm rolling down about to fall over, that was one of the hardest things because to make it look realistic is difficult. People don't even know that I skate so I guess I did a good job," says Suljic who, like the other skaters in the cast, performed all his own stunts.
"I had fun. I wasn't nervous. I trusted [the filmmakers]; they were protective, obviously, and made sure no one got hurt," says Suljic. "I fell a bunch of different ways. … It was really fun."
Suljic credits co-producer Mikey Alfred with finding most of the skaters in and around LA. He says when he met with Alfred, "he asked me if I'd acted before, and I told him I worked with Yorgos Lanthimos [on 2017's Killing of a Sacred Deer]. He was super excited about that. He called me back in but it ended up just being a chemistry test to see how [the cast] got along because he already knew [I had the job]."
Despite the loose, natural rapport among the scruffy band of skateboarders, there was no improvising, says Olan Prenatt who plays one of the star skaters. "It took Jonah two or three years to make this movie so I thought it was better to go by the script and respect him," he says. "It was written like real conversation; it didn't seem like a script at all."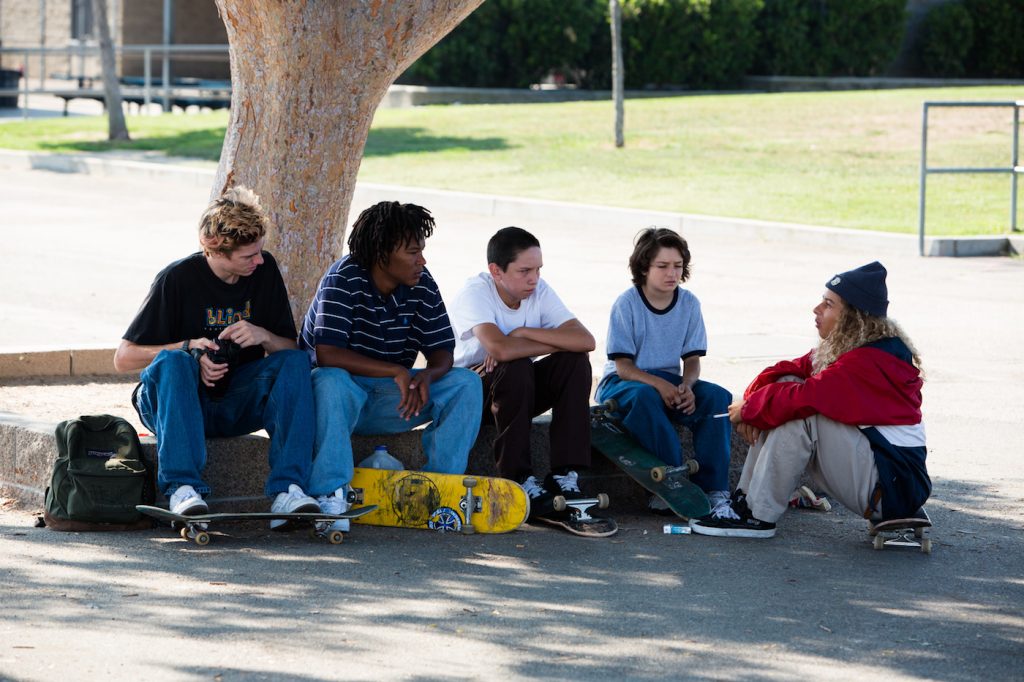 The boys, who share the same teasing, friendly rapport seated together in a press interview as they do onscreen, all agreed that it was Hill's reputation as an actor that made them eager to work with him on Mid90s.
"I was a big fan of his films. I like War Dogs, The Wolf of Wall Street, Superbad. That's a classic," says Suljic who this year also appears briefly as a skateboarder in Don't Worry, He Won't Get Far on Foot which co-stars Hill.
"A lot of people have not seen The Sitter, though, and that was one of my favorite movies growing up," adds Gio Galicia who plays the "bad boy" of the group.
Each one also noted how inspiring and helpful it was for novice actors to work alongside Lucas Hedges, whose role as Stevie's bitter older brother Ian required him to be mean and abusive.
"He was so sweet in person. After every take, when he'd beat me up, he'd almost be tearing up every time," says Suljic. "He would be like, 'I am so sorry! I don't want to do this scene!' and he'd give me a hug."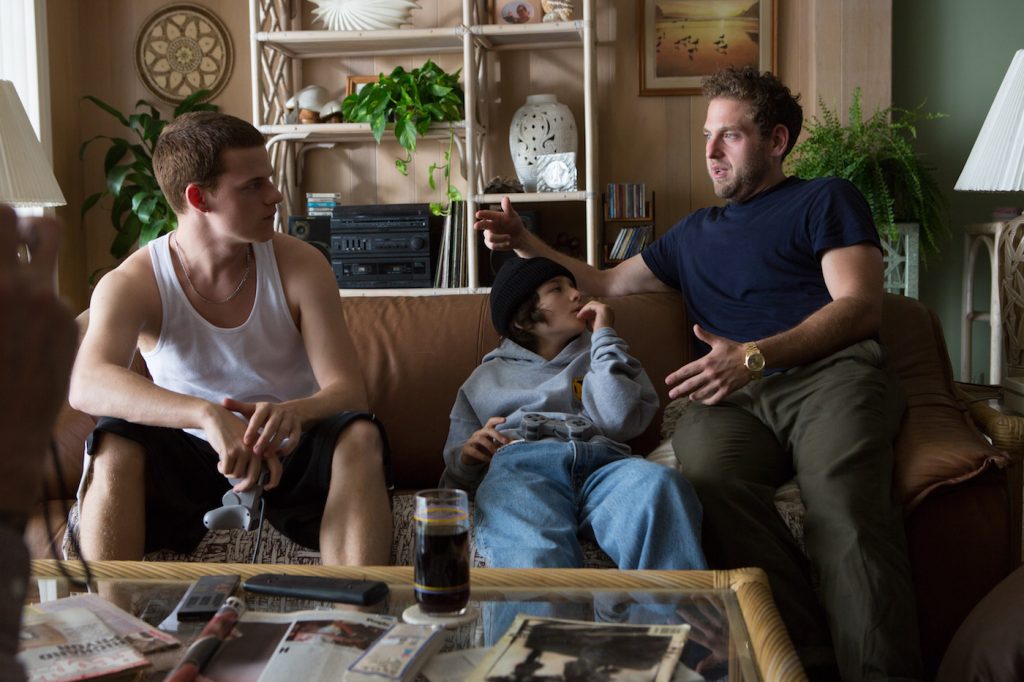 The script called for Prenatt to have an altercation with Ian at a skating park."That scene where I smashed his face and messed him up, I was like, I didn't want to do that because he is so cool. I'd say, 'I'm sorry! Oh damn, dude!'" recalled Prenatt. "I had to do a flip and hit his shin and I hated to do that. The crew offered him shin pads, they said, 'Please, put these on' and [Hedges] said, 'No. I want this to be as real as possible. Please hit my shin with your skateboard' which hurts like hell. I had to literally throw my board into his shin. He said, 'hurt me.' He's an amazing actor."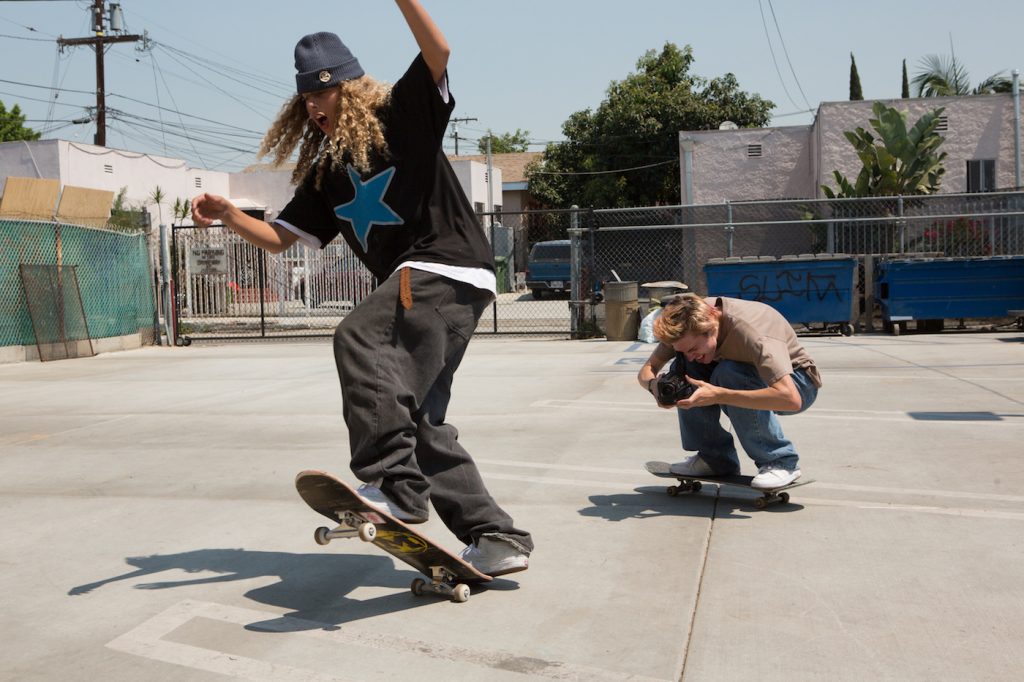 Since nearly all the cast was born at the end of the '90s or in the 2000s, there were few points of reference in the period film. Hill and veteran cinematographer Christopher Blauvelt whose credits include Gus Van Sant's Elephant and Don't Worry, He Won't Get Far on Foot recreated the 1990s look for the film by shooting it in 16mm and presenting it on a letterbox 4:3 format to give it a VHS look. The retro style is enhanced by the film-with-a-film, shot on a camcorder by the quiet skateboarder played by Ryder McLaughlin, whose footage closes the film.
"I knew when we were shooting last summer that it was going to fit in with the 4:3 and I was like, 'perfect,'" says McLaughlin. Hill originally planned for the two films to be intercut then later decided it was more effective to have the skateboarder's "home movie" serve as the ending for the film.
Mid90s is in theaters now.
Featured image: Sunny Suljic, Na-kel Smith, Olan Prenatt, Gio Galicia, Ryder McLaughlin. Credit: Tobin Yelland