Jon Favreau Shares new Image of The Mandalorian's Weapon
We're loving the steady stream of images and plot nuggets we're getting from Jon Favreau's upcoming live-action Star Wars show The Mandalorian. First, we found out the series name and synopsis, which clued us in that it would take place between the fall of the Empire in The Return of the Jedi and the rise of the First Order in The Force Awakens. We were also able to glean that The Mandalorian would have some connection to that famous bounty hunter family, the Fetts, thanks to the show's location and the first image from set. Every Star Wars fan knows that Boba Fett wore customized Mandalorian armor (despite being from Kamino) just like the character in the featured image. We also learned that Thor: Ragnarok director Taika Waititi and Jurassic World star Bryce Dallas Howard will be directing an episode apiece, while the premiere episode is being helmed by Star Wars Rebels and Star Wars: The Clone Wars director Dave Fioni, with Jessica Jones and Better Call Saul director Deborah Chow and Dope director Rick Famuyiwa will be directing episodes as well. Now Favreau has shared a new image from set, revealing a two-pronged weapon that only the biggest Star Wars heads will recognize. For the rest of us, we're grateful to the official StarWars.com site for their research into the weapon, and they're fairly sure they know where it's been seen before—it was used by Boba Fett himself in the much-derided Star Wars Holiday Special.
View this post on Instagram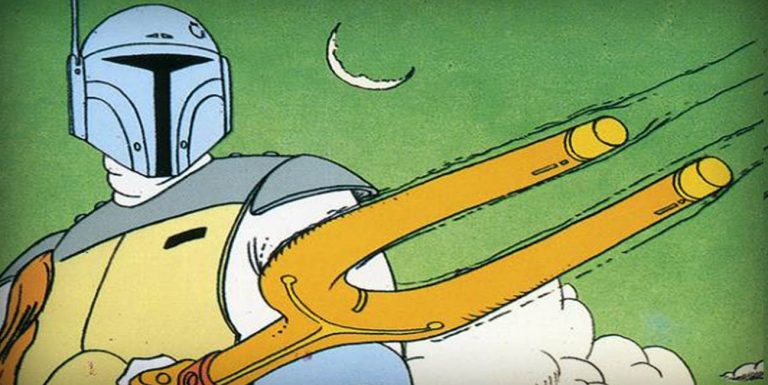 According to the site, this two-pronged gun is an "Amban phase-pulse blaster," a name revealed in the video game The Force Unleashed. It's a pretty nifty tool for our main character, who is described in the synopsis thusly:
After the stories of Jango and Boba Fett, another warrior emerges in the Star Wars universe. The Mandalorian is set after the fall of the Empire and before the emergence of the First Order. We follow the travails of a lone gunfighter in the outer reaches of the galaxy far from the authority of the New Republic.
The Mandalorian doesn't have a release date as of yet but will be available on the new Disney streaming platform that is launching in late 2019.
Featured image: An image from the set of 'The Mandalorian.' Courtesy Walt Disney Studios.