Details Emerge About Hereditary Director Ari Aster's Next Horror Movie
Writer/director Ari Aster is going to ruin the end of your 2020 (but in the best way). The talented filmmaker behind Hereditary, this year's scariest horror movie, will once again be writing and directing a new film for powerhouse studio A24, set to bow late next summer, on August 9. Details have emerged about the plot, and they sound promisingly creepy. Jack Reynor (Macbeth), Florence Pugh (Outlaw King) and Will Poulter (The Maze Runner) will star in a film about a vacation that goes horrifically wrong. If you've seen Hereditary, you know that when things break bad in an Aster film, they break really, really bad.
As Aster told us this past June, he likes to take his time building his stories until the moment is ripe to plunge the viewer into the terrifying twists and turns of his story.
"I am hoping the film is honoring a tradition in horror that is more antiquated by taking time put stock in atmosphere and character," Aster said. "A feeling of being traumatized. One film I screened for the crew to get that across was Cries and Whispers, which takes wrestling with death and suffering seriously."
Yes, Hereditary was traumatizing. The new film will follow Reynor and Pugh as a young couple who travels to Sweden to visit a friend's rural hometown for a mid-summer festival. This bucolic, rural setting is reminiscent of the Utah surroundings in Hereditary, a serene landscape turned into a vast cage of isolation and madness. Collider reported that for the new film, the summer festival turns violent when the young couple finds themselves involved in a "bizarre competition at the hands of a pagan cult."
Considering what happened in Hereditary, we can only imagine what kind of grim, gruesome mischief Aster will get up to with a Pagan cult to play with.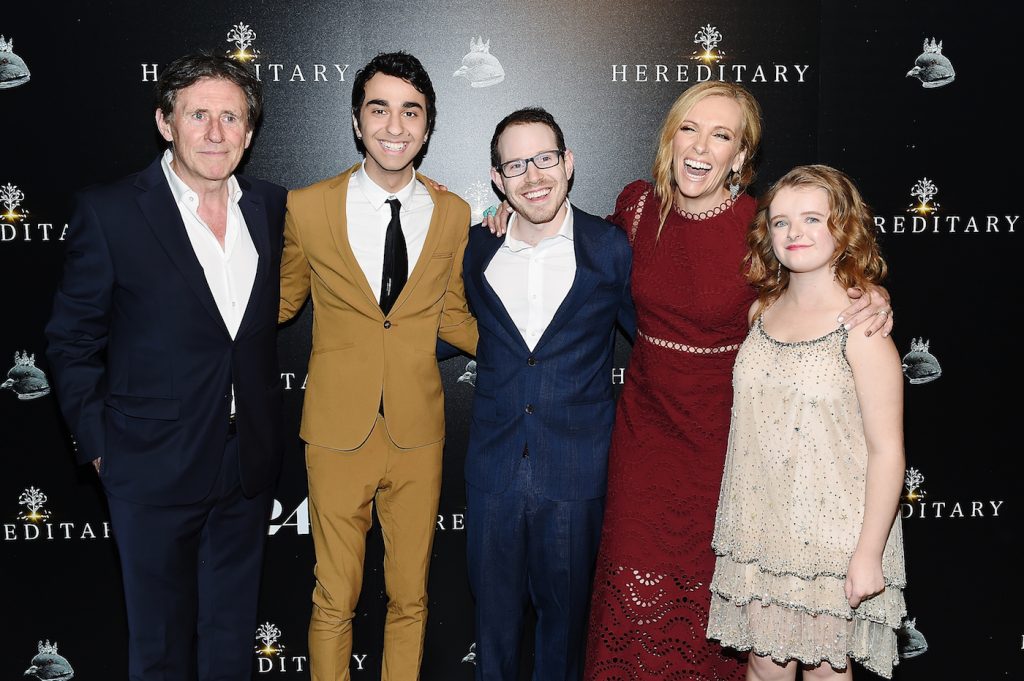 Featured image: Milly Shapiro, Toni Collette, Gabriel Byrne, and Alex Wolff. Photo by James Minchin, courtesy of A24