Writer/Director Ari Aster on his Terrifying Debut Hereditary
When critics bend over backwards to keep a movie's secrets under wraps, presume that the title in question is a step beyond the norm and well worth seeing. That is the case with Hereditary. Writer-director Ari Aster's feature debut caused festival goers at Sundance and South by Southwest to squirm, shudder and gasp out loud at what transpires onscreen. Starting on June 8, the public will get to witness this grandly operatic yet exceedingly unsettling horror thriller about a grieving family seemingly beset by sinister forces – if they dare.
Much like Get Out, The Witch and It Follows, Hereditary suggests that scare fare is on a cusp of a new golden age beyond remaking creaky low-budget slasher flicks or relying on imaginary monsters. Instead, human beings are the source of our terror – and Aster has attracted quite a crew of actors. Toni Collette gives what has been called a career-best performance as Annie Graham, a morosely intense matriarchal figure and artist who creates miniature dollhouse-like versions of her own life. The death of her reviled mother unleashes an ever-escalating sinister sense of palpable unease. Gabriel Byrne is her stable husband Steve, Alex Wolff is typical teen son Peter and Milly Shapiro is spooky daughter Charlie, whose nervous habit of clucking her tongue is just one of many signs that this is no normal clan.     
Aster, 31, talks about which unsettling films spooked him when he was a kid, how echoes of such films as Rosemary's Baby and Ordinary People can be felt in Hereditary, and how making the film was a cathartic experience for him.
This is one heck of a first feature. It made me want to learn more about your background.  I know you received a graduate film degree from AFI Conservatory in Los Angeles and you have made several well-received shorts, but I found little else. Where did you grow up?
I was born in New York and spent my first few years in Chester, England. We moved there when I was young.  I spent my adolescence in New Mexico and graduated from The College of Santa Fe in 2010. I  went to Los Angeles and  moved to Utah in 2017 to work on Hereditary. We were there for four months, 10 weeks of pre-production and six of production. We used  a real house's exterior we found in Salt Lake City. We built an entire soundstage for everything interior in Park City. I then moved to New York for post-production.
The horror films that most affect me  are those whose so-called monsters are human. Hereditary very much falls into that category. What was the first scary movie that got under your skin?
Two horror movies really bothered me and traumatized me as a kid. Carrie the film really got to me. I didn't know that while watching it. I thought, "Huh this is kind of tame." But images did not leave me. Something as simple as Sissy Spacek covered in pig's blood with her rigid posture and her eyes bulging out of her head. Piper Laurie chasing her with a knife in the house. I spent the next three years projecting those images in my head when it was dark at night. It made it hard for me to go to bathroom or get water from the kitchen at night. The other film that did number on me I saw way too young was The Cook, the Thief, His Wife and Her Lover. It's not a traditional horror film but it's extremely macabre and grotesque. It was the first time I felt deeply disturbed by a movie's tone as well.
You make a visual allusion to that Peter Greenaway film near the end of Hereditary.
Not to give anything away, but mine is way more overcooked.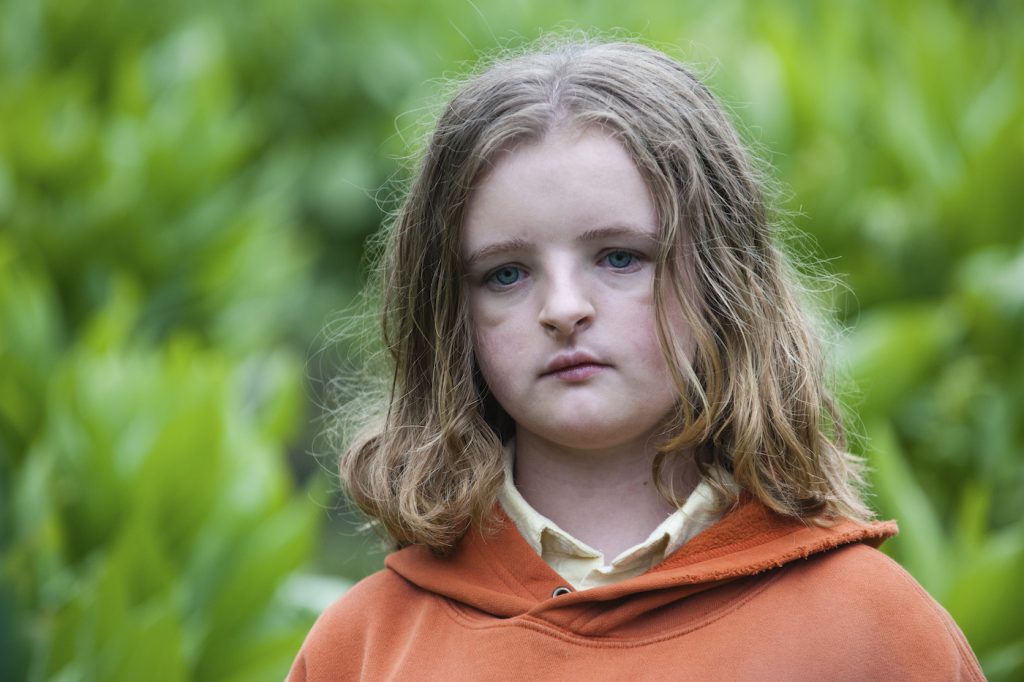 I appreciate your skill in weaving  references to other scary films into Hereditary without being too blatant. I felt the influence of Rosemary's Baby, The Exorcist, The Innocents, Don't Look Now and The Shining. And that you were also inspired by such harrowing domestic dramas as Ordinary People, The Ice Storm and In the Bedroom. Mary Tyler Moore shoving that French toast down the disposal in Ordinary People still haunts me.
I don't think I am directly referencing anything although there is pretty explicit nod to Rosemary's Baby. I am hoping the film is honoring a tradition in horror that is more antiquated by taking time put stock in atmosphere and character. A feeling of being traumatized. One film I screened for the crew to get that across was Cries and Whispers, which takes wrestling with death and suffering seriously.
How long has Hereditary been percolating in your brain? You have said that you were partly inspired by a three-year span when your own family was experiencing a bad streak. Was doing this film a cathartic experience for you?
It was very cathartic and therapeutic in that way. The beauty of genre filmmaking is to find catharsis even if it is horrible. I had a couple of projects get going when I was at AFI. It  was easier to get horror financed. It may have started as a practical cynical decision. But, from there, the question became what do I want from the genre? What bothers me, what are my fears? I wrote it quickly over the course of three months a couple years ago. I kept on polishing it. I'm someone who likes to build a shot list so I can see it clearly in my head and to make it vivid in the crew's head.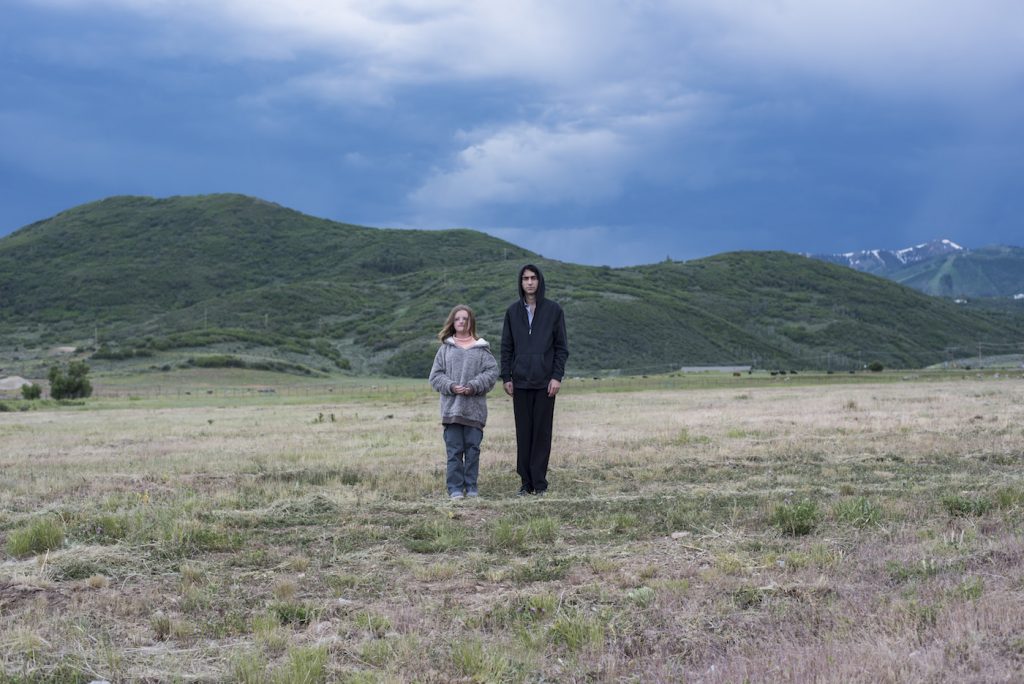 There is so much artistry involved in this film. The soundstage set design. Annie's dollhouse-like miniatures – effects specialist Steve Newman did those. Colin Stetson, a saxophonist and clarinetist, composed that disturbing atonal score. The ambient sound design is quite effective, too.
Steve built those miniatures from scratch. He did a beautiful job replicating a house that wasn't even built yet. I was listening to Colin's albums New History Warfare Vol. 1 and 2, so I had his music in my head before I got him on board.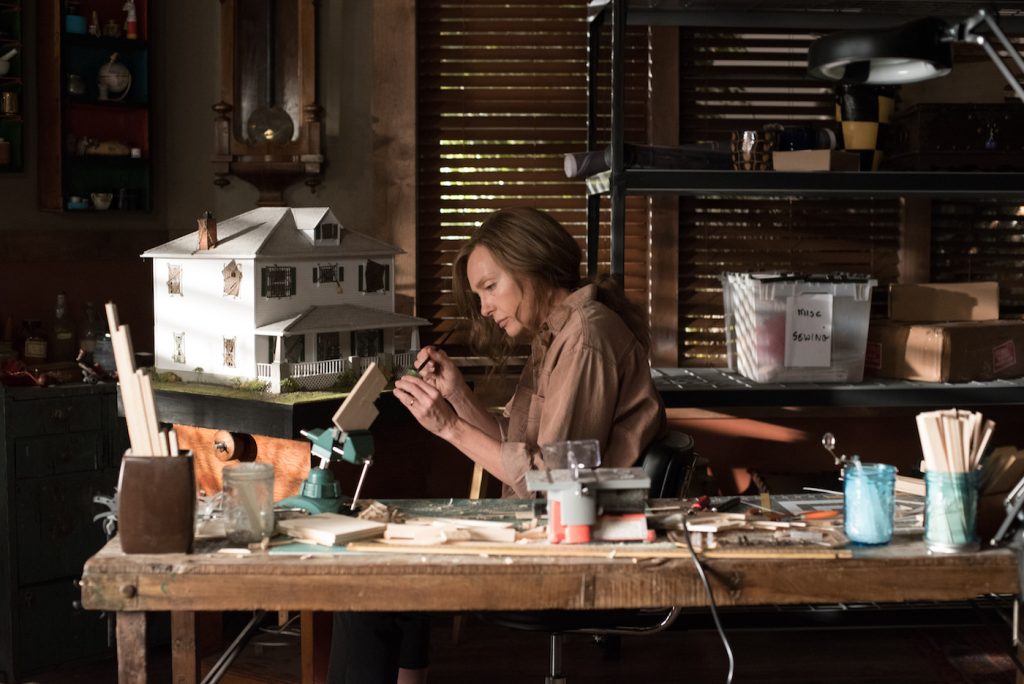 Eraserhead  has one of the best ambient soundtracks ever. It  totally creeped me out. When the Graham family gather for their awkward chicken dinner, I immediately thought of that film.
I do remember thinking of Eraserhead when the chicken came out that way. Then again, I am always thinking about David Lynch anyway. Blue Velvet was one of big discoveries as kid. It was one of the films that I saw when I was young that made me think, "I want to do that."
The older actress who plays Ellen Taper Leigh, Annie's mother, has an unusual role. She has no lines and is basically only seen in photos, as a miniature figure and lying in her coffin. Yet she casts such a huge shadow over the events. Did she know how she might freak people out in real life after they see this?
She is the sweetest person in the world. I hope people don't feel that way. She is such a doll.
Toni Collette's incredible performance is the roaring engine that keeps Hereditary rising to the next level of terror. Why did you think of her in this part?
I had never see her like this before. I have loved her ever since Muriel's Wedding. It occurred to me I have never seen her to be allowed to chew up the scenery in this way before. But I knew she was an actress who could do it. Everyone knows she is great but, save for the TV series United States of Tara, she is seldom seen as a lead. Here, she just owns the movie.
Did major studios come knocking on your door after you made a splash at Sundance? Would you ever direct a superhero film.  Judging from your shorts, it seems you are somewhat like Todd Solonz, in that you aren't afraid to probe deeply uncomfortable situations and habits. I am guessing you don't necessarily want to be pegged as just a horror guy.
No superhero film. I have plenty of personal films I want to make. Also, I think the tendency to go to big studio without any real leverage can be really painful. Just not having the abilities to control the end product. Yeah, studios reached out, but I can't say who. But I am not the horror guy. My next film is horror, but I intend to take a break from there. As for Todd, Happiness was a big one for me and I admire him hugely.