Emily Blunt and Lin-Manuel Miranda Highlight New Mary Poppins Returns Images
There are many reasons to be enthused about Disney's new musical Mary Poppins Returns. We'll give you two; Emily Blunt and Lin-Manuel Miranda. Mary Poppins Returns is a sequel to the 1964 classic, with Rob Marshall directing the two superstars. (Check out the trailer here.) Blunt, naturally, stars as the mysterious Mary Poppins, a woman with more than a little magic to spread around who is back to help a new generation of the Banks family find their zest for life. Miranda stars as a lamplighter named Jack who is a sort of magical aide-de-camp to Mary. This is as good as casting gets. Miranda, you may have heard, knows a thing or two about singing and dancing (he created a little play called Hamilton that a few people seem to like), and it'll be a joy to watch him and Blunt channel their abundant charisma into this Disney classic. A new set of images gives a nice glimpse of the upcoming film, with Blunt and Miranda front-and-center.
Joining Blunt's Mary and Miranda's Jack are Emily Mortimer as Jane, Nathanael Saleh as John, Pixie Davies as Annabel, and Julie Waters as Ellen. The script comes from Marshall, David Magee (Life of Pie) and John DeLuca (Pirates of the Caribbean: On Stranger Tides), and is of course based on the stories by P. L. Travers.
Here's the official Disney synopsis of the sequel:
In Disney's "Mary Poppins Returns," an all new sequel with a fresh sensibility that celebrates the spirit of the original, Mary Poppins is back to help the next generation of the Banks family find the joy and wonder missing in their lives. Emily Blunt ("The Girl on the Train," "Into the Woods") stars as the practically-perfect nanny with unique magical skills who can turn any task into an unforgettable, fantastic adventure and Lin- Manuel Miranda ("Hamilton," "Moana") plays her friend Jack, an optimistic street lamplighter who helps bring light—and life—to the streets of London. "Mary Poppins Returns" is directed by Rob Marshall ("Into the Woods," "Chicago"). The screenplay is by David Magee ("Life of Pi") and the screen story is by Magee & Marshall & John DeLuca ("Into the Woods") based upon the "Mary Poppins" stories by PL Travers. The producers are DeLuca, Marshall and Marc Platt ("La La Land") with Callum McDougall serving as executive producer and the music is by Marc Shaiman ("Hairspray") with songs by Shaiman and Scott Wittman ("Hairspray"). The film also stars Ben Whishaw ("Spectre") as Michael Banks; Emily Mortimer ("Hugo") as Jane Banks; Julie Walters ("Harry Potter" films) as the Banks' housekeeper Ellen; with Colin Firth ("The King's Speech") as Fidelity Fiduciary Bank's William Weatherall Wilkins; and Meryl Streep ("Florence Foster Jenkins") as Mary's eccentric cousin, Topsy and introduces three new Banks' children played by Pixie Davies, Nathanael Saleh and newcomer Joel Dawson. Angela Lansbury appears as the Balloon Lady, a treasured character from the PL Travers books and Dick Van Dyke is Mr. Dawes Jr., the retired chairman of the bank now run by Firth's character.
Check out the new photos below.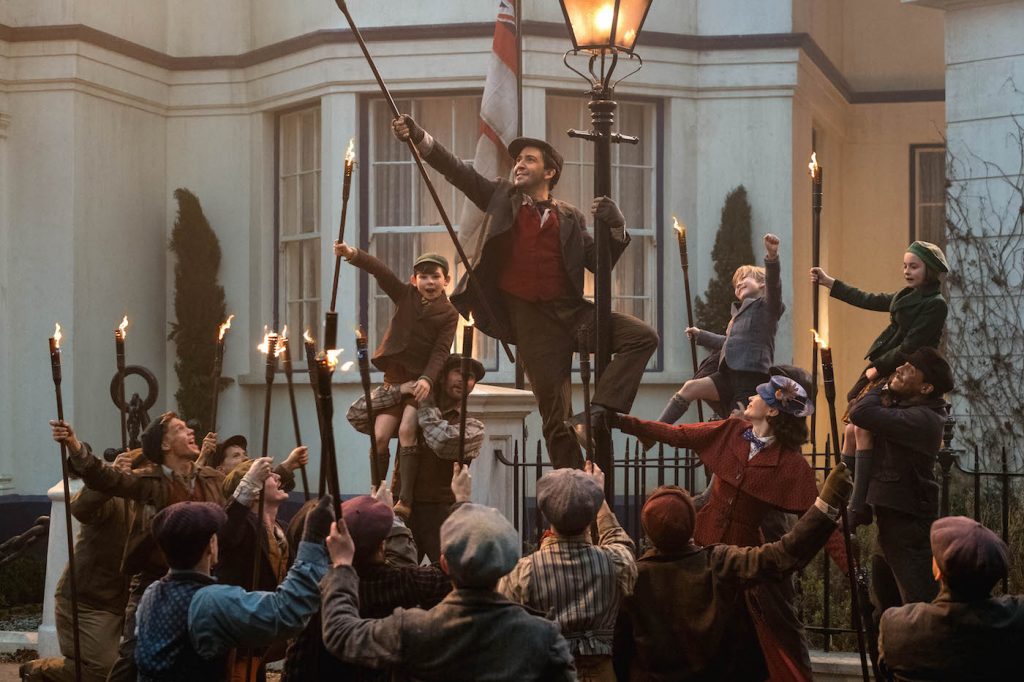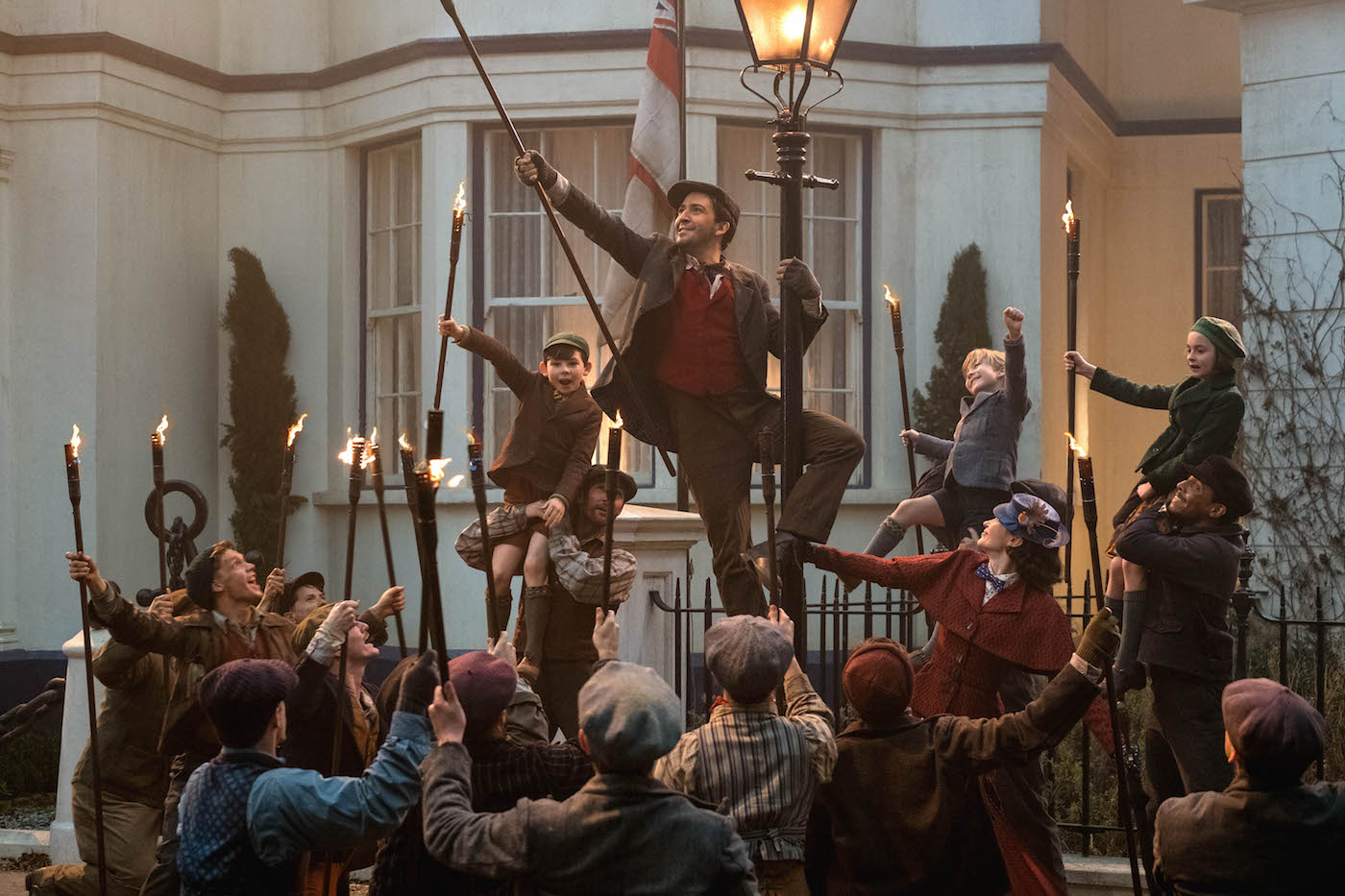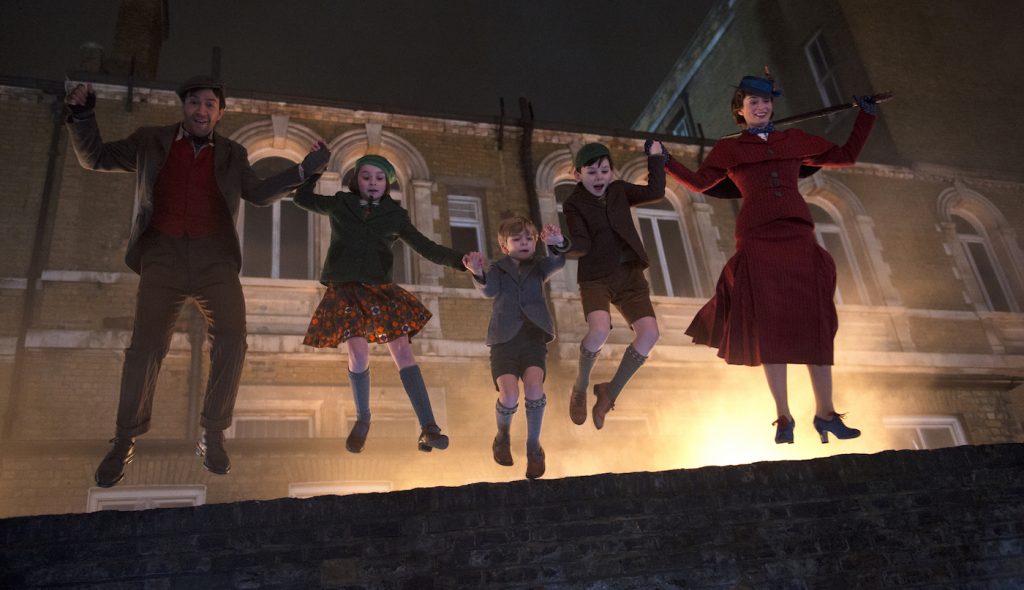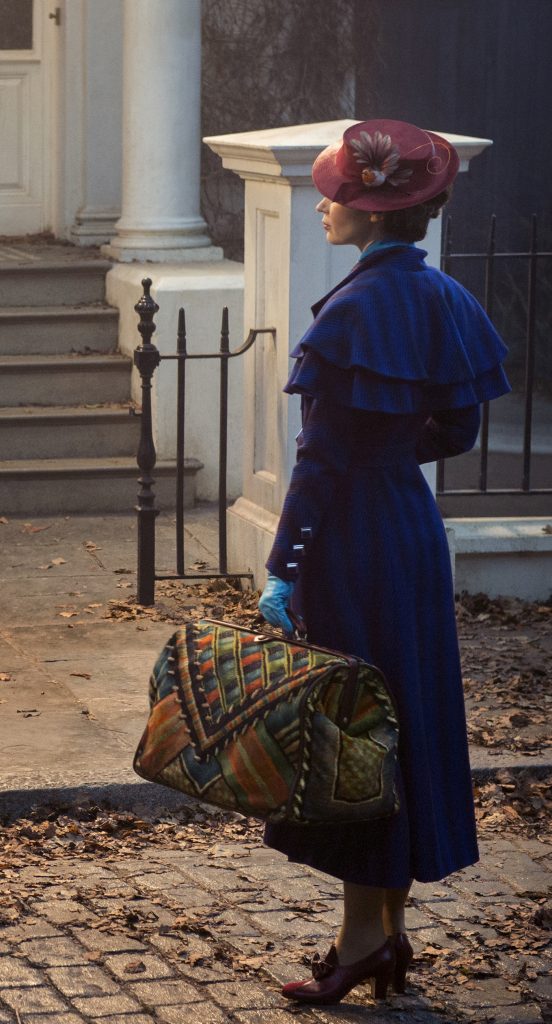 Featured image: Jack (Lin-Manuel Miranda) Mary Poppins (Emily Blunt) and the Banks children with a crew of street lamplighters at 17 Cherry Tree Lane in Disney's original musical MARY POPPINS RETURNS, a sequel to the 1964 MARY POPPINS which takes audiences on an entirely new adventure with the practically perfect nanny and the Banks family.