Did You Catch the Hidden Character on the Captain Marvel Poster?
Do you go home to your cat after a kick butt day of running the world from your office and your feline friend could care less? Luckily, you're not alone. The new Captain Marvel poster proves that there is almost nothing that can impress our aloof pets. Even when their half-alien superhero owner lands on Earth to stop an intergalactic war. All eyes on are Carol Danvers today with the first trailer from Captain Marvel and a batch of images. All eyes except her pet who is sauntering out of frame.
Captain Marvel has touched town in epic style on the first poster for the film. Standing inside an airplane hangar alluding to her super skills as a fighter pilot, Carol Danvers is ready for a fight. Those supercharged fists are enough to catch anyone's eye, but a Twitter user was looking elsewhere. Scan your eyes down to her boots, look all the way left and squint your eyes. There is actually a cat tail exiting the frame.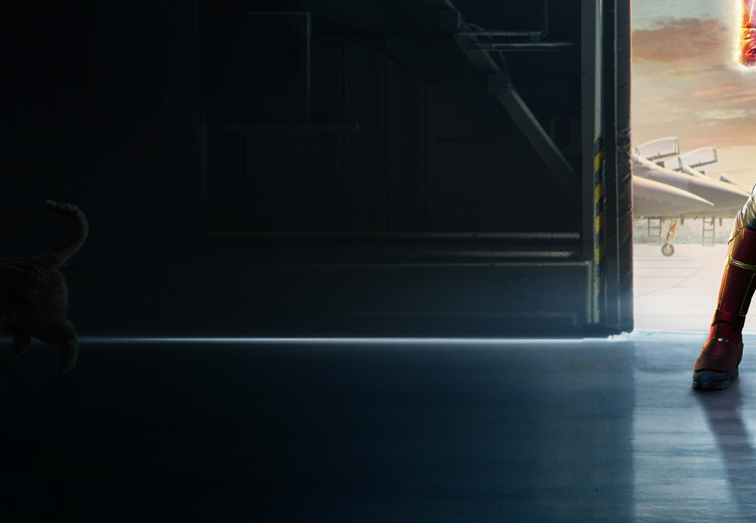 Unless it isn't a cat at all. I know, there's the fur and the paws and the tails, but that exterior could be deceiving. The fan theory that currently prevails is this could actually be Carol's pet Flerken, Chewie. Flerkens look a lot like our furry companions, but they're actually powerful creatures in the MCU. They're an alien species who have "pocket dimensions," which are obviously entire universes that they keep in their mouth because they are sneaky minxes. Apparently, they can also reach in and grab a number of handy things from alternate dimensions.
Of course, the Guardians of the Galaxy know all about alien species. Rocket first recognized Carol's cat might not be what it seems in the comics. Chewie later proved Rocket very right, so we hope they eventually meet in the movies as well. For now, though, this is all speculation. Marvel has not confirmed that Chewie, or any cat, will appear in the film. Hold onto this Easter egg for now.
Captain Marvel flies into theaters March 8.