Mission: Impossible – Fallout's Production Designer on Building a World of Mayhem
The sixth installment of Mission: Impossible premiered last Friday to critical praise and a series-best opening at the box office. Among the numerous elements that made MI6 a standout was the continuation of outlandish, death-defying, and yet quite scenic stunts, mostly performed by Tom Cruise himself, in the role of Impossible Missions Force agent Ethan Hunt.
Hunt's nemesis, Solomon Lane (played by Sean Harris), from the franchise's fifth film, is back, grizzled and anarchic. More complicated for Ethan, his fate is somehow tied to that of an arms dealer who's got the plutonium the agent was supposed to obtain, and hang onto, in a sequence at the beginning of the story. Alas, his tireless good intent got in the way, and Ethan winds up being chased all over Paris on a motorcycle, fighting for his life and everyone else's on the planet on a rock face in Kashmir (played by Norway), and chasing a newly minted enemy through the mountains on a burning helicopter. Cruise is known for performing his stunts himself, with much of the action shot on practical sets. To get a better idea of where the line is drawn, and how the shoots even end up where they do, when the process begins with no set script, we spoke with production designer Peter Wenham. Previously, Wenham's supervising locations manager, Ben Piltz, lent us some insight into the mechanics of shooting chase scenes in London and Paris, and finding the remotest rock face in Norway.
To start, how do you even begin designing something that covers so much ground, like the motorcycle chase through central Paris?
When I see things in films, where I know a city and know they've chopped things together, [you realize] people don't always question where things are. So I always pitch things as a journey to the director and the wider team, so there's some logic to the start, middle, and end points. To some degree, while some elements are chopped up, I like to work from the start point, with some logic as to where things start and finish.
So I'd look at the city—Paris has been shot extensively. I was always trying to find new or big locations that haven't been shot before.  We were at L'Arc de Triomphe and then at Opéra, which heads right to the opera house at the end of a wide boulevard. Most of it was a challenge because there were very strict limitations on the times we had at those locations, we had maybe two or three hours. What a lot of authorities in big cities tend to do is only allow you a very small amount of time or [encourage you to] shoot on the outskirts, where you have more control. But the point was seeing these iconic locations. Those were very sensitive locations due to the age of these things. And you've got an awful lot of people you have to get on board, including the Minister of Culture.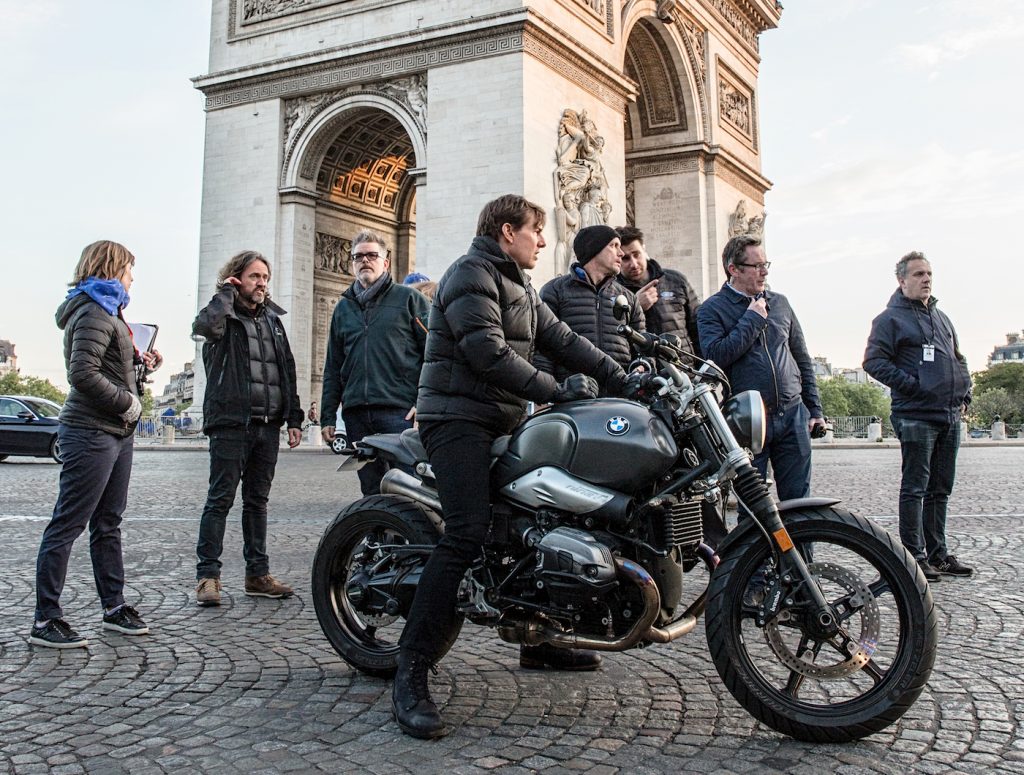 When you're designing a scene for Cruise, is there ever a moment where you say to yourself, no, this is too dangerous?
No. Not at all. I don't think you ever consider anything is too dangerous because of the organic way of proposing and coming up with stuff. Ultimately, you get everyone on board and with Wade [Eastman, the stunt coordinator], Chris [McQuarrie], and all the parties, you work out ways of how you can make it achievable. I do have a mindset where I consider something that's believable, because we all know Tom does these stunts to a large extent himself. There are some elements where he'll be aided by a table or a jerry rig, where the motorbike ends up crashing into the front of a car. At the point of getting to that car, there's a whole rig that ends up getting designed. But all the in between, that 's all Tom doing it.
What we do, it's a trick, when doing stunts, in order to ramp up the illusion of speed, it's like having a line of cars in between you and and him riding the bike, and that gives a sense that something's really close to the camera. And he's riding at great speed, as well. He's good on a bike, a car, a helicopter. Not many that can do that.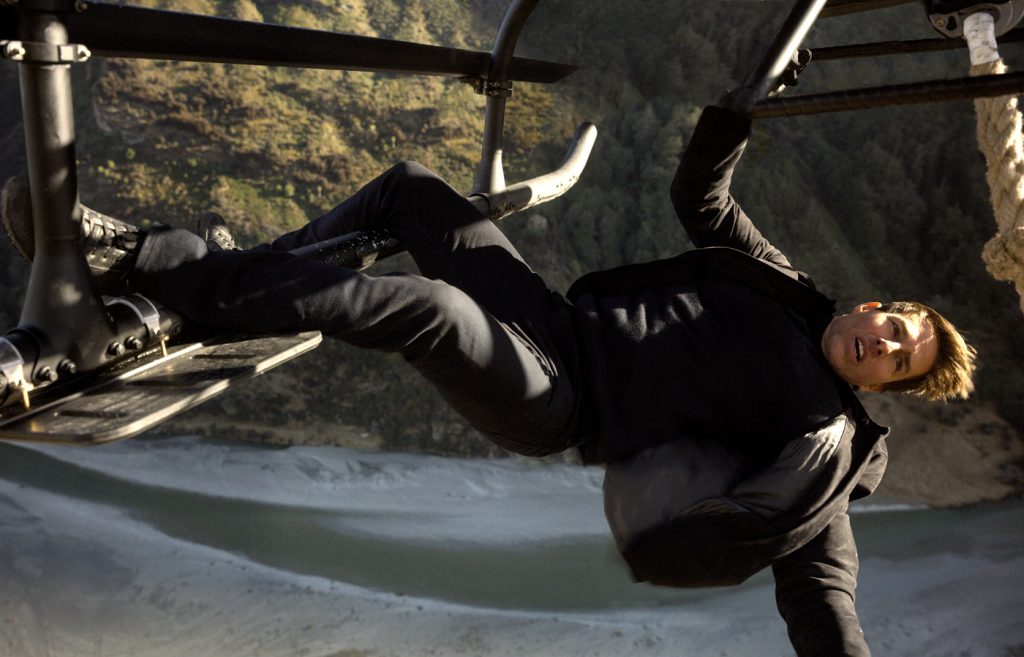 Since there was no set script at the beginning of the shoot, what was your process for designing as you go?
It's coming up with sequences, and threads of ideas, that we can pitch to the group as an idea for something, and then the story starts to evolve.You have to go out there and do hard scouting, look at things from top to bottom. For example, the establishing of the helicopter landing, atop the Ministry of Finance. I found that building. It has a brutalist scale, with a helipad, so it was the seed and a starting point. There was this bit of an idea where [Lane] gets delivered to a helicopter somewhere.
And Lane being broken out of the truck and ending up in the water? We got the idea from the element of the inflated boats that you see on the Seine. In the canal system, we found this sub-canal which is like a link between two parts of Paris, which is hardly ever used. That was the seed for them being undetected. It had these amazing areas where all this ambient light came through, which led to the motorcycle chase. All those things got pieced together by coming up with elements which we could put together as a sequence. We scouted all of India, looking at trains and other stuff. We knew from the outset we wanted to shoot in Paris, so we started with that, and then found other elements organically from scouting, and we'd come up with ideas.
Okay, so then how do you go about planning a helicopter chase through the mountains?
With your eyes closed! For that helicopter sequence, we went to New Zealand, and it became evident that it becomes prohibitive up to a point, with what we wanted to do. Therefore the terrain in the story came out of scouting in India and thinking, well, there could be a terrorist bomb nestling in Kashmir. That fed into the terrain and what place would give us the most dynamic terrain. That ended up with us scouting in New Zealand, which is known for excursions. It was challenging to look at all that because helicopter chases in the past have been very mundane.
How do you create excitement? One, we found lots of different terrain. One of the most amazing elements was that Tom was flying his own helicopter. He trained himself in a relatively short space of time. With the brilliance of Mark Wolff, the aerial coordinator, they were able to work out a sequence that was dynamic and ended up in crashes. That was a series of very specific rigs we built on stage. You see Tom on one and Henry on the other. When you get to a real life element of a helicopter smashing another helicopter, that's when we get into rigs we built. Two true to life helicopters we built and rolled down a mountain back at the studio. And when they ended up wedged into a tunnel, that was also built on a soundstage.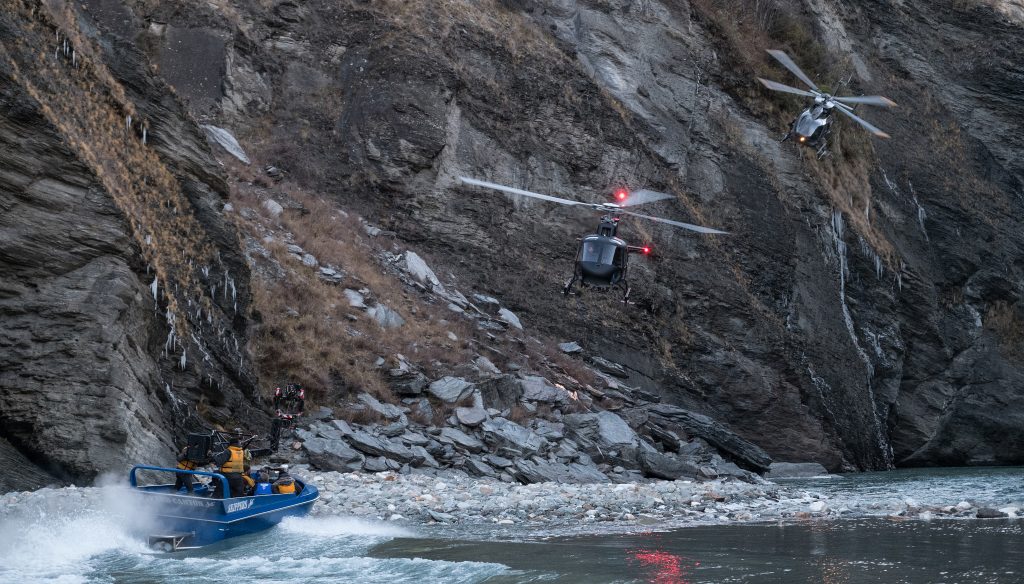 How did you find that bleak rock face in Norway for some of the final action?
It was extremely difficult, and we did extensive scouting in New Zealand and couldn't find a precipice that would give us that environment. Which was surprising. As we were running into problems, Ben [Piltz, the supervising location manager], through his contacts in Norway reached out to a facilities company, which came up with some suggestions. From photos, Chris [McQuarrie] was very encouraged and we went out to Norway on a very late scout and we found it. We saw in a few minutes, that it was fantastic. What you see in the background, the actual precipice was very unique and that particular rock is quite a jaunt to get to. It's known to hardened hikers; the intrepid traveler would make it. It's iconic, and it's treacherous—it's not a nice little tea room. It's quite grueling to get up there and it's incredible. I replicated the face of that rock in a studio environment for obvious reasons. When all that was being shot in the three days we had, the very next day, all the snow came in, and it was completely covered. We literally, in the space of one evening, got very lucky.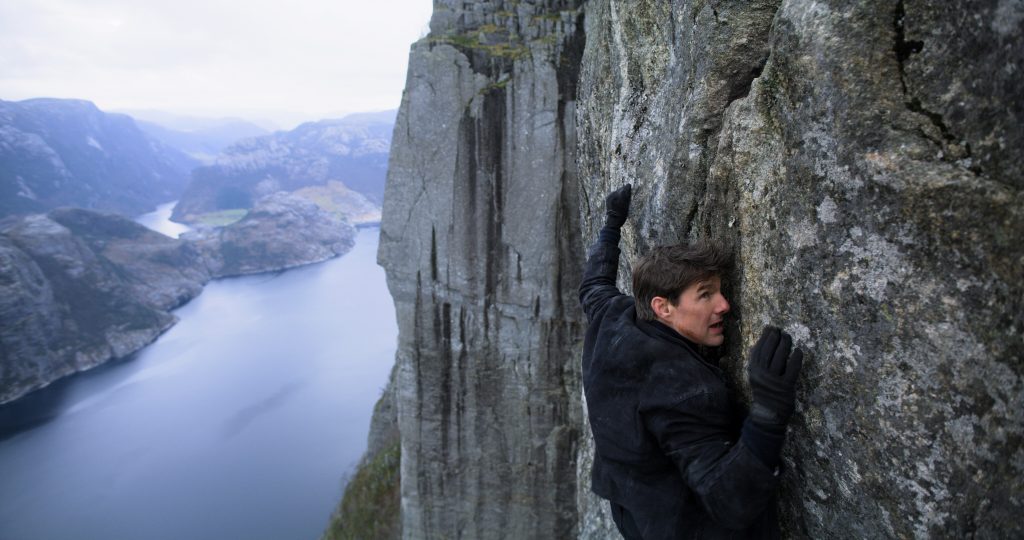 You have so much recent experience as an art director and a production designer for action films. Do you see technology changing or affecting how you do your job?
Not specific to what I do. Yes, technology always changes because it changes rigs and the ability to get certain shots. Technology in terms of visual effects is constantly evolving. So yes, the illusion of action can be far more outlandish and crazy because of technology. Technology also improves and it becomes more convincing. But from the raw core element of physically doing the stunts themselves, that hasn't changed. It's still the element of man and the environment.
Featured image: Left to right: Henry Cavill as August Walker and Tom Cruise as Ethan Hunt in MISSION: IMPOSSIBLE – FALLOUT, from Paramount Pictures and Skydance. Courtesy Paramount.