Game of Thrones' Emmy-Nominated Sound Designer on Bringing the Heat
Emmy-nominated supervising sound editor Tim Kimmel oversaw one of Game of Thrones' most explosive episodes, ever. Kimmel received his Emmy-nom for his work on last season's epic fourth episode, "The Spoils of War," written by co-creators David Benioff and D. B. Weiss, and directed by Matt Shakman.
Kimmel, who is the Formosa Group's supervising sound editor, oversees the sound editorial crew, and his team have a vast sonic mandate; they're responsible for creating, organizing, and cleaning up every sound you hear when you watch an episode of Game of Thrones. His team includes a dialogue editor, sound designers, Foley artists, ADR editors and sound mixers. They create sound effects (like a dragon's roar) and sound ambiances (like birds in the distance), they clean up or create dialogue when necessary, and then they deliver all of this to the sound mixers, who balance all this material along with the episode's score. Then these details are fine-tuned until they're perfect and ready for your ears.
For the massive episode "The Spoils of War," this meant creating the sounds for the first-ever clash between Daenerys (Emilia Clarke)'s dragon and an army—in this case, her alpha dragon Drogon and the Lannister army. In the episode's marquee sequence, Drogon torches Jaime Lannister (Nikolaj Coster-Waldau)'s soldiers and their loot train. This dragon-v-Lannister battle has been brewing since the very first season, and "The Spoils of War" delivered on that 7-year build up brilliantly.
"It was such an amazing scene to work on," Kimmel says. His crew had a lot of sound work on the sequence, which included Drogon, the Lannister army, the Dothraki horsemen, the flames, and all the burning and the screaming and the dying. "First we built the battle sequences, with the Lannister army getting their shields together, their horses, and then you hear the stampeding Dothraki horsemen riding in," Kimmel says. "We created all these elements, and while we made the sounds of the Dothraki horsemen riding in big, we had to leave room for the iconic dragon roar we hear."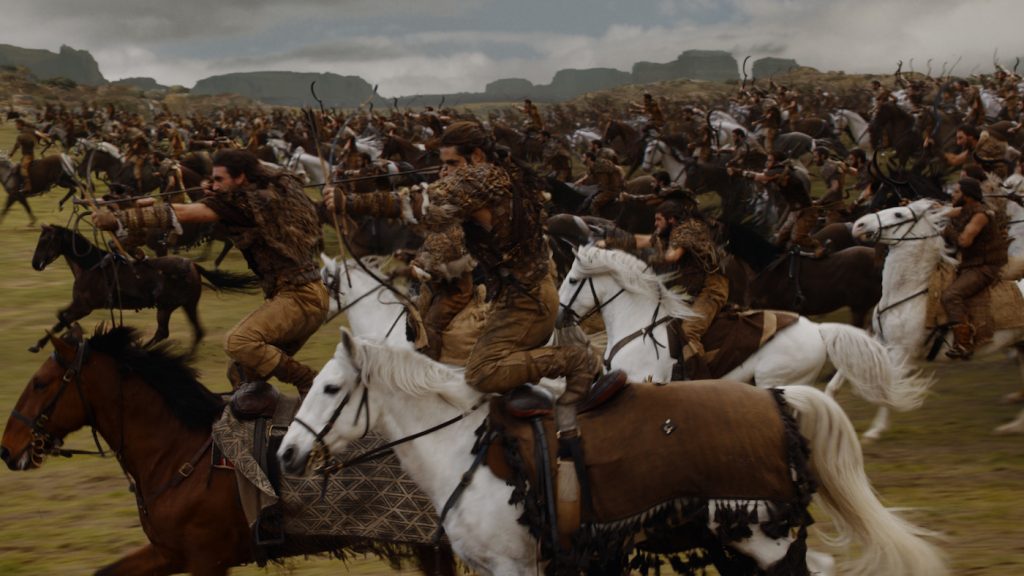 We've seen Dany's dragons cause damage before. One of the most memorable dragon moments before "The Spoils of War" came in season five's 9th episode, when Drogon comes to Dany's rescue and flambés her would-be assassins in Meereen's fighting pit. We've never seen a dragon put to use to barbecue an army, however, which Game of Thrones promised its viewers from the moment the baby dragons were born in season one.
Kimmel said that finding the right balance for the scene meant making sure it was clear that Drogon was powerful in a way that no one in the Lannister's employ could have imagined in their worst nightmare.
"It was tricky, even though we're close-in with the army and can see the dragon in the distance; the dragon needs to come in like a 747 and just take over," Kimmel says.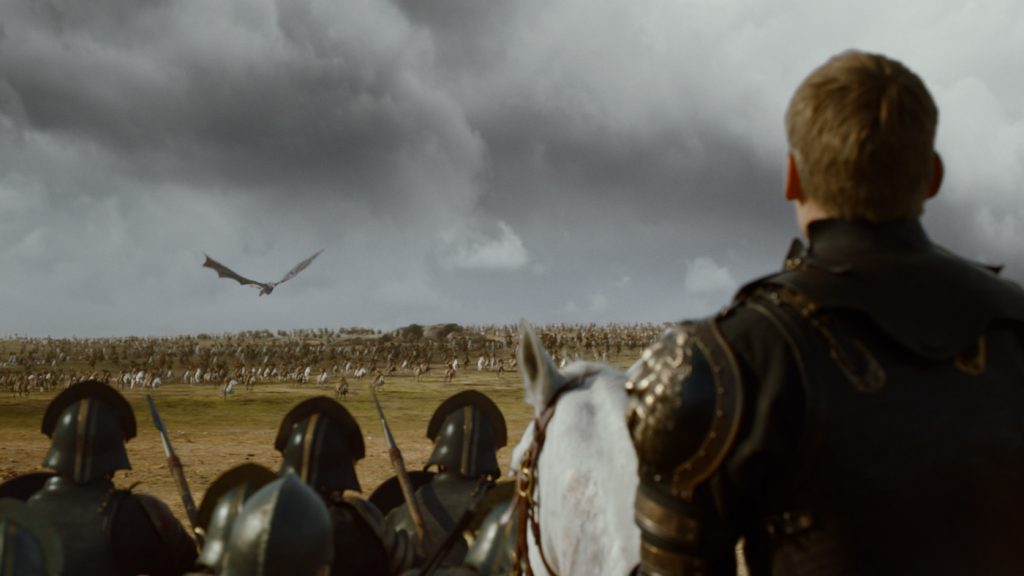 One ace up Kimmel's sleeve was sound designer Paula Fairfield.
"Paula creates some amazing dragon vocals, with such great detail on it," he says. After a few attempts, they realized they needed to go even bigger than they'd planned. "We needed to push it so that the dragon coming in has a massive sound. At first, we let the viewers and the Lannister army find out simultaneously. 'Holy cow this dragon is massive,' even though viewers have seen the dragons before. For 'The Spoils of War,' we needed to reintroduce the dragon in a new way because now it's a dragon coming into battle. Then Drogon unleashes his fury, and we're creating the sounds of the fire, wood burning, people screaming, and then it takes out the wagon full of exploding barrels; there were just tons of sound opportunity in this episode."
But what about the dragon's roar? Couldn't Kimmel reveal something about Paula Fairfield's secret recipe?
"The roar is all Paula," Kimmel says. "She's the one who creates it, and she keeps a majority of what goes into it pretty top secret, even from me. I think she likes to keep her creative process somewhat close to her chest. I can tell you she tries to keep it organic; there are animals in there, and she likes to find recordings of animals that you know but aren't used to the sound it makes. Injured animals, angry animals, scared animals; she tries to avoid taking things and manipulating them, she prefers taking natural sounds," Kimmel says. "She went to a rehabilitation animal farm with a lot of injured animals, like bison, and the sounds they were making was intimidating and frightening, which is very useful for us."
Once Kimmel and his team have created all the necessary sounds for a scene, it's time to deliver it to the mixers.
"That's when we go through and find what's important to the story, so that, say, that wagon tipping over on fire is important, we pull the dragon sound back and push forward with the wagon," he says. "We do a peaks and valleys pass, so we can make sure the story of what's going on is clear. So even though there's a big battle, we take the background sounds down a bit, so there's room for the important things to pop. The barrels exploding, the debris flying; sometimes we pull the fire back a touch so you can hear the sound of the wood creaking and burning. I'm lucky I have such fantastic mixers I get to work with to find that balance and get these things to pop."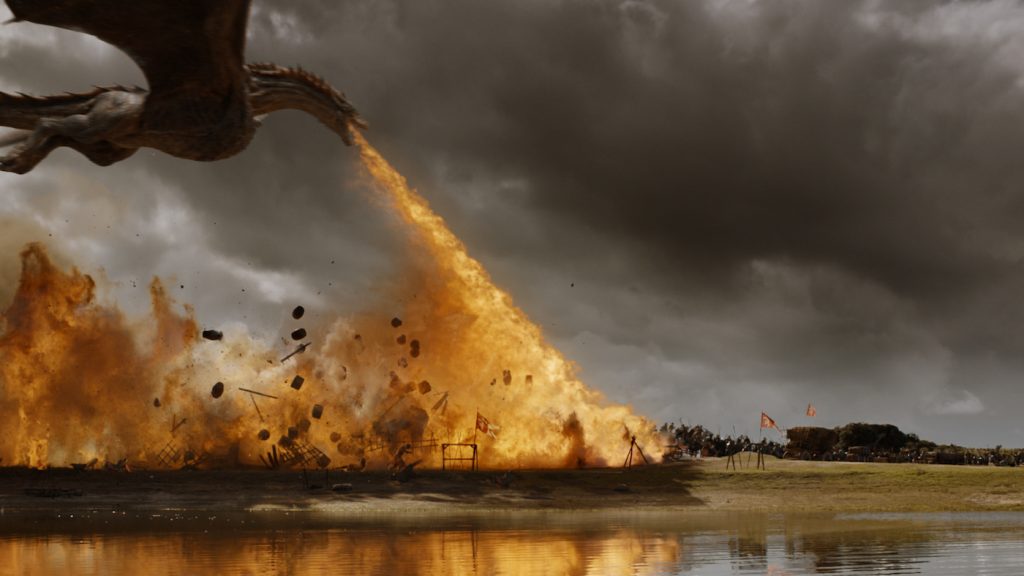 Kimmel says that "The Spoils of War" presented a ton of challenges, but none were as significant as making sure Drogon's entrance and his extensive destruction of the Lannister army was sufficiently shocking.
"We've done battle sequences and done dragon stuff before, but this was the first time they came together," he says. "We had to find a way to put the dragon into battle mode, and it was a challenge to find that right sound."
Kimmel was not going to spill any beans regarding the 8th and final season. He was willing, however, to offer one claim, that it will be the biggest and baddest season of them all. Specifics, however, were not his to share.
"Sometimes I get a script, but every season they delay that a little more and a little more because security gets together and tighter," he says. "I generally won't see a script until I absolutely have to, as the fewer scripts out there, the less chance of something leaking."
Does he know how the series ends?
"I don't know how it ends. I know some things, but not how it ends. I generally sit down and watch it as a fan, enjoy it, then wrap my head around what we need to do. The picture editors put some sound to it, the dialogue is there, some temp music from previous seasons, the dragon roar from last season, enough to paint a picture of what they want, so there's sound there so you can get an idea of what it's going to be like, but nothing compared to what it's going to look like and sound like once everybody's done with it."
Kimmel says that working on the show has been a dream, and he thinks it's wrapping up at the perfect time.
"It'll be sad when it's over…but part of me is glad they're ending it where they are; they've got their story, and they can go out on top and have everybody enjoy it."
Featured image: Episode 64 (season 7, episode 4), debut 8/6/17. photo courtesy of HBO