Meet the Mother of Mamma Mia!
If anyone can rightly claim to be the mother of Mamma Mia!, the worldwide jukebox- musical sensation both on stage and screen, it is producer Judy Craymer. The impresario, 60, first hatched the idea to build a story around family bonds and lost loves inspired by the songs of Swedish pop sensation ABBA in 1996 after collaborating with the group's tunesmiths Benny Andersson and Bjorn Ulvaeus on the 1984 West End stage production of Chess.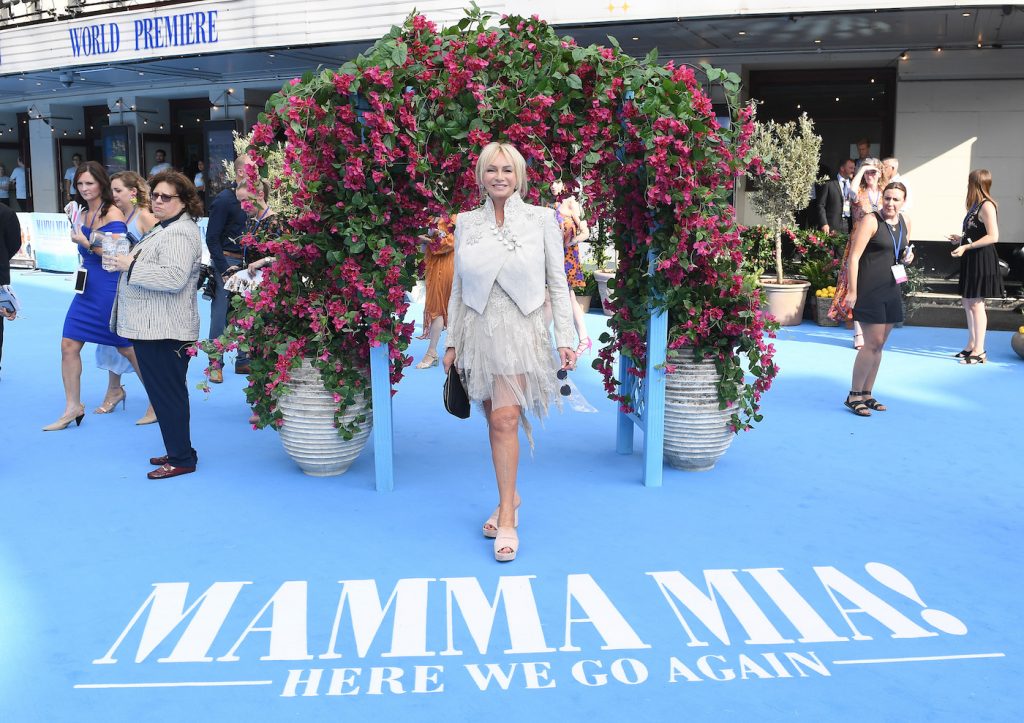 When Mamma Mia! premiered in London in 1999, it became a global sensation that has played in more than 40 countries on all six continents and became the eighth longest-running musical on Broadway after closing in 2015. Craymer was also a force behind the 2008 film version that starred Meryl Streep as the irrepressible Donna, an owner of a ramshackle inn on a Greek isle who reunites with the three men (Pierce Brosnan, Colin Firth and Stellan Skarsgard) who could have fathered her daughter, Sophie (Amanda Seyfried). The summer hit would go on to gross more than $600 million worldwide. The tale, with all the original actors reprising their roles, continues with Mamma Mia! Here We Go Again, a prequel/sequel hybrid opening Friday with Lily James as the young Donna and other newcomers including Cher and Andy Garcia. Talking on the phone from London after this week's premiere, Craymer discusses the new Mamma Mia's change of locale, her choice of Cher as Sophie's estranged glam granny and why her concept endures nearly two decades later.
Mamma Mia was the highest-grossing live-action musical until last year when Beauty and the Beast overtook it. And it was also the highest-grossing film directed by a woman (Phyllida Lloyd, The Iron Lady) until Wonder Woman beat its record. Did the reception surprise you?
It didn't surprise me, but it wasn't taken for granted. I think the film hit a chord at the time. It reached moviegoers beyond the normal demographic. It opened in mid-July and ran in theaters until September. Like the show, it had a repeat audience that took their mom, then their girlfriend, then the whole family. Also, the DVD brought a whole new audience to it. I feel that very much when I go to the West End show, there are 8- and 7-year-old  girls with their own moms. That is why Universal Pictures is my kind of champion – they wanted to  make another one. In typical Mamma Mia! style, we waited 10 years. It would have been more cynical if we had done it right away.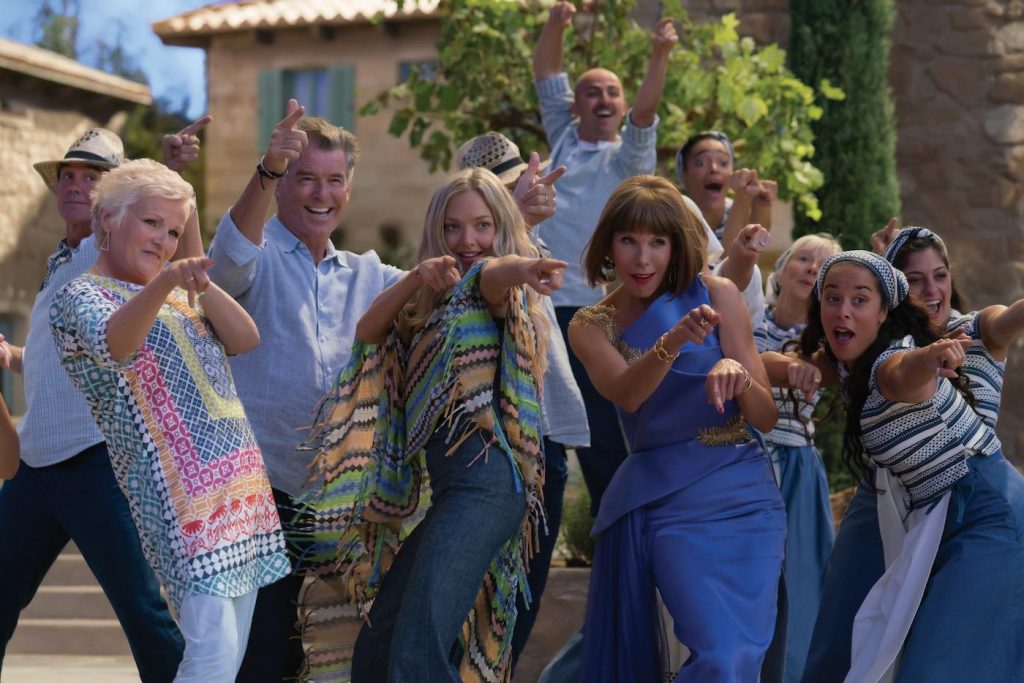 You filmed the sequel in Croatia on the island of Vis rather than Greece again. What was the reason?   
Yeah, we had to film our fictional island of Kalokairi somewhere else. The economy has changed since 2008 and it was a big decision. This is a bigger movie and more expensive production-wise. Certain countries in Europe have better tax breaks. Croatia had great landscape that allowed us to re-create what we had before. Game of Thrones and a lot of movies have been filmed there. It was with a heavy heart that we moved, but this movie has a lot more at stake. We brought in 150 people alone just to shoot the Dancing Queen sequence on boats. We had 800 people in our cast and crew. There are three hotels, but locals gave up their beautiful houses for us to use.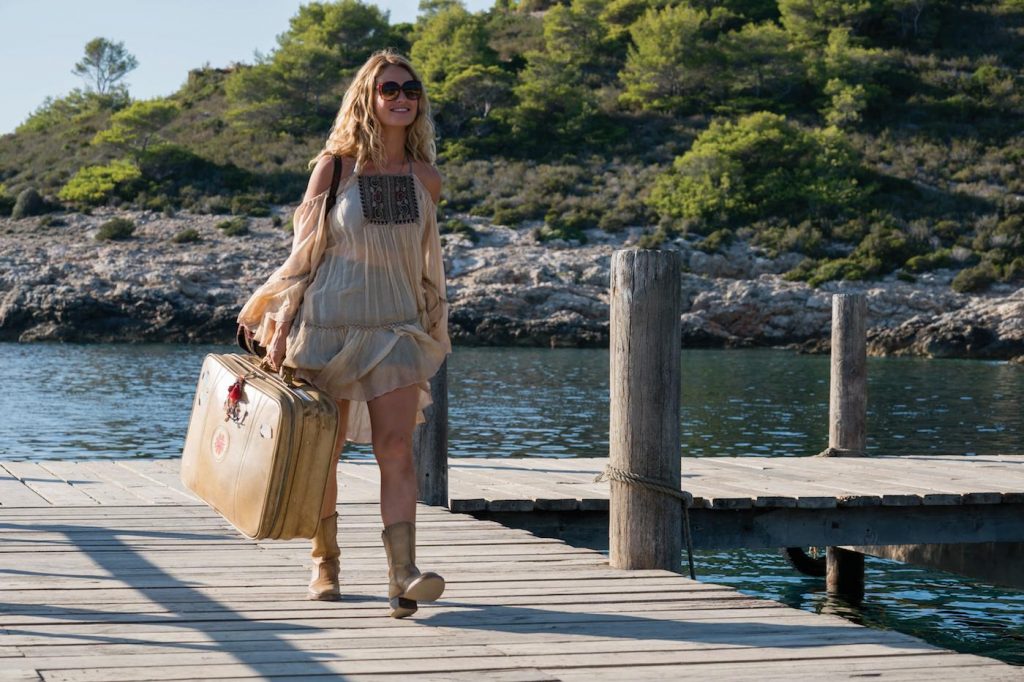 Cher was considered for Tanya. I never thought of Cher as Meryl Streep's mom, but why not? Did she say she wanted to sing Fernando. It was only hummed in the first movie.
The discussion has always been about working with someone like Cher, someone who is very music-based and had seen the show on stage. We would create a whole original back story to go with Donna's odyssey of getting to the island. When it came to Ruby Sheridan, our director and writer Ol Parker thought, "Who would it be?" It had to be someone with mega chops, someone who could blow off the roof. I talked to Benny and Bjorn, and they could hear the force of her voice doing Fernando. She had the approval of choosing her male duet partner and was thrilled that it was Andy Garcia.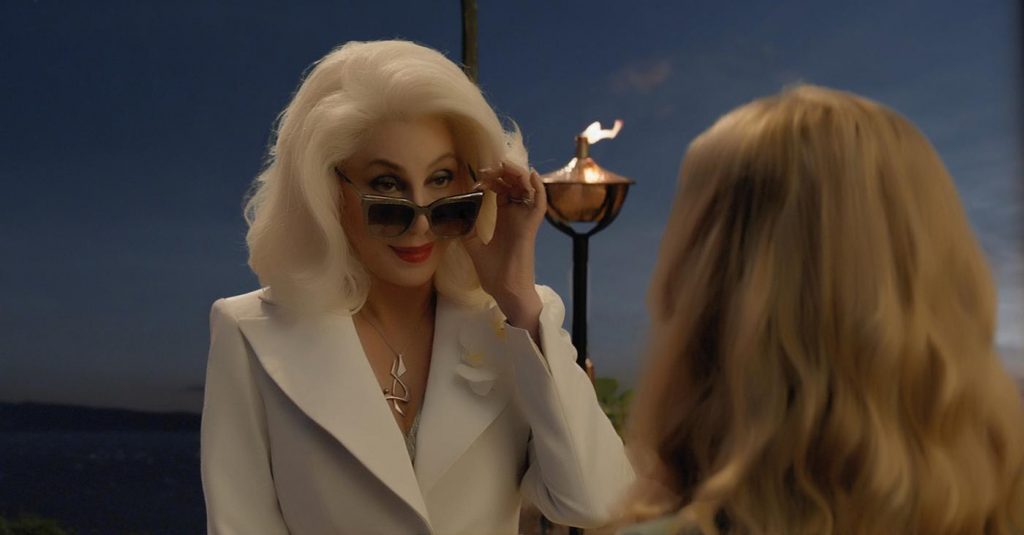 I like that you went to Richard Curtis (Love Actually) for ideas for the second film and his daughter, Scarlett, was the one who came up with the idea of Mamma Mia! Here We Go Again being like Godfather 2  by going back and forth in time, from 1979 when the Dynamos were schoolgirls and Donna became pregnant with Sophie to the present.
I had called Richard through his agent and thought he could be involved. But he was busy with his own things. But, it wasn't a complete no. He had spoken to Scarlett and she suggested a prequel. And that was it. Richard was also involved working with Ol Parker (screenwriter for The Best Exotic Marigold Hotel films), who agreed to write and direct. I felt it was going into good hands.
Considering the current push to promote female talent behind the camera, I wish that the director and writer were women again. But knowing Ol Parker's work, he seems to have a handle on strong woman.
I love Catherine Johnson (who wrote the play and the first script) and Phyllida, but they were too close to it. We had to go on a journey and not just bring back the cast. Ol came on as writer and it was an obvious choice. He understands at heart, Mamma Mia! is a powerful women's story and so did Richard. We needed a different tone since the bars are raised on emotion in this.
One thing that some critics 10 years ago didn't get when the first film came out was that you and your team weren't after perfection. Judging by the bounty of positive early reviews for this second go-round, they seem to have been swayed now. The first film was intentionally meant to eschew precision with the dancing and singing to better celebrate spontaneity and joie de vivre. 
There was something  that ran in The Guardian about whether Ol Parker could top the brilliant first film (Exact quote: "It's hard to imagine director Ol Parker improving on the bizarre brilliance of Phyllida Lloyd's record-breaking original.") I would have killed if they had said that 10 years ago. Both Mamma Mia! the show and the film has a charming core of imperfection. There is nothing pretentious. Everyone is invited in and made to feel we can all do that. Great actors are not particularly musical theater actors. But they love the challenge.
The secret weapon here is Lily James (Cinderella, Darkest Hour). Why did you chose her to be the younger version of Meryl's Donna.
There aren't many young actresses who have the confidence to step into such big shoes and  impersonate Meryl's free spirit, Donna. Lily loved the first film when she saw it as a child growing up. She has the same unconventional beauty that Meryl has and she is a minx, too.
You have some unusual scene stealers in this. Was that peasant lady carrying the wood during Dancing Queen the same one from the first film? Also, the actress who was the cranky bar owner and the guy checking passports in the ferry booth – both had perfect comic timing.
Yes, we brought her back. The bar owner is Canadian actress Maria Vicaratsis. She was Aunt Frieda in My Big Fat Greek Wedding and its sequel. The customs agent is Omid Djalili, a well-known comedian here in England. If you stay all the way through the end credits, you get to hear him sing.
Featured image: (L to R) Donna and the Dynamos! Young Tanya (JESSICA KEENAN WYNN), Young Donna (LILY JAMES) and Young Rosie (ALEXA DAVIES) in "Mamma Mia! Here We Go Again." Ten years after "Mamma Mia! The Movie," you are invited to return to the magical Greek island of Kalokairi in an all-new original musical based on the songs of ABBA. Photo Credit: Jonathan Prime