Kevin Feige Believes Black Panther is Oscar Worthy (in Nearly Every Category)
Superhero movies typically don't garner much love at the Oscars. Christopher Nolan's Dark Knight trilogy was an exception, with his 2009 The Dark Knight garnering eight Oscar nominations, winning two (best supporting actor for the late Heath Ledger and best sound editing for Richard King.) If there was ever a superhero film that was going to give The Dark Night a run for its money, it's Ryan Coogler's Black Panther. But don't take just our word for it, Marvel Studios president Kevin Feige believes its' more than worthy. Yes, Feige could hardly be considered an objective outside observer considering his deep involvement in the film, but the simple fact is, he's right.
It seems almost a lock that Black Panther costume designer Ruth E. Carter will get a nomination—her work in the film is that overwhelmingly gorgeous. Carter managed to create distinct looks for not only an entire fictional nation, but its myriad, stylistically different tribes, while also managing to reflect real African design, culture and history. There's also a very, very good chance production designer Hannah Beachler will earn a nomination for helping create Wakanda, the most impressive location in the history of the Marvel Cinematic Universe. Period. But what about a Best Picture nomination, and Best Director for Ryan Coogler? Both would be historic (no superhero film has ever been nominated for Best Picture). Both are entirely possible.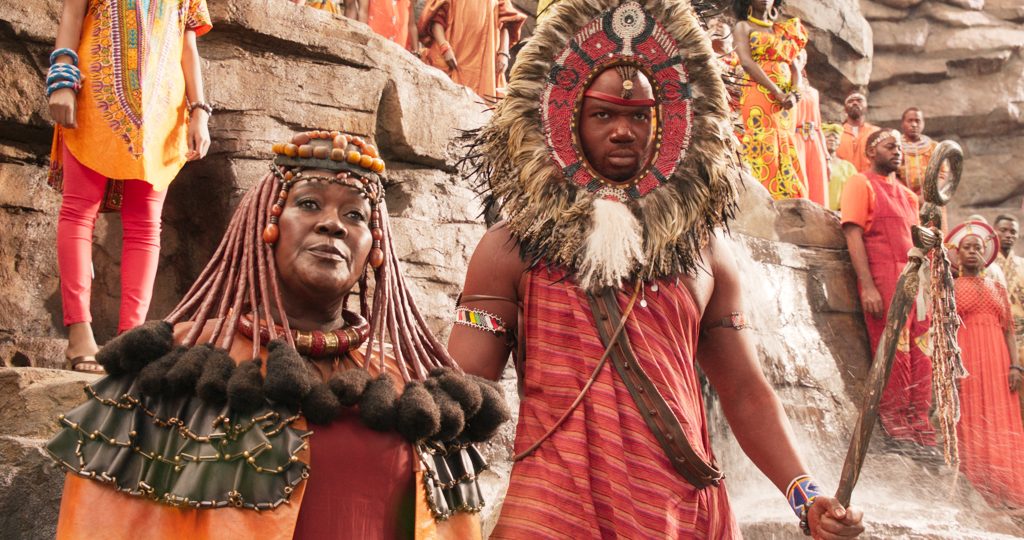 In an interview with Vox, Feige was asked what he thought about Black Panther's Oscar chances, and what a Marvel Oscar campaign might look like. He responded carefully, but his list of who deserves a nomination from the film's incredible cast and crew is very expansive:
"I think there are a lot of amazing artists that helped to make that movie, and it would be wonderful if they could be recognized. Almost everyone involved in that movie, bringing that movie together, is great, and it would be wonderful to see if they're recognized. We'll see. This genre, typically not.
And I think it would be a wonderful thing for Panther and for our production designer Hannah [Beachler], and our costume designer Ruth [Carter], and for Ryan [Coogler] who co-wrote the script with Joe Robert Cole, and of course directed the movie. And Michael B. Jordan, and Chadwick [Boseman] and Lupita [Nyong'o] and Letitia [Wright]. There's amazing performances, amazing artistry in that. I'd love to see them recognized, and I'd love to see this genre recognized. Yes, they're visual effects, yes, they are fun explosions, yes, there are spaceships. But these are all hand-crafted. Maybe it's in front of a computer; it's often actual sets, actual hand-built costumes. As much passion and artistry and talent goes into every single one we do; it'd be amazing for them to be recognized."
If you're keeping score at home, Feige just named pretty much every big category. Is Marvel preparing a serious Oscar push for the film? It seems likely, and entirely earned. If there was ever a superhero film that deserved the same plaudits that The Dark Knight raked in, it's Black Panther. It's already made history a few times over, it seems only right that a glut of Oscar nominations would be Black Panther's final bow (until Black Panther 2, of course).
Featured image: Marvel Studios' BLACK PANTHER..L to R: Erik Killmonger (Michael B. Jordan) and T'Challa/Black Panther (Chadwick Boseman). Ph: Matt Kennedy. ©Marvel Studios 2018