Brand New Aquaman Poster & 8 Things to Know About the Film
With James Wan's Aquaman swimming closer and closer to its December 21 release date, more information is starting to trickle out. Yesterday we wrote about how Wan took to Twitter to share his excitement about giving fans a glimpse of his film at this Saturday's Comic-Con.
Working overtime to put the finishing touches for this coming week!! Eeeeeee ? #SDCC2018 pic.twitter.com/Fgx8SxFprl

— James Wan (@creepypuppet) July 16, 2018
A few lucky journalists got to travel to the Gold Coast of Queensland, Australia, to visit the set of Aquaman in the middle of filming, and thanks to their set visit, a lot more information has become available. We've parsed some of their newly released stories about that visit for juicy details (and we've kept them spoiler free). The overall takeaway from these set visits is that Aquaman is really going to be a James Wan film, much like Thor: Ragnarok was a Taika Waititi film and Black Panther a Ryan Coogler film. This is great news because Wan, like Waititi and Coogler, has a singular vision. The man behind The Conjuring and Furious 7 has long ago proven he can bring off serious scares and thrills.
Here's a brief list of some of what you can expect in Aquaman:
The majority of the film (nearly 2/3) takes place under water. The actions sequences, therefore, will be unlike anything we've seen in previous DC films (or Marvel films, for that matter). This gave Wan the ability to create sequences that we've never seen before.
The film will be decidedly less dark than previous DC films, with many outlets reporting that Wan wanted to go for a Raiders of the Lost Ark vibe.
Wan had his pick of any DC character, and he chose Aquaman. Passion is always a good thing.
Amber Heard's Mera is a powerful warrior in her own right, whose hydrokinetic powers allow her to manipulate water at will.
The Atlanteans (the race that Jason Momoa's Aquaman belongs) are just below the DCEU's Superman in terms of their power. They can also breathe air (which we knew because of Aquaman's involvement in Justice League).
Wan's horror background did come in handy, and will be evident in one particularly creepy sequence in the ocean involving "the Trench."
The film takes a lot of inspiration from Geoff Johns's classic "New 52" run.
The Atlantis of Aquaman is a massive underwater city, bigger than Los Angeles, and, like Black Panther's Wakanda, has been kept secret, until now.
Now, let's have a look at the full teaser poster, which shows Aquaman with some of his more ferocious underwater pals: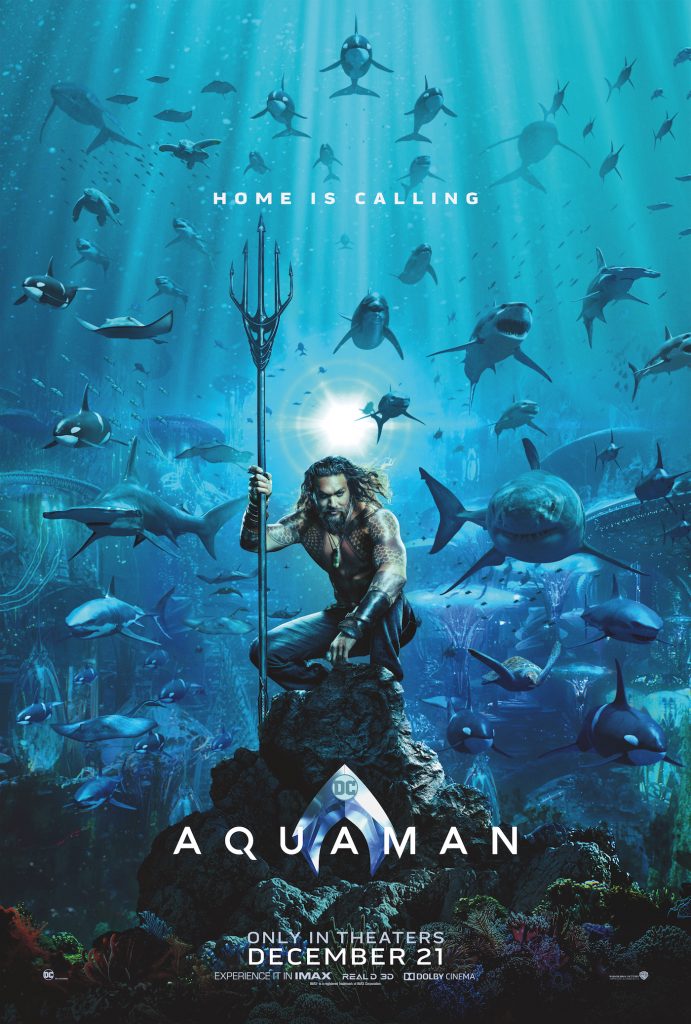 Joining Momoa and Heard are Temuera Morrison as Tom Curry, Willem Dafoe as Vulko, Dolph Lundgren as Nereus, Yahya Abdul-Mateen II as Black Manta, Patrick Wilson as Orm/Ocean Master, and Nicole Kidman as Atlanna.
Check back in during Comic-Con when we'll have a lot more Aquaman coverage.
Featured image: Aquaman Poster. Courtesy Warner Bros. Pictures.