Jurassic World: Fallen Kingdom's Production Designer Takes on the Indoraptor
Jurassic World: Fallen Kingdom boasts more dinosaurs than any previous film in the Jurassic franchise—combined. While prehistoric mayhem set in the present is precisely what Jurassic fans expect, it's a major challenge for the film crew. This was especially true for production designer Andy Nicholson, who was tasked with creating a literal house of horrors for director J.A. Bayona. With the action in Fallen Kingdom moving from Isla Nublar to the mainland, Nicholson and his team had to build sets that could conceivably hold marauding dinosaurs—some of whom who have been genetically modified—without the film turning into a series of shots of beasts crashing through walls. No easy feat.
"I think the biggest challenge we had was the scale of the creatures we were dealing with," Nicholson says. Unlike the previous installment, which took place entirely on the tropical island where the park existed, Nicholson was building human environments that had to enclose their non-human hunters. These included the Baryonyx and, especially, the Indoraptor, a genetically modified super predator and arguably the film's marquee dinosaur, a beast bigger than a regular velociraptor but smaller than a T-Rex. "Unlike the previous Jurassic movies, in which the dinosaurs are slightly bigger or smaller than the Indoraptor, they're either coming through doors like humans, or smashing through walls like a T-Rex. Here we had a series of dinosaurs inside a human environment that were much bigger than humans but smaller than the biggest dinosaurs we've seen. With the Indoraptor walking through a 20-by-20 foot room, a 23-foot tall dinosaur won't work. So the first thing we did was get a couple of generic scale dinosaurs and move them around in the space so we could look at how big they had to be."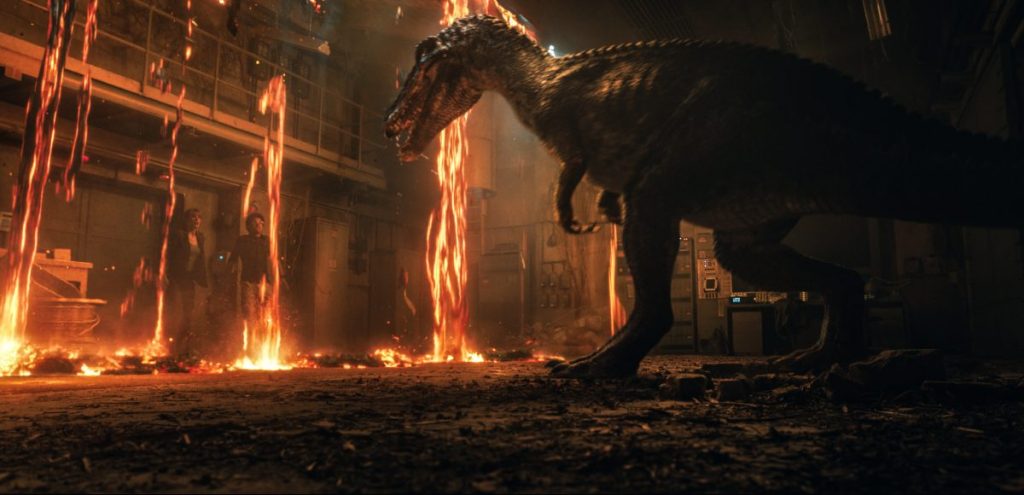 Much of Fallen Kingdom's action takes place in the vast Lockwood estate, where dinosaur-loving Benjamin Lockwood (James Cromwell) tries to correct the mistakes of the past. Nicholson and his team found the ideal exterior for a billionaire American's massive Victorian in a strange place—the English moorlands.
"It was built by a crazy coal millionaire, inventor and arms dealer who had a love for the American northwest and had gone back and built an estate in the middle of nowhere and planted American trees. It was surrounded by redwoods, which are obviously not indigenous trees to England. We expanded the actual house itself, but the exterior and greenery was all there. It was the weirdest feeling seeing sequoias growing amongst the English moorlands. It was so perfect."
Inside the estate, a diorama room proves to be a key location for a lot of the film's mayhem. The space is curated to please any big game hunter, except the game in this case is exceptionally colossal and deadly. To accommodate the dinosaur skeletons on display, the roof is two stories above the ground floor, with a DNA helix-inspired staircase connecting the museum level to a mezzanine above. Large statues and wildlife scenes provide ideal places for humans to hide, but the room proves a difficult place to run in. Glass windows are, of course, no match for an angry Indoraptor. It's a glorious setting in the film, and one of Nicholson most ingenious creations.
"We spent a lot of time working on the diorama room," Nicholson said. "We spend a lot of time in there, so we had to make sure it was big enough for the dinosaurs to move around without destroying everything [laughs]. The Indoraptor is around 23-feet long and really tall. So we gave this information to the pre-visual artists so we could watch the Indoraptor run down a long corridor and see what it looks like coming into the room. Does it look stupid ducking into the space? We came up with the diorama room having a mezzanine, but then had to figure out how the Indoraptor gets up there. If you're running away from it, how does that look? Then we came up with the idea that the spiral staircase had to have bars up along the side of it so the Indoraptor couldn't get you as you run up the stairs, but it could snap at your feet."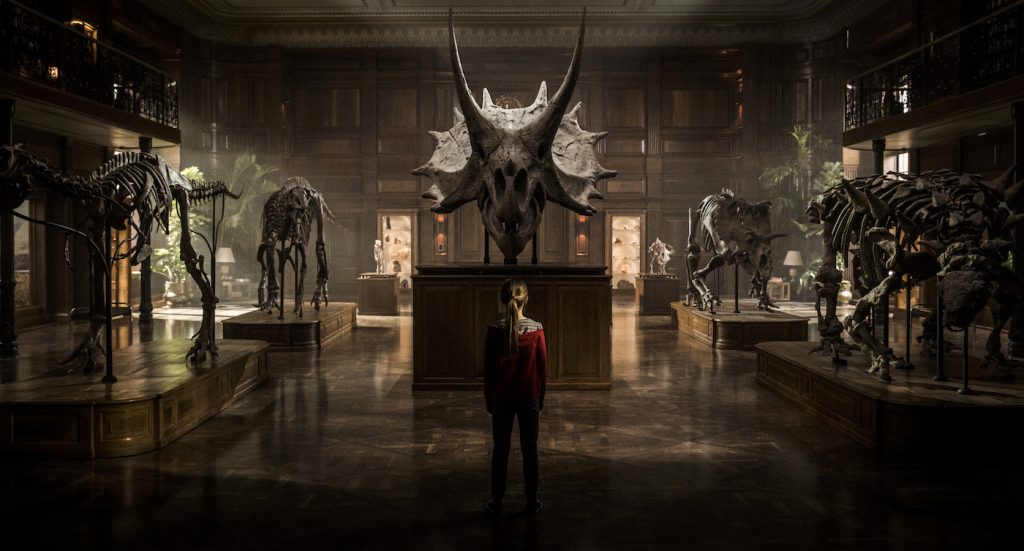 Another key location is the bedroom of Benjamin's granddaughter, Maisie (Isabella Sermon). She becomes the unlucky vocal point of the Indoraptor's attention. Luckily, she's got a protector—Owen Grady (Chris Pratt)'s beloved velociraptor, Blue. The scene is a marvel, like witnessing a child's dream of dinosaurs fighting become a terrifying, nightmarish reality—at the foot of her bed, no less.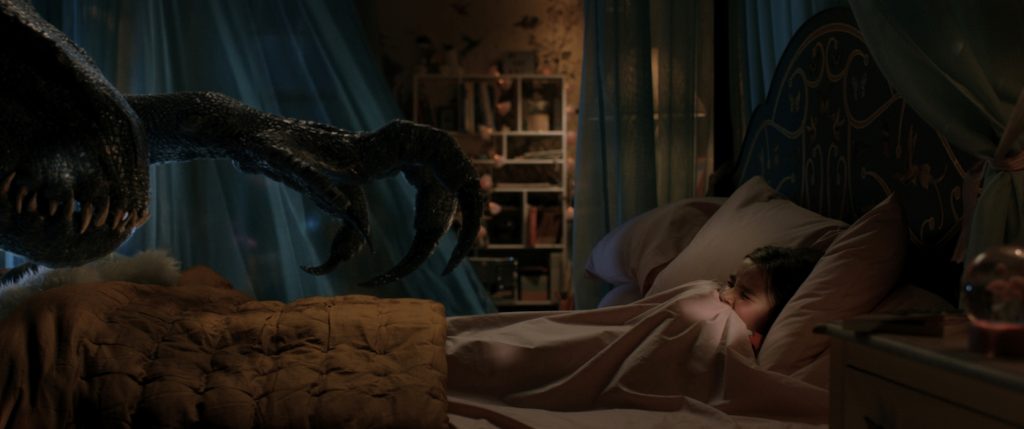 "Maisie's bedroom was like a 40-by-50 foot room for a kid that's very small, so the scale was very interesting because we knew there was going to be a fight in there between Blue and Indo, so it had to be oversized for her." This problem was somewhat mitigated, narratively, by the fact that the Lockwoods are billionaires and therefore have the money for oversized rooms, but the room is still massive for a little girl. Yet the execution of the design and the resulting scene make it one of the standouts in the film.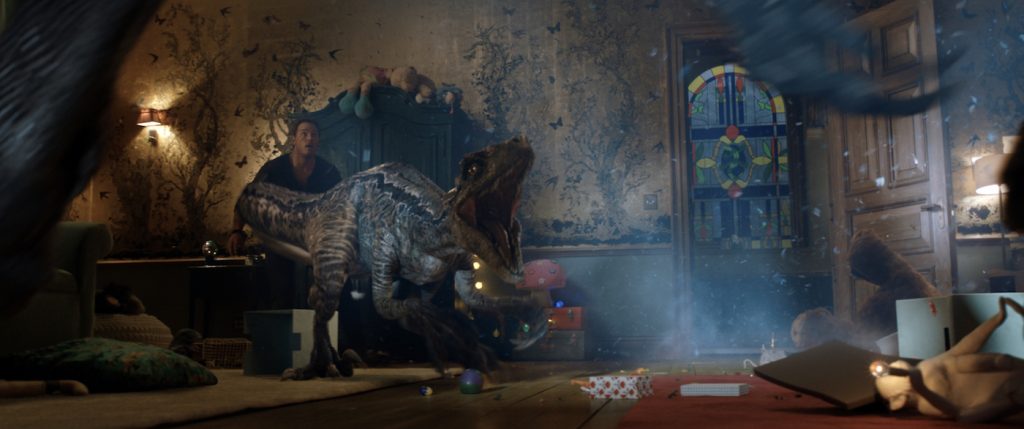 "It was interesting too, because dinosaurs have never been seen in these environments," Nicholson says. "You had to design spaces that were going to compete with them. A very design-y house didn't seem right, we wanted a place with a sense of history, because we know its historic places that help with the horror and suspense."
Fallen Kingdom is a sci-fi/thriller that leans towards horror more so than any film in the franchise. Bayona is a master at suspense, and the film gooses you with environments that feel like something you might see in a movie starring an masked murderer or demonic possession, yet what's creeping through the house is a predator that is, technically, over 150 million years old.
"Giving the Lockwood house gravitas was important," Nicholson says. "The origins of their disagreement with Hammond (the original creator of Jurassic Park) helped us get to a place where the environment tells us that clearly this was a man as enthusiastic about dinosaurs as Hammond was. That had to be obvious from the house. You had well drawn characters there to play with, as well as a really weird place to play. And as well having models of the original park in Lockwood's bedroom, which was great for fans, and lovely things to include in the visual texture of the spaces. You'll notice that in Maisie's bedroom, there's gold leaf wallpaper with dinosaurs on it. We created an entire backstory for Maisie that we never explore in the story, but it's there in the design."
Nicholson process begins with concept artists hammering out ideas on how Fallen Kingdom's world will look, based on a brief he provides outlining the major elements he's looking for. Once they bring back their work, he and his team have enough ideas to start building the world.
"The ideas start talking to you as the set comes together in three dimensions," he says. "What you're developing informs you, which is further informed by the script and the characters. Every space we build is drawn from the character who lives or works in that space. You can talk to the actors and have a dialogue about what the room means to them, so when they're filming, they're in a space that actually holds significance for them. It's an awful lot of fun, designing spaces, but some of the most interesting things you can do is ask, 'What is this room for this character?'"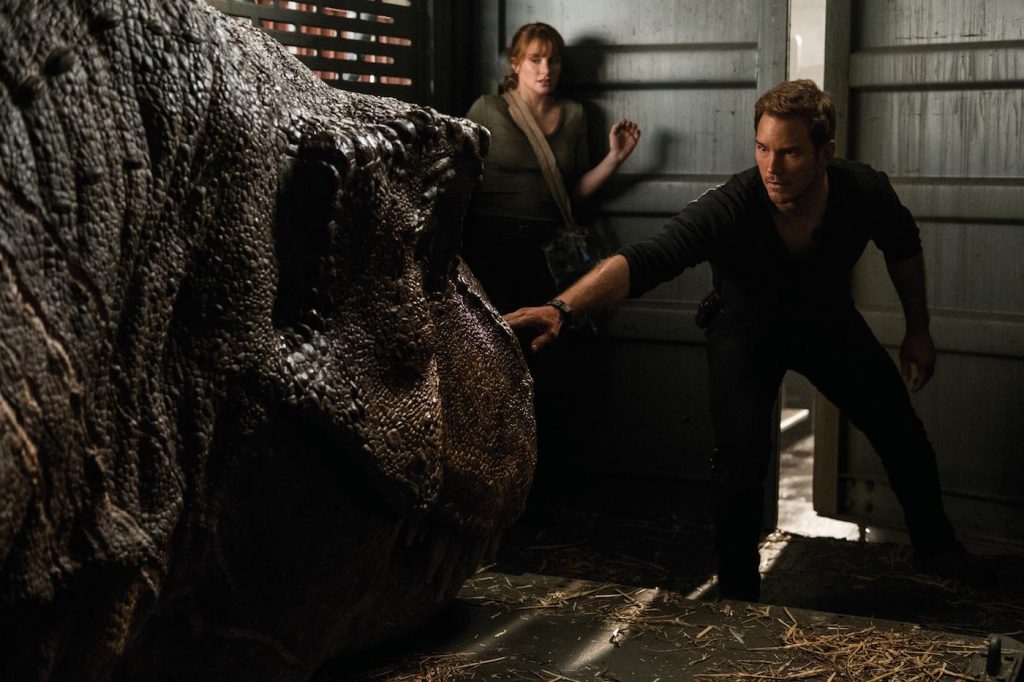 Production designers are most proud when their work seeps into the unconscious of the viewer, dredging up emotions without necessarily drawing attention to itself. "You have to make sure you're not showy and overdesigning," Nicholson says. "As a designer, it's for you to decide which way you go. That effects each room, down to each prop."
"One of the most remarkable things about this movie is in an era where months of reshoots are commonplace, there was only ten days of additional photography, so it just shows the talent and the way J.A. was able to cover this," Nicholson says. "During those extra ten days, we were doing stuff we chose to do rather than stuff we needed to. On a film this scale, it's almost unheard of."
As for Nicholson next project, it's for a little film you may have heard of called Captain Marvel. Considering it's not due in theaters until 2019, and it's part of Marvel's heavily guarded Cinematic Universe, there was little he could offer. One had to try, however.
"Captain Marvel is very exciting," he says. "It's a brave thing they're doing, changing things as they go along. It's really exciting, starting with Infinity War, the comic books always reinvented characters, and to bring that to movies I think is brave, and very exciting."
We know a few million people who would likely agree.
Jurassic World: Fallen Kingdom is in theaters today.
Featured image: The Indoraptor prepares to strike in "Jurassic World: Fallen Kingdom." When the island's dormant volcano begins roaring to life, Owen and Claire mount a campaign to rescue the remaining dinosaurs from this extinction-level event. Welcome to "Jurassic World: Fallen Kingdom." Photo Credit: Universal Studios and Amblin Entertainment, Inc. and Legendary Pictures Productions, LLC.