New Deadpool 2 Poster Trolls Wolverine and Hints at Mysterious Invisible Mutant
In actuality, this Drew Struzan-inspired Deadpool 2 poster is sort of mocking the very studio that produced both Logan and Deadpool 2, while simultaneously proving (once again) how good 20th Century Fox has gotten at giving the Merc with the Mouth the marketing campaign he deserves. "From the studio that killed Wolverine" is one heckuva way to sell your new film, and the poster delivers not only the perfect wisecrack, but also the visual thrills. It also represents something of an escalation in Ryan Reynolds ongoing attempt at coaxing Hugh Jackman back into his Wolverine claws for a crossover film with Deadpool. We've never before seen the star of one franchise so consistently badger and harangue (lovingly, of course) the star of another franchise into joining forces. It's special.
The Deadpool 2 marketing campaign has taken plenty of potshots at other franchises and stars before. Wade Wilson has mocked Avengers: Infinity War's super villain Thanos (played by newcomer Josh Brolin, who also stars as Cable in Deadpool 2) and Henry Cavill's facial hair in Justice League. Taking a shot at the heartbreaking end of Logan is just par for the snarky course.
As for the poster itself, there are all sorts of visual splendors to behold. Deadpool sits atop an inflatable swan (or swan paddleboat?), floating past a kitchen sink (pun!). There's a parachute with…no one attached? Unlikely—eagle-eyed fans have already speculated that the parachute contains an invisible person, suggesting the X-Force will include an invisible member, like Vanisher or ForgetMeNot. If this is the case, could this mean Rob Delaney's Peter isn't some middle aged beekeeper but also a mighty mutant hiding his abilities? We don't think so—the joke's too good to have the hilarious Delaney playing a man with no discernible skills but a very righteous mustache joining a team of superheroes.
Cable and Zazie Beetz's Domino get pride of place in the poster, and they're not the only new members of the Deadpool family. The poster also includes Terry Crews's Bedlam; Lewis Tan's Shatterstar; Dennison's Russell (the poster's flames speak to his destructive powers, and likely the reason Cable is hunting him); IT's Bill Skarsgard as the mutant Zeitgiest, who has the nasty ability of spitting acid; and Shioli Kutsuna, who many believe is playing the mutant Surge. Your returning cast members are Morena Baccarin's Vanessa; Brianna Hildebrand's Negasonic Teenage Warhead; Stefan Kapicic's Colossus; and Leslie Uggam's Blind Al.
Check out the poster here. Deadpool 2 hits theaters on May 18.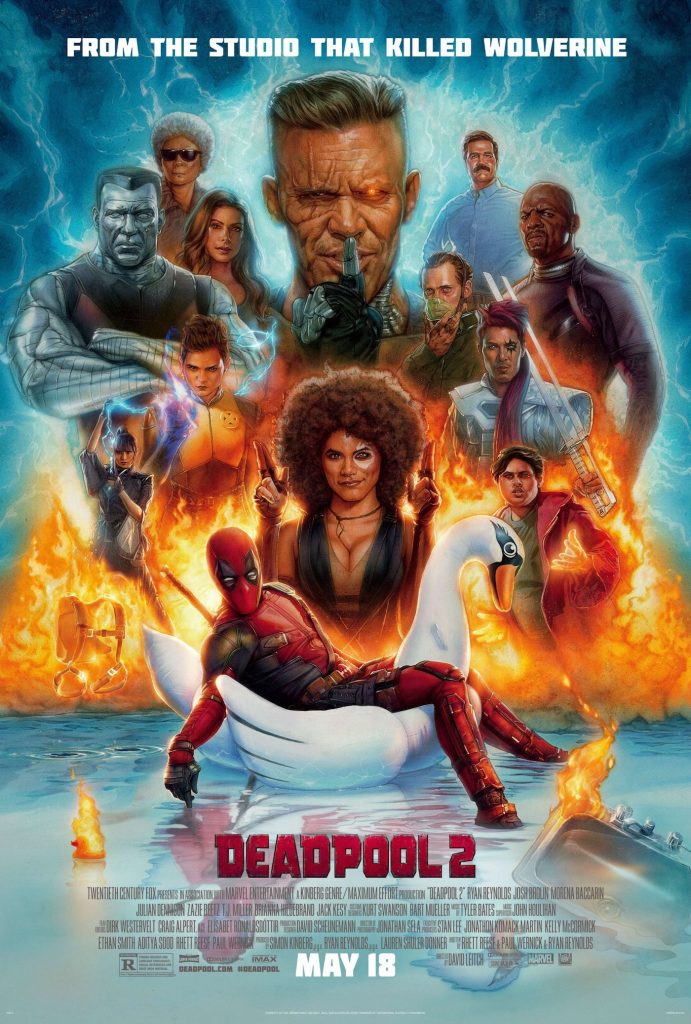 Featured image: Deadpool (Ryan Reynolds) and Colossus in Twentieth Century Fox's DEADPOOL 2. Photo Credit: Courtesy Twentieth Century Fox.